Beyoncé and Solange's post-SNL photos prove they should star in "Sister, Sister 2"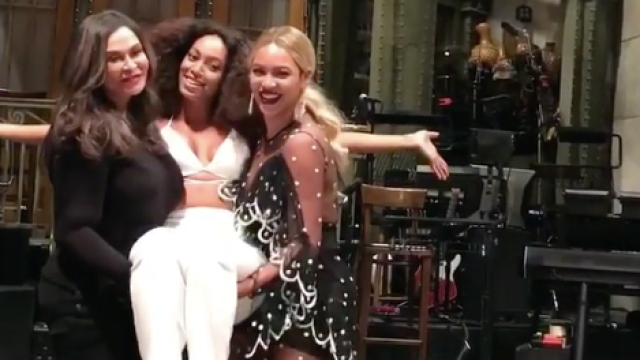 Recently, one of our all-time faves Solange was on SNL, and big sis Beyoncé was right there with her. While there are alllll kinds of amazing things about that sentence we could unpack, what we really need to focus on right now are the ADORABLE (ADORABLE) post-show pictures the sisters took following the show.
The Instagram video that Beyoncé shared looks like the intro to our new favorite television show, like some kind of modern redux of Sister, Sister only with waaaaay more singing than the original, because OBVIOUSLY.
Seriously, we're so obsessed with these pictures. We need a copy of every single one to frame for our desks so maybe people who don't know us very well think we're close personal pals with the Knowles sisters. (Let us LIVE, okay?)
As if THAT wasn't enough, Beyoncé and Solange's mother, Tina Knowles, was also there to support her daughter, and so they took a family pic. Tina Knowles shared it on Instagram as a video, and it's also really adorable. Tina and Beyoncé lift Solange up between them, while Solange protests, "I'm thirty years old!"
So, clearly this is the traditional family pose. We love it so much.
https://www.instagram.com/p/BMdXi0YD3zr
Our parents are great and all, but if Tina Knowles is looking to adopt… let us know, okay?