Beyoncé performed while sick, still absolutely crushed it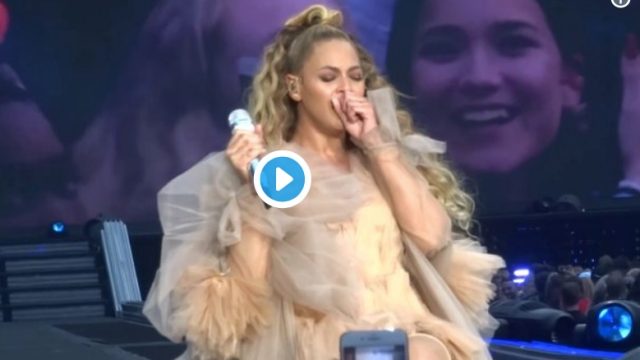 When we get sick, we often end up skipping work and spending the day wallowing in bed with Netflix, but Beyoncé is no mere mortal. The singer hit the stage in Berlin on June 28th while seemingly under the weather and slayed just like it was any other day. Bow down.
Beyoncé is in the middle of the European leg of her On the Run II tour with Jay-Z, so it's safe to say that she's been busy. In the past 30 days alone, she's played 11 shows in nine different cities. And it seems Bey might have caught a bug amidst all her recent traveling.
On Twitter, a fan shared a video of Beyoncé coughing while belting out her 2006 jam "Resentment." You can see her pull away from the microphone to relieve her throat around 38 seconds, and then again around two minutes.
In another video, if you look on the screen behind her, you can see Beyoncé quickly wiping her nose in between phrases:
https://www.instagram.com/p/BkoBzNfnjb5
We are so in awe of her ability to perform like this while coughing and sniffling.
LOOK AT HER GO:
You would never know Bey wasn't feeling 100%, and that's what truly makes her the Queen.
Her fans are just as floored as we are.
Unfortunately, it doesn't seem like she has much of a break in the next month. She'll be touring almost non-stop from now until the beginning of October.  Take care of yourself, Bey, and feel better soon!