Here's what you missed from Beyoncé's second Coachella performance, which sadly wasn't livestreamed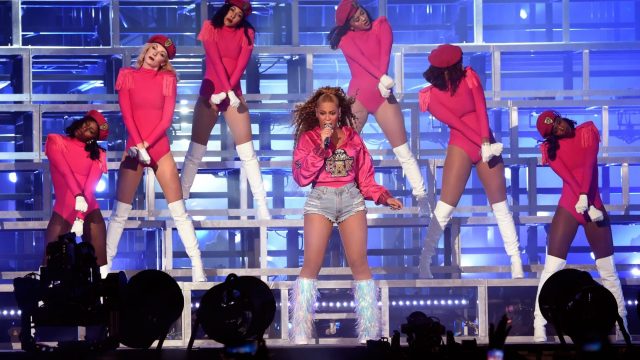 It shouldn't come as a surprise to anyone that Beyoncé's Coachella performances have been the highlight of the entire music festival. After her first time on the Coachella stage on April 14th, fans dubbed the festival "Beychella." Last night, Saturday, April 21st, she graced the main stage yet again. Unfortunately for anyone who couldn't be there in person, this one was not livestreamed — and it wasn't exactly the same as her first headlining performance, either. Which means you're probably dying to know what you missed out on. C'mon, did you really expect Beyoncé to keep things simple?!
While the set list pretty much remained the same, there were a few notable differences between Beyoncé's two performances. First of all, the costumes were totally different. Instead of repeating the black-and-yellow theme, Bey opted for a bright shade of pink this time around. According to fans who were there, she debuted four new looks, and her gaggle of backup dancers were similarly decked out in pink.
She also switched up the looks for her guest artists. The women of Destiny's Child, her sister Solange Knowles, and her husband Jay-Z all wore something different.
Like last weekend, Balmain's creative director Olivier Rousteing was in charge of these genius ensembles for Beyoncé's Coachella set.
false
Bey also added a new guest to her second Coachella show: J Balvin, who sang "Mi Gente" with the headliner.
He was super stoked (who wouldn't be?!), which you can tell by this amazing video on his Instagram:
Beyoncé's performance with her sister Solange was switched up a bit, too, and not just because of the outfit change.
In a rare moment that reminded us Bey is human and not actually a walking goddess, she dropped Solange during their dance-off. It ended up being a pretty adorable sister moment:
Although the concert wasn't officially livestreamed, you can watch plenty of videos on social media if you want to avoid some major FOMO.
https://www.instagram.com/p/Bh4R83zlKpv
https://www.instagram.com/p/Bh4Q1qqlDoD
We can all agree Beyoncé should headline every single music festival ever, right? Right.