Beyoncé reportedly approved of every song on Jay-Z's new album "4:44"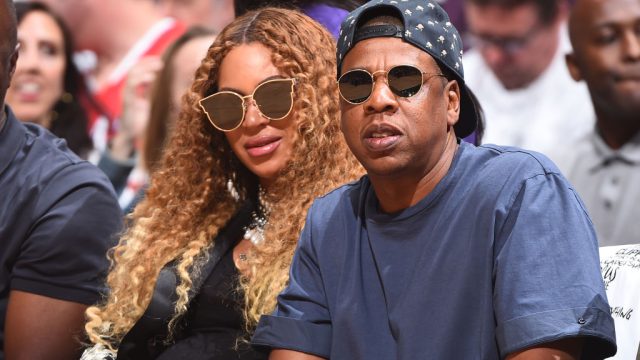 Fans are already calling JAY-Z's 4:44 one of the most personal albums the rapper's ever made. A lot of the songs are very confessional and address his alleged infidelity and the trouble in his and Beyoncé's marriage, as the singer herself laid out in Lemonade last year. Given that the couple is all about producing content that close to their hearts these days, it makes sense that Beyoncé personally approved of each 4:44 track and provided "genius level" insights about how to make the songs better, according to the producer No I.D. (Dion Wilson).
In an interview with The New York Times, No I.D. said, "I always call Bey our de facto A&R. Pillow talk is the strongest conversation on the planet. Every song has to get past her ears, in my eyes." The solo producer on the album continued, "She came by a lot and played a good part in helping us get over hurdles on certain records. Of course she's genius-level with that."
Of course she did! And we have a feeling that it wasn't just about "approving" of Jay touching on their marriage or her miscarriage, but also to add some touches to songs on a creative level. Both Jay and Beyoncé are crazy talented that way.
One thing Wilson and Jay knew going in was that they didn't want to do a "JAY-Z's Lemonade" album, but according to the Times interview, Jay did approach his producer with the intention to do an album about all the things he's "never talked about before."
No I.D. said, "Me, him and [Young] Guru, his [recording] engineer, knew that we didn't want him to do an album of Lemonade response. We just wanted him to respond and then let it be and still touch on other things. I created that beat to box him into telling that story."
But it was going to have to be a little bit of that. Wilson said that he threw a beat together to get Jay talking. Hov called Guru at 4:44 a.m. in the morning and laid down the track. Wilson said, "I just walked out of the studio and wanted to go find my wife and hug her. I told him that's the best song he's ever written."
Beyoncé likely felt the same way when she heard it. Between Lemonade and 4:44, Bey and Jay are officially hip-hop royalty even in times of personal turmoil (like there was any doubt).