Beyoncé's red-hot dress looks like it was once an athlete's tracksuit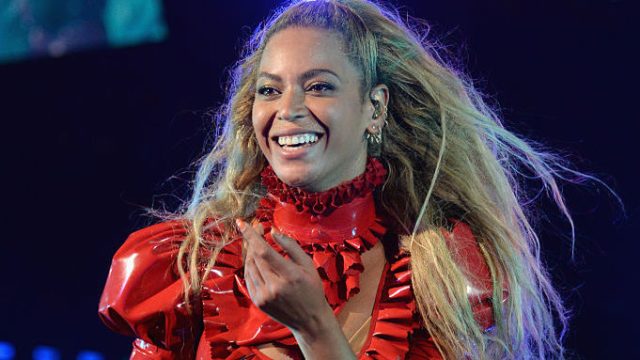 Have you been looking for some much-needed sartorial inspiration? Have you been wandering the internet for some fire for your style? Have you been searching high and low for that one piece that will reignite your aesthetic? Well, then you're in for a treat. Our savior Beyoncé posted a photo of a dress that could have been a tracksuit in a past life, and in turn has given our fashion chakras some major love.
Why pick between a cute dress and a comfy tracksuit when you could just have both? This is a genius look that only Beyoncé could imagine.
Beyoncé gave us some serious throwback vibes in her Instagram post — taken at a Bruno Mars concert. She wore a deep red, full-length dress with a zipper front. The athleisure-inspired piece literally looks like it was a tracksuit repurposed into a dress. With its nipped waist and white stripe accents, this is the cool older sister of the uniforms we wore during gym class.
And, of course, Bey accessorized this dress seamlessly, wearing a pair of gold hoops that say "Chunky" (referencing a Bruno Mars song) and a matching gold chain.
Her bag and shoes also coordinated with her look in shades of scarlet and white. Even her toenails were painted a bright white to help accent the outfit; if that's not commitment, we don't know what is.
Finished with a high ponytail, black sunglasses, and a nude lip, Beyoncé is inspiring us to tap into our own Sporty Spice persona this autumn.