Beyoncé has shared even more pictures from her pregnancy photoshoot, and it's so extra that we're 100% obsessed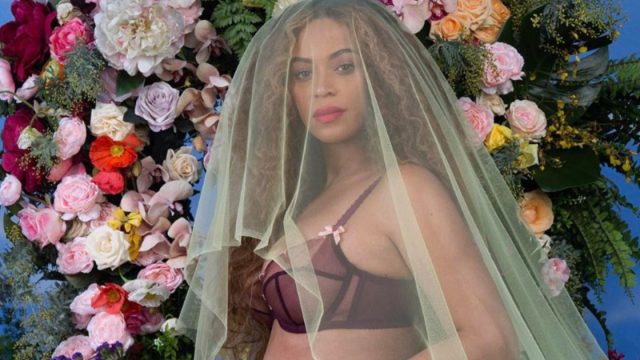 Beyoncé has been shaking up the entire world and it's all down to one Instagram post.
The iconic singer announced yesterday that she was PREGNANT. And, if that wasn't enough, Beyoncé is expecting TWINS. Following this surprise announcement, people went into a meltdown, and the news practically breaking Twitter with over half-a-million tweets sent about the BeyBeys in just 45 minutes. Crazy (in love)!
It was also so lovely to see Beyoncé's mom, Tina, share her excitement at the news, with fellow stars like Rihanna wishing the couple well, too.
Of course, part of the reason people went berserk over the news was the *way* that Bey announced the news: a super glamorous photo (complete with THIS gorge burgundy bra).
Well, it seems that picture wasn't the only one that Beyoncé took to announce to the world that she is expecting.
In fact, the star did a whole photoshoot and it's so extra that we're 100% obsessed with it.
While one might assume that Queen B might take a few pictures in one setting, there appear to be multiple set ups, more than one photoshoot, and all the pictures are completely iconic.
The star also shared pictures of herself, her bump, and her daughter Blue.
Isn't this just too precious!?
That's not all, however, as it seems that Beyoncé also did an UNDERWATER SHOOT too.
false
There are even GIFs from the occasion.
The collection of photos, titled "I Have Three Hearts," was shared on to the singer's website, and accompanied by poems by Warsan Shire, who also contributed to Bey's visual album Lemonade.
"Venus has flooded me,/Second planet from the sun,/I wake up on her foamy shore./She wants to take me to meet my children./I've done this before I'm still nervous."
We have to say, we're SO obsessed with this whole thing. We're delighted that B decided to share her news with the world, but we're overwhelmed and totally in love with the way that she's decided to do it. These pictures are everything we ever needed.
As they saying goes, when life hands you lemons make lemonade. Or, if you're the Queen B, when you're pregnant with twins make sure you partake in on HECK of a photoshoot. We can't wait to see if there are any more pictures up her sleeves!