Beyoncé released a powerful statement in regards to the shootings of Alton Sterling and Philando Castile
The brutal shootings of two black men at the hands of police officers this week have caused many people to speak out about their grief, frustration, and heartbreaking fury at the state of our country. As our feeds are filled with footage of Alton Sterling's son crying for his father and Diamond Reynolds describing the horror of seeing Philando Castile, her fiancé, shot multiple times over a broken taillight, the words of others can help us navigate through this collective sorrow.
While wait for more details of both cases to come out, celebrities such as Nicki Minaj, Lin-Manuel Miranda, Amy Schumer, and Drake have taken to social media to express their thoughts. Today, Beyoncé released an impassioned statement about the situation on her website.
"We are sick and tired of the killings of young men and women in our communities," her statement begins. "It is up to us to take a stand and demand that they "stop killing us. We don't need sympathy. We need everyone to respect our lives."
Describing the current events as "robberies of lives" that make us feel "helpless and hopeless," she then asks us to look towards the future and for the "next young men and women who believe in good."
Beyoncé goes on to describe the current events as a "human fight," before explaining that "this is a fight for anyone who feels marginalized, who is struggling for freedom and human rights."
Her letter is a rallying cry to stand up "and fight against anyone who believes that murder or any violent action by those who are sworn to protect us should consistently go unpunished." She then asks for everyone to channel their frustrations into being proactive by contacting politicians and legislators to demand change. A link to contacting Congress is included in the post, as well as individually voicing protest for both Alton Sterling and Philando Castile.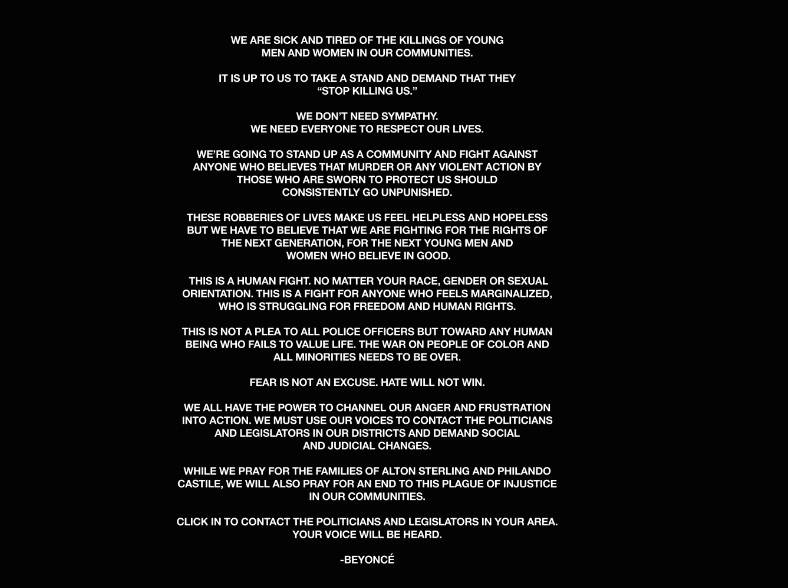 "Fear is not an excuse. Hate will not win."
Beyoncé has expressed her thoughts about police brutality and the Black Lives Matter movement before, resulting in some accusing her of being anti-police. The video for "Formation" included footage of a young black boy facing a line of armed police officers while the camera pans to a graffiti on a wall that reads "Stop shooting us" while the visual album for Lemonade featured cameos by the mothers of police brutality victims Trayvon Martin, Mike Brown, and Eric Garner.
Beyoncé responded to the accusations in the May 2016 issue of Elle. "I'm an artist and I think the most powerful art is usually misunderstood. But anyone who perceives my message as anti-police is completely mistaken," she explained. "I have so much admiration and respect for officers and the families of officers who sacrifice themselves to keep us safe. But let's be clear: I am against police brutality and injustice. Those are two separate things."