Beyoncé posted a flashback video from her "Formation" world tour, and it seriously looks like the most fun EVER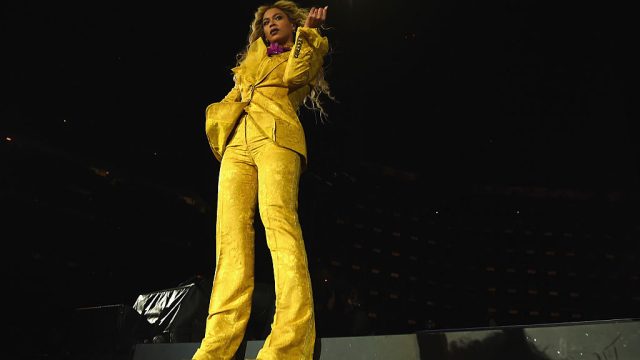 If you were able to get tickets to the "Formation" world tour last year, lucky, lucky you. If not, Beyoncé's flashback video from the "Formation" tour will give you even more FOMO than you had before. But you get to listen to a little Beyoncé and live vicariously through all the badass dance moves, goofy behind-the-scenes shots, and smiles. Lots, and lots of smiles. Ugh, if only we could teleport back in time.
Queen Bey posted the video on Friday in honor of #FBF and the one-year anniversary of the tour's kick-off. In it, you can watch Bey and her dancers practice (and just let loose), see Beyoncé herself play around, coo over some quality time between Bey and Blue Ivy, and marvel at other celeb sightings.
Everyone looks like they're having the time of their lives, and if you think about it, they likely were. Remember how AH-MAZING it was when Lemonade dropped, and no one could stop listening to the entire empowering album over and over and over again? Those were simpler, more fun times.
Although it's been a year since we were all first introduced to the wonder that was Lemonade and the "Formation" tour, now we have a whole new reason to obsess over our fave. What's better — pregnant Beyoncé or touring Beyoncé? No one does pregnancy better than Bey.
Not only did she announce her pregnancy in the most regal way possible — a gorgeous photo shoot celebrating her womanhood — but she's been keeping it up. Her Easter shoot with Blue was just adorable, and she keeps coming out in the best baby-bump-hugging dresses we've ever seen. Like over the weekend, when she wore a *stunning* red gown by Stephanie Costello for Stello to her mom Tina Lawson's inaugural Wearable Art Gala in Los Angeles. Of course, she topped it with a flower crowd adorned with not just flowers, but also dragonflies and butterflies.
It's hard to tell sometimes whether Bey is wearing art or just IS a work of art. But honestly, we're fairly certain it's a little bit of both, and we think you'll agree — especially after you see how much fun her crew, friends, and family had with her on the "Formation" world tour.