Beyoncé shares baby bump photos from an Oscars party, is flawless as usual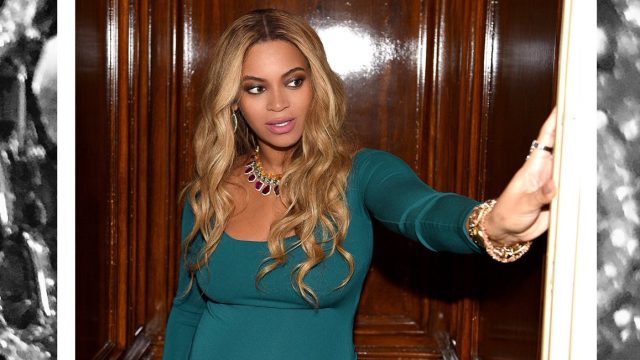 Just when we thought the Oscars buzz was dying down, Beyoncé posted a few baby bump pictures on her website that caught the whole world's attention. She attended a Beverly Hills party on Saturday night with her husband Jay-Z to honor the Academy Award nominated film Lion, and it was hosted by the Weinstein Company and Grey Goose. Beyoncé rocked a tight fitting emerald green Nicole Miller dress and some showstopping jewelry on her neck, wrists, and fingers.
Her lips were a soft pink and her hair fell down around her shoulders in big, wavy curls. Beyoncé's skin, as usual, was radiant as ever, and if you look close enough you can see the perfect amount of sparkly eyeshadow on her lids.
false
The whole look is quite simple, but when you add Beyoncé to it, it becomes anything but simple. You can see all the photos on her website, where she credits the designers responsible for her ensemble. Her earrings are by Kimberly McDonald, her bracelets are by Le Vian, her necklaces are by H. Stern and Coomi, and her rings are by Pasquale Bruni, Doron Paloma, Hearts On Fire, and Narcisa Pheres.
The common denominator out of all the photos is her beautiful baby bump. In case you've been living under a rock and missed it, Beyoncé and Jay-Z announced that they're expecting twins, so her belly is growing by the minute.
If there's anything the Internet goes crazy for, it's Beyoncé pregnancy photos. We have a feeling this won't be the last time we see a fashionable Beyoncé baby bump ensemble before we welcome the Carter twins into the world.