Beyoncé revealed how her goals for her daughters differ from her goals for her son—and it's feminist AF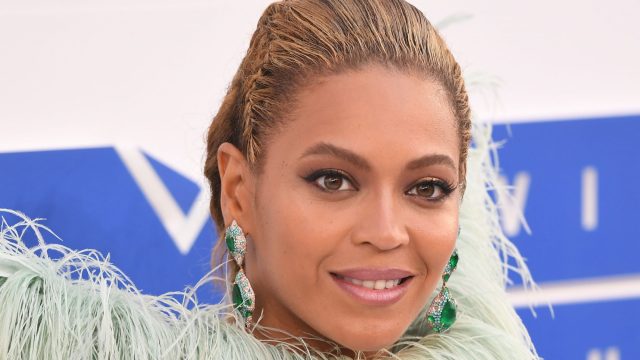 Beyoncé's covers for Vogue's September issue have officially arrived and, naturally, they are nothing short of breath-taking. This morning, Vogue released both covers for its legendary fashion issue, featuring photos of Beyoncé shot by 23-year-old photographer Tyler Mitchell.
The singer and icon, according to the Huffington Post, was given an "unprecedented" amount of creative control over the September issue, including the hiring of Mitchell, who is now the first black photographer to ever shoot a cover of the mag. In addition to stunning, raw photos of the Grammy-winning singer, the September issue also features a rare and candid interview with her.
Beyoncé talked about everything from her groundbreaking Coachella shows to how important it is for her to use her platform to open doors for other marginalized artists. And she also discussed her home life—most specifically, parenting her three young children.
In the interview, Beyoncé noted that she never wants her children to be bound by limitations, especially not by limitations placed on them by societal expectations.
"As the mother of two girls, it's important to me that they see themselves too—in books, films, and on runways," Beyoncé said of Blue Ivy and Rumi. "It's important to me that they see themselves as CEOs, as bosses, and that they know they can write the script for their own lives—that they can speak their minds and they have no ceiling. They don't have to be a certain type or fit into a specific category. They don't have to be politically correct, as long as they're authentic, respectful, compassionate, and empathetic. They can explore any religion, fall in love with any race, and love who they want to love."
In addition to sharing her hopes for her daughters, Beyoncé also talked about raising her son to reject the confines of toxic masculinity. The "Formation" singer shared that she wants Sir to grow up with a "high emotional IQ" and not "fall victim to what the internet says" about what it means to be a man.
She said, "I want the same things for my son. I want him to know that he can be strong and brave but that he can also be sensitive and kind. I want my son to have a high emotional IQ where he is free to be caring, truthful, and honest. It's everything a woman wants in a man, and yet we don't teach it to our boys."
"I hope to teach my son not to fall victim to what the internet says he should be or how he should love," Beyoncé continued. "I want to create better representations for him so he is allowed to reach his full potential as a man, and to teach him that the real magic he possesses in the world is the power to affirm his own existence."
In the interview, Beyoncé shared how her outlook on her body changes during her second pregnancy. She said that while after giving birth to Blue Ivy, she was determined to get back to her "post-baby body" within three months, she had a different approach the second time around.
After the trauma of delivering Rumi and Sir via an emergency C-section, Beyoncé embraced her body and listened to its needs as she healed. She said,"I needed time to heal, to recover. During my recovery, I gave myself self-love and self-care, and I embraced being curvier. I accepted what my body wanted to be."
She added that a year after giving birth to the twins, she hasn't pushed herself to return to her pre-twins body, instead loving and embracing her shape for what it is and what it's been through.
"To this day my arms, shoulders, breasts, and thighs are fuller," Beyoncé said. "I have a little mommy pouch, and I'm in no rush to get rid of it. I think it's real. Whenever I'm ready to get a six-pack, I will go into beast zone and work my ass off until I have it. But right now, my little FUPA and I feel like we are meant to be."
In an Instagram-obsessed world in which we're constantly holding ourselves to unrealistic standards, Beyoncé's words are perhaps more important than ever, and we thank her for this important reminder.
Beyoncé's September issue of Vogue is out now.