You won't believe how much money Beyoncé is worth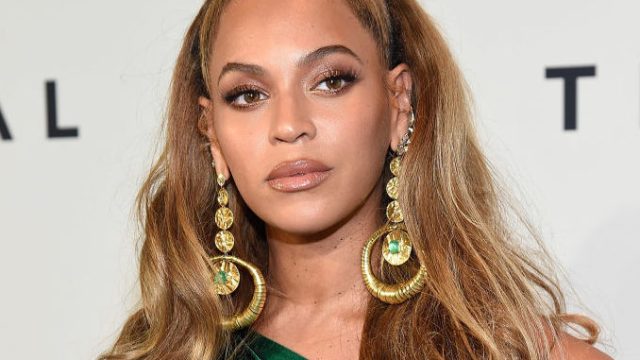 As a superstar singer, businesswoman, actress and songwriter, we know that our girl Beyoncé makes a ton of money every year. After all, she is a one-woman empire with 22 Grammys, a clothing collection, perfume deals…and that's just the tip of the iceberg.
But, if you've been reading about Bey's charitable doings and got to thinking about what, exactly, Beyoncé's net worth is then we have an answer! According to Forbes, her total net worth is around…$350 million. Or if you believe CelebrityNetWorth.com, Beyoncé's net worth is closer to $500 million. Either way, that's a serious chunk of change.
However, if you combine Beyoncé's net worth with the estimated $600 million her husband Jay Z is reportedly worth, that gives you close to a billion dollars! Basically, this means that the Carter-Knowles have the GDP of a small country, like Grenada.
Although the only person who knows for sure how much money is in Bey's bank account is her money manager (who likely gets paid a good salary to keep his lips zipped). But here's what we do know about Beyoncé's net worth and assets, thanks to financial journalists and internet sleuths.
Beyoncé's income
Born Beyoncé Giselle Knowles in 1981, the singer rose to fame as a member of the girl group Destiny's Child before launching her own solo music career in 2002. Beyoncé has also dabbled in acting, starring in movies like Dreamgirls and Austin Powers in Goldmember.
Beyoncé's most profitable creative endeavor, however, may be her live tours. The singer has done six live concert tours around the world since going solo, and Forbes has calculated the mother of three earned $250 million alone from her 2016 Formation World Tour. Her previous tours didn't do too shabby either. 2013's The Mrs. Carter Show World Tour and 2014's On the Run Tour brought in a reported $188.6 million and $109.7 million, respectively.
Beyoncé also earns income from savvy investments. For example, her value in the streaming service Tidal (owned by husband Jay Z) spiked when Sprint later invested $200 million in the company.
In 2016, Forbes listed Queen Bey's net worth as $265 million, and the following year the company named her #1 on their highest-paid women in music list with estimated $105 million in income.
Beyoncé's endorsement deals
Beyoncé‪'s first foray into endorsement deals was with her mother Tina Knowles. From 2004 to 2012, they collaborated on a House of Deréon clothing and shoe collection that was sold at places like Macy's and Bloomingdales and, at one point, was bringing in $100 million a year. However, after profits declined, the fashion line was shut down.
Still, Beyoncé‪ continued to rake in money from other collaborations. In 2012, the singer signed a $50 million deal with Pepsi. In 2013, she landed a major campaign with retailer H&M. 2016 brought Ivy Park, Beyoncé's line of athleisure clothing that became a top-selling collection at Nordstrom's. Bey has also released three fragrances and has reportedly made $400 million from perfume sales alone.
Beyoncé's real estate assets
In 2017, Beyoncé and Jay Z paid $88 million for a lavish Bel Air, California compound. The home is said to have 30,00 square feet of interior space, plus four pools, a 15-car garage and bullet-proof glass. Around the same time, the couple reportedly bought a $26 million house in the Hamptons, New York. In addition to these two palatial homes, Beyoncé and Jay Z's real estate portfolio also includes homes in New York City and New Orleans.
So, this is all to say, Beyoncé is not exactly going to be hurting for cash anytime soon. Yes, queen boss Bey! Get it.