Fans are convinced Beyoncé and Jay Z are going on tour together thanks to this one major clue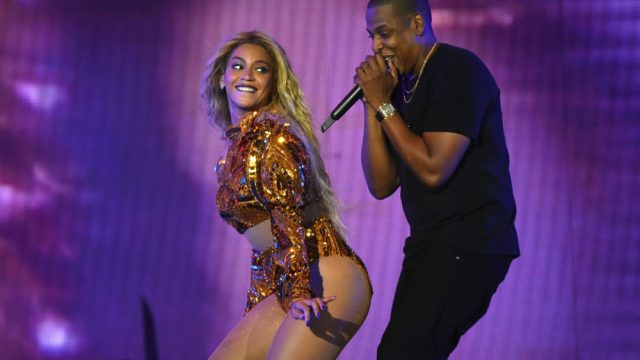 Beyoncé and Jay Z fans are willing more money into their bank accounts this week amid rumors that the two performers are going on tour soon — together. The Beyhive has been buzzing ever since a radio host leaked the rumor on-air, and now new Ticketmaster pages have turned the fandom into full-on sleuths.
In late January, Laura Stylez of Hot 97's Ebro in the Morning mentioned the possibility of a tour.
"So, this a rumor," she admitted. "I have my sources, okay. So, don't ask me any questions. And again, it's a rumor... Somebody told me that The Carters – Jay Z and Beyoncé – might, this is a might, be announcing a tour very soon.
With the rumor unsubstantiated, fans did their best not to get too excited, but new evidence has turned the buzzing into an all-out roar. On February 21st, fans noticed an official "Beyoncé & Jay Z" page on Ticketmaster U.K.'s website, and fans uncovered the U.S. page not long after. (It should be noted that at the time of writing, both joint Ticketmaster pages have been taken down, which TBH presents more questions than answers).
Bey and Jay have toured together before for their "On The Run" tour five years ago, but a "Lemonade" and "4:44" tour would likely be much a more personal, raw, and illuminating glimpse into the couple's relationship. false
Some fans are breathless with excitement over the prospect of their favorites joining forces again. false false
Others think that too much has happened, and a joint tour would be an uncomfortable experience for both fans and performers alike. false false false
If the rumors are true, Beyoncé and Jay Z would have no shortage of songs to sing together: After all, Jay Z confirmed the existence of a joint album that the two were working on before they both released their solo projects.
Real-life footage of us at their concert:
So…how true are these rumors? Does Ticketmaster taking down the pages indicate they were posted early by accident? Will Blue be present letting us know when to clap? One thing is for certain: If Bey and Jay do join forces again, we'll be first in line for tickets.