Beyoncé and Jay Z performed at a Hillary Clinton rally and it was incredible, of course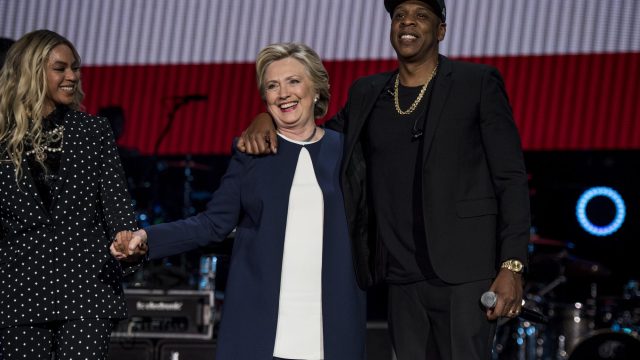 In the wise words of Beyoncé "Stars in her eyes/She fights for the power, keeping time/She grinds day and night/She grinds from Monday to Friday/Works from Friday to Sunday"! In this case these lyrics are the anthem for not only Beyoncé, but Hillary Clinton as well! On Friday, Beyoncé and Jay Z performed at a Hillary Clinton rally in order to boost turnout because Ohio is a swing state.
Over the last couple of years Beyoncé has been more open to letting the world know that just because she is private about her thoughts on politics, the economy and affairs of the world, that does not me she doesn't have an opinion. But since she does have such a large platform we have seen her become more vocal about her thoughts.
"Eight years ago, I was so inspired that my nephew, a young black child, could grow up knowing his dreams could be realized by witnessing a black president in office ... and now, we have the opportunity to create more change. I want my daughter to grow up seeing a woman lead our country and know that her possibilities are limitless."
Over the weekend Clinton's campaign will feature celebrity concerts and appearances. Stevie Wonder performed at a concert in Philadelphia on Friday night, while Jon Bon Jovi will be hosting his own concerts in St. Petersburg, Florida, on Saturday and Charlotte, N.C., on Sunday. Katy Perry will appear with Clinton in Philadelphia on Saturday.
On Friday, Trump criticized Clinton for appearing with the two performers. Throughout his campaign, many Americans thought he would grow to understand that the context of his words are so limiting to what this country has become. But the fact that he would criticize Clinton for appearing with two self-made African Americans shows that his thoughts will never change.
Beyonce is single handily responsible for changing so many women's (and men) lives. Whether it was learning to become comfortable with your body, aspiring to be more than just a wife and mother, and most importantly, to love yourself. Jay Z has also come so far from being the boy from Brooklyn that grew up in the Marcy Projects. There is no denying how inspiring these two are.
So Hillary Clinton, we applaud you for sharing the stage with Beyonce and Jay Z last night. We just kind of wished someone would have introduced them and told the crowd to scream for Mrs. Beyoncé Knowles Carter and Mrs. Hillary Rodham Clinton, if you're nasty!