Beyoncé gifted Reese Witherspoon the upcoming Ivy Park x Adidas collection, and the resulting dance video is our new BFF goals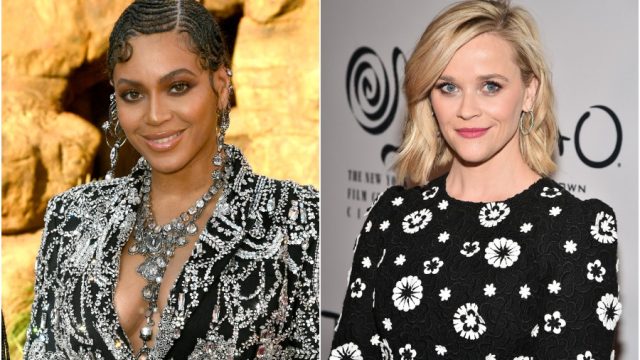 Beyoncé and Reese Witherspoon are shaping up to be great friends in the short span of 10 days. And luckily for Reese, Beyoncé is a very generous friend. It all started with a bold move from Witherspoon—which doesn't surprise us (girl's a boss). She and her The Morning Show costar Jennifer Aniston ran out of drinks at their table at the Golden Globes, so naturally, Witherspoon asked the next table for a glass of bubbly. That table happened to be where Jay Z and Beyoncé sat sipping Ace of Spades, and the couple happily quenched Reese's thirst. Fast-forward three days later when Reese returned home to find a case of champagne from the pair, solidifying that she made the right choice by bumming their bubbly.
Apparently Witherspoon made quite an impression on Queen Bey, and that glass of champagne is the gift that keeps on giving. Yesterday, January 15th, Reese received Beyoncé's new, upcoming activewear collection, Adidas x Ivy Park, in its entirety. The collection doesn't drop until January 18th, so Witherspoon gets to rock the swag before anyone else (besides Yara Shahidi, who also received the collection from Bey).
Witherspoon posted a video to her Instagram modeling the entire Ivy Park collection head to toe, and we have to say, orange and burgundy suit her.
The IGTV video began with Reese wondering what the giant orange box delivered to her home contained. She rolled the enormous package up her driveway (tbh, she needed some assistance—that thing looked heavy) and continued to speculate about the contents with her mom, Betty. The mother-daughter duo guessed balloons, art, and movie posters before Reese took a peek inside, and then popped out of the box clad in Ivy Park swag.
She captioned the post, "Does this officially make me the newest member of the #Beyhive? 🐝 Thank you, @Beyonce for the #IvyParkswag!"
Reese looks right at home in these Adidas x Ivy Park shoes, leggings, hats, sweatshirts, jumpsuit, and a skin-tight, deep v-neck dress that she struts away to close out the iconic video. We smell an everlasting friendship brewing between these two boss ladies, and to think it all started with a glass of bubbly. Note to self: Always ask celebs for champagne—it could lead to the friendship of a lifetime.