Beyoncé's Grammys performance was unbelievable, and we will probably never recover from it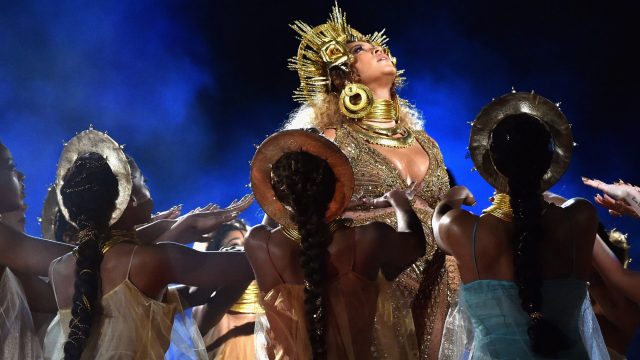 Well, here we are at long last: Beyoncé came onto the stage at the 2017 Grammys like an angel, a warrior, a queen, a reckoning. Blonde curls flowing out of a gold flower crown, young maidens dancing and bowing at her feet in long, loose dresses, she presided over this earth like Khaleesi, Mother of Dragons (or at least the luckiest twins in the world).
In other words, Beyoncé's performance at the 2017 Grammys was the unreal revelation we all expected, hoped for, and frankly, needed.
The performance was an ode to motherhood. She was introduced by her own mom, Tina Knowles, who beamed with pride at her daughter's accomplishments. At one point, three generations of the family knelt together on the stage: Tina, Blue Ivy, and Beyoncé, cradling her gorgeous pregnant belly. It was a movement. It was so many minutes of spoken word poetry and a mashup of "Love Drought" and "Sandcastles."
Ugh, we were not ready. We are never ready. https://www.youtube.com/watch?v=0kC3Svj5pEE
She sat in a chair on top of a table. The chair tipped backward and Bey stayed poised, eternally poised. Flowers and confetti filled the stage as she moved gracefully around her kingdom in a stunning sheer gold gown, a golden microphone to match.
Of course, everyone was tweeting about this literally life-changing performance.
Elizabeth Banks was watching with her children.
Issa Rae cracked a joke. false
Even Larry King got in on the action.
At the end, Beyoncé stood buoyed by women, arms raised. She gave her benediction: "If we're going to heal, let it be glorious." Jay Z looked like he was crying in the audience, arms around Blue Ivy. We all cried, basically. Regardless of whether she wins Album Of The Year for Lemonade, she is the ultimate winner of our hearts. Long Live Queen Bey.