Beyoncé got her belly decorated at a pre-baby shower, and she looks seriously magical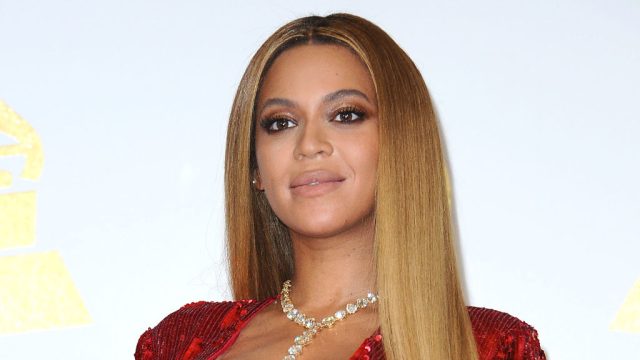 Beyoncé doesn't do anything in a simple or boring way. Ever since announcing her pregnancy, she's been impressing us with her maternity style, but this weekend she took it to a whole new level. This weekend, Beyoncé painted her belly for a celebrity-packed push party, and we sort of wish we could have been there to see it for ourselves. Along with a gorgeous headdress, Beyoncé just wore a bra top to better show off her bump, which had a temporary tattoo painted on it.
The 35-year-old mom dubbed the gathering the "Carter Push Party," and it was attended by Jay Z and Blue Ivy, along with Serena Williams (also pregnant), fellow Destiny's Child members Kelly Rowland and Michelle Williams, and La La Anthony. Apparently the dress code was "color," because every one was decked out in bright and patterned dresses. Thanks to her mom, Tina Lawson, fans were able to sneak a peek on an Instagram video.
Beyoncé also posted her own pics of the party, including a sweet picture with Jay Z, in which they're just beaming smiling at each other. Their family is about to get two times bigger, and they apparently couldn't be happier about it. Every day the world gets closer to being blessed with two more mini-Beys, what's not to smile about?
Beyoncé's push party was pretty epic.
We're dying to know what all that catering is in the background, by the way.
Drunk in love.
The party was also poolside, with pink tents and zebra floaties, according to paparazzi photos taken above their house in Beverly Hills. Huge balloons saying, "Carter Push Party," and "Twinning"were also spotted.
https://www.instagram.com/p/05
Even the cakes had animal prints.
It really looks like the Carters know how to throw a good party. A source close to the coupe told Us Weekly that they're very ready for their new additions. "They have been trying for a long time and now to be blessed with twins they are so over the moon. It's even better than they wished for."
To be honest, it's even better than we could wish, too.