Stop everything — Beyoncé just dropped a new song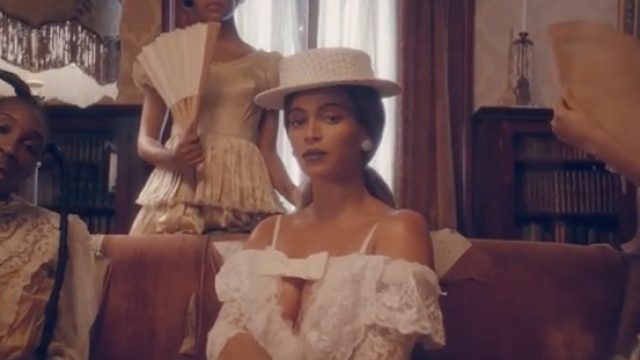 Let's just call it what it is: Beyoncé is a superhero. If any of us were expected to perform at the Super Bowl tomorrow we'd likely be prepping for that. Maybe we'd practice our power poses, or pump ourselves up in front of the mirror, or maybe we'd just try to sleep through the anxiety.
But Beyoncé is not regular folk. Instead, this weekend Beyoncé released her compelling new single "Formation," along with a music video shot in New Orleans that invokes Hurricane Katrina and black pride… and guys, the video is powerful, fierce, and downright fantastic. I literally cannot rave about it enough.
Who other than Beyoncé can write such dynamic lyrics as:
One line in particular has received ample attention from fans and even her fellow celebrities. At one point in the song, Beyoncé raps, "When he f–k me good, I take him to Red Lobster."
This inspired singer (and apparent comedian) John Legend to tweet:
Legend's wife Chrissy Teigen replied to her husband's Tweet, simply stating, "This is a good tweet."    Kendall Jenner joined the Twitter fray:
Everyone's favorite Orange Is The New Black actress Laverne Cox was just as wowed:
That's it, Beyoncé is not just a superhero, she's a goddess.
"Formation" was announced today simultaneously on Beyoncé's Instagram account and official website with no warning, as has been Bey's mo as of late. The song and video are also streaming on Tidal, the music service owned by Beyoncé's husband Jay Z. As of right now, Tidal is offering a free download of the track in exchange for an email address. There are two cuts of the music video (one features a parental advisory warning for explicit lyrics), which was directed by Grammy-award winning music video director Melina Matsoukas. Both cuts feature a cameo by Beyoncé's daughter Blue Ivy, a star just like her mama.
The song, written with Swae Lee of the rap duo Rae Sremmurd, is Beyoncé's first major release since the jaw-dropping, industry-rattling surprise release of her self-titled album in December 2013. Guys, I'm still listening to that album in amazement. The Louisiana-centric track also features spoken interludes from the New Orleans bounce artist Big Freedia and the late YouTube personality Messy Mya, who was murdered in New Orleans in 2010.
Beyoncé is using her power and talent to make a statement– and I, for one, am listening in awe.