We're still reeling over Beyoncé's surprise appearance at the Grammys
The Instagram-fueled rumors were true: Beyoncé presented at the Grammy's, after all!
We freaked out a little bit when Beyoncé stepped out onstage to present the final award of the night, Record of the Year. She was wearing a magnificent and daring long sleeve white lace semi-sheer gown with sparkling embellishments, a high button-down collar, and two thigh-high slits. The gown, described by some as a "wedding gown," was designed by Israeli designer Inbal Dror. Beyoncé topped off the look with metallic sandals and large, glittering, diamond-shaped earrings.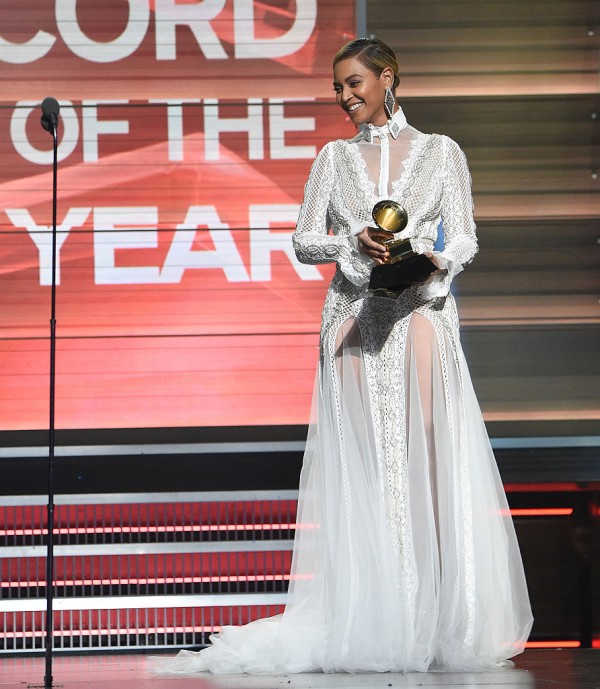 Beyoncé is the most Grammy-nominated female music artist in history with a whopping 53 nods. She has won 20 Grammys over the past 15 years, including three last year. Good. And she deserves every one.
As for who won? Bruno Mars and Mark Ronson's "Uptown Funk" got the Grammy for Record of the Year. They beat D'Angelo and the Vanguard for "Really Love," Ed Sheeran for "Thinking Out Loud," Taylor Swift for "Blank Space," and The Weeknd for "Can't Feel my Face."
Of course, we really wish Beyoncé had performed at the 2016 Grammys. Can you blame us? We were blown away by her performance of "Formation" at the Super Bowl halftime show earlier this month. But hey, we'll take what we can get.