Beyoncé and Solange fell onstage at Coachella, and it became a highlight of the set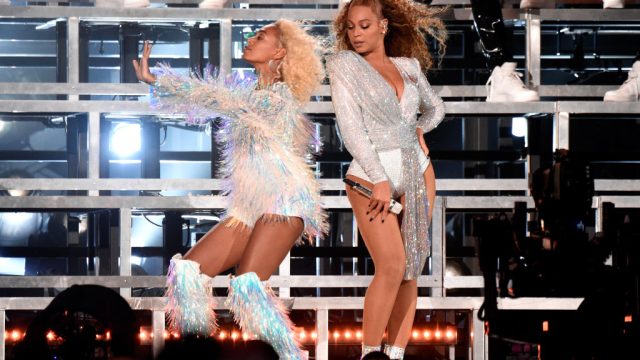 Beyoncé's life-affirming second set at Coachella was just as bomb-tastic as her debut Coachella performance last week, and some of the highlights from her finale performance included a duet with J Balvin, a dance-off with her sister Solange, and an unrehearsed tumble to the stage that was instantly iconic. ~Beyoncé fall~ is the hottest trend for spring.
During a "Get Me Bodied" duet with Solange, Beyoncé attempted to pick her sister up but they fell backward to the floor. They then kicked their legs in the air as if it were choreographed, giggled, and got back on their feet. The crowd went nuts. Someone on Twitter called it "another fave moment," and another person said they "styled out their fall." Show us another artist who can slip and fall onstage and receive such glowing editorial reviews in the process.
Aside from their little performance snafu, Beyoncé and Solange's entire dance breakdown is worth watching. Because Beyoncé's weekend two performance wasn't live-streamed, it's hard to find a link, but here's one from Solange's dance cameo last weekend. You can also watch the Beyoncé Coachella performance online here from the weekend one live-stream.
Besides the choreography glitch, Bey made a few other changes to her Coachella set. She switched up the entire wardrobe and ran with a silver theme throughout. Plus, last week's yellow BAK hoodie was fuchsia the second time around. BTW, you can buy Beyoncé's college-inspired #Beychella merch on her website.
false
We seriously love it when Beyoncé and her sister link up because the star power in that family is ridiculous. Maybe if we're good, we'll get another Solange dance-break cameo in Beyoncé and Jay-Z's upcoming On the Run II tour. Fingers crossed.