Beyoncé's first headlining performance at Coachella was an undeniable homage to black culture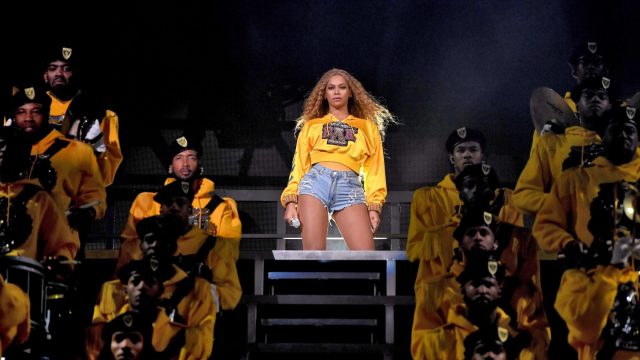 As far as we're concerned, the Coachella Valley Music and Arts Festival just needs to change its name to #Beychella. There, we said it! Beyoncé took to the Coachella stage Saturday, April 14th, where she became the first black woman to headline the event. The first. In 2018.
As expected, Twitter had major reactions to Bey's history-making appearance. We loved the custom Balmain outfits, the heavy choreography, and (of course) the Destiny's Child reunion. But there was something else so special about her performance: Beyoncé paid homage to various symbols of black culture, including HBCUs (historically black colleges and universities), black leaders, and embracing women of all sizes.
The significance of being the first black woman to headline the stage clearly didn't go unnoticed by Bey. During the middle of her set, she said to the crowd: "Coachella, thank you for allowing me to be the first black woman to headline. Ain't that 'bout a bitch?" So, of course she had to go off and show out and make Coachella regret not making her a headliner sooner.
If you've ever been to an HBCU homecoming, then you know it's a moment. And if you've never been, then you're missing out. The band, the dancers, the costumes … It's something you'd see during a Super Bowl halftime show. Beyoncé brought this experience — and so much more — to the Coachella stage for the whole world to see and revel in.
Bow down to the Queen.
false
In addition to the energy of the HBCU homecoming, Beyoncé beautifully sang "Lift Every Voice and Sing," also known as the black national anthem.
false
Beyoncé's choice of colors were also important. We associate black and yellow with the BeyHive, of course, but there was likely some cultural significance to her Coachella aesthetic.
Some saw it as an homage to Alpha Phi Alpha fraternity (their colors are black and old gold) or to the goddess Oshun, whom Beyoncé has repeatedly referenced in the past.
And in between the costume changes and choreography that left us breathless just watching it, Beyoncé threw in powerful Malcolm X quotes about the protection black women need and deserve, but rarely get.
false
Our Queen has always embraced her curves, and she shared the stage with curvy dancers who slayed right alongside her!
false
Per usual, Beyoncé left us recovering from another killer performance. We're not worthy!