This is the beauty routine a serum-obsessed writer follows religiously
Welcome to The Beauty Files, where HelloGiggles editors and contributors share what exactly they put on their faces, and why. We want to take you on this voyeuristic journey because we believe makeup means something different for every single person — applying makeup is a conscious, intimate decision we make almost every single day, and there's usually a method behind the madness. Join us every week as we spill the beans on beauty products, and feel free to submit your own Beauty File. E-mail us at pitches@hellogiggles.local.devgo.vip!
Hi! My name is Bethany and I'm a writer living in Brooklyn. It's probably prudent to share that I've never been particularly skilled at makeup. I struggle to maintain a steady hand to do the perfect cat-eye, applying blush remains a foreign concept to me, and don't even get me started on my inability to figure out eyeshadow. So when it comes to beauty, I've always kept it simple.
However, lately I have become fully and completely obsessed with skin care. Yes, the benefits of skin care have become the source of debate as of late—some say it's a con, others say it's a money-making exploit of the self-care movement. Look, there's probably merit to both of these, but the thing is, I don't care! Finally figuring out a skin care regimen that works for me and experimenting with new products brings me a small bit of unadulterated joy and relaxation in these otherwise chaotic, stressful, and unpredictable times. So without further ado, this is my very own beauty routine.
8:00 a.m.—Up and at 'em.
I recently started full-time freelancing, and though I'm still adjusting to setting my own schedule, I try to get up at a decent hour to get cracking. Plus, even if I try to sleep in, my cat Zora usually wakes me up in due time by plopping on my face.
https://www.instagram.com/p/BmD2t8MBRc7
I've always been a shower-at-night kind of girl, mainly because I like hopping into bed feeling clean and because it allows me more time to sleep in the morning. When I do wake up, I start by washing my face with a gentle cleanser. There are a few different types I like, but I switch between Appriya's Mineral Cleansing Mousse ($59) and Seed's Nourishing Facial Cleanser ($38). (Seed's formula base is sunflower seed oil and the waterproof bottle is made from recycled cardboard!)
A few times a week I also use an exfoliating face wash for a deeper clean. I use the cult classics like the St. Ives Fresh Skin Apricot Scrub ($3.64) or the Aveeno Positively Radiant 60-Second In-Shower Facial ($7.99).
Gang's all here.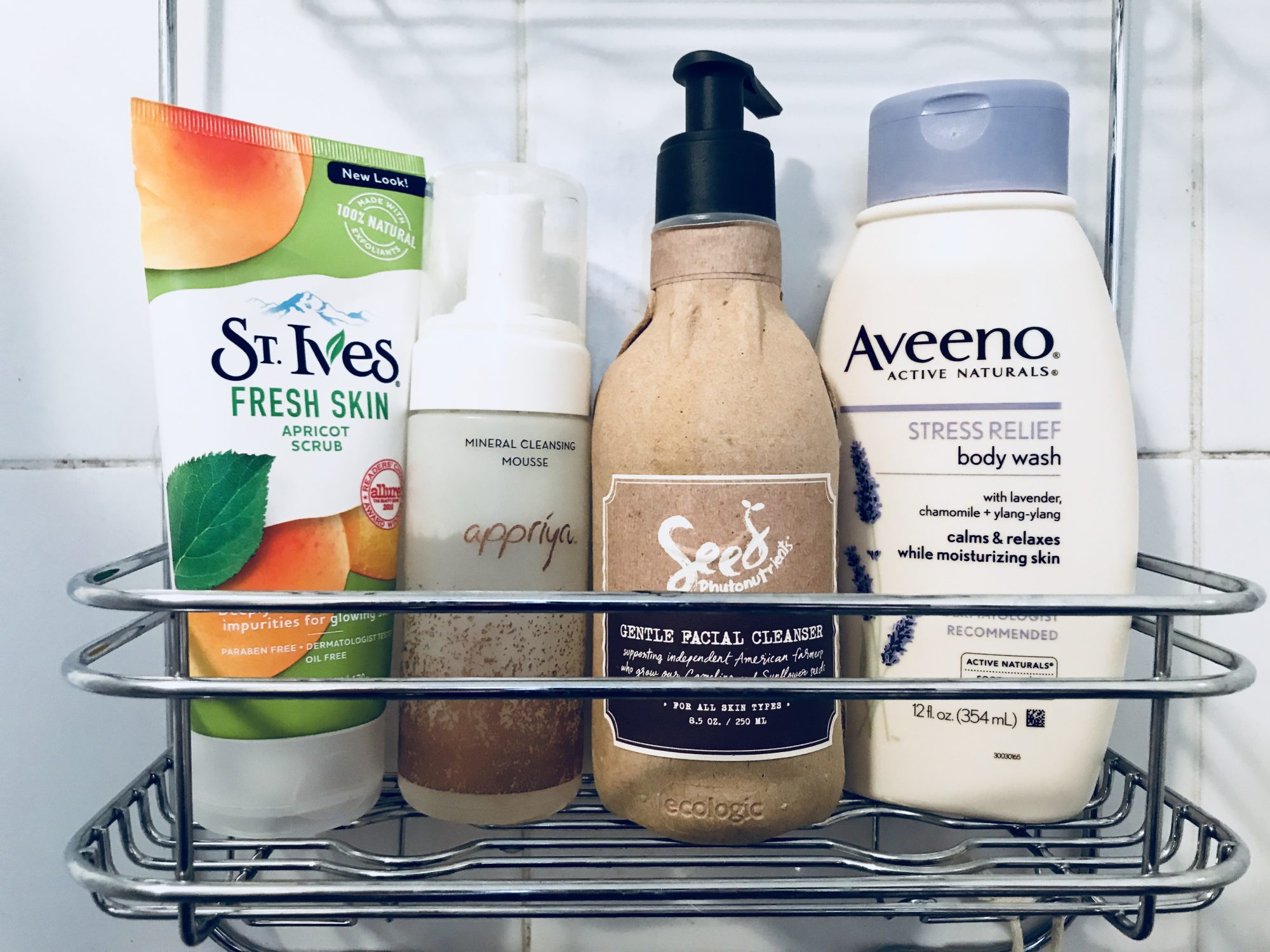 After attending a panel on French beauty (yes, yes, I know) I've become a devout user of toner. So after I do a thorough face clean, I grab a cotton pad and douse it with some L'Occitane Peony Perfecting Toner ($24) to remove any impurities from ye olde pores. I'm now fresh-faced and ready for the day.
8:30 a.m.—Foundation time.
What's that saying? You can't build a solid structure on a weak foundation, or something like that? Well, that's how I feel when applying makeup in the morning. I start by using this pore-minimizing base cream, Touch in Sol No Poreblem Primer ($18), which is also moisturizing.
Next, I add one or two drops of Circumference Pure Balancing Botanical Face Oil ($100), which is an instant face brightener. Even on my dullest skin days, it'll give it some light and luminosity. I've recently become a loyal user of Tarte's BB Tinted Treatment 12-Hour Primer Broad Spectrum ($37). It creates a smooth, even layer on the face (and includes SPF 30). It's layerable as well, so on my not-so-great skin days, I add a bit more.
Hopefully, this isn't a blasphemous comment, but I've come to the conclusion that I'm not a *huge* fan of Glossier. I've tried many of its products and haven't found them to be super effective for me, but the Stretch Concealer ($18) has proven to be a trusty tool for covering blemishes. I'll add that to the mix if I need extra reinforcements.
https://www.instagram.com/p/BR4hwi8jkBL
Alright, my base is done, so it's on to the rest of the face.
I set everything with the Cover FX Perfect Setting Powder ($35) and occasionally, I'll add a little Physicians Formula Butter Bronzer ($14.99). As I mentioned earlier, I don't fuss much with eyeliner or eyeshadow, but if I'm feeling brave I'll use my Tarte Tarteist Double Take Eyeliner ($24). (Let it be known that the last time I nailed a cat-eye it melted in the New York City heat and didn't bear a single witness.) However, I always wear mascara. Right now I'm using the Almay One Coat Mega Volume Mascara ($4.49).
I'm a sucker for highlighter. It reminds me of the adult version of using Bath and Body Works Roll-On Glitter (which, omigod, I just found on eBay for $25 and I might buy it?). I love how just a touch of it lights up your face. I like this palette from Cover FX's Perfect Light Highlighting Palette ($21), but if I'm feeling a bit more ~dramatic~ I'll use my Tarte Goddess Glow ($20) for a bit more shimmer.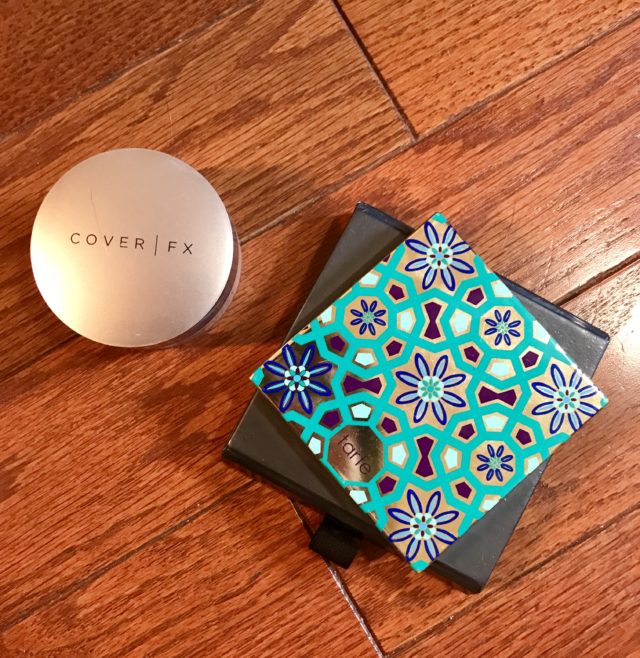 Lastly, I apply lipstick. This has become a mainstay of my makeup regimen for the past several years now. I love how it transforms your face and makes you look alive. 90% of the time I'm wearing Revlon Matte Balm in Fiery ($4.99), but I also dabble in Urban Decay's Lo-Fi Lip Mousse in Amplify ($22), which is truly weightless (I love a bright red). For going out on the town, I'll do something with a bit more flare like my Fenty Stunna Lip Paint ($24).
Here's a picture from when I met Ashley Graham (a truly delightful human) wearing my go-to Revlon lippy:
https://www.instagram.com/p/BbapxsWjfKR
Alright, ready for the day! At this point, I either venture into the city for interviews with sources, hit a coffee shop, or post up and write at my desk.
2 p.m.—Retouch o'clock.
I have a tendency to get oily by this point, so I usually have blotting paper on me. Right now I'm using Dependably Clear Blotting Sheets by The Honest Company ($4.50). If I'm really dragging, I give my face a quick spritz of the Saje Lavender Relaxing Mist ($14.95). It gives me a bit of a wakeup boost.
Around 9-10 p.m.—I made it through the day.
After a day of writing and (possibly) a good workout, I hop in the shower. Time to get ready for a major highlight of my day: my nightly skin care routine!
Two products that have greatly transformed my skin are the Moon Juice Exfoliating Acid Potion ($39) and the Moon Juice Beauty Shroom Plumping Jelly ($58). I've been using them for about five months, since I wrote a Q&A with Moon Juice founder Amanda Chantal Bacon. I was skeptical going in—can a company that makes something called Sex Dust really make a good skin care product?—but the acid neutralizes my skin and the plumping jelly moisturizes it so well that my breakouts have decreased dramatically. I usually stick to just that, but occasionally, I'll take a night off the Moon Juice routine and opt for a night serum.
I've become pretty obsessed with serums, and have tried a handful that I really love. Some of my favorites are the Kiehl's Nightly Refining Micro-Peel Concentrate ($60) and Julep's Boost Your Radiance Reparative Rosehip Seed Facial Oil ($36). They all smell really nice and make me feel like I'm in a fancy spa.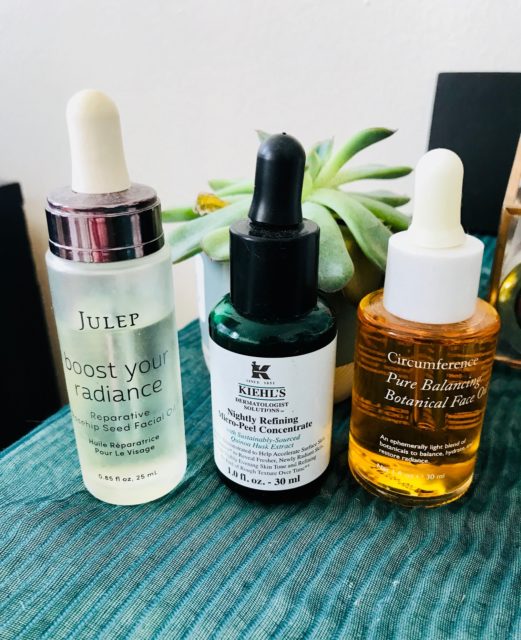 About once or twice a week, I'll do a mask when I get out of the shower. I have accumulated quite a few different types but these are some of my favorites.
I love the H2O Plus AquaDefense Refining Matcha Detox Mask ($38). It is very goopy and a bit of a sticky mess to apply, but that's part of the fun. My favorite part is peeling it off—it's a sensation akin to peeling off skin, which I also enjoy because I'm a weirdo.
Here's a picture of me testing out the Yes To Tomatoes Detoxifying DIY Powder Paste Mask ($12.79). Overall, a good mask, but requires a bit of work to create the right consistency (I didn't do it right the first time) and it *will* turn your sink black:
https://www.instagram.com/p/BaPaf0DjVIC
Another favorite is the L'Oreal Pure Clay Mask Clear & Comfort ($12.99). It leaves a nice cooling sensation and makes you look like a member of the Blue Man Group or a Smurf, whichever you prefer.
https://www.instagram.com/p/Bbf7MRSjOxz
I don't fuss much with my hair, and usually let it air dry. However, if I'm blowdrying it, I start by adding the Aveda Smooth Infusion Styling Cream ($25) and follow up with the Verb Ghost Oil ($16) to smooth fly-aways and add shine.
12:00 a.m. Voila, done! Time for my beauty rest.
Indulge in beauty-themed voyeurism by reading all of our past Beauty Files, here.