These are the best work blazers for under $50, according to a fashion design expert
Sure, you could spend three figures (or even four!) on a tailored suit jacket for work. But dressing up for the office doesn't need to cost nearly that much. In fact, in our hunt for affordable women's work blazers we found a handful of worthy contenders for as little as $20.
You just need to know what to look for, says Deborah Beard, chair of technical design and assistant professor of technical and fashion design at New York City's Fashion Institute of Technology.
The biggest difference between high- and low-end jackets is in the types of fabric; instead of silk blends or wool, cheaper blazer are more likely to be synthetics like polyester or polyester blends. "That doesn't mean the quality is bad," Beard says. "The price of the fabric is what costs the most and it jacks up the price of the garment. It's not necessarily the workmanship."
In fact, many of the design techniques in pricey blazers turn up in their cheaper counterparts. "The technical part of the garment is still being made the same way," she says. We asked Beard to assess some inexpensive women's work blazers sold by major retailers like H&M, Old Navy, and Target, and her insights reveal that perfectly serviceable garments can indeed come cheap.
This fitted blazer from Target's Merona brand, for example, hits on several of Beard's check marks for quality and comes in at just under $35. It's a polyester-blend twill with a bit of spandex for stretch, according to the listing. "Everyone likes a bit of stretch in their clothes now, so the spandex is good, and the fabric would hold up well," Beard says.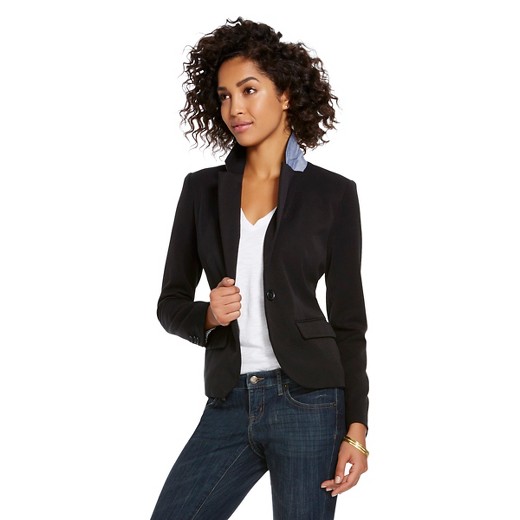 Related article: 18 everyday items that are totally worth splurging on
The jacket is fully lined, with stripes on the sleeve lining if you want to go casual and roll them up. It has positive customer reviews, although some say the item runs small.
Beard says small sizing can be an issue with lower-priced jackets because of their construction. Manufacturers make patterns based on mannequin forms in set sizes, but if they use the same form for a sweater and a blazer, the cut of the blazer isn't going to account for the space occupied by the sweater worn underneath. "People have to get a bigger size because they're making it for a naked form," Beard says. It's something to keep in mind if you're shopping online, which is where customer reviews can come in handy.
Target's Merona blazer has two flap pockets on the front. Beard says the placement of pockets (side versus front) is more of a personal style decision than anything else. "If it does come from the side area, you want to make sure that you can put your hand in it," she notes, since skimpier pockets are an easy way for a manufacturer to cut costs. (If you're shopping in-store, stick your hands in the pockets; Beard says lined pockets are another sign of a quality jacket.)
If you aren't feeling the flap-front pockets, Beard says this H&M blazer is similarly decent for the $35 price point. Like the Merona one, it's a lined, single button jacket made of a nearly identical polyester blend.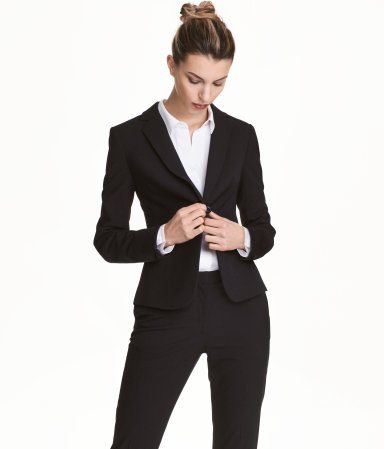 Related article: Ivanka Trump's brand is thriving, especially in China
Since the fit on an inexpensive blazer might not be perfect, Beard says a single button is a better option than two because it give you a little more wiggle room, so to speak.
If low cost is most important, this George brand blazer from Walmart is about the cheapest you'll find, at just $20. It's a similar polyester-blend material as the Merona blazer, and fully lined, but has two buttons rather than one. Another jacket from the same brand at Walmart in a "classic" cut gets thumbs-up from customers who have reviewed it, although the same complaint about running small pops up.
Another option at this price point is a blazer made of ponte (pronounced pon-tee), a polyester-blend, tightly woven, slightly stretchy jersey knit. It's not as formal as a classic suit-jacket look, but Beard says it holds up well, so if you're not planning on wearing it to a job interview, this $30 Target blazer or this $20 Walmart one will probably do the job. Another point for ponte: It's less prone to wrinkles.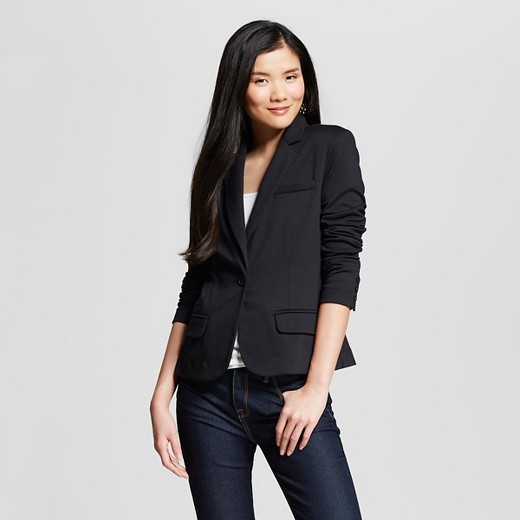 Related article: 5 bizarre things people buy while shopping drunk
If you prefer natural fibers, this Old Navy jacket in a linen-cotton blend is likely to be your best bet. It is more breathable than its synthetic counterparts, although it does have a polyester lining. At $43, it's not going to be your cheapest option, and it could be more high-maintenance in terms of upkeep. Although the blazer is machine-washable, "It's more likely to wrinkle… unless you dry clean only all the time," Beard warns.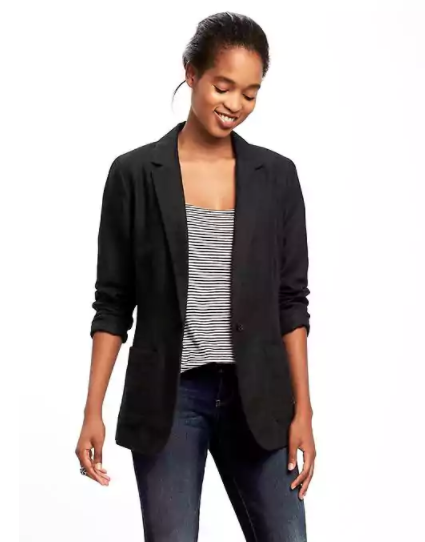 And those dry-cleaning bills might kind of defeat the purpose of getting a cheap blazer in the first place.
We've included affiliate links into this article. Click here to learn what those are.
This article originally appeared in Money.