The 13 Best Winter Boots to Keep Your Feet Warm This Season
Your toes will be perfectly toasty in these durable, weather-proof picks.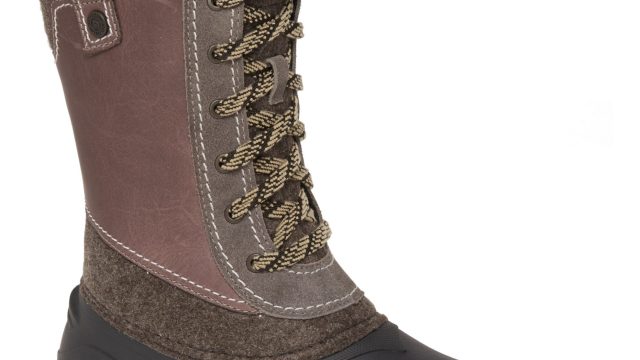 With winter on its way, the inevitability of snow and slush is soon to become a hard truth. Sure, winter wonderlands are part of what makes the season so magical, but keeping your toes warm is part of that fairytale, too. For that, it's important to have at least one pair of apocalypse-proof winter boots that will stand the test of cold-weather wrath and keep your feet dry during those frigid months.
For days with heavy snow, rain, or slush, swap out your favorite everyday boots for ones that are weather-proof. Look for pairs that have chunky rubber soles to get better traction and prevent slipping, waterproof materials that will wick away snow and rain, insulation to keep your feet warm, and—for booties—laces that allow you to adjust the fit to prevent snow from finding its way to your socks and toes.
Below, find 13 of our favorite styles—we'll be breaking them out the minute it starts to snow.
Best winter boots to shop now:
1. Sperry's Quilted Rain Boot: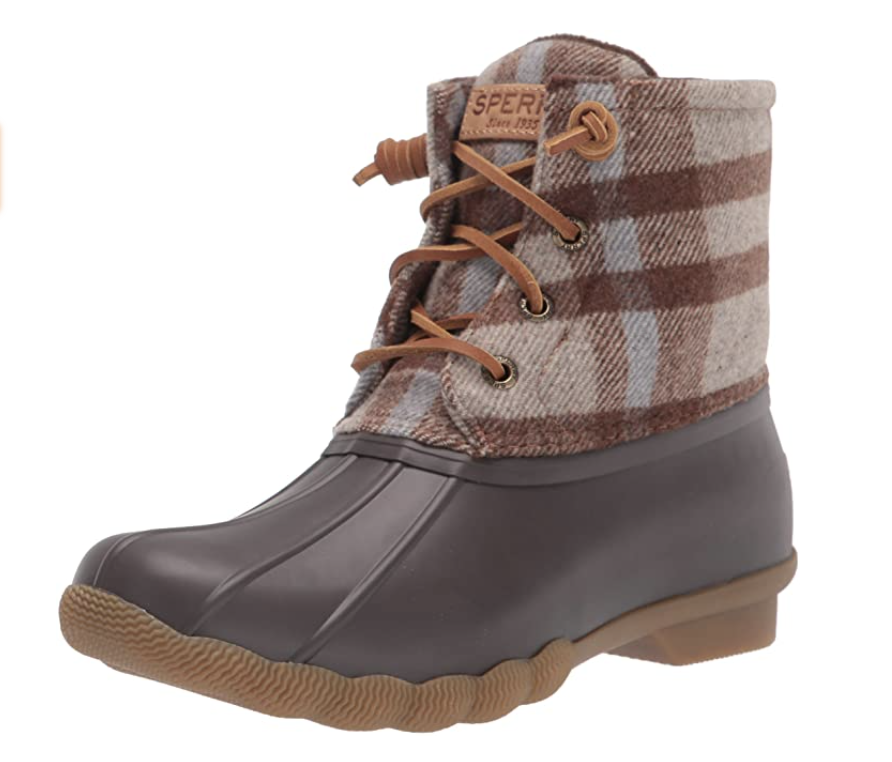 Sperry Women's Saltwater Shiny Quilted Rain Boot
Shop it
Amazon
Classic duck boots are great for keeping your feet dry, but they aren't always the warmest option, and that's why we love this new take on the classic style. They feature a cozy fleece lining and cushioned insole for a winterized dose of warmth and comfort.
2. Sorel Snow Angel Lace Boots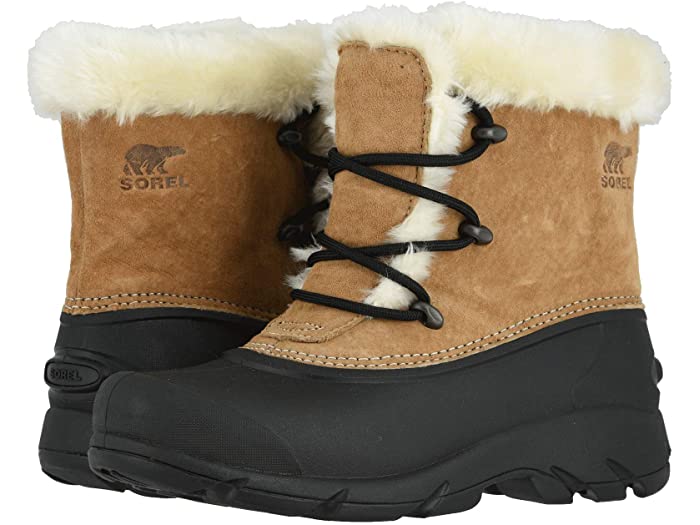 Sorel Snow Angel Lace Boots
$$99.95
Shop it
Zappos
Sorel has long been known as the golden standard of winter boots, and this cute pair is no exception. They feature a waterproof suede leather upper, insulation, and full-length faux-fur lining for added warmth, so they're extremely warm and cozy. Plus, a lug outsole provides enhanced traction for snow, ice, and rain. No slipping here!
3. UGG Sheena Lace-Up Boot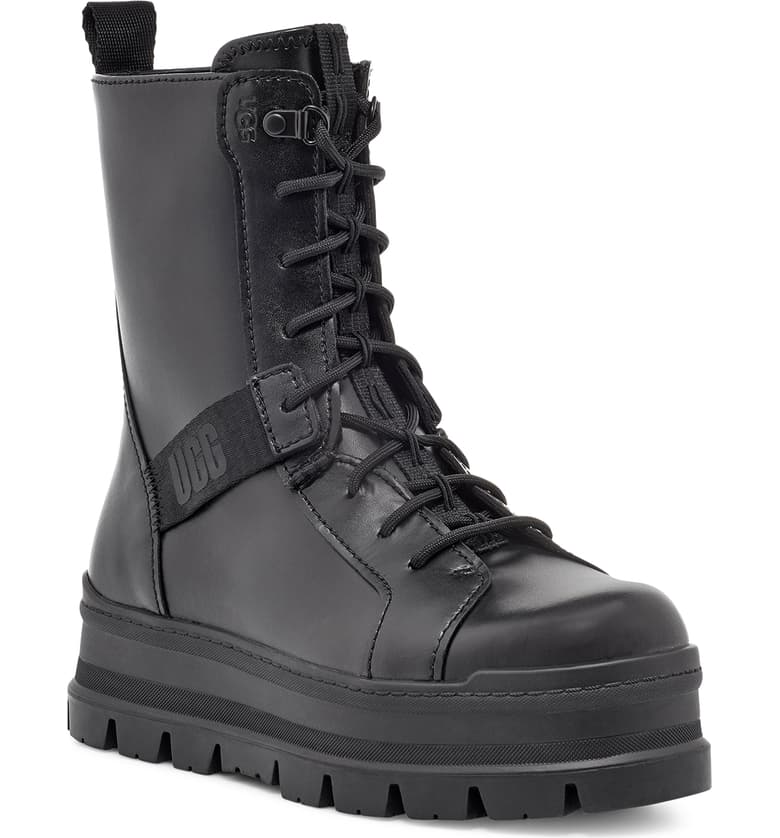 UGG Sheena Lace-Up Boot
$$160
Shop it
Nordstrom
We love these combat-inspired utilitarian boots for the winter. Not only are they super on-trend, but they're completely waterproof and feature a plush, moisture-wicking inside. The rubber, platform bottom protects feet from moisture and helps with grip, while the laces will help you adjust the fit of the boot so that no wind or snow sneaks into your shoe.
4. Merence Suede Anti-Slip Booties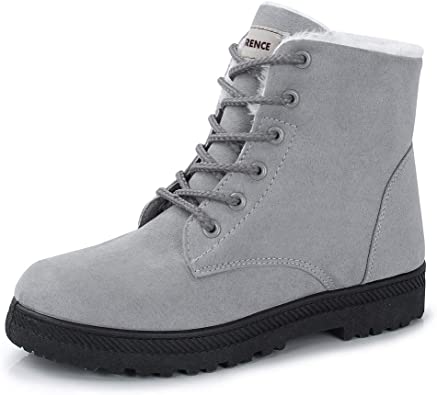 Merence Suede Waterproof Anti-Slip Booties
$$29.99
Shop it
Amazon
Slip-on these stylish suede booties for serious warmth in the cold winter months. They're lined with both a thick faux wool lining and plush faux fur, plus they've got an anti-slip outer sole for extra traction on the snowy pavement. 
5. Cougar Vanora 2 Boots
Cougar Women's Vanora 2 Boots
Shop it
Amazon
These gorgeous mid-calf boots were made for icy winter wonderlands. A lightweight and anti-slip outer sole provides great traction, while a polar plush lining keeps your toes toasty all day long. 
6. Tretorn Linawnt Boots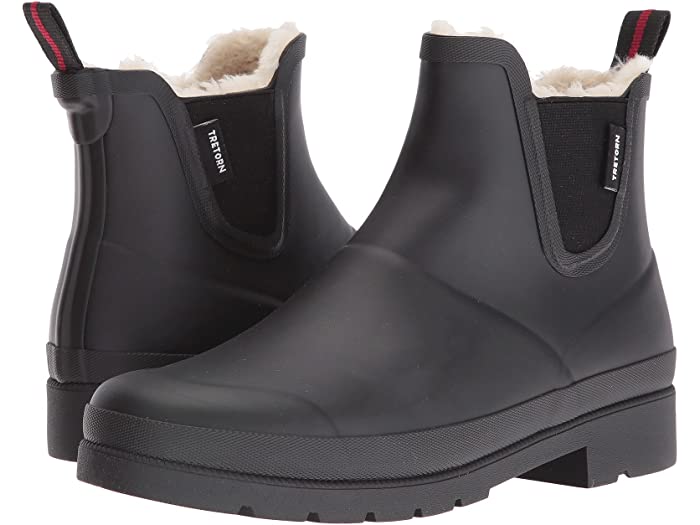 Tretorn Linawnt Boots
$$99.95
Shop it
Zappos
Complete with a luxe, faux- shearling lining, these Chelsea booties are sure to keep you cozy. For optimal warmth, pair these with some fleece-lined pants and a great puffer coat.
7. Kamik Sienna 2 Snow Boot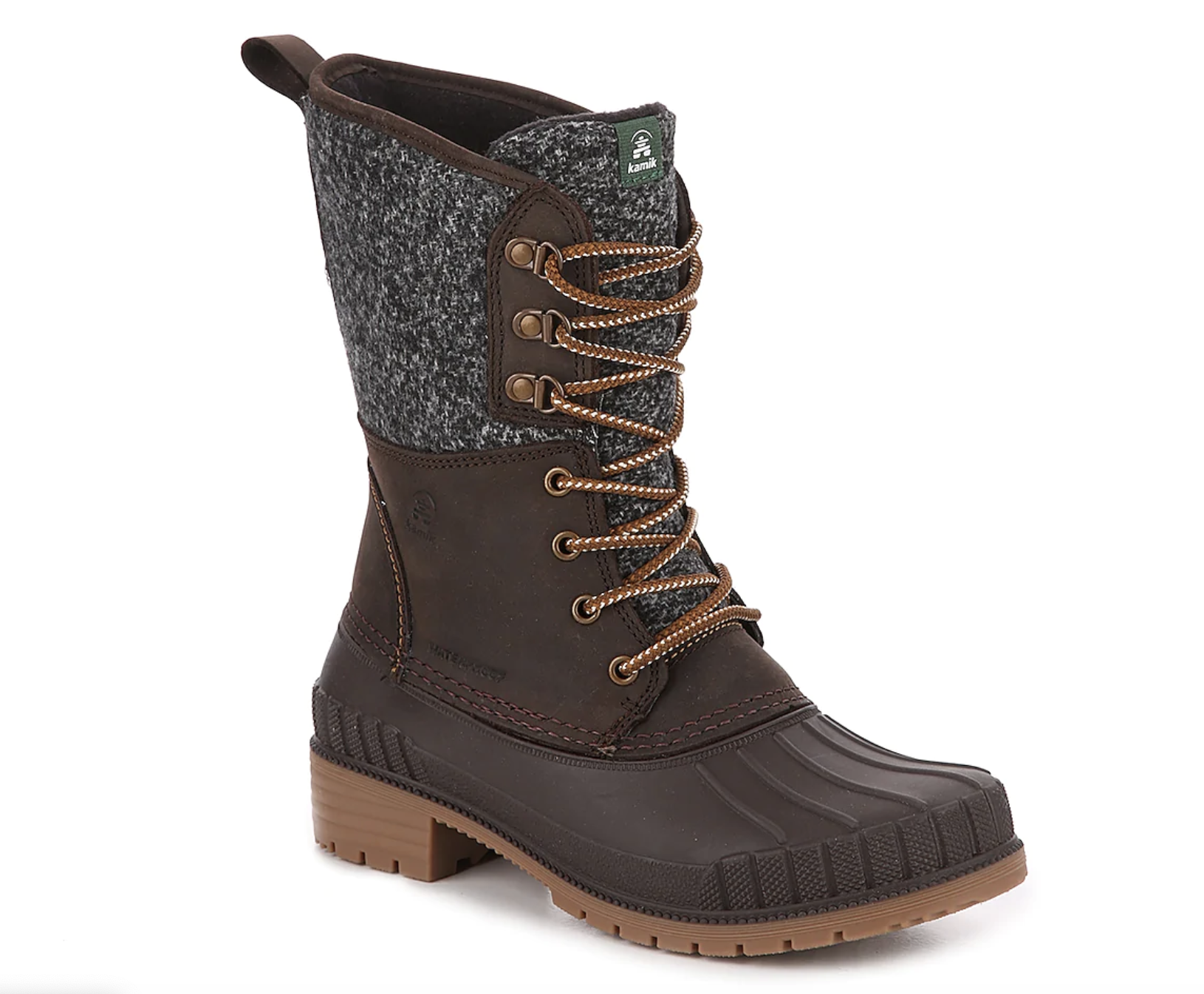 Kamik Sienna 2 Snow Boot
$$119
Shop it
DSW
This lace-up boot is fashioned with water-resistant flannel that will keep you cozy in the rain, sleet, or snow. That way, you can walk with confidence—even on the coldest and most blustery of days. 
8. Timberland Courmayeur Valley Boots
Timberland Courmayeur Valley Boot
$$180
Shop it
Nordstrom
If you're looking for practical winter boots that will help keep your fashion game strong, look no further. The slim silhouette of these booties is chic, the laces give a badass vibe, and the fur-trim adds a little extra touch. The material is waterproof, and the rubber soles will grip the ground to minimize slipping. This purchase is a no-brainer if you're looking for a cool winter boot.
9. Dr. Martens Leonore Sherpa Chelsea Boots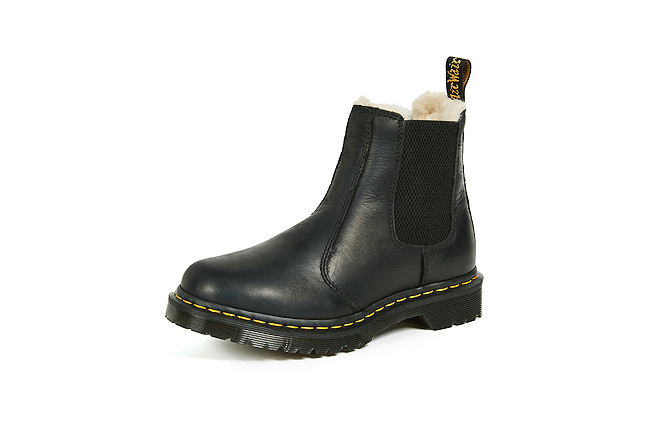 Dr. Martens Leonore Sherpa Chelsea Boots
$$160
Shop it
Available at Shopbop
Dr. Martens is without a doubt the cool-kid footwear brand, and if you live in a snowy region, here's yet another reason to stock up on its boots. These Chelsea boots are lined with faux fur for added warmth and their convenient slip-on silhouette will make them easy to put on quickly when you're running out the door.
10. Bos. and Co. Angus Waterproof Hiking Boots
Bos. and Co. Angus Waterproof Wool Lined Hiking Boot
$$210
Shop it
Wool? Check. Waterproof material? Check. Cute style? Check, check, and check. These beauties come in this elegant cream combo as well as black and rusty red. Snag one, or all three, to help you beat the winter chill.
11. Columbia Ice Maiden II Insulated Snow Boot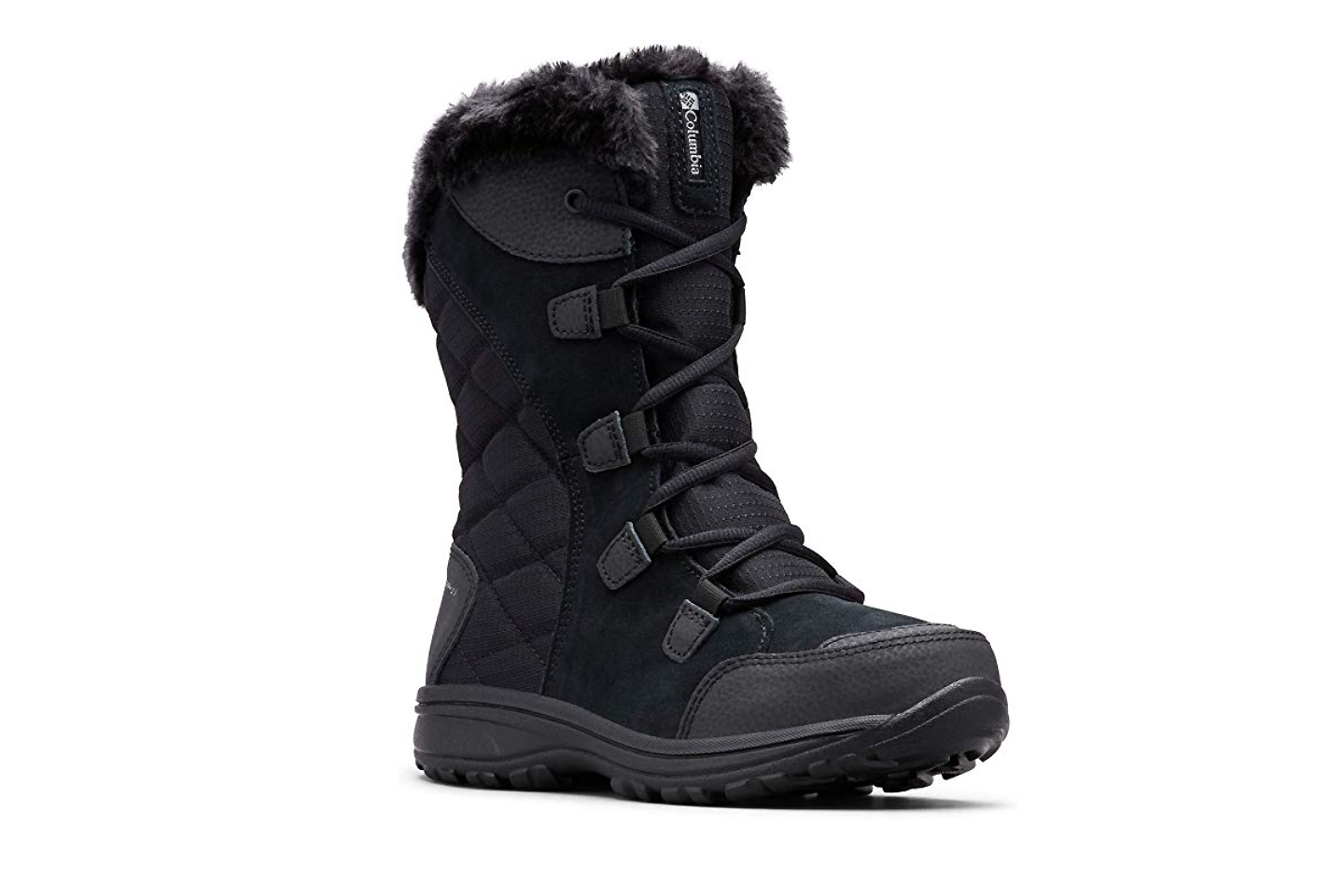 Columbia Ice Maiden II Insulated Snow Boot
$$79.95
Shop it
Amazon
Waterproof, insulated, warm, and with a rubber sole made for traction in slippery weather. This is one of the best winter boots on the market and will last you many winters.
12. Hunter Original Tall Matte Boots
Hunter Original Tall Matte Boots
$$97.50
Shop it
Zappos
If you need a pair of tall boots for pushing through slush, these tried-and-true Hunter rain boots should be your go-to for the season. Whether you're making your way through tall piles of snow or simply avoiding large puddles, they will protect your feet from getting wet and, therefore, keep them warm.
13. Kodiak Surrey II Boots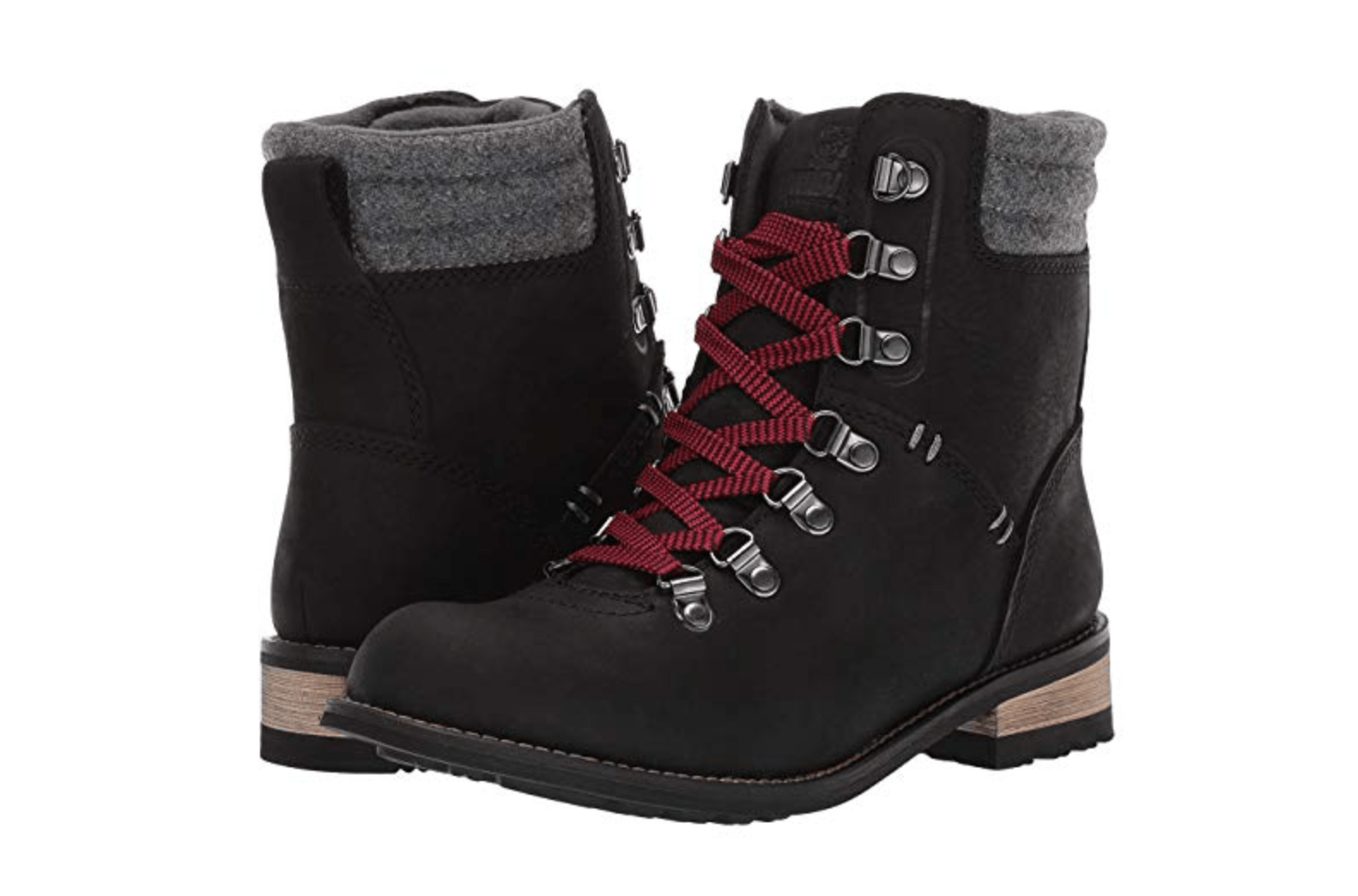 Kodiak Surrey II Boots
$$175
Shop it
These boots aren't made for walking in the snow but rather for walking around town once the slush has begun to melt away. They're made of waterproof leather to help wick away any remaining moisture, and the gray wool collar will help keep your feet a little warmer. Also, we love that they come with red laces that contrast for a colorful pop.