5 Best Ways to Celebrate Galentine's Day With Your Besties
From slumber parties to paint & sips, here's how to create a memorable celebration.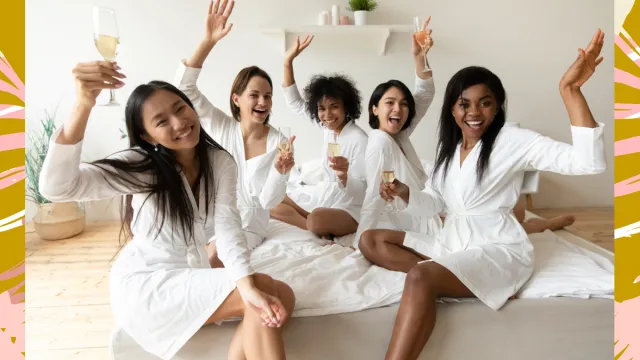 Valentine's Day just might be the most controversial holiday of the year — but luckily Amy Poehler has given us the gift of Galentine's Day, which is celebrated every year on February 13. Ever since the holiday was first introduced on a 2010 episode of Parks and Recreation, it's become an increasingly popular way to celebrate the amazing women friendships in our lives.
"What's Galentine's Day? Oh, it's only the best day of the year. Every February 13th, my lady friends and I leave our husbands and our boyfriends at home, and we just come and kick it, breakfast-style," Leslie Knope explained. "Ladies celebrating ladies. It's like Lilith Fair, minus the angst. Plus frittatas." 
RELATED: 40 Questions to Ask Your BFF to Find Out How Well You Know Each Other
Ladies celebrating ladies? Yes, please! Life gets hectic and, despite the best of intentions to have regular girls' nights, plans often fall by the wayside as we navigate our personal, professional, and family obligations. So, we can thank Poehler for giving us a reason to gather with our best gal pals — no excuses!
Although brunch is a popular Galentine's Day activity thanks to the Parks and Recreation episode, there are plenty of fun, creative, and affordable ways to celebrate *the* best of the year. Here are five of our favorite ideas for a Galentine's Day celebration.
1. Wine & Painting Night
Marissa Johnson, professional event and party planner and the founder of Inflatable Blast, recommends a wine and painting party, aka a "paint & sip." This can be done in the comfort of your own home. 
"Not only is it a blast, but it also provides a unique opportunity for everyone to learn, practice art, and grow together," says Johnson. "The relaxed atmosphere created by the wine leads to genuine and meaningful conversations that can be more memorable than a night out at a restaurant."
Johnson also notes that painting allows us to unleash our creative sides, de-stress, and "truly savor the presence and friendship of our closest friends."
2. Make Time Capsules
Lilia Shatnaya, designer and owner of Plume and Stone Invitations, recommends creating time capsules with your friends. 
"Find a sturdy box that can stay shut [and] have everyone bring something to place inside," Shatnaya suggests. This can be anything from meaningful trinkets, to writing your wishes and hopes on a piece of paper during the party. Then, place everything inside the capsule and seal it until the next year. 
"One person holds on to it and everyone opens it the following year to see how much things have changed and if anyone's wishes came true," says Shatnaya. Plus, it gives you a jumpstart on planning your 2024 Galentine's Day celebration! 
3. Host an Adult Sleepover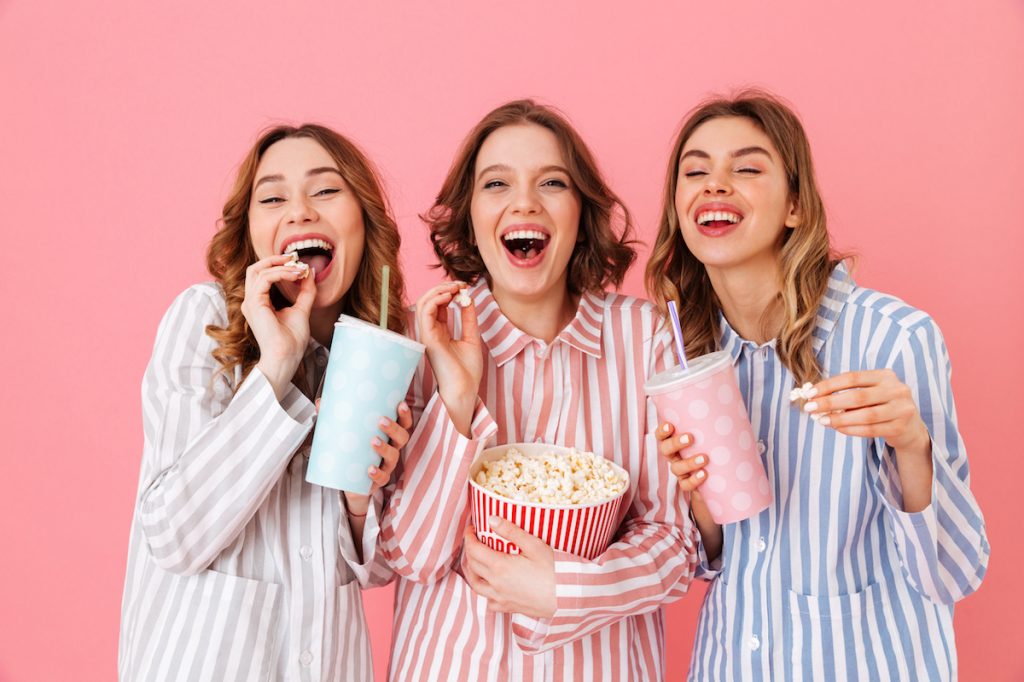 Virginia Frischkorn, a veteran event planner and the founder and CEO of Partytrick, says she's observed the return of cozy movie nights and adult sleepovers. 
"You can create a fun movie night, and maybe even buy some matching pajamas on Amazon – it's not expensive and is a cute photo op," Frischkorn suggests. "You could do breakfast for dinner, which is a great way to keep the party on budget as well."
If you're the host, you can also put together a fun "take home" bag of of affordable goodies for your party attendees. Frischkorn recommends items like your favorite lip balms, or a cozy pair of socks with a winter or Valentine theme. 
4. Wigs & Cocktails Party
It's fun to play dress up at any age. "An inexpensive and creative way to have some fun and laughter is to get dressed up in different color wigs, and have the wigs match with sequin dresses or outfits," says Shatnaya. She recommends ordering some fun, low-priced props on Amazon and creating a makeshift photo booth. 
"Bonus if you go out to dinner in your multicolored wigs," Shatnaya adds. "You sure will get lots of attention." 
5. Poems & Roses
Like Miley Cyrus says, you can buy yourself —or your best girls—flowers. Another fun, sweet way to express appreciation for your friendships is by hosting a "Poems & Roses" party.
"The host can write short poems about each attendee on small cards, drop them into a bowl and guests select one card, " says Shatnaya. "They then have to guess who the poem is about."
Then, ask each guest to bring an assortment of a certain color rose or flower. "Place them in vases to create a flower bar, and have guests make their own bouquets to take with them when they leave," she suggests. We love this idea because everyone will leave with a meaningful memento. 
Caitlin Flynn is an award-winning writer and reporter who experienced early age corporate burnout in 2015 and traded New York City for the misty air and superior coffee of Seattle.
Read more