The best waterproof mascaras to keep you glam through rain, sweat, and tears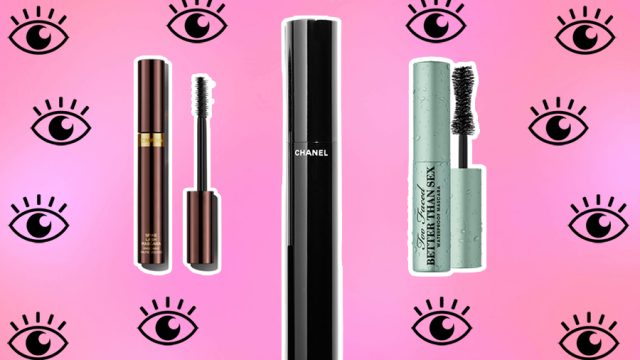 No matter the season, having a handy waterproof mascara nearby is imperative. During the warm months, the intense heat, humidity, sweat, swimming, and partying can wreak havoc on your poor everyday mascara, leaving you looking like a smudgy raccoon. If you're like us, chances are that the second you step outside in the humidity you get a smear of mascara under your eyes.
During winter months, meanwhile, the bitter cold makes it impossible to go outside without immediately crying from the frozen air hitting your eyeballs. It's torture and leaves us looking like we've been on a tear-filled bender before we even get to work in the morning.
Regardless of the time of year, a good waterproof mascara will change all that, and we're here to make it easier for you to find the perfect choice. While some people can be wary of a waterproof formula, there are so many great options now (at a variety of price points and with different ingredients) that you don't need to worry about damaging your lashes. Gone are the days of being stuck in crusty, old waterproof mascara for days because it's impossible to get it off. We got you.
Here are the absolute best waterproof mascaras that money can buy.
1Lancome Monsieur Big Waterproof Mascara
Fans love this waterproof mascara for its ability to make lashes look long, thick, and lush, without smearing and smudging. It promises 24-hour wear for extra longevity.
2Eyeko Beach Waterproof Mascara
This mascara was designed to withstand swimming and the beach, so you know it means business. Reviewers rave that it lasts all day and builds volume without being clumpy.
3Maybelline Total Temptation Waterproof Mascara
This drugstore pick for one of the best waterproof mascaras has a creamy formula, so you can build lasting volume and length without weighing your lashes down.
4Covergirl Last Blast Waterproof Mascara
Covergirl's Lash Blast has been a fan favorite for years thanks to its ability to deliver bold, defined lashes, and the waterproof version is no different. Swipe some on with the innovative rubber brush, and it will last all day.
5Tarte Lights, Camera, Splashes Waterproof Mascara
Say hello to long, curled lashes that will hold up through any good cry sesh with this cruelty-free formula.
6Chanel Le Volume De Chanel Waterproof Mascara
Go ultra-high-end with this intensely lush mascara that stays put no matter what activity you partake in.
7Benefit Cosmetics BADgal Waterproof Mascara
This long-wearing, smudge-proof mascara has the same oomph effect of the original BADgal Lash Mascara, but dries in a flash and stays there through storms, swims, and showers.
8L'Oreal Voluminous Lash Paradise Waterproof Mascara
Get soft, fluffy lashes with this waterproof formula that won't flake or smear.
9It Cosmetics Tightline Waterproof Full Lash Length Black Mascara Primer
This peptide-infused lash primer gives you instant definition that won't smudge and is full of proteins, biotin, collagen, and more to keep those lashes healthy and happy.
10Maybelline Volum' Express The Colossal Mascara
Get the mega-lashes of your dreams with this collagen-infused formula that won't wear off.
11Tom Ford Waterproof Extreme Mascara
You'll be swooning over this luxe, luscious, deep black waterproof mascara that creates intense lashes.
12MAC False Lashes Waterproof Mascara
Don't worry about your lashes for the next 12 hours with this volumizing mascara.
13Too Faced Better Than Sex Waterproof Mascara
This beauty is a cult-fave and for good reason: The high performance, water-resistant polymers are sweat-proof, waterproof, and play-proof.
14L'Oreal Voluminous Volume Building Waterproof Mascara
As the perfect everyday waterproof mascara, this beauty opens up your eyes and gives you a natural lift that doesn't clump or wear away.
15Diorshow Waterproof Mascara
Talk about glam. This mascara lengthens, thickens, and curves lashes while holding its own during water sports.
16Maybelline Great Lash Waterproof Mascara
Grab the waterproof version of this iconic mascara.
17Urban Decay Cannonball Ultra Waterproof Mascara
Urban Decay calls this mascara "mermaid-worthy"—they actually tested it at sea.
18Clinique High Impact Waterproof Mascara
Get instant volume and length and absolutely no flaking, clumping, or smudging. It's ophthalmologist-tested and safe for sensitive eyes.
19Bobbi Brown No Smudge Mascrara
You'll love this long-wearing mascara thanks to how it defines, curls, and lengthens your lashes.
20Glossier Lash Slick
We are throwing in this water-resistant mascara because while you might not want to wear it for a swim, it lasts beautifully on days when you're sweating like crazy and is easier to remove than traditional waterproof mascara. Meaning it's a great alternative for summer.