The best vegan leather pants to add some animal-friendly edginess to your fall wardrobe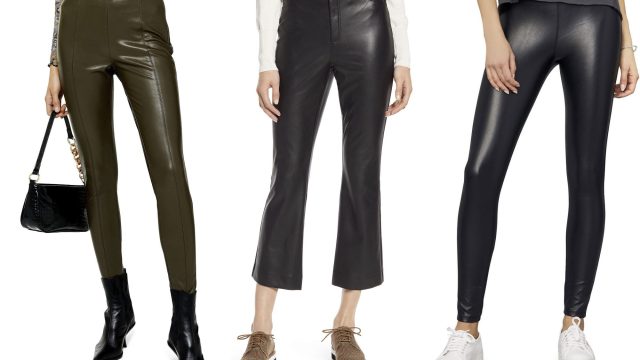 Fall is officially here, which means it's time to sip pumpkin spice lattes while prancing around town in your best fall gear. One of our favorite textile additions to our fall wardrobe is leather—but specifically a good pair of vegan leather pants. Whether you dress them down with a plain white tee or decide to spice them up with a pair of sassy boots, vegan leather pants can bring any basic fall outfit from drab to fab in a matter of seconds.
We know what you're thinking—wearing vegan leather pants is a different from wearing the ever-so-timeless leather jacket, but they aren't nearly as constricting or as sweat-inducing as they may sound. From cozy half-knit leggings to wide-legged cropped pants, there are so many styles of vegan leather pants that you're bound to find a pair that fits your lifestyle.
What we love about vegan leather pants, besides the ethical reasons, is the affordable pricing compared to real leather. To help you stay on trend while preserving animal life (and your bank account), we've rounded up 11 pairs of vegan leather pants that should be on your radar this fall. Trust us—you wouldn't want to miss out on this edgy fall essential.
1 Topshop Piper Faux Leather Skinny Leggings Regular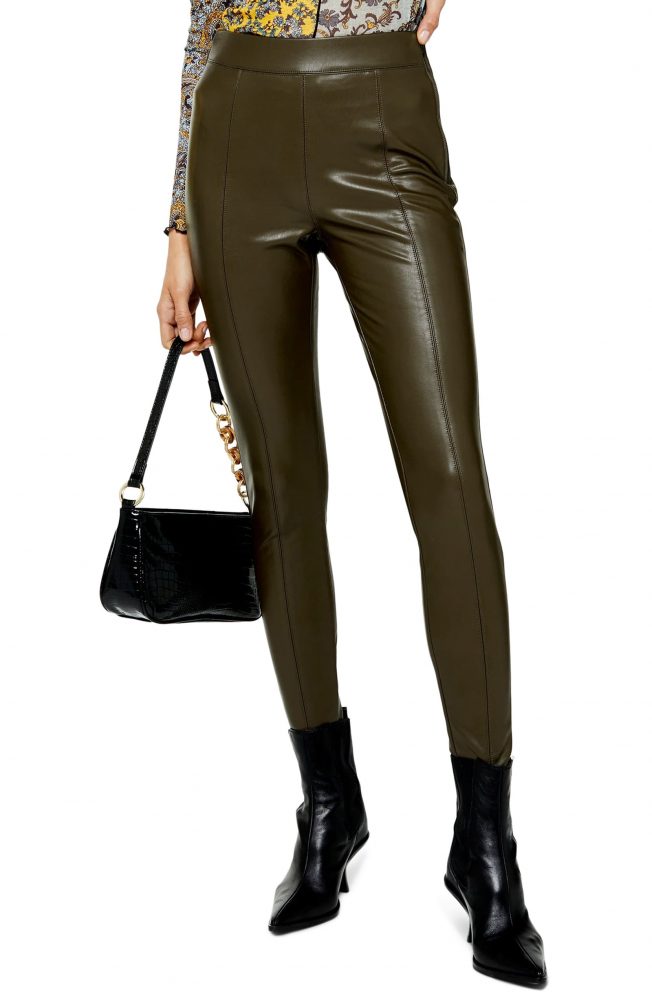 You can never go wrong with a pair of high-waisted pants, and this olive green number has "fall vibes" written all over them. In all honesty, this shade is considered a neutral every fall–so an olive pair of vegan leather pants is indeed a fall staple.
2 David Lerner Barlow Vegan Leather Leggings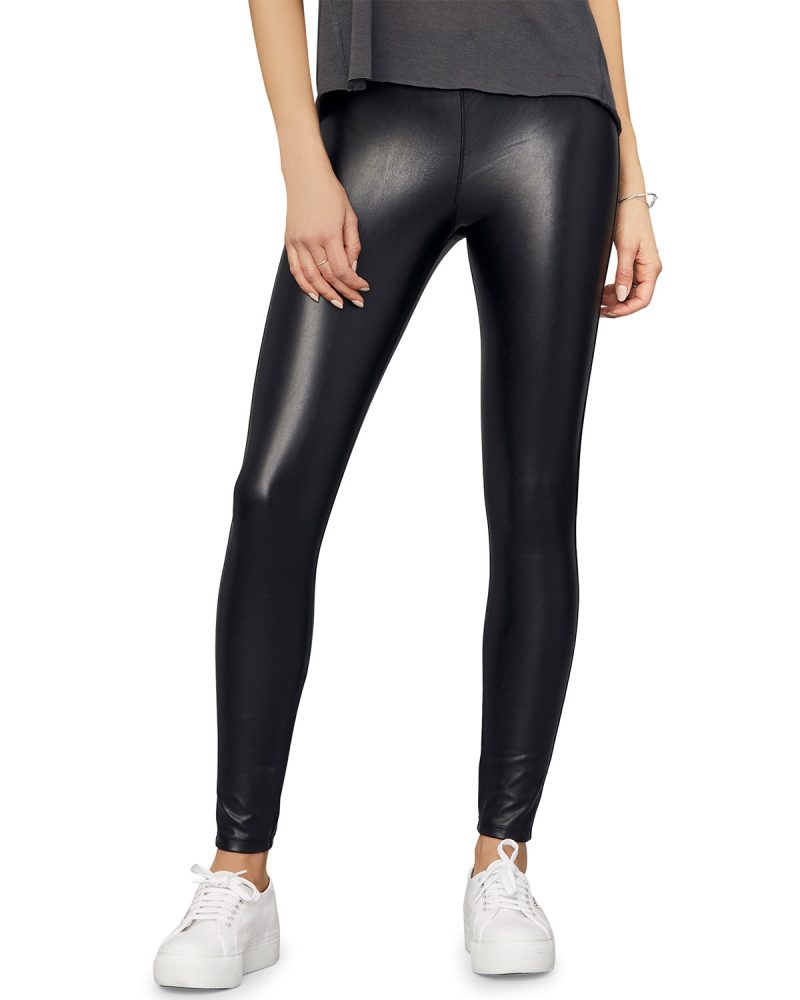 One of the great things about a classic pair of black vegan leather leggings is that you can match them with virtually anything in your closet. Pair them with some sneakers for a quick and easy weekend outfit, or use them with a pair of fall booties for a more dressed-up look. Honestly, the possibilities are endless with these pants.
3Halogen x Atlantic Pacific Crop Flare Faux Leather Pants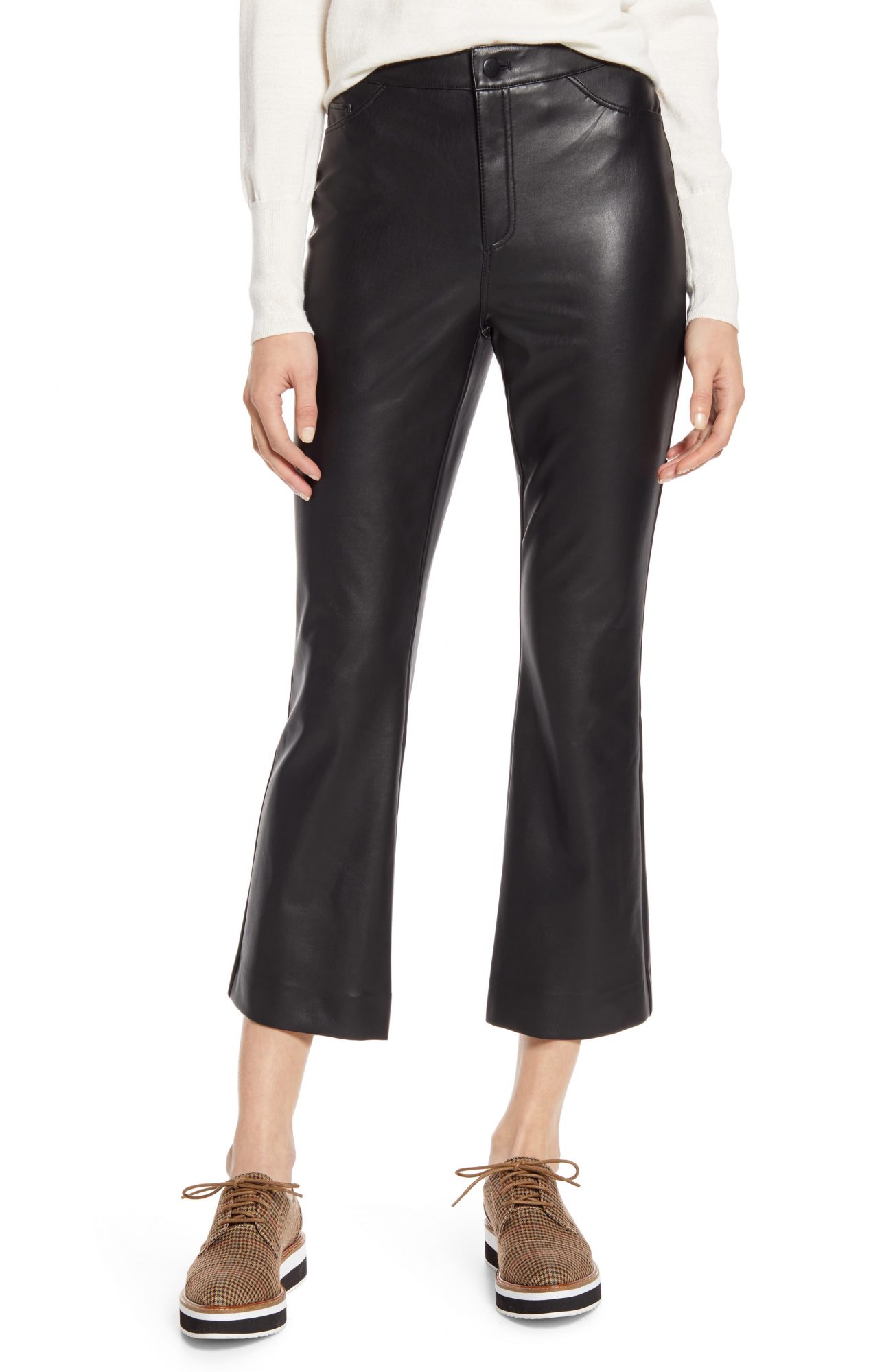 This just in: Cropped pants are making a major comeback. For a 2019 twist on this 70s style, add a pair of cropped vegan leather pants to your closet. Paired with the right pair of fall shoes, you'll be feeling like one foxy mama in no time. We dig it.
4 Blank NYC Vegan Leather Pull-On Leggings With Side Stripes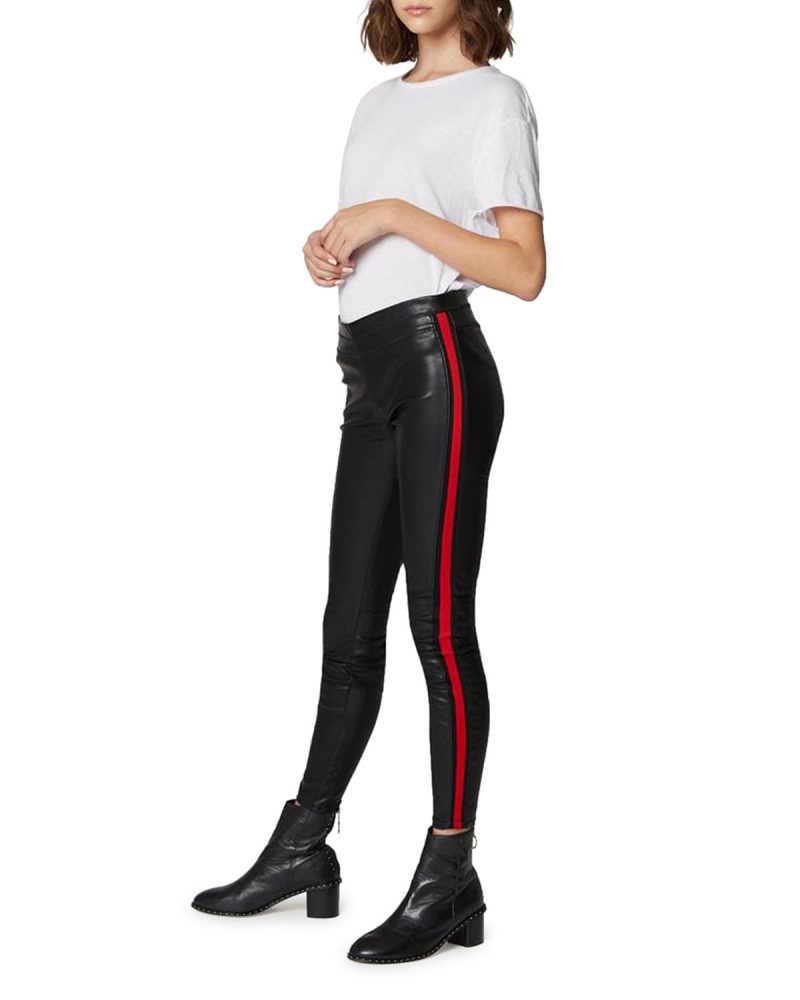 Racing stripes are the small but mighty addition to pants that any fashionista will appreciate. On a pair of black pants, a pop of red along the sides is a detail that can transform a fall outfit and make it stand out.
5 Nanushka Kisa Faux Leather Pants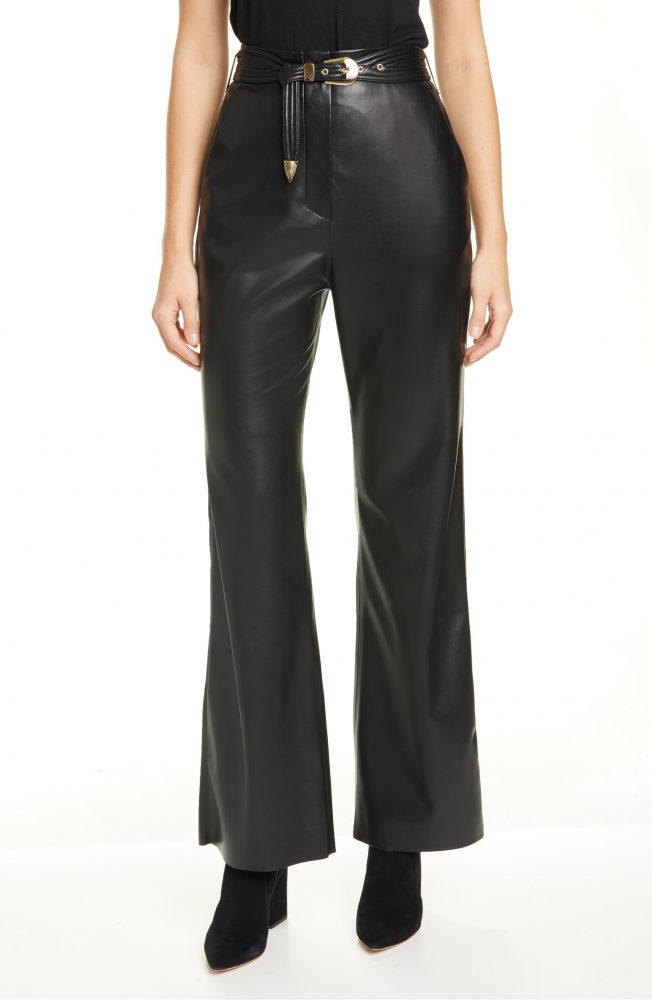 Just in case you didn't get the memo, wide legged pants with a cinched waist need to be at the top of your fall shopping list, starting with this chic pair.  The belt is removable in case you want to swap it for your own—it's a perfect way to accentuate your shape! If you're concerned with the lack of stretchiness of some of the stiffer leather pants, you'll enjoy the fit of these loose vegan leather pants.
6Forever 21 Faux Leather Ankle Pants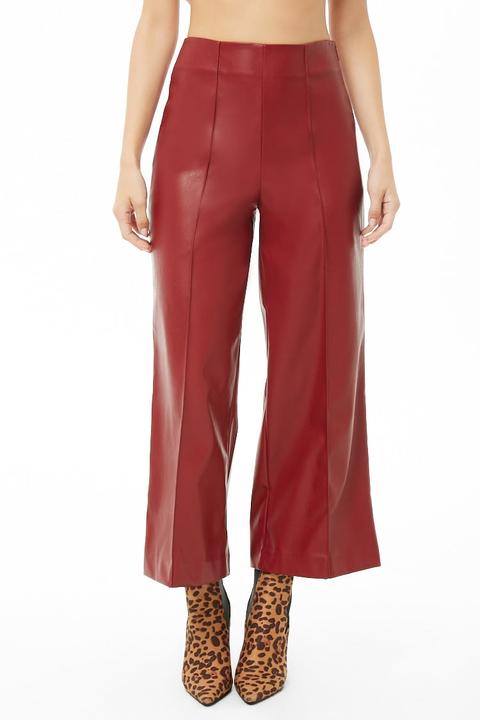 A pair of statement red vegan leather pants is the perfect addition to any dreary wardrobe. Just because the summer is no longer here doesn't mean your closet has to be 50 shades of black and gray. It takes a special type of woman to confident rock a pair of leather pants—be that woman!
7 Marina Rinaldi Ravalle Faux Leather Panel Ankle Pants
Available in sizes 14W to 22W, these mixed media pants are the perfect option to play with the vegan leather trend. If you find rocking a full leather look to be intimidating or simply not your style, these pants were designed for you!
8Preggo Popstar Mamcita Moto Faux Leather Maternity Leggings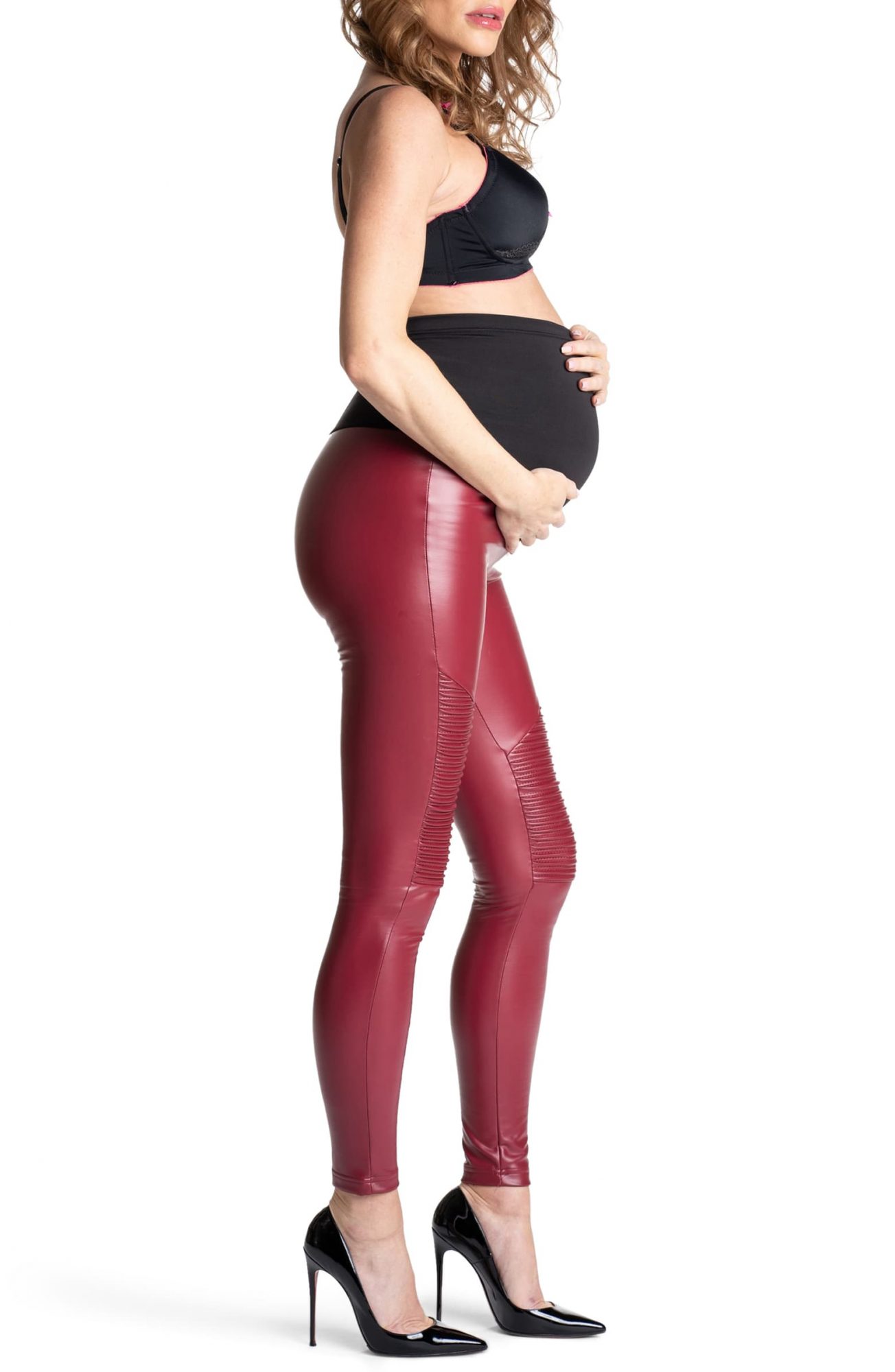 Dressing for two? One might imagine that rocking leather pants while preggo isn't the most comfortable thing to do, but there are on-trend vegan leather pants made for fashion-forward mothers-to-be. These maternity-style moto pants will have you feeling like a fly Mamacita—no motorbike necessary.
9House of CB Sophina Snake Print Lace Up Leggings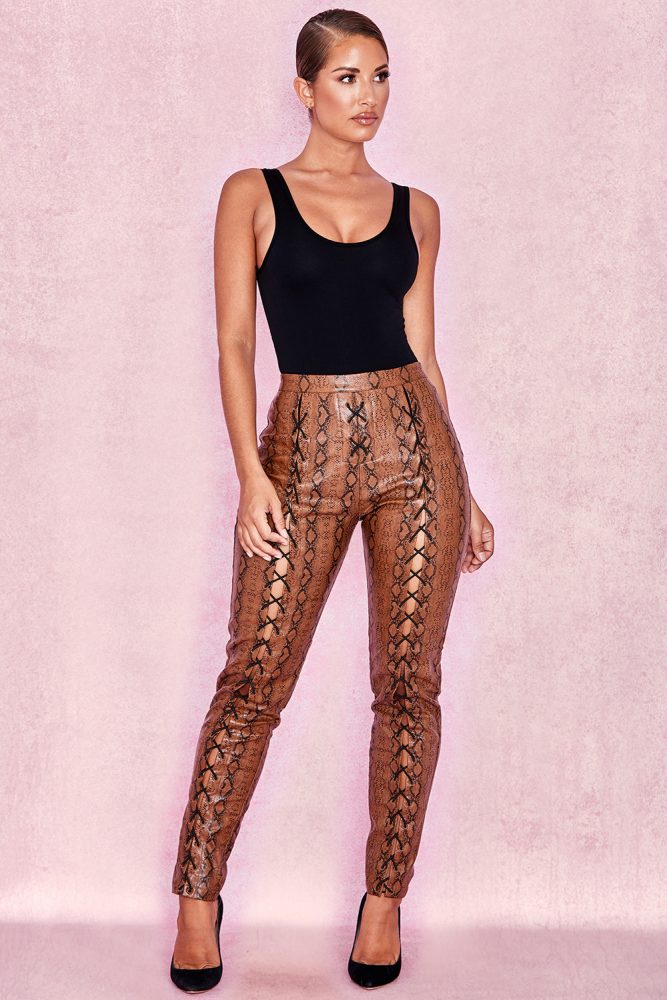 Lace-up pants aren't for the faint-hearted, but fall weather is made for pushing fashion limits and taking style risks. These lace-up vegan leather pants are daring enough to elevate any look, and low-key enough to style several ways.
10Nic + Zoe Half & Half Skinny Pants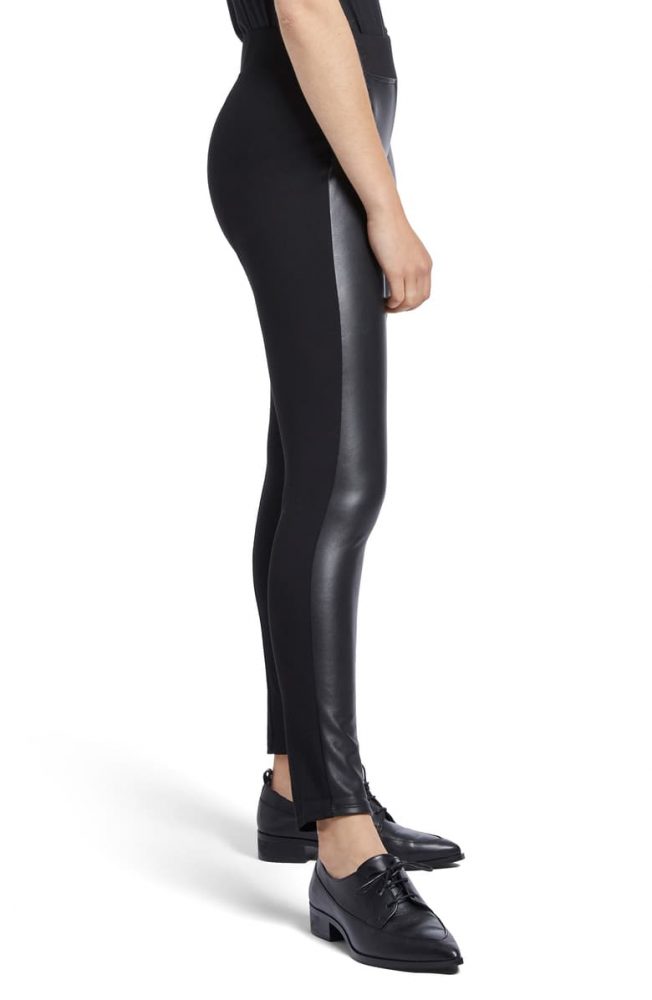 If you're looking for a pair of vegan leather pants that offer the comfort of knit leggings, you're in luck. These pants are vegan leather in the front and knit in the back, to fit and feel like your favorite pair of comfy leggings. Consider this the best of both worlds.
11PrettyLittleThing Plus Black Faux Leather Belt Detail Pants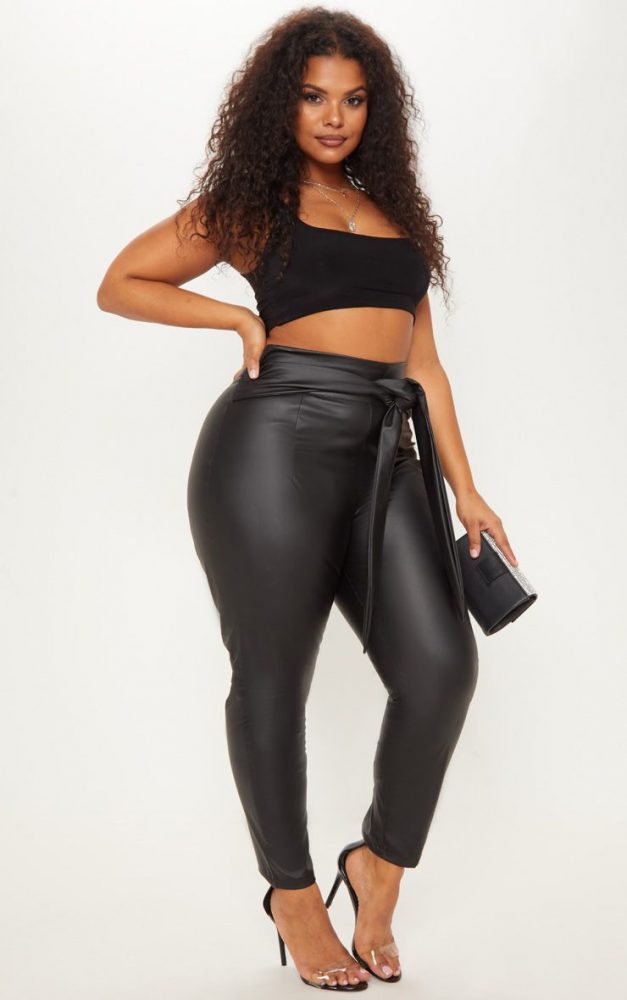 You can't go wrong with a pair of high-waisted, belted vegan leather pants. They're the perfect excuse to bring your crop tops into the fall. Also, the waist belt on this pair allows you to customize for your desired fit.