The #1 Thriller Book You Have to Read Right Now, Say Experts
Every book-obsessed person is raving about it.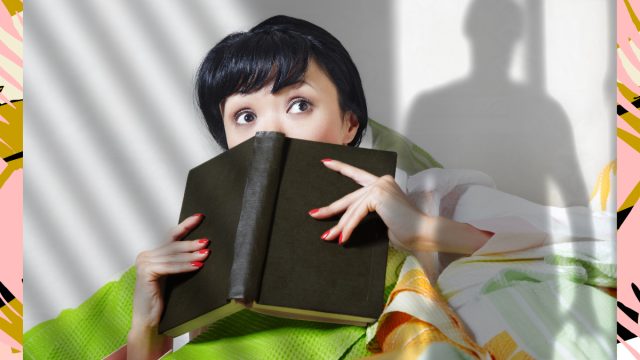 Once a murder has occurred, there's nothing you can do to stop it. Or… is there? That's the question in Wrong Place, Wrong Time, the latest psychological thriller book penned by best-selling UK author Gillian McAllister, who also brought us That Night. 
Set in late October, this twisted thriller book zeroes in on a mother who watches her own happy-go-lucky teenage son stab someone in the black of night. She doesn't know who the other man is or why her child would commit such a horrendous act — but now her son must face the potential consequences of a life spent in prison. 
She falls into utter despair. But then, she wakes up. Today is now yesterday, and she has a chance to stop the murder from ever occurring. Day after day, she wakes up earlier than the day before with another chance to change the course of history. The answer to what triggered this out-of-character compulsion in her son lies somewhere in the past, and she has no choice but to figure it out. 
RELATED: 40 Questions to Ask Your BFF to Find Out How Well You Know Each Other
Wrong Place, Wrong Time has excited book lovers across the globe for its inventive timeline, unexpected twists and turns, gut-wrenching and hauntingly beautiful plot and an ending that'll leave you slack-jawed.
It was an instant New York Times bestseller (and has remained on the bestseller charts for weeks), is the most recent pick for Reese Witherspoon's Book Club, and has amassed thousands of rave reviews on Amazon and across social media. 
"When you finish watching the movie Groundhog Day, do you think to yourself, 'That wasn't complicated enough? Also, where was the kick-butt mom trying to protect her kid and find the truth?' If yes, then you need to pick up Wrong Place, Wrong Time," says Meghan Volchko, librarian for Libby App and self-described voracious reader.
"This story has classic thriller elements, such as holding back key information from the narrator and audience. It will keep you guessing until the last page, and is definitely one you're going to want to talk about with everyone you know!"
Based on what we're seeing across social media, that's definitely true. Bookie @whatsdomreading writes, "I read this book for #thrillerobsessedbuddyread and couldn't put it down! I read it one day. I could not have predicted the end and the epilogue. I recommend this book to all thriller lovers!" 
What's also super compelling about this thriller book is that readers who don't usually go for twisty, psychological novels are also saying it's an absolute must-read.
For example, bookstagram influencer @sheafandink writes, "Wrong Place Wrong Time kind of blew my mind. I don't normally read mystery thriller novels, but this one checked all the right boxes."
She adds that seeing the main character navigate this bizarre turn of events really resonated with her as a mother — especially in how the mother is able to revisit those initial encounters and experiences and reinterpret them in a different light.
"I loved how the author used time travel, having this sense of urgency in trying to find what triggered the crime that started this whole story," she writes. 
Whether you're obsessed with thriller books or simply looking for a book that'll affect you to your core, add Wrong Place, Wrong Time to your must-read list ASAP. It's also available on Audiobook if you prefer to listen. 
Wendy Rose Gould is a veteran freelance lifestyle reporter based in Phoenix, Arizona. She covers travel, wellness, pets, and beauty.
Read more