The 7 Best Thanksgiving Episodes of All Time That You Need to Watch
Whether you're looking for a good laugh or a poignant storyline, there's something here for everyone.
If there's one thing to be thankful for this year, it's the annual viewing of Thanksgiving TV episodes.
For many people, Thanksgiving is a time to get together with family and eat some delicious foods. But for others, it's a tumultuous holiday fraught with tension and potential hijinks — and it's the latter that has made for such great comedy and drama on television over the years.
Most of the big TV series, past and present, have featured at least one Thanksgiving episode. Some, like Friends, have gone all in with multiple themed episodes, which can make it difficult to pick which one to revisit this fall.
Whether you're looking for laughs on a comedy like Friends or Modern Family or something more poignant, like Master of None's award-winning "Thanksgiving," your streaming services are filled with entertaining options so you can keep the drama on TV where it belongs.
Here are seven of the best Thanksgiving episodes of all time on TV to make sure you watch this year. And next, don't miss 20 Best Date Night Movies to Watch With Your Partner.
1. Friends:
"The One with All the Thanksgivings"
Over the years, Friends embraced the holiday episode tradition with several incarnations of Thanksgiving. But the most memorable arrived during the fifth season with an episode titled "The One with All the Thanksgivings."
Told over several timelines, the characters recall their worst Thanksgiving ever, to comedic and emotional effect. Phoebe's was, of course, the time she was a war nurse who lost her arm, but the others are even more hilarious.
The episode results in Monica sticking a turkey over her head, promoting Chandler to admit he loves her, which is the sort of happy ending only Friends can create. Just don't try it at home.
For more, check out "The One With the Late Thanksgiving," "The One With the Rumor," "The One Where Underdog Gets Away," and "The One With Rachel's Other Sister."
2. Full House:
"The Miracle of Thanksgiving"
There's a lesson at the end of every Full House episodes, but none more than "The Miracle of Thanksgiving," from the show's first season. It depicts the family's first Thanksgiving without the kid's mom and Danny Tanner wants make it perfect. Things, of course, go completely amiss, including a frozen turkey that won't cook. 
In the spirit of the holiday, the family eventually comes together despite all of the upsets and realizes that Thanksgiving isn't about perfect pies or turkey. It's an emotional episode that sees the family reflecting on their loss in a way that feels relatable.
The show's Netflix sequel, "Fuller House," also features two Thanksgiving episodes: "Fuller Thanksgiving" and "Cold Turkey."
3. Gilmore Girls:
"A Deep-Fried Korean Thanksgiving"
Those deep in their annual fall rewatch of Gilmore Girls will recall "A Deep-Fried Korean Thanksgiving," from the show's third season. The holiday episode sees Lorelai and Rory going to multiple Thanksgiving dinners, including one at the Gilmore house. 
While many Thanksgiving episodes have an emotional leaning, this one is just fun. It's got classic Gilmore Girls dialogue and clever moments, including when Sookie gets drunk because Jackson decides to deep fry her beautiful turkey. A comforting watch for anyone who somehow never gets full during their holiday meal.
For more, check out season six episode "He's Slippin' 'Em Bread … Dig?"
4. Modern Family:
"Three Turkeys"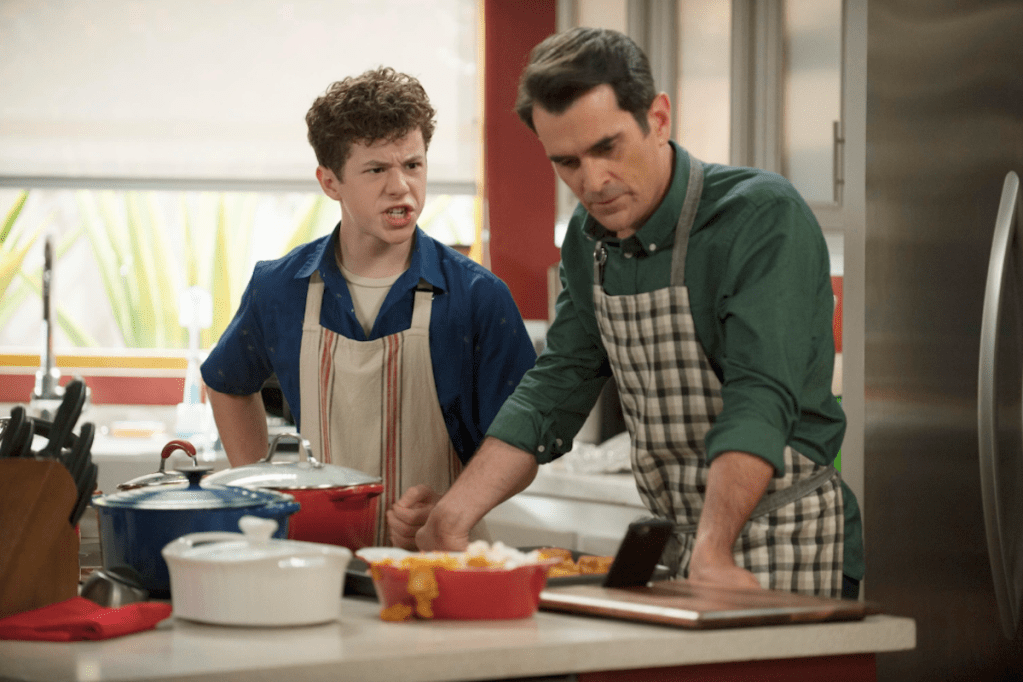 Modern Family never shied away from a good holiday episode over its many seasons, especially when it could result in big laughs. "Three Turkeys," from season six, is one of several Thanksgiving storylines, but it is perhaps the most hilarious. 
It begins with Phil being put in charge of Thanksgiving dinner (an immediate red flag) and ends with the entire family sneaking around trying to hide their mistakes. It's a solid, upbeat episode that will make you glad your family is somewhat normal.
For more, watch "Punkin Chunkin," "Thanksgiving Jamboree," "Winner Winner Turkey Dinner," and "The Last Thanksgiving."
5. How I Met Your Mother:
"Slapsgiving"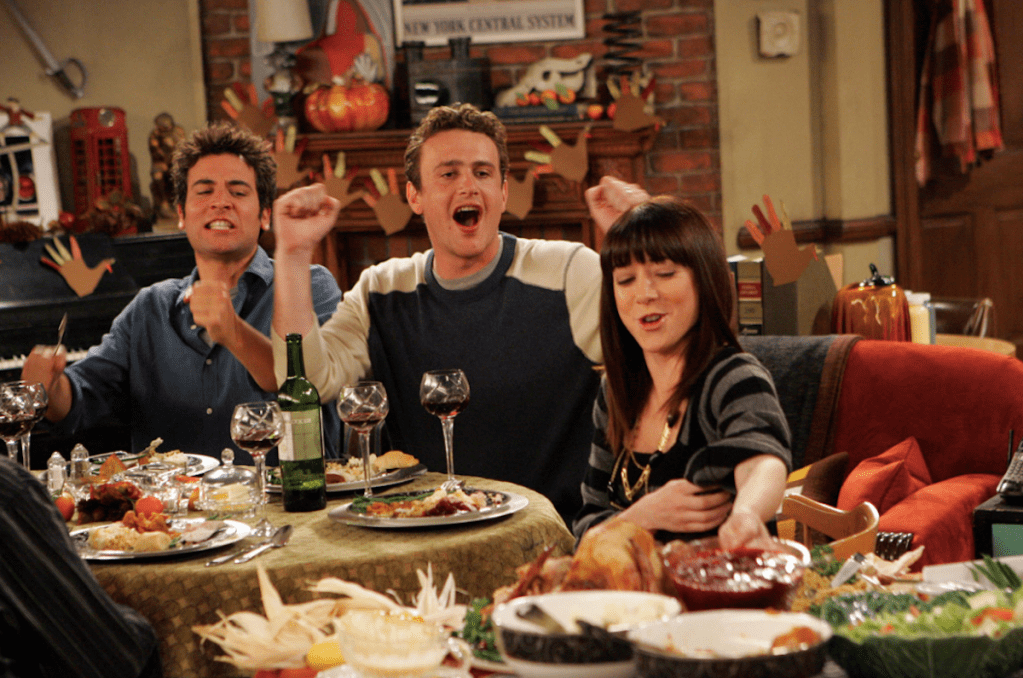 If there was ever a classic episode of How I Met Your Mother, it's "Slapsgiving." Arriving in season three, the episode follows Marshall and Lily's first Thanksgiving as a married couple. Tensions among the gang are brewing, partially due to Robin and Ted's recent breakup, and Marshall still owes Barney a slap. 
Obviously, Lily's carefully-planned meal is upended, culminating in an impressive slap. Alls well that ends well, though, and future Ted explains to his kids why Thanksgiving dinner is always celebrated with Lily and Marshall. It's a funny but sweet episode about how traditions aren't always what you might expect.
For more, check out "Slapsgiving 2: Revenge of the Slap," "Blitzgiving," and "The Rebound Girl."
6. Master of None:
"Thanksgiving"
In the second season of Master of None, the drama series took a narrative detour away from Aziz Ansari's Dev to his pal Denise (Lena Waithe). The episode depicts Denise over several Thanksgivings as she grappled with her sexually, eventually coming out to her mother and later bringing girls home with her for dinner.
The episode won an Emmy for Outstanding Writing for a Comedy Series, making Waithe the first Black woman to win the award. It's a great example of how Thanksgiving can be used for emotional catharsis rather than comedy.
7. Orange Is the New Black: "F***sgiving"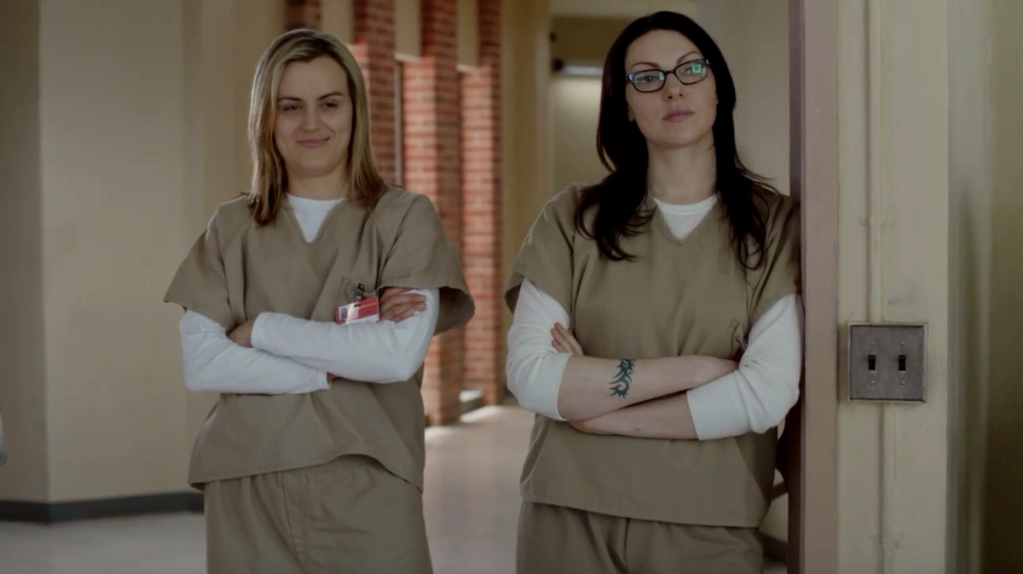 The first season of Orange Is the New Black was its most memorable, thanks in part to how novel it felt to viewers. The first season's ninth episode, "F***sgiving," took on Thanksgiving in the women's prison, with Piper sent to solitary for the worst holiday dinner ever.
The episode is filled with the show's typical drama between the inmates and the prison staff, using Thanksgiving as an opportunity to reflect on what life is like outside compared to inside the bars. It's not the most uplifting episode, but Piper does get some redemption at the end.
Emily Zemler is a freelance writer and journalist based in London. She covers entertainment and travel for a variety of outlets, including Los Angeles Times, Rolling Stone, Shondaland and Observer.
Read more