The 6 Best Teeth Whiteners for Getting Pearly Whites At Home
Plus, three dentists weigh in on why some trendy products don't actually work.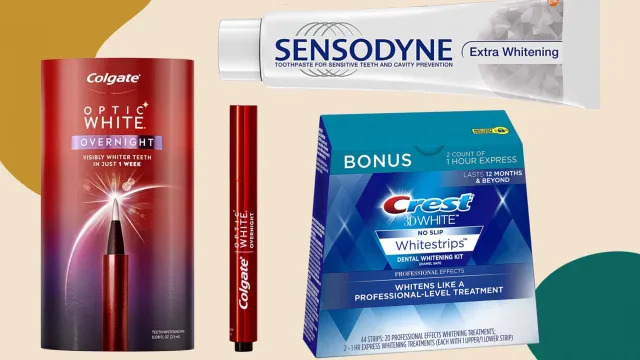 "You're never fully dressed without a smile," sang Annie the orphan from Annie—and hey, she was onto something. A big, happy smile is the ultimate accessory and beauty tip, and having healthy white teeth is an even bigger flex. That's why there are so many oral care products on the market that promise to help you achieve a mouth full of pearly whites, but with so many products available, it can get a little hard to find the ones that actually work.
To find out which at-home teeth whiteners actually work and which ones are B.S., we tapped three leading dentists. We asked them what kind of products are effective, how to use them, and which ones are worth our hard-earned cash.
What's the best way to whiten teeth at home?
There are several ways to whiten teeth at home, so let's dive into each:
Teeth whitening toothpastes: The main ingredient you should look for is hydrogen peroxide, which studies show is effective and safe for everyday use. However, Marc Lowenberg, a cosmetic dentist in New York, says that whitening toothpastes only remove the external surface stain on the tooth, so it's best to use them in combination with other whitening treatments. With daily use, you can expect to see results in two weeks.
Teeth whitening strips and trays: These types of products are designed to deliver higher amounts of whitening ingredients for roughly 30 minutes. Matt Nejad, a California-based dentist, says that they're the most effective whiteners. "The peroxide agents [in these products] whiten the teeth by oxidizing the organic compounds responsible for color (chromophores) and turning them into non-colored organic compounds," he explains.
Teeth whitening light devices: These products work by applying a gel to either a tray or directly to the teeth, and then applying a blue LED light over it to accelerate the whitening process. "An LED will speed up the chemical reaction which stimulates the whitening process against a tooth surface," explains Kathryn Wilson, the Chief Dental Officer at Dental365.
Teeth whitening pens: These types of products were traditionally made for on-the-go touch-ups to prevent staining. However, the new generation of whitening pens are formulated to work overnight for long-lasting effects. Look for products with hydrogen peroxide.
What's the best way to whiten sensitive teeth?
"There are different causes of sensitivity, and they can often be addressed prior to whitening," explains Dr. Nejad. "For example, some patients have gum recession or exposed areas of root which are very sensitive, so these areas can be desensitized or sealed prior to whitening to prevent the whitening agent from contacting these surfaces."
For people who don't have those issues but still suffer from sensitivity, Dr. Lowenberg says that desensitizing toothpastes are good options.
Will teeth whitening products harm or change the color of a fake tooth or fillings?
In short, no. However, Dr. Nejad that while white fillings or ceramic restorations like crowns and veneers won't be affected, teeth whitening products can cause green tinting of silver teeth depending on the composition of the silver filling. They can also cause some surface roughening of fillings. If this applies to you, it's important to consult with your dentist prior to whitening to prevent this from happening.
Does charcoal work to whiten teeth?
Ah yes, the trendy ingredient in teeth whitening products. "Even though it is marketed to do this, the only possible effect of whitening would arise from the abrasive effect of removing surface stains, but studies have shown this to be nearly undetectable and much less effective than chemical whitening agents," says Dr. Nejad. If you're seeing results from your charcoal-based product, Dr. Lowenberg explains that that could be because charcoal can remove surface stains, but ultimately, it won't whiten teeth.
Apart from using at-home teeth-whitening products, what other things can you do to whiten your teeth? 
This is where lifestyles come into play. "A good rule of thumb to follow is that anything that would stain a white T-shirt it will stain your teeth," says Dr. Wilson. "Red wine, grape juice, and coffee are some typical offenders." Additionally, Dr. Lowenberg says that oil pulling can whiten teeth, and chewing raw, crunchy fruits and vegetables can mechanically remove food and bacteria from your teeth and mouth, while scrubbing away surface stains to help prevent the dull appearance of teeth.
Below are the six best teeth whitening products:
Best teeth whitening toothpaste: Colgate Optic White Express White Whitening Toothpaste
Shop it! $1.99, target.com
This toothpaste contains two times more hydrogen peroxide than Colgate's Advanced Whitening Toothpaste (a cult-classic product) and helps to make teeth visibly whiter after just two weeks of brushing it every day. Plus, it works to whiten surface-level impurities while also digging in deeper into the tooth to whiten intrinsic teeth stains.
Best teeth whitening toothpaste for sensitive teeth: Sensodyne Extra Whitening Toothpaste for Sensitive Teeth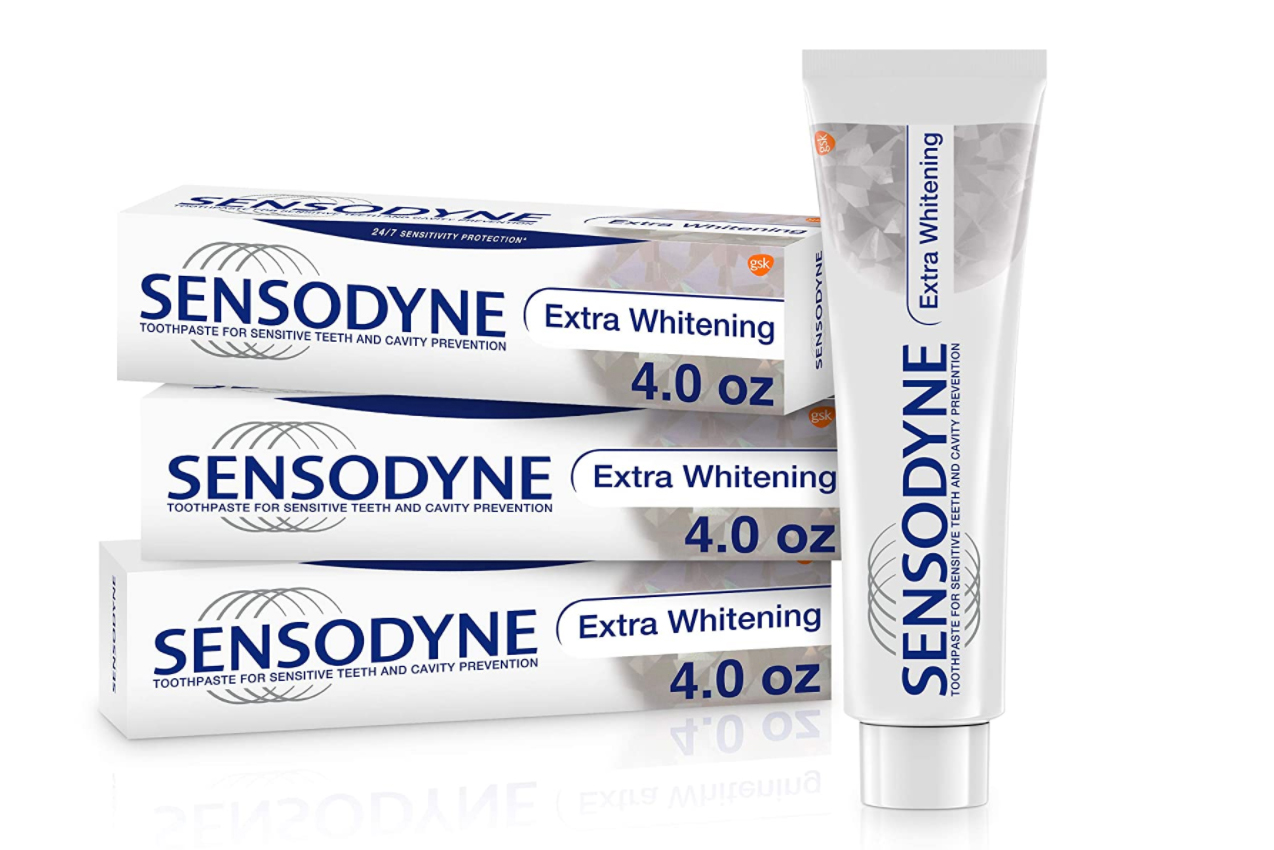 Shop it! $15.44 for a pack of three, amazon.com
Both Dr. Lowenberg and Dr. Nejad agree that Sensodyne is the best pick for people suffering from teeth sensitivity. "If the teeth are sensitive, then all hope is not lost," says Dr. Nejad. "Using Sensodyne toothpaste several weeks prior to starting whitening and during the whitening process is an approach I've used. I've found most patients with sensitive teeth are able whiten their teeth when the whitening process is customized to find a tolerable combination." 
Best teeth whitening strips: Crest 3D Whitestrips Professional Effects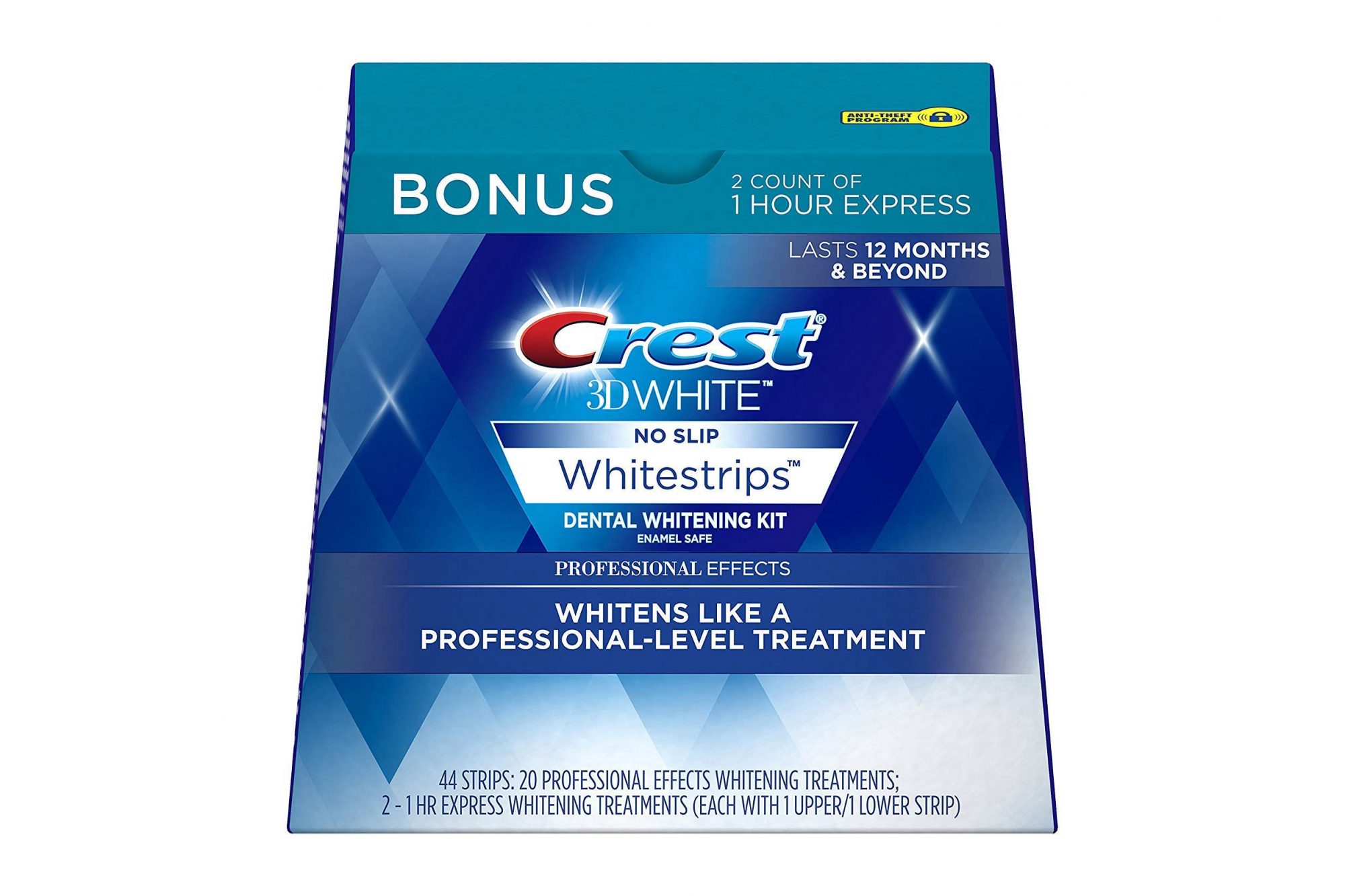 Shop it! $44.95, amazon.com
While old-school strips sensitize the teeth and slip off, these ones are designed to grip the teeth and provide whitening without making your teeth feel hyper-sensitive. You'll see optimal results in two weeks with everyday use, so once you hit that peak you can take a break from them until you need to up your whiteness game again.
Best teeth whitening pen: Colgate Optic White Overnight Pen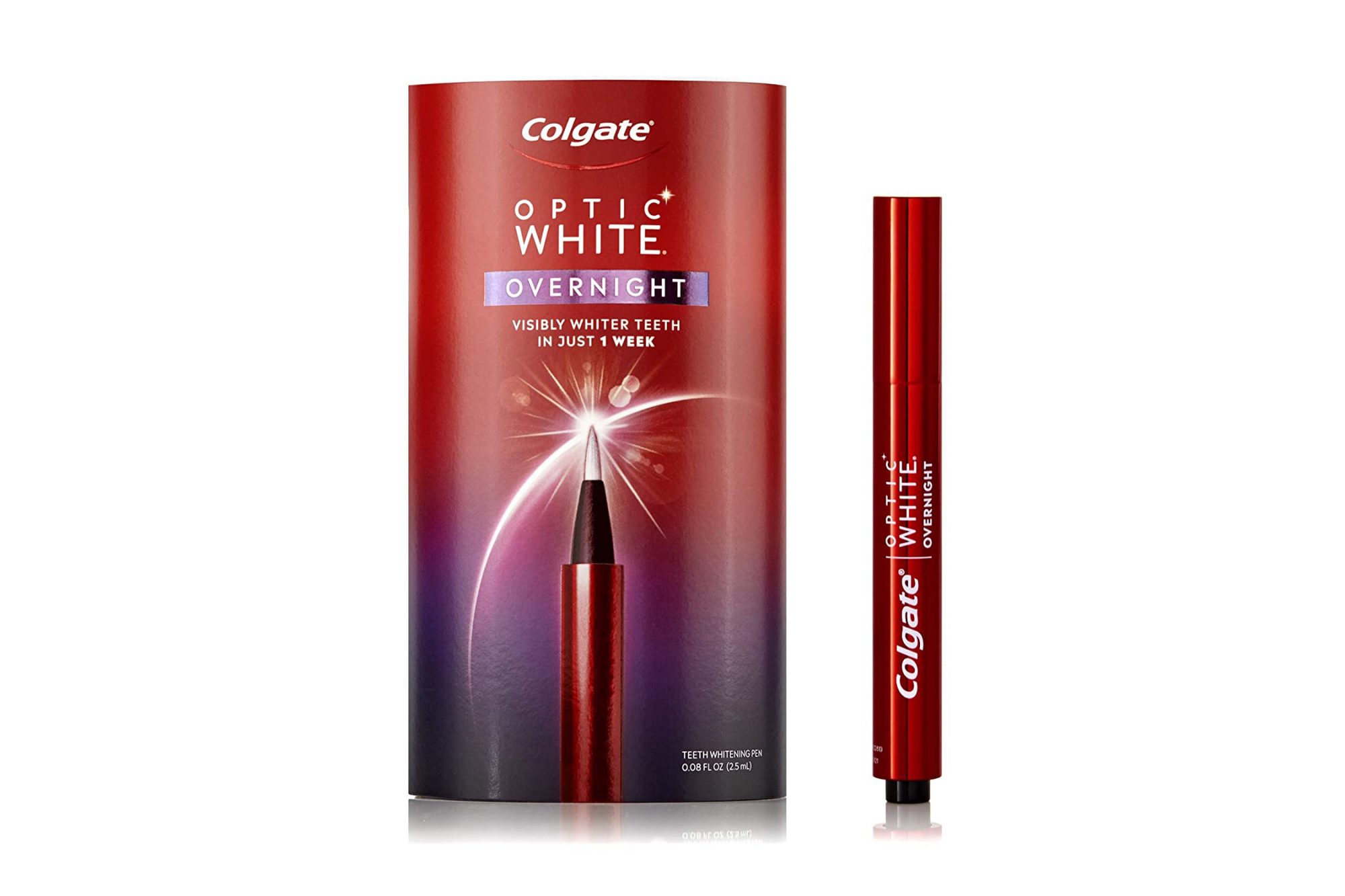 Shop it! $29.99, amazon.com
For best results, apply the gel onto your teeth after brushing them and then directly before going to sleep. The gel will dry quickly and you'll start to see results in as little as two weeks.
Best teeth whitening LED device: HiSmile Teeth Whitening Kit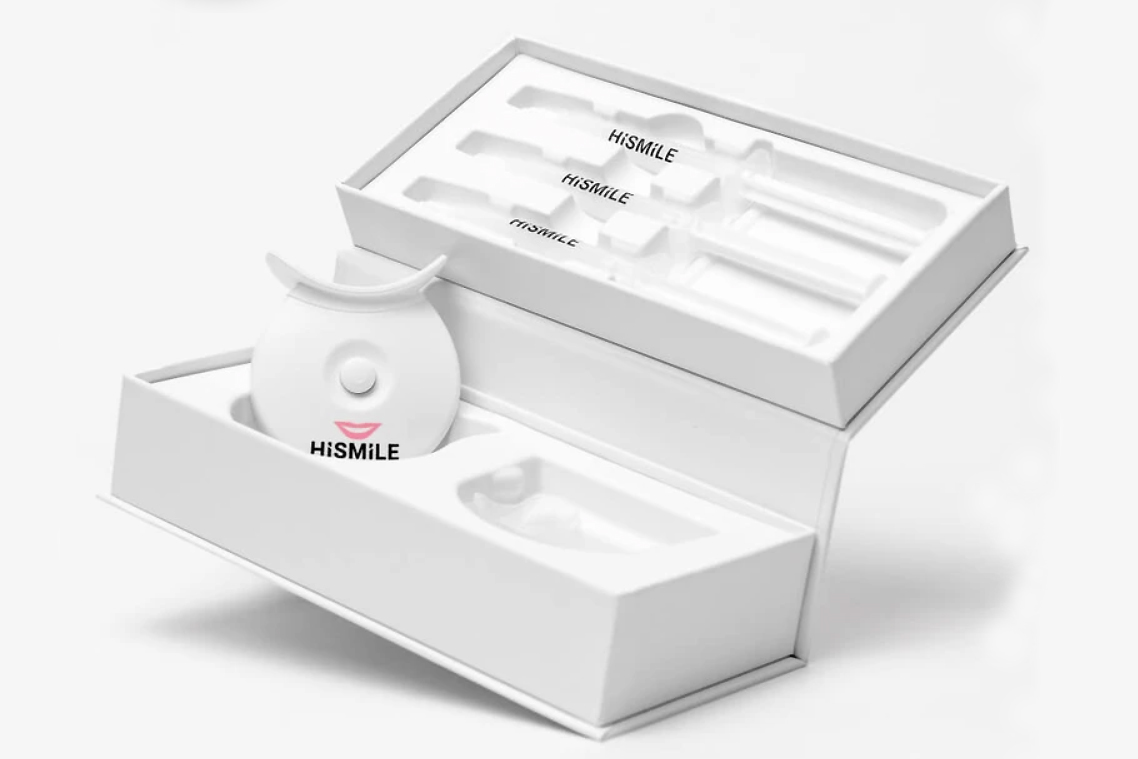 Shop it! $69.99, hismile.com
This kit comes with three whitening gels, a detachable LED device, and a mouth tray that connects it all. To use, simply add the gel to the mouth tray, attach the LED device, and insert the tray into your mouth. Then, turn on the LED device and keep it in your mouth for 10 minutes. You'll see results in as little as six days.
Best teeth whitening floss: Waterpik Whitening Water Flosser
Shop it! $79.99 (orig. $99), amazon.com
"The Waterpik whitening edition is good for preventing stains from accumulating on the teeth," explains Dr. Nejad. "It uses uses special glycine tablets which are safe and effective."