These 17 St. Patrick's Day memes are basically virtual four-leaf clovers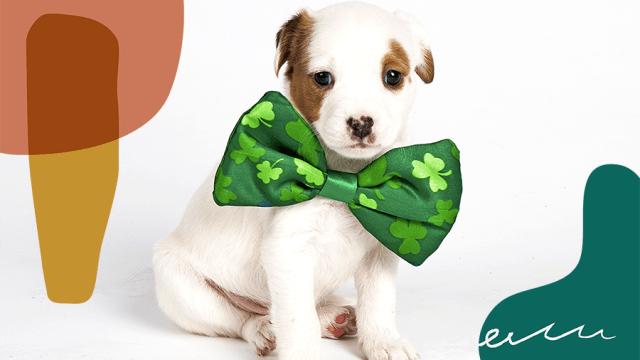 We have our countdown to St. Patrick's Day, March 17th, up and ticking on our desktop. We love everything about the notoriously raucous holiday, though thanks to the coronavirus shutdowns this year, celebrating might look a little bit different. While most years we're out and dressing in green, grabbing a few beers with the buds, and celebrating the patron saint of Ireland (and all of our Irish friends/family), this year, it'll be more about staying in and paying homage to the holiday from a safe social distance. That's why we've compiled a few hilarious St. Patrick's Day memes to get us in the celebratory mood, even if it's just from home.
St. Patrick's Day began as an annual feast day to celebrate the death of Saint Patrick, which occurred in the fifteenth century. Despite all the Guinness and debauchery, St. Patrick's Day has been celebrated as a religious holiday for over 1,000 years. It's celebrated during the Christian season of Lent, and in some cases the prohibition of eating meat during Lent was put aside so celebrants could feast on a traditional Irish meal of bacon and cabbage, according to History.com.
Now in modern times, it's not just the Irish celebrating St. Patrick's Day. Those in the United States, Canada, and Australia go ham for St. Paddy's, and celebrations even reach nations like Japan and Russia. Parades, festivals, and bar crawls litter cities across the world.
1Nothing but respect for MY St. Patrick.
2Us to our friends of St. Patrick's Day.
3We're giving you all fair warning.
https://90sclubkid.tumblr.com/post/158512821558/me-being-the-worst-on-st-patricks-day
4True love exists.
5Sorry not sorry.
6This one goes out to all those meteorologists who have to save their green for later.
7We dare you to post this to your friend Seamus's wall.
8The Irish bite back!
9Relatable.
via Giphy.
10We do believe in leprechauns. We do! We do!
https://xplodingunicorn.tumblr.com/post/158240666557/keep-the-dream-alive
11Showing up to the office like —
12Merry Paddy.
https://alotofbeautyinordinarythings.tumblr.com/post/113866081779
13Spread the wealth!
14The only way to celebrate.
15We all have that one friend…
https://welcometoyouredoom.tumblr.com/post/141206106466
16For today only.
17Fine.
https://theatre-stuff.tumblr.com/post/141227849827/all-black-everything-theatrestuff
Have fun, stay safe, and three cheers for St. Patrick!