6 bookmark-worthy speeches women made at the 2018 Golden Globes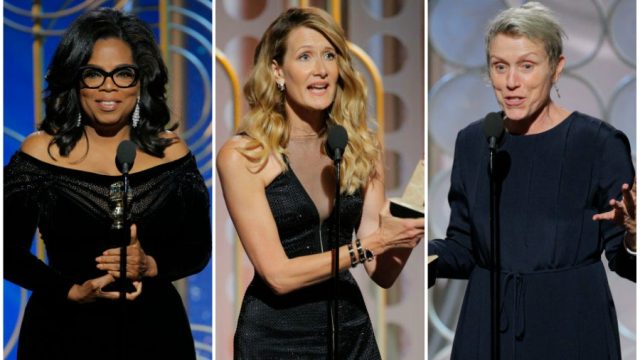 As hoped and expected, women in Hollywood commandeered the 2018 Golden Globes. Winning actresses gave inspiring and supportive "women power" speeches. Women and men acted in solidarity with victims and survivors of sexual abuse by wearing black. Many donned pins to support the newly formed "Time's Up" campaign, which aims to raise awareness for the women affected by sexual misconduct and abuse. Women's empowerment was radiating throughout the Globes, and we feel change is on the horizon.
Alongside symbolic dress and speeches, several actresses invited activists from different fields to join them at the ceremony. Meryl Streep brought Ai-jen Poo, director of the National Domestic Workers Alliance and co-director of Caring Across Generations. Streep and Poo aimed to bring awareness to the power imbalance that causes abuse not only in Hollywood but in domestic industries as well.
Michelle Williams invited women's rights activist and founder of the #MeToo movement, Tarana Burke. Burke noted that she never expected her movement to grow as much as it has. Two different worlds have come together to support each other and Burke said she is incredibly humbled.
Once celebs entered the ceremony, the female empowerment only grew stronger. Here are 6 of the most inspiring speeches that came from winning women at the 2018 Golden Globes.
1Oprah Winfrey — Cecil B. DeMille Award
https://www.youtube.com/watch?v=fN5HV79_8B8?feature=oembed
In what was arguably the most empowering speech of the night (you can read 9 of Oprah's most inspiring points here), Oprah recognized the weight of being the first black woman to receive the Cecil B. DeMille Award. She shared her respect for the press. And she expressed gratitude to the women who have stepped up to speak their truths.
"What I know for sure is that speaking your truth is the most powerful tool we all have," Oprah said. "And I am especially proud and inspired by all the women who have felt strong enough and empowered enough to speak up and share their personal stories."
2Rachel Brosnahan — Best Actress in a Television Series, Comedy
https://www.youtube.com/watch?v=GDIzbtVbPTs?feature=oembed
"There are so many women's stories out there that still need and deserve to be told," Brosnahan said. "So as we enter this new year, please let's continue to hold each other accountable and invest in, and make, and champion these stories."
3Frances McDormand — Best Actress in a Motion Picture, Drama
https://www.youtube.com/watch?v=vvsI2pERsas?feature=oembed
"Let's face it, they managed to elect a female president," McDormand said of the Hollywood Foreign Press Association. She also noted that she was thankful to be at the Golden Globes and to be a part of the "tectonic shift in [the] industry's power structure."
4Elisabeth Moss — Best Actress in a Television Series, Drama
https://www.youtube.com/watch?v=eQAFwA7Xmzc?feature=oembed
"We were the people who were not in the papers," Moss quoted from Margaret Atwood's novel The Handmaid's Tale. "We lived in the blank white spaces at the edge of print. It gave us more freedom. We lived in the gaps between the stories."
Moss then added, "Margaret Atwood, this is for you, and all of the women who came before you and after you who were brave enough to speak out against intolerance and injustice and to fight for equality and freedom in this world. We no longer live in the blank white spaces at the edge of print. We no longer live in the gaps between the stories. We are the story in print, and we are writing the story ourselves."
5Nicole Kidman — Best Actress in a Limited Series
https://www.youtube.com/watch?v=BsHx2dclkLE?feature=oembed
Kidman stated that she and her female costars of Big Little Lies pledged allegiance and commitment to each other. "This is ours to share," Kidman said. "Wow, the power of women."
She continued, "This character that I played represents something that is the center of our conversation right now — abuse. I do believe and I hope we can elicit change through the stories we tell and the way we tell them. Let's keep the conversation alive."
6Laura Dern — Best Actress in a Supporting Role in a Series, Limited Series or Motion Picture Made for Television
https://www.youtube.com/watch?v=geCIXy7nvFY?feature=oembed
Laura Dern's character in Big Little Lies is the mother of a girl who is too afraid to speak up when she's being bullied and abused at school. Dern said in her speech,
"Many of us were taught not to tattle. It was a culture of silencing and that was normalized. I urge all of us to not only support survivors and bystanders who are brave enough to tell their truth, but to promote restorative justice. May we also, please, protect and employ them. May we teach our children that speaking out without the fear of retribution is our culture's new North Star."
Let's keep supporting each other and fighting for the much-needed change in Hollywood and in other industries around the world.