These are the best spas to visit for vacation if you hate sightseeing
You've lurked your friends' #travelgram vacays all summer, but with only slight envy. While BFF Cheryl has hiked the Great Wall of China and co-worker Alicia is snapping selfies having tea at Versailles, you're only a little envious because while you're dying for a bomb-ass vacation, waiting in long lines and dealing with annoying crowds ain't really your vibe. You'd feel bad admitting this, but you're not a fan of the whole tourist thing. What you are into, though, is spa days.
The idea of having an entire day to yourself where you do nothing but soak in a tub, get a massage, or meditate in a steam room sounds like more of a true vacation than toasting champagne in front of the Eiffel Tower. Some of us treasure a true escape from real life, and that means literally. doing. nothing.
Luckily there are plenty of beautiful spas that cater to every single one of our self-care fantasies.
We don't judge; that's why we've rounded up seven of the best spas to travel to.
https://www.instagram.com/p/BSpApr6Ab1A
Las Vegas isn't just about all-you-can-eat buffets, alcoholic drinks, and gambling. You can get some really good spa action at many of its hotels. The Cosmopolitan, already a must-see on its own (especially for its "secret" pizza spot), has one of the most unique luxury spas in town — scratch that, entire country. The Sahra Spa features a hammam, aka a Turkish version of a steam room. PSA: Getting your body scrubbed while laying on a marble slab will teleport you to another place far, far away from the sordidness of the Strip.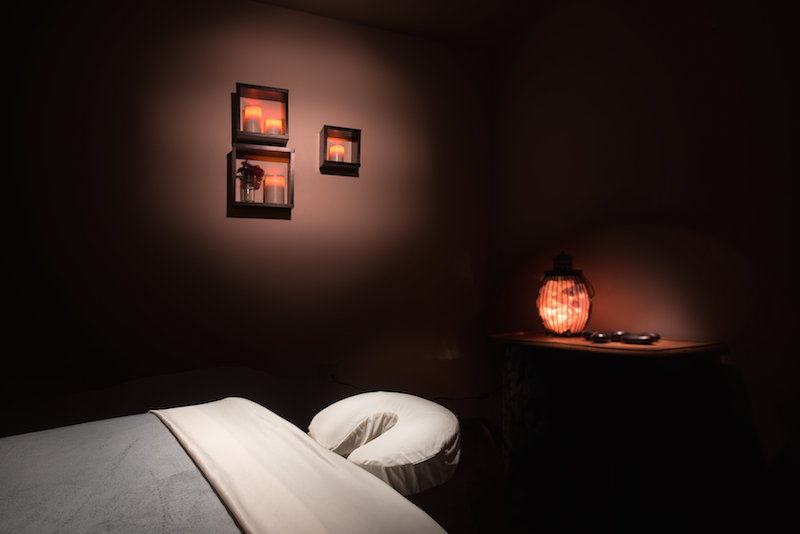 Even (or especially) when it's not Coachella season, Angelenos love a quick two-hour jaunt to Palm Springs for pool time and antique shopping. If you're a spa-head, the desert town is home to many luxe spa resorts to get your maxin' and relaxin' on. If you want to fully immerse yourself in the California desert vibe, try the Desert Clay Body Mask treatment at Palm Mountain Resort and Spa. As the spa's description reads, your entire body will be covered in clay from the Southwest desert followed by "a cocoon wrap to draw impurities from the skin." Necessary after all those poolside drinks.
Los Angeles is a city of a thousand spas, from 24-hour Korean soaks to fancier spas in Beverly Hills. If you're looking for the latter, the Tomoko has everything you need for a day of peace, tranquility, and supreme levels of self-care. Inspired by Japanese ideas of healing, this celeb favorite is the place to go if you're dreaming of something truly extravagant. You can get fancy add-ons, like participate in a traditional Japanese tea service or order sushi from Sugarfish (an LA favorite).
https://www.instagram.com/p/BQd95wuhbrV
Even if you're not doing any hardcore sightseeing, a trip to NYC can be exhausting. Why not put your travel stresses on hold and unwind at a spa where you can get anything from a facial to floatation therapy? Floatation therapy is believed to help with a number of maladies including stress, depression, chronic pain, and insomnia. Floating Lotus is located right near Times Square, so if your boo insists on venturing to Guy Fieri's restaurant, you can say "See ya!" and have some pretty sweet *me* time while getting your float on.
If you're in Miami, take a break from the beach and head to the Lapis Spa at Fontainebleau Hotel. Via the spa's website, you'll see Martha Stewart has described it as "the most beautiful spa in America," so that's pretty much all we need to know. Aside from your usual facials and massages, Lapis has therapies that feature mineral water. We're dreaming of some time spent in the "Bleau Rain Room," a super zen experience which is basically like having rainwater envelop and massage you.
Spa Halekulani, located at the Halekulani Hotel in the Hawaiian island of Oahu, features unique massage services that are based on Polynesian tradition. Splurge on a treatment package like "Serenity," which starts with a hair and scalp massage and ends with a facial. Let's get real — Hawaii is the best place to take Tom Haverford's advice and treat yo'self like the kween you are.
All that walking you'll be doing in London should be rewarded with a spa experience to write home about. (Imagine actually sending a postcard to your parents from England that only talks about your spa day, lolz.) The Bulgari Spa is home to many interesting services you won't find anywhere else in the world, such as the 24K Gold Rejuvenating Facial, which incorporates LED light therapy and 24 carat gold. And if you're into a bit of mysticism with your massage, there's something called Emotional Healing with the Modern Day Wizard, which includes intuitive healing and "body whispering."
https://www.instagram.com/p/BTyHRHvgNGt
La Reserve specializes in anti-aging products, so it's definitely a place to get a really fabulous facial. They also have a massage that is specifically focused on jet lag, something you'd definitely consider after the long flight. After your treatment, you can head to the hotel's perfumery to design your own custom fragrance with the help of a professional perfumer. Dreamy.
The country of Iceland is basically one big spa, with hot springs and natural pools around every corner. One of its most popular tourist spots is the Blue Lagoon, a massive geothermal spa that gets its water from a nearby geothermal plant, which sounds scary but is totally safe. The Blue Lagoon is actually expanding with the Moss Hotel and Lava Cove Spa later this year. According to Forbes, the Lava Cove Spa will be constructed in actual natural lava formations, which sounds undoubtedly cool AF.
Are you ready to book a flight to your ultimate spa day? Happy soaking!