The 6 Best Shows for Kids (That Won't Make You Want to Pull Your Hair Out)
These expert picks are the least annoying for adults to watch... even on repeat.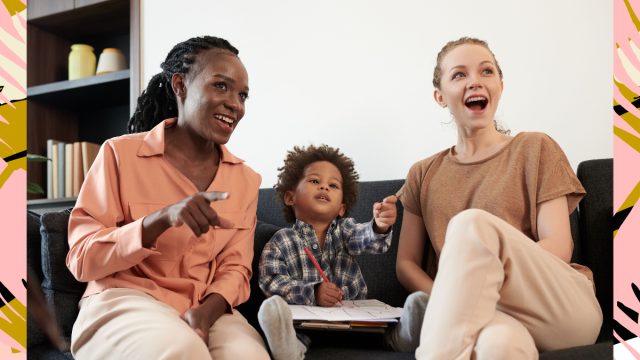 Whether you're a parent, a step-parent, an aunt, or are simply watching your BFF's kids for an afternoon; we've all been there been before. While we'd love to have an endless stream of fun activities on hand – that involve getting creative in the kitchen, curling up together with an age-appropriate book or exploring the great outdoors, sometimes a bit of screentime is the only thing to placate a restless kid.
And thanks to the number of streaming services available at the touch of the button – from Disney+ to Netflix and beyond – it can be hard to know which shows to choose that will keep both your household happy and your child entertained. Because, as we all know, the best kids' TV shows are never just for the kids. As anyone raising or looking after a child will know, more often than not, adults often get roped into watching kids' TV shows too.
From cartoon classics to a pre-bedtime favourite, we spoke to Dr. Amanda Gummer, a psychologist, family and parenting expert and founder of The Good Play Guide, and Amanda Jenner, a child and behavioural expert, for their take on the seven best shows for kids that won't make you want to pull your hair out.
1. "Bluey"
"Cbeebies' 'Bluey' is a great show for little ones," says Dr. Amanda Gummer of the Disney+ hit. "As an upbeat show, it's actually great escapism for children whilst being both humorous and relatable. The storylines tap into real life and real family dynamics, and I love the fact that it prioritises play within every episode."
Amanda Jenner also casts a vote for "Bluey." "This is a great show for kids which has great messages and learning values in it. In each episode, it really attracts children and includes physical activities, plots that align with daily lives, silly jokes, and bright colourful animations."
RELATED: The Parenting Double Standard I'm Done Being Quiet About
2. "Numberblocks"
If you want to have a kid genus on your hands… and freshen up your own math skills, try watching this show on BBC and Amazon Prime. "We've been blown away by the number of parents who tell us that not only do their children love 'Numberblocks,' but that they've been moved up a maths group at school – and the parents firmly believe it is because their kids watch the show," says  Gummer.
"The 'Numberblocks' toys have been accredited by the Good Toy Guide and we love seeing how engaged children get with maths concepts — it's such a brilliant example of a show that encourages learning through play."
3. "In The Night Garden"
Gummer also suggests "In The Night Garden," which can be streamed on Roku and offers kids "a lovely way to calm down before bed," she says. "The simple storylines and gentle characters promote communication skills in pre-verbal children and can be a lovely part of the bedtime routine."
4. "Bing"
Jenner thinks Bing – the children's television series based on the books by Ted Dewan that you can stream on Disney+— is a great option for both children and adults who are casually watching. "Little ones love 'Bing.' He experiences everyday issues and conundrums and learns how to overcome these with the help of his friends," she says.
5. "Operation Ouch"
Yes, this is a cheeky British comedy for children about the human body and how it works. While your gut may not think this would be suitable for kids, Jenner disagrees.
"The twin doctors explore the weirdest and most wonderful bits of medicine," she says of the show, which is available on Apple TV. "They make it fun for children to watch with carrying out experiments and kids also get to learn new things at the same time."
6. "Newsround"
Jenner's final pick for a kids' show that adults will like too is "Newsround" on BBC. "Newsround is great for children to learn about what is going on in the world in a sensitive way," she says. "It's a great guide for children who might be worried about what's going on in the news." In these times, that assistance is welcome—both for little ones and adults.
Lucy Pearson is a freelance writer, book blogger and host of The Bondi Literary Salon based in Bondi.
Read more