The best summer-friendly shoes, according to a foot doctor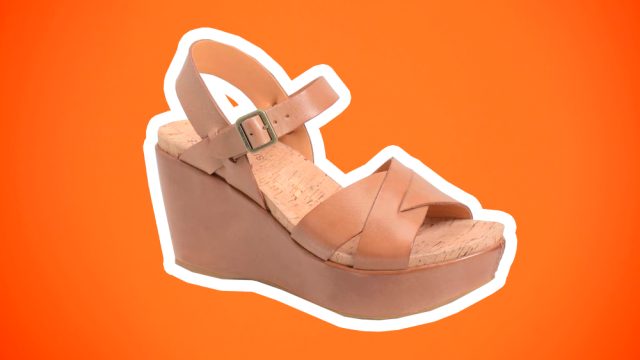 Our feet quite literally take us everywhere, but we often take them for granted. Our arms just kind of hang there looking awkward, and yet we regularly treat them to lotions and love while our feet are squeezed and left to blister in painful, ill-fitting shoes.
Part of this comes down to a lack of information: Most of us are relatively ignorant about what kind of care our feet actually need. To add to the struggle, a lot of the delightfully stylish shoe options out there do a number on our feet. Luckily, it doesn't have to be that way. There are tips and tricks we can keep in our back pockets to make our feet happier and healthier.
To that end, we spoke with podiatrist Dr. Emily Splichal for an expert opinion on how to be gentle with our feet this summer, and which shoes are the easiest on our arches.
https://www.instagram.com/p/Bxhwm-BHYvg
She kicked off the conversation by breaking down just how hard our daily routines are on our feet, which is why we can't neglect them.
"I'd say most people take their feet for granted, which means they are not doing enough foot care. Our feet take a beating every day which means we need to think about foot care daily. "
Dr. Splichal says this could be as simple as stretching the feet and rolling them on a golf ball or Rad Roller or applying a foot moisturizer, such as Arm and Hammer Foot Care Moisturizer Plus Gentle Exfoliators.
https://www.instagram.com/p/Blg61UkA5dW
When asked which shoe types are hardest on our feet, she said that it all depends on foot shape.
"This answer really depends on foot type; in the case of a flat foot (over pronation) you could say that a really flat, unsupported shoe is the hardest on this foot. However, in the case of a neutral foot with no imbalances or pain, then a flat shoe may be completely fine. The best recommendation I give is to balance the stress of footwear with recovery—if you are going to wear flat shoes and flip flops, then daily foot stretches are recommended. If you are going to wear supportive footwear and possibly orthotics, then I recommend still keeping the feet strong outside of this support. This is as simple as barefoot exercises and calf stretches."
https://www.instagram.com/p/Bw4nqspB80A
Naturally, since we're excited to climb into our closets to unpack our summer wardrobes, we asked her which summer shoe styles are least likely to hurt our feet.
"As we enter spring and summer, we are more inclined to wear slides, flip flops and shoes without support. If foot pain is typically experienced with this footwear then I recommend looking for sandals that have built in arch support such as Aetrex. There are also materials that are a little more forgiving to impact, such as cork."
https://www.instagram.com/p/BwodEJmBQoE
If you're not living the sandal life, but you're looking to upgrade your shoe situation with some insoles, she recommends you see a podiatrist for personalized recommendations. If that's not possible, she says it's crucial to consider your daily activity patterns.
"If you plan to stand long hours, especially on concrete, then I recommend getting an over-the-counter arch support such as Powersteps or using a textured insole such as Naboso Insoles. If you are looking for an insole for running or other types of ballistic movements then I recommend an insole that has some flex to it or is made of carbon fiber in order to allow energy return. There are a lot of misconceptions around insoles, who needs them and what is the best one based on foot type. I recommend consulting with a podiatrist to get the best insole based on foot type."
https://www.instagram.com/p/Bxx_1BSHnql
At the end of the day, regardless of what shoe styles you prefer, or what your level of activity is, Splichal emphasized that the best habit you can form is daily foot release exercises and moisturizing.
"I recommend 5 minutes in the morning and evening – daily foot moisturizer and weekly exfoliation with products such as Arm and Hammer Foot Care Moisturizer Plus Gentle Exfoliators. Weekly foot strengthening exercises, and balancing foot stress with recovery. Also, choosing the appropriate shoes and insoles based on foot type and need."[/quote]
In order to help you with your shoe shopping this season, we gathered a few different shoe-shopping options that look cute without beating up your feet.
1Hush Puppies Women's Power Walker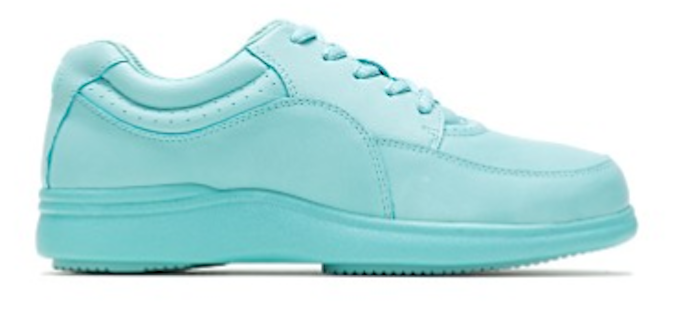 If you're looking for colorful breezy shoes with a bit of support, these come in five equally bright colors all with a breathable sock lining to keep your feet cool and dry on hot days, and a soft, supported footbed so your feet don't suffer.
2Birkenstock Gizeh Flip Flop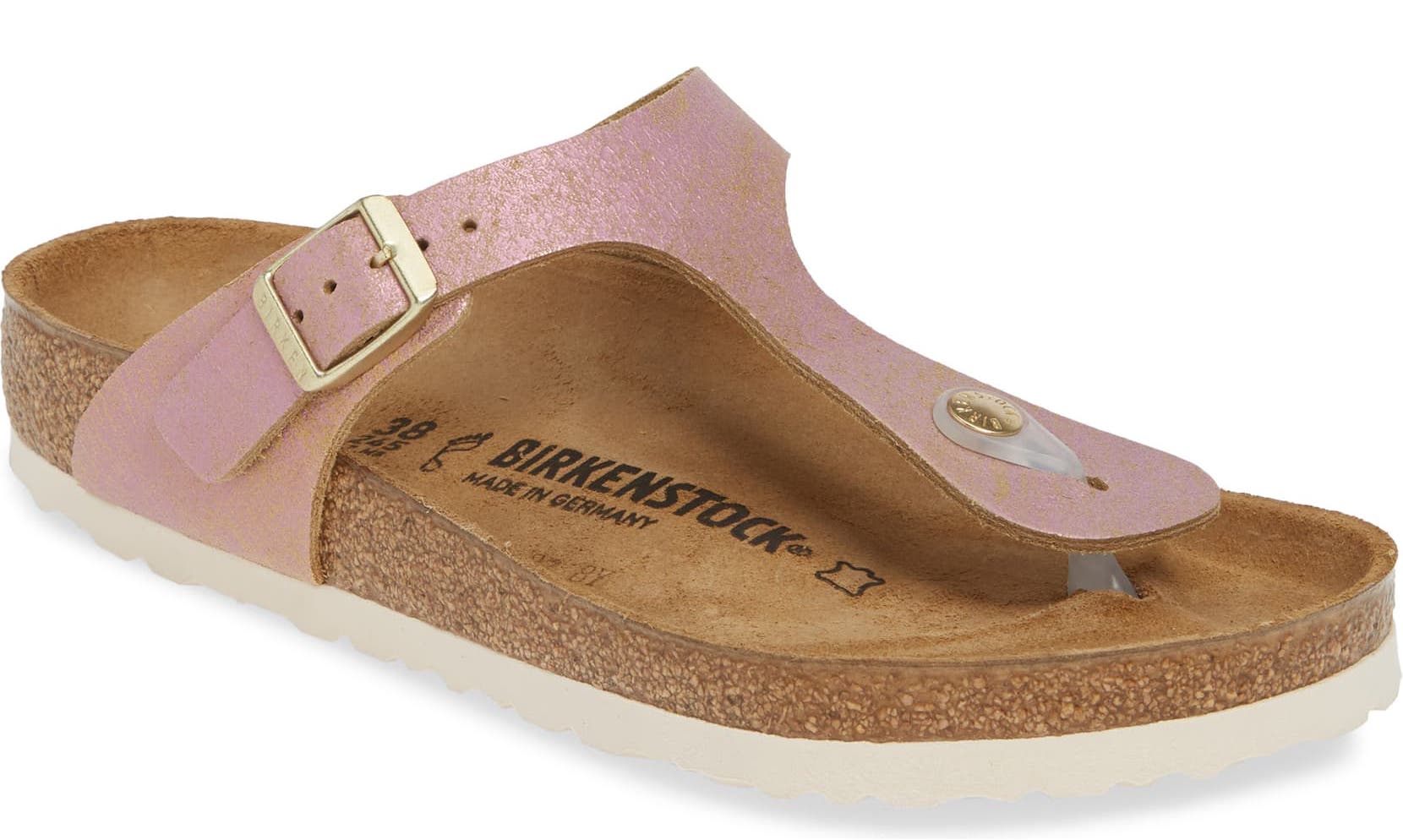 If you're craving the breezy summer vibe of flip flops without the blisters, these waterproof, colorful bad boys will give your feet the same air and freedom while providing more substantial arch support.
3Kork-Ease Ava Wedge Sandal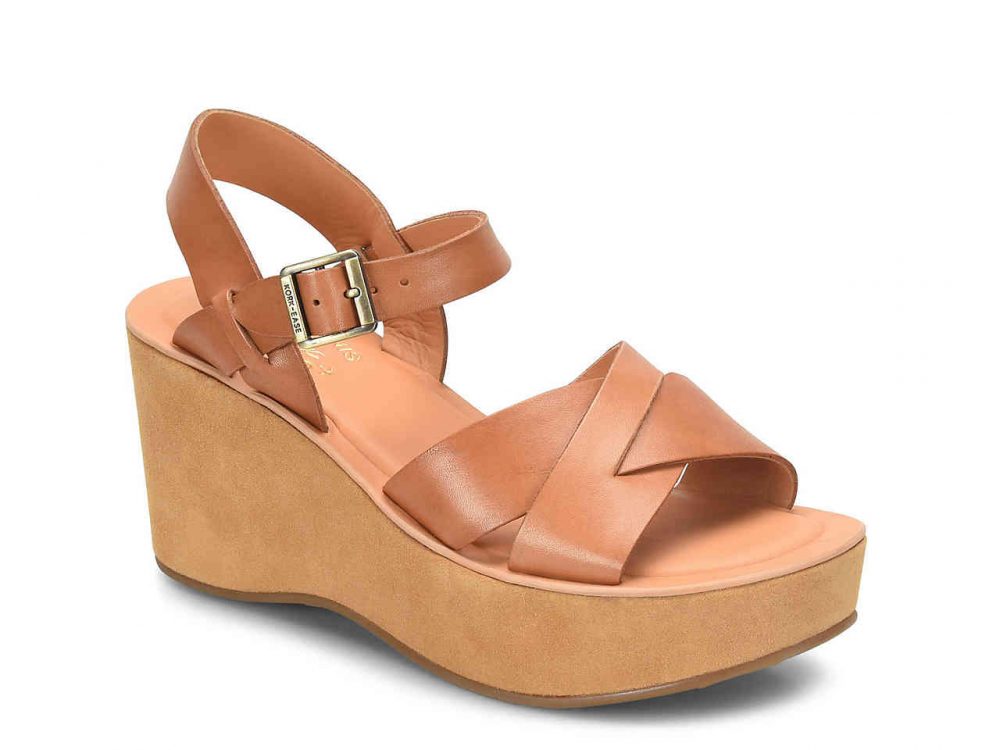 These adorable wedges give you a fashion-forward chunky style but also provide a cushioned footbed and a rubber sole to make all-day wear easy on your precious feet.
4Vionic Loika Wedge
If you need cute shoes to pair with your summer dresses that won't leave your feet sad, these include orthaheel technology designed to hug the natural shape of your arches.
5LuluLemon TechLoom Bliss Shoe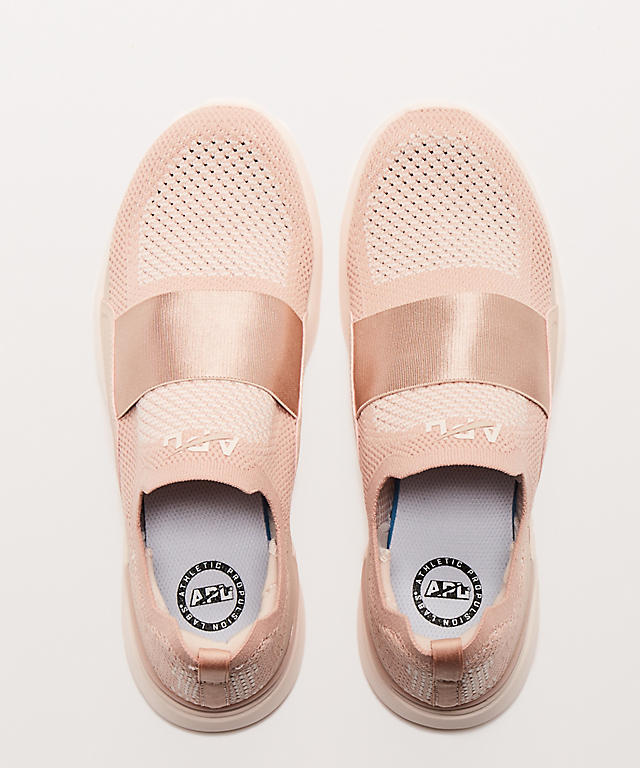 These satin-decked rose slip-ons can be worn as walking shoes or dressed up with a sundress. They are highly breathable and include arch support, so you won't feel worn down after a day in the sun.
6Reef Cushion Bounce Court
If you're playing on the beach in the sweltering heat, these bad boys with bounce support are a great alternative to many of the flip-flops out there.
7Allbirds Women's Tree Skippers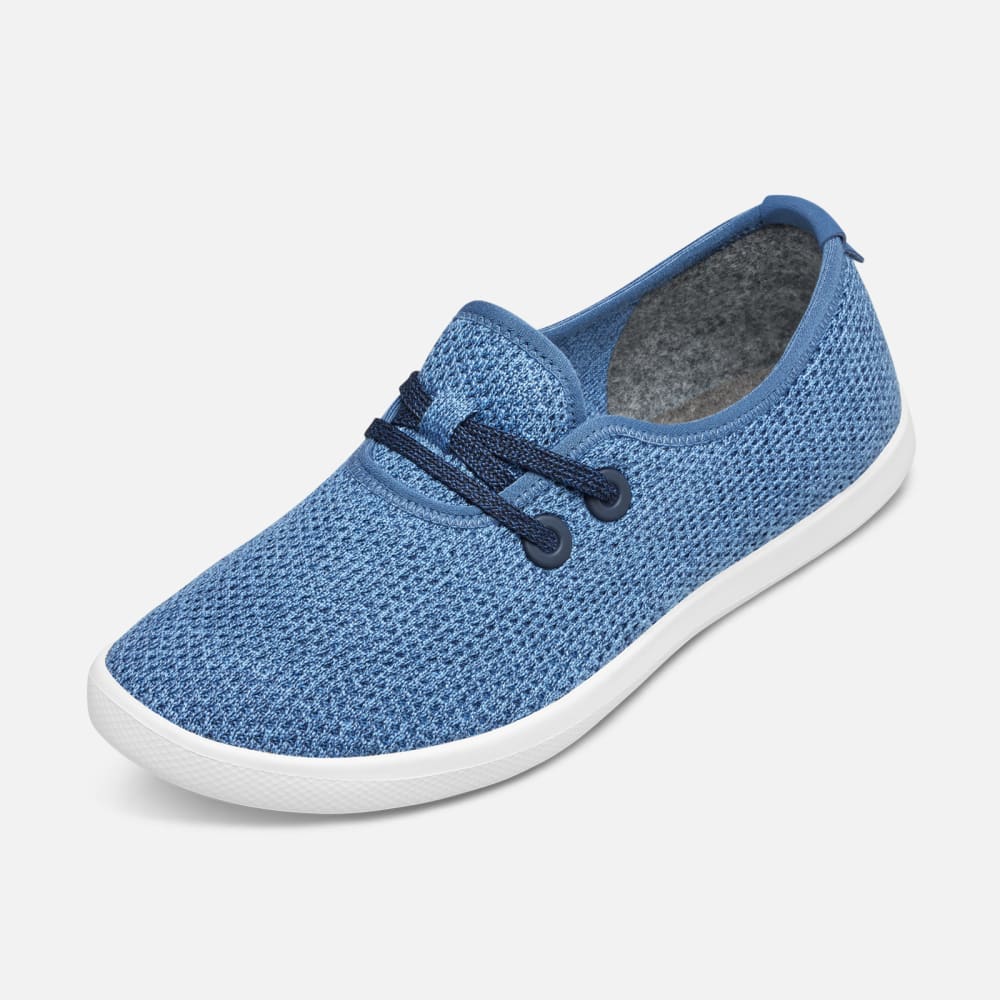 These eco-friendly shoes are made from eucalyptus pulp and come with recycled laces and padded insoles so that when you go camping this season, your feet will feel supported and at home in the forest.
8Lulu's Blush Pink High Heel Sandals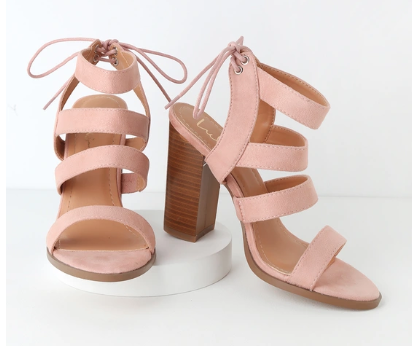 High heels aren't generally the most recommended style if you wanna treat your feet better. But these vegan, strappy heels include a cushioned insole and rubber sole, plus supportive straps to keep your feet in place, so they're a great bet if you're a heel lover.