The Best Rom-Coms of the '90s—for Your Next Big Night In
From 'You've Got Mail' to 'Clueless.'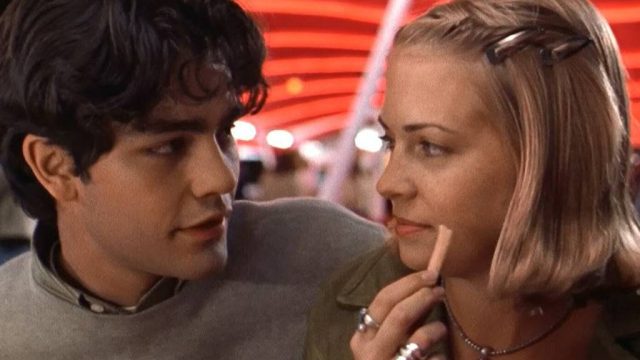 It's no secret that the romantic comedy—known more affectionately as the rom-com—dominated the '90s box office landscape. Stars like Meg Ryan, Julia Roberts, and Drew Barrymore captured America's hearts with tales of love, usually with plenty of laughs (and tears) along the way. And the great thing about today's streaming services is that your favorite '90s romantic comedies are available for rewatching whenever you feel like it. If you need help deciding which one to start with, check out our list of best '90s rom-coms below (in no particular order—it's too hard to pick our favorites).
1. 'Pretty Woman'
It's a modern-day Cinderella story starring '90s romantic comedy queen Julia Roberts and a swoon-worthy Richard Gere. Sure, the message may feel outdated by 2019 standards (rescued by a knight in shining armor? Please), but the charm of this movie is undeniable.
2. '10 Things I Hate About You'
Shakespeare's Taming of the Shrew set in a '90s Seattle high school. Need we say more? It features performances by Joseph Gordon-Levitt, Heath Ledger, and Julia Stiles—among many more.
3. 'You've Got Mail'
Set in the early days of email (back when AOL reigned supreme), You've Got Mail tells the tale of two professional enemies who don't realize they've been pouring their hearts out to each other via an anonymous internet friendship for months. It's lovely.
4. 'Clueless'
As if there's ever a wrong time to revisit this 1995 classic.
5. 'My Best Friend's Wedding'
This is basically the anti-romantic comedy romantic comedy, and it was way ahead of its time. Come for the laughs, stay for the life lessons it serves up. For those who don't know, My Best Friend's Wedding is about a woman (Julia Roberts) who finds out her best friend (Dermot Mulroney) is getting married—forcing her to realize she may be in love with him.
5. 'Sleepless in Seattle'
Another Meg Ryan/Tom Hanks classic, this one (much like You've Got Mail) is about two people who fall in love before ever actually meeting face-to-face (and because it's 1993, they didn't Facebook stalk each other either).
6. 'As Good As It Gets'
A curmudgeonly, anti-social writer is forced to realize he might have a bigger heart than he thought—all thanks to a waitress at his favorite diner. It's unconventional yet perfect, and both Jack Nicholson and Helen Hunt earned Oscars for their performances.
7. 'The Wedding Singer'
This Adam Sandler and Drew Barrymore romantic comedy became an instant classic when it premiered in 1998. It's a nice-guys-finish-first story, and we dare you not to fall in love with it.
8. 'Chasing Amy'
This Kevin Smith classic is a traditional boy-meets-girl story…except the girl usually dates women and the guy doesn't quite know how to feel about it. It's a sex-positive, feminist movie that was way ahead of its time.
9. 'Jerry Maguire'
Who among us wouldn't rewatch Jerry Maguire all day, every day, if we only had the chance. The characters in this movie speak the way we wish we spoke in real life, and it is one of the best romantic comedies ever—not just of the '90s.
10. 'Runaway Bride'
Julia Roberts and Richard Gere reunited for the story of a commitment-phobic woman and the man who falls in love with her.
11. 'Never Been Kissed'
Drew Barrymore stars as Josie—the geekiest girl in high school who grows up to become a journalist…and now must go back to school and somehow infiltrate the popular clique. It has everything you could ever want in a rom-com: big laughs, sexual tension, and yes—a makeover.
12. 'She's All That'
The most popular boy in school bets that he can turn the geekiest girl in his grade into prom queen, and (of course) falls in love with her in the process. This is the stuff rom-com dreams are made of.
13. 'Reality Bites'
Reality Bites is about a group of recent graduates trying to navigate life post college and find their place in the world. It stars Ethan Hawke, Winona Ryder, Ben Stiller, and Janeane Garofalo, and it's ICONIC '90s.
14. 'There's Something About Mary'
This one is admittedly a little more comedy than romance, but it's well worth your time if you're in the mood to laugh (it's also the movie that Cameron Diaz to super-stardom, NBD).
15. 'Can't Hardly Wait'
Can't Hardly Wait is an ensemble movie that takes place over one single night (graduation night, to be exact). You'll fall in love with each and every one of these characters, but warning: This will probably become one of your all-time favorite movies.
16. 'How Stella Got Her Groove Back'
This 1998 romantic comedy is about a 40-year-old stock broker who develops a connection with a younger man while on vacation. It's a movie about getting outside your comfort zone and finding yourself, and it should be mandatory viewing for all women.
17. 'Drive Me Crazy'
Makeovers, next-door-neighbors falling in love, and a Britney Spears-inspired title. What more do you need?
18. 'While You Were Sleeping'
This often-overlooked 1995 rom-com is about a woman (Sandra Bullock) who rescues a man from an oncoming train. He slips into a coma, and his family ends up thinking that she's his fiance (it's a long story). To make matters more complicated, she begins to fall for his brother. Just watch it, okay?
19. 'Notting Hill'
Notting Hill tells the story of a shy English bookshop owner who falls for a world-famous actress (and hint: she falls for him, too). It also entails the perfect trifecta: romance, charm, and pure British wit.
So, which '90s romantic comedy are you queuing up first?