The best romance to come out of "The Bachelor" series is Kaitlyn Bristowe and Shawn Booth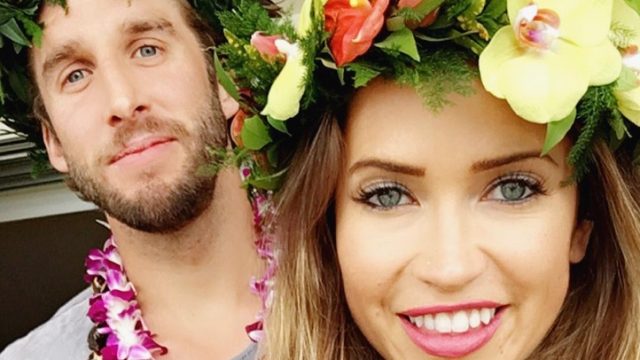 There are a LOT of amazing couples that have come out of The Bachelor and The Bachelorette, but we've picked our favorite romance of them all…Kaitlyn Bristowe and Shawn Booth! We know what you're thinking, they're not even married yet, but it doesn't matter we just love them.
Sure, Sean Lowe and Catherine Giudici are too cute for words, especially now that they are parents, and Trista and Ryan Sutter have proven that The Bachelor series can have lasting relationships (they've been married 13 years), but Kaitlyn and Shawn prove time and time again that love is messy and fun, which is why they are the best couple thus far. Check out all the reasons they top the list below:
They have each other's back
Kaitlyn and Shawn literally and figuratively have each other's back all the time. They lift one another up, build up their confidence and support each other no matter what.
Picture perfect
Come on, like they aren't one of the prettiest couples you've ever seen?
Workout buddy
The couple the works out together, stays together. Okay that might not always be the case, but they really do love to just be together, including during strenuous workouts, where they sweat, which is NOT cute usually.
They're taking it one day at a time
Although they got engaged at the end of their season of The Bachelorette and have been together more than a year now, they aren't in any rush to tie the knot. The duo is just happy living together and enjoying each other's company while slowly planning their big day, which we like. Not stressing about a big TV wedding or proving they're in love to the press makes them way more relatable.
Goofballs
This couple is the definition of goofballs. They are always having fun together, laughing and being adorable while doing so. Plus, this biking video they made is too funny not to love.
Active romance
When these two aren't relaxing at home, they are enjoying as many outdoor activities with one another as possible. Plus, they know how to stay active and keep their romance alive at the same time. For example, when they were on vacation in Hawaii, Kaitlyn enjoyed her mimosa while Shawn paddled them around, staying active and romantic!
Eye on the prize
Shawn always had his eye on the prize when he went on The Bachelorette. He watched the show with his sisters and decided he wanted to be Kaitlyn's one and only, which is so sweet. From day one he was focused on her and no one else, which is why they had such a strong relationship from the moment he stepped out of the limo.
Young at heart
Seriously, these two have way too much fun together. Even though their daily shenanigans are admirable, it's their costume game that we are giving major points to. The couple that dresses up as Curious George and The Man with the Yellow Hat clearly knows how to live life to the fullest and not take it too seriously.
Family ties
Love definitely runs in the family when it comes to Shawn and Kaitlyn's parents. The happily-engaged couple even goes on double dates with their parents because family is so important to them. It was Shawn's sisters who even got him interested in going after Kaitlyn, after all, so clearly family matters!
Mushy gushy
No matter what people might say, these two lovebirds are crazy about one another and they don't care who knows it. In honor of their one-year anniversary, Kaitlyn posted the cheesiest photo and we just can't get over how cute it is. "Look at these young crazy kids. We've grown so much as individuals, and as a couple in the last year," she wrote on Instagram. "In 60 years I will still grab your face like this, and love you with my whole ? #HappyAnniversary."
Kaitlyn and Shawn forever! Now all we need is a spectacular wedding fit for such a fantastic couple and we'd be totally happy.
Which of The Bachelor or Bachelorette couples is your favorite?