The Best Push-Up Bras for Every Breast Size and Shape
While we love our boobs the way they are, we also know it's totally normal to crave extra cleavage now and again. While some people are built with naturally close together breasts, others need a bit of help to achieve the pushed-up appearance. Thankfully, push-up bras exist for that exact reason. While people with any breast shape will see a difference from wearing a push-up bra, those with smaller and/or wider-set breasts will notice the biggest change in appearance.
Of course, to achieve the best and most comfortable cleavage, it helps to know which bra is best. With that in mind, we're here to guide you through the best push-up bras for every breast size and shape with the help of a few of the industry's top lingerie founders. Which is all to say, your perfect push-up bra awaits you, below.
Why should you use a push-up bra?
While cleavage is the first thing that comes to mind with push-up bras, ThirdLove co-founder and CCO, Ra'el Cohen, says it's about support, too. "Push-up bras offer padding that helps breasts of any size feel supported and secure throughout the day while providing additional comfort," she shares, noting that, in her mind, the perfect push-up bra should enhance your natural shape, and provide flexibility with the choice of removable foam inserts. That way, you can transition between a push-up bra and T-shirt bra without having to buy a second one.
What's the best way to find the best push-up bra for your breast shape?
When looking for a push-up bra, Journelle co-CEO Sapna Palep says that it's important to remember a few key things to find the best fit. "Firstly, it's best to look for an underwire-style bra," she says. "This is going to give you the correct support around your ribcage and also support the cups for some volume and lift."
In addition to buying an underwire bra, she says to find one with molded, padded cups that add anywhere from a half-size to an additional cup, as they will help to enhance your natural curves, rather than create the appearance of super-obvious, slapped-on padding—and they'll be more comfortable than bras that add multiple cups (though, those are available should a customer want that). Additionally, she says to look for a push-up bra with adjustable straps and a hook and eye closure. "That way you can form the bra to your body for a customizable fit," she says.
As for the cup shape, that's entirely up to personal preference. If you want more coverage, she says you may want to go with a demi bra, whereas those who crave a bit less coverage may prefer a plunge.
Best push-up bra for small breasts: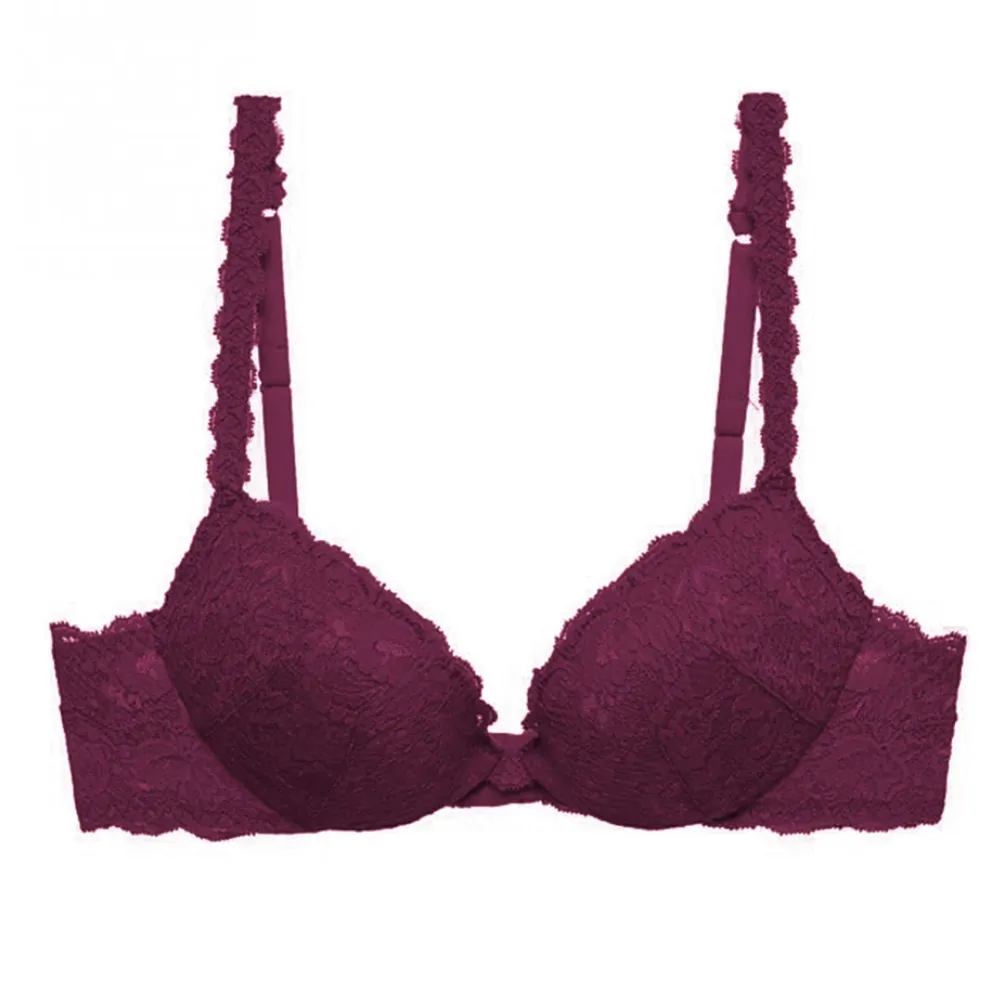 Cosabella Never Say Never Luckie Push Up Bra
$98.50
Shop it
Cosabella
Palep recommends this Cosabella plunge underwire push-up bra for the way it evenly lifts breasts and makes the most of your natural shape. And, since it has removable padding, you can adjust it to your preference.
Best plus-size push-up bra:
Cosabella Pret A Porter Curvy V Bralette
$85.50
Shop it
Cosabella
On the other end of the spectrum, if you have a plus-sized bust, Palep says that you can get away with a wireless bralette, so long as the shape is just right. She loves Cosabella's Pret A Porter Curvy V Bralette, which supports up to a 40H. Though it's made without underwire, the bralette features a wider band (complete with five hook-and-eye closures) and supportive power mesh lining in the cups, which together offer plenty of support to add a little extra oomph to breasts that have no problem with cleavage.
Best strapless push-up bra: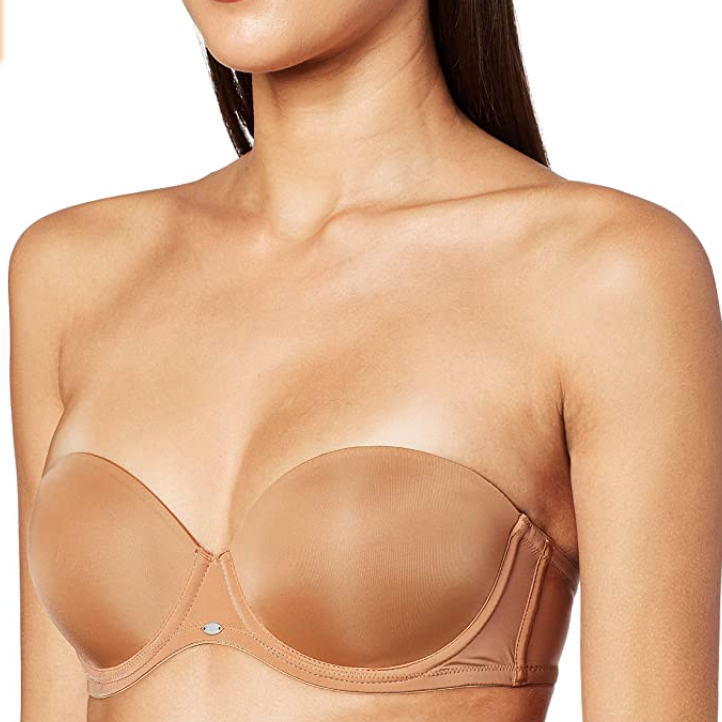 Calvin Klein Women's Naked Glamour Strapless Push Up Bra
Shop it
Amazon
Palep recommends finding a smooth push-up bra (as opposed to a lace one), as it's less likely to show lines along your bust. This is especially important since strapless bras of all kinds have the potential to slip down and slice into the top or middle of your breast, creating an obvious lump beneath your clothes. In addition to finding a smooth strapless push-up, it helps to opt for one with a non-slip band, to avoid the fashion faux pas at all costs.
Best push-up T-shirt bra: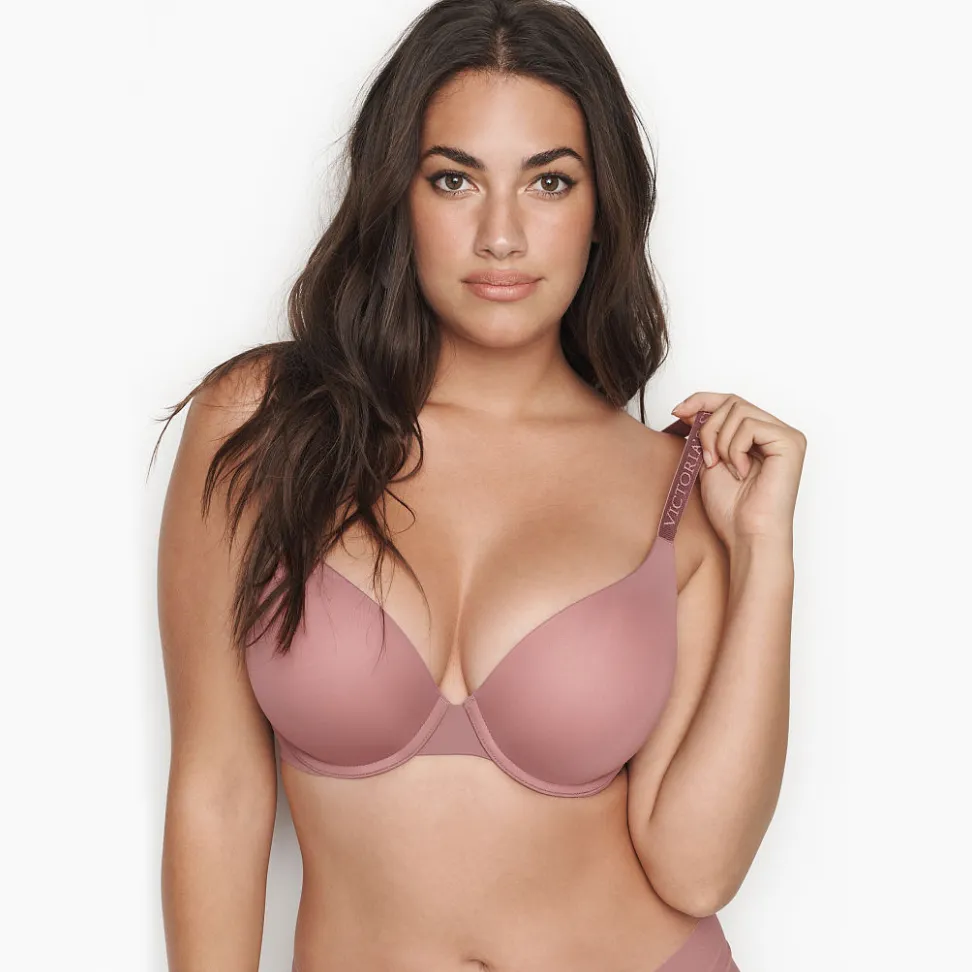 Victoria's Secret The T-Shirt Perfect Shape Push-Up Bra
$39.50
Shop it
Victoria's Secret
If you prefer the comfort of T-shirt bras above all else but are looking for a touch more oomph, Palep says to look for a lightly padded push-up bra.
Best plunging push-up bra:
Victoria's Secret Bombshell Add-2-cups Shine Strap Push-up Bra
$69.50
Shop it
Victoria's Secret
Palep says that a plunge push-up bra is your best bet if you plan to pair it with a low-cut top or dress. That way the cups and band won't be visible at the neckline.
Best push-up sports bra: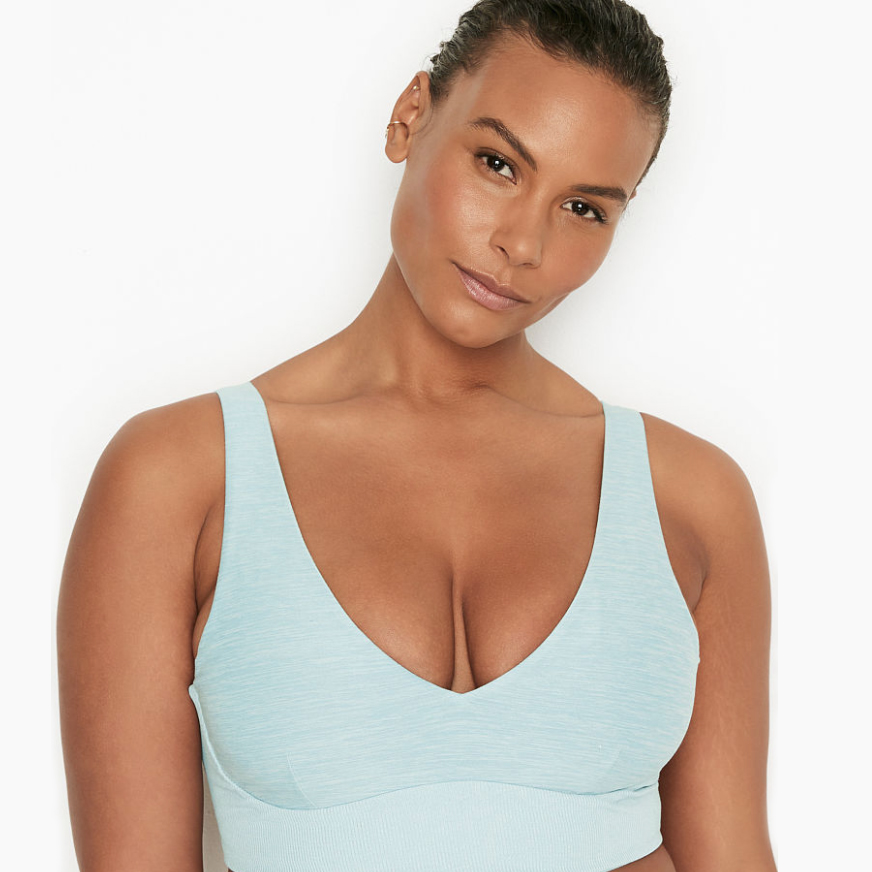 Victoria's Secret Incredible Essential Unlined Plunge Bra
$39.50
Shop it
Victoria's Secret
If you're looking for lift while working out but don't want to wear padding while sweating, it's all about finding a bra that will lift your boobs up and together. The Victoria's Secret Incredible Unlined Plunge Bra is my personal favorite sports bra and it does just that. It's buttery soft but creates lift to avoid making your bust look like a shelf while working out.
Best wireless push-up bra: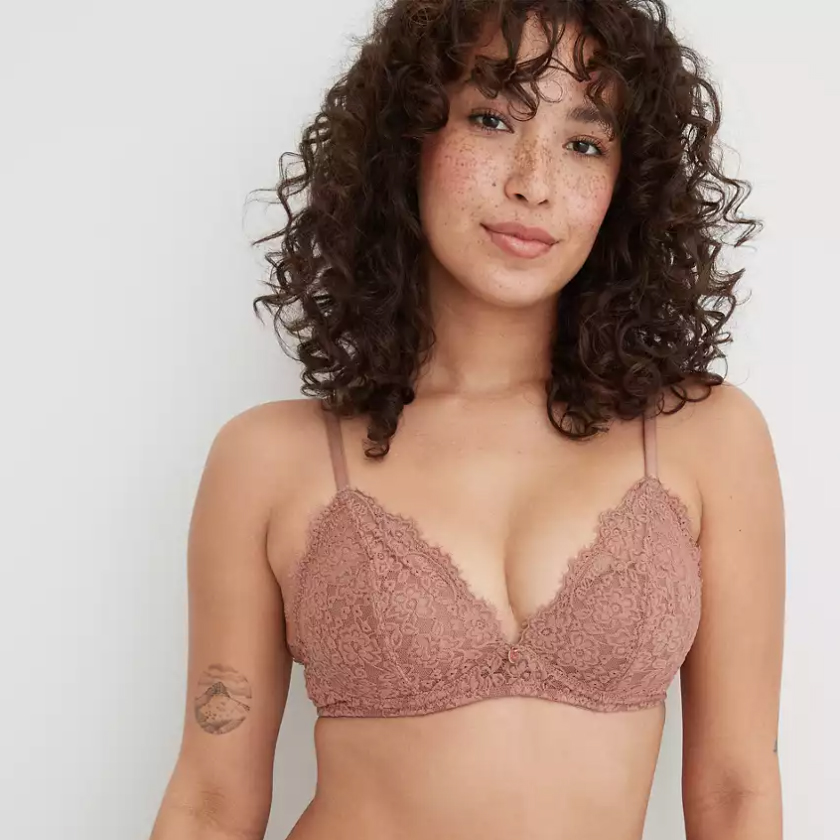 Aerie Real Power Wireless Push Up Be Free Lace Bra
$54.95
Shop it
Aerie
Not a fan of underwire? Good news: You can still enjoy the perks of a push-up without the discomfort of wire. This new Aerie bra proves it. Made with molded cups, a lace overlay, and front rose gold hardware to pull your breasts together, you can expect noticeable lift without any obvious discomfort.
Best push-up bra with removable padding:
ThirdLove 24/7 Classic Uplift Plunge Bra
$65
Shop it
Third Love
In addition to being transitional—meaning you can remove the padding—Cohen says that this bra is especially beneficial for asymmetric breasts. "The Uplift Plunge bra is an elevated take on the traditional push-up bra, with a V-neckline that emphasizes your cleavage while giving you a zero-gap fit," she says. "With removable inserts, the bra allows for an extra push up if you want it."
Best convertible push-up bra: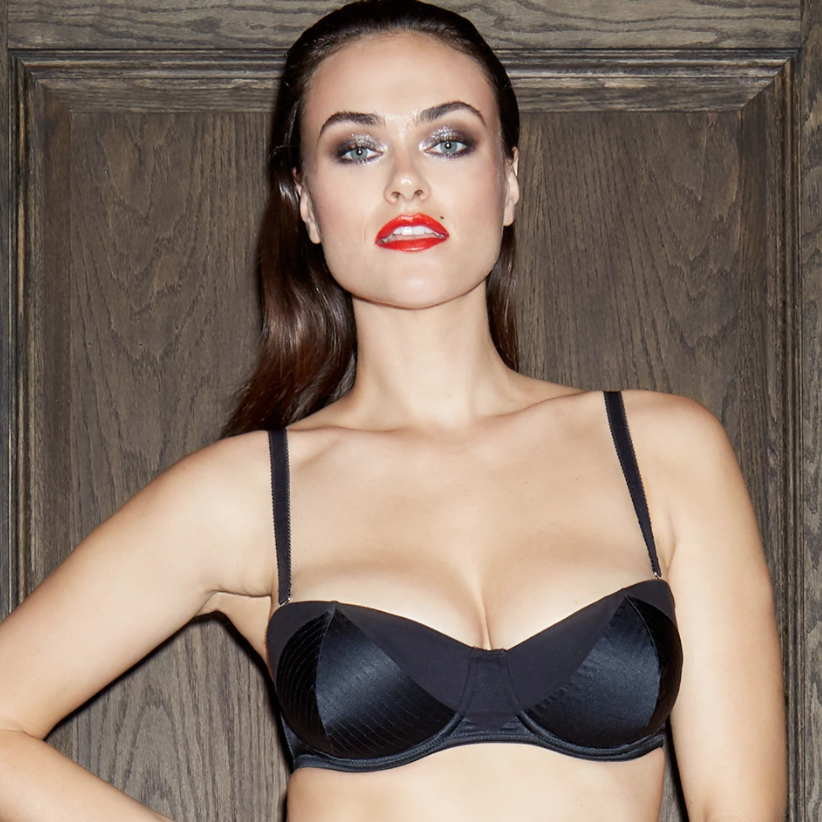 Fleur du Mal Fuller Cup Top Stitch Convertible Bra
$128
Shop it
Fleur Du Mal
Balconette bras are renowned for their supportive lift and the head-turning cleavage they create—and that's without any padding at all. Add padding to the mix and you have yourself a bust that's sure to stand out. Balconette bras look best with square and sweetheart necklines, so keep that in mind when thinking of adding one to your lingerie drawer.