These Press-On Nails Will Help You Fake Long, Healthy Nails in Under 5 Minutes
Plus, two experts explain how to apply them to keep your nails in tip-top condition.
Finding the best beauty products has never been easier thanks to Pia's Picks, our weekly curated list. As the senior beauty editor at HelloGiggles, I test and examine the latest skincare, makeup, hair, and nail products so I can confidently recommend the best ones to you.
I think we can all agree that there's something about having polished nails that makes you instantly feel put-together. Even if your hair is knotted and you haven't worn makeup since 2019, having well-kept nails can elevate your mood. However, it's been a very stressful year, and between all the nail-biting and salon closures, it's probably been easy to disregard your nails. For those looking to up your manicure game, press-on nails are the holy grail option. They're especially great for people who want added length or don't want to spend time painting their nails.
There are so many press-on nails on the market right now that cover all types of looks. From coffin-shaped nails with intricate nail art to short and nude faux nails, there's something for everyone. Before we share the best press-on nails, though, we interviewed two nail experts and asked them to share their pro tips for nail prep, application, and removal.
First of all, are press-on nails healthy for our natural nails?
When used sparingly and correctly, yes. Jin Soon Choi, the founder of her eponymous nail polish brand and nail salons, says that while fake nail tips generally aren't healthy for nails since glue and adhesive can dry nail beds and cause damage during removal, they can be less damaging if used less frequently and removed with care.
Are press-on nails better than gel polish and acrylics?
"I think gel polish and press-on nails are much safer than professional acrylic nails if removed properly, as this will protect the integrity of the natural nail," says Choi. To keep nails super healthy, she recommends doing a nail detox every once in a while to allow nails to breathe and recoup.
How should you prep your nails before applying press-ons?
Before applying your press-on nails, Gina Edwards, a celebrity nail stylist and KISS ambassador, says that it's important for your nails to be clean and oil-free, as this will help your press-ons grip your natural nails. Once your nails are clean, Choi suggests applying a hydrating cuticle oil and pushing them back (no cutting!) to maintain their integrity.
How do you apply press-on nails?
First things first, you need to find the right size nail for each of your fingers. "It's important to create a secure fit by measuring the sides of the press on from nail groove to nail groove, which is the side pocket of your nail beds," explains Edwards. "I always recommend 'pinching' the sides of the nails to give it a more concave 'C shape' before applying." Additionally, Choi says that it's important to avoid gluing the nails on top of your cuticles as this could cause damage and pain during removal.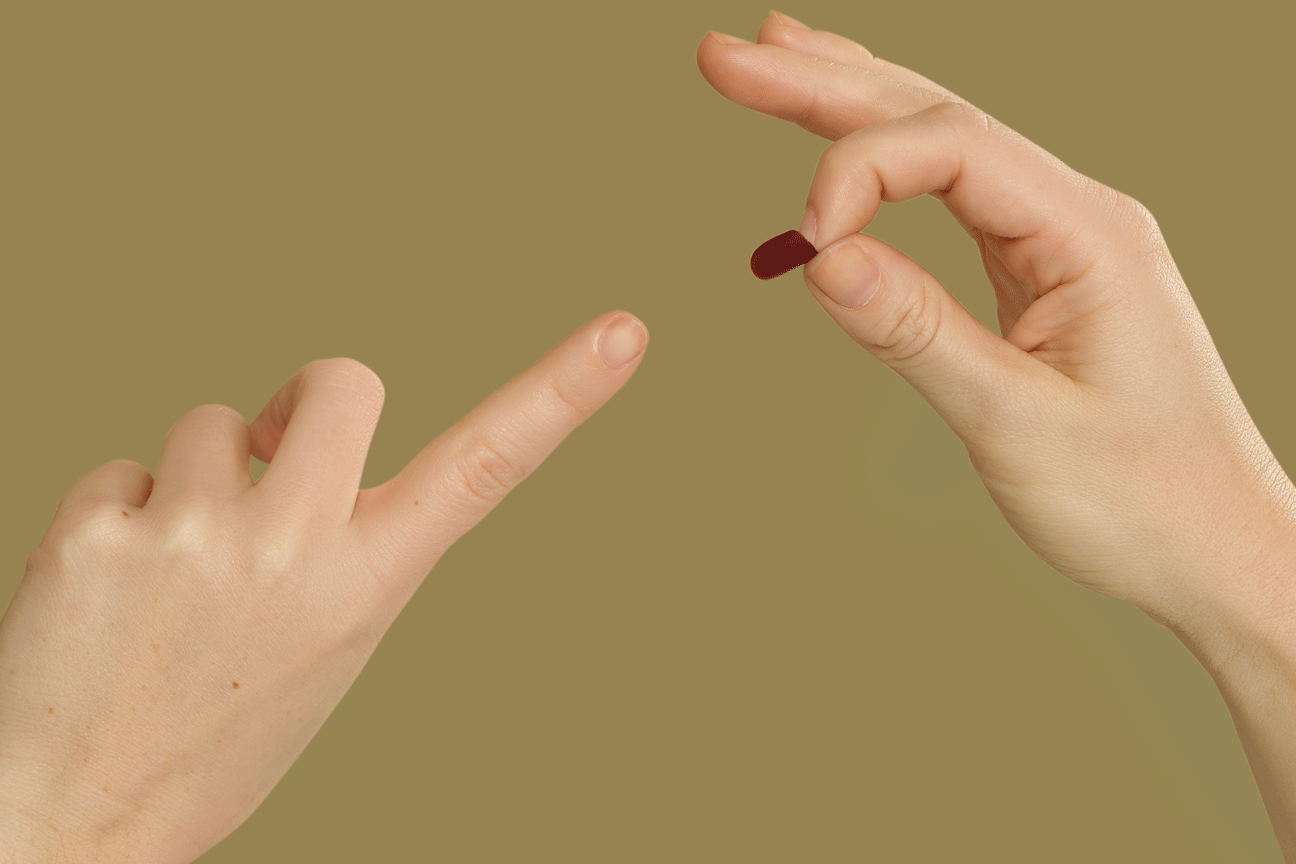 What's the best way to remove press-on nails?
"Similar to professional acrylics and gel polish, ripping off press-on nails will damage your natural nail," says Choi. To safely remove your press-ons, Edwards and Choi both recommend soaking your fingers in a bowl of warm water and olive oil for a few minutes, as this will help break down the adhesive so that the nails slide off with ease. If that doesn't work, Choi recommends soaking your nails until a corner lifts. "Then, gently slide a business card underneath the nail to help pop it off," she adds. A long steam shower could work as well, according to Edwards.
With that, here are the best press-on nails for the ultimate (and quick!) mani:
Best drugstore press-on nails: KISS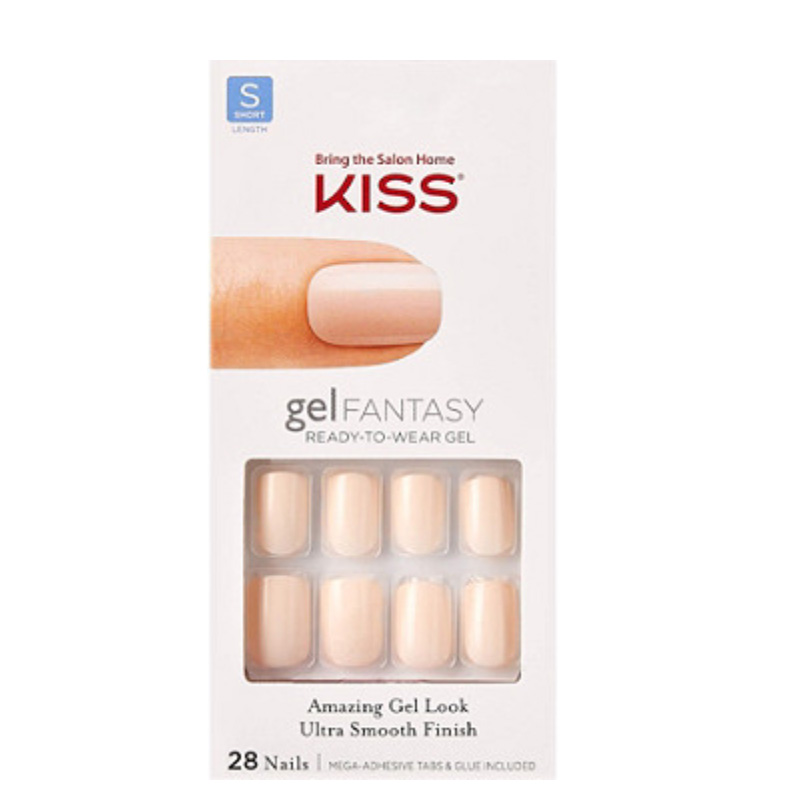 KISS Gel Fantasy Ready-To-Wear Gel
$$8.49
Shop it
Ulta
Self-adhesive press-on nails are the fuss-free option for someone who wants to have their mani done in less than three minutes. They're easy to apply and to mold across your natural nails, and once soaked in warm water with olive oil, they're super easy to remove.
Best press-on nails for nail art: Chillhouse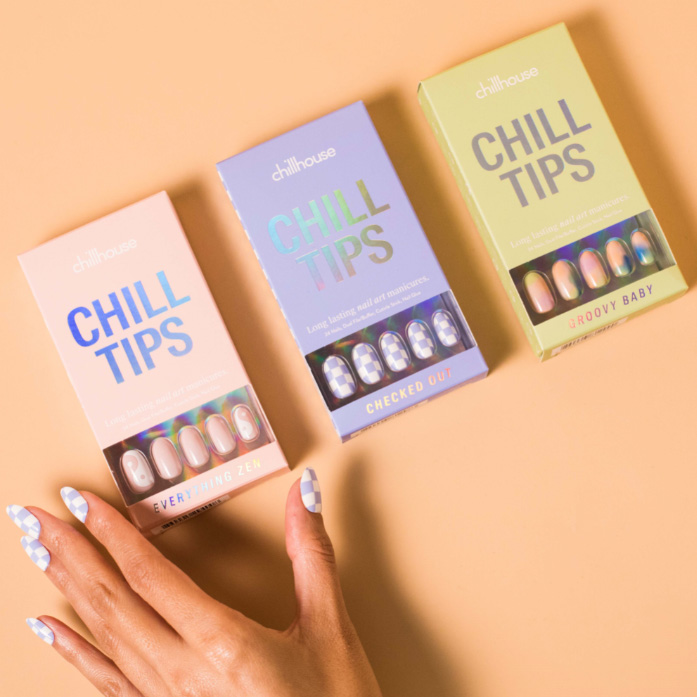 Chillhouse Chill Tips
$$16
Shop it
Chillhouse
Lots of brands offer nail art press-ons, but Chillhouse has the most trendy, yet tasteful, ones. Chillhouse launched as the go-to nail salon for New York City it-girls, and now its press-on nails have made its creative and cool nail art designs accessible to everyone. Simply pick your favorite print, add some glue to the back of each nail, and press it on.
Best nude press-on nails: Static Nails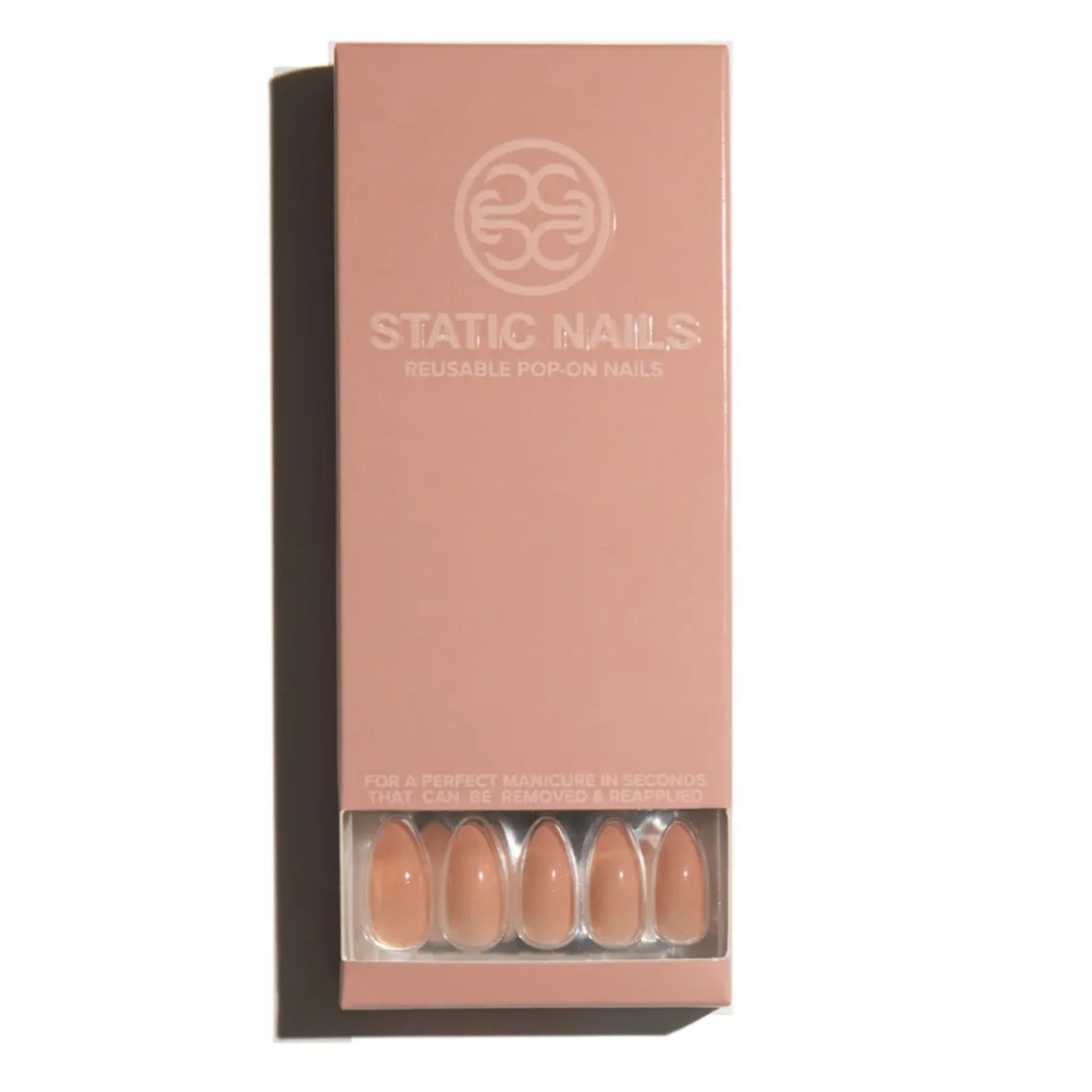 Static Nails Almond Pop-On Reusable Manicure Set
$$14
Shop it
Nordstrom
"Nude" isn't a one-size-fits-all word, and Static Nails has the best variety of nudes out there. They come in a variety of shapes and colors, and since they're reusable, you can enjoy them over and over again. #EcoConscious.
Best nail strips: ColorStreet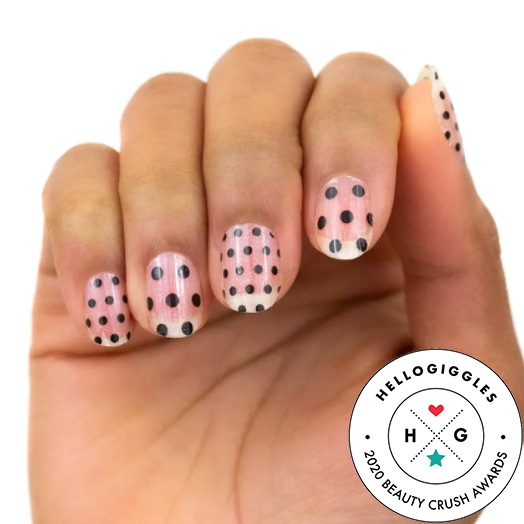 ColorStreet Polka Dot-Com
$$11
Shop it
ColorStreet
If you're looking for a no-fuss mani that will stay put for about two weeks, these Beauty Crush Award-winning nail strips are calling your name. They come in a variety of colors, textures, and patterns, and are incredibly easy to use. Pro tip: After applying, use a topcoat to make them look even more shiny and long-lasting. 
Best glossy nail wraps: Dashing Diva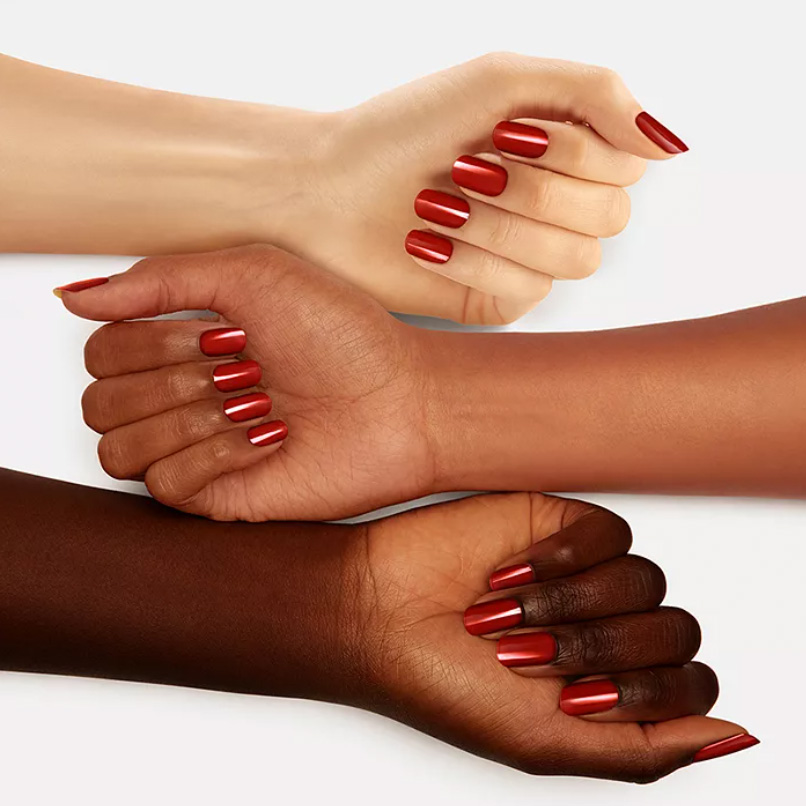 Dashing Diva GLOSS Ultra Shine Gel Color
$$6.99
Shop it
Ulta
These Dashing Diva nail strips will deliver big-time shine that lasts all day—you know, the kind of glossy your nails look like right after applying a shiny topcoat. The brand offers a variety of solids and patterns.
Best user-friendly press-on nails: imPRESS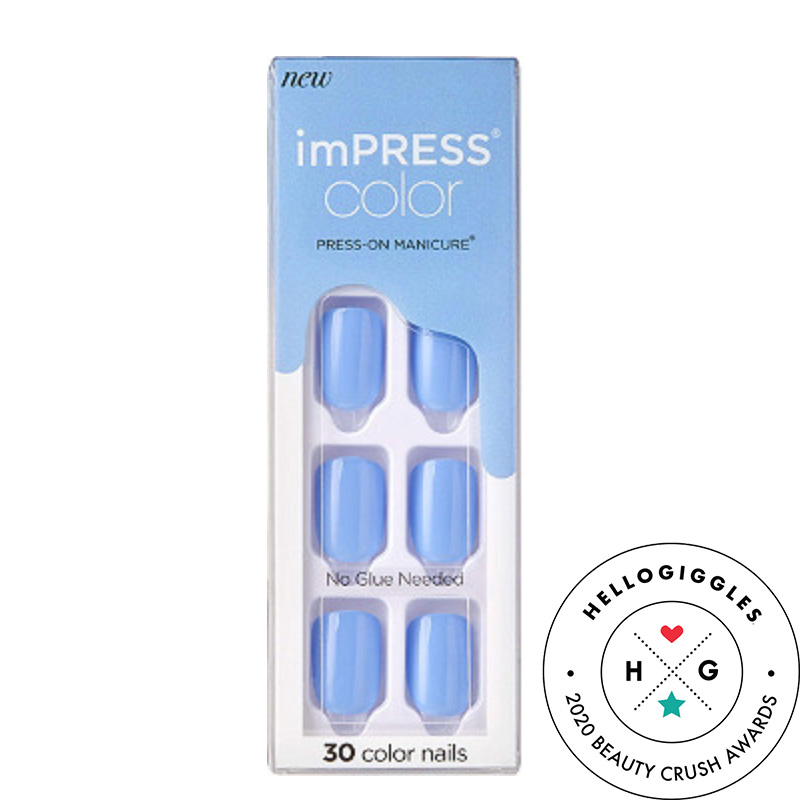 imPRESS Press-On Manicure
$$7.39
Shop it
Ulta
If you accidentally bit all your nails or you simply didn't have time to paint them but you want to look good, these Beauty Crush Award winners will help. They come in a variety of shapes (from short squares to long coffins) and easily last for more than a week. Pro tip: "On the tabs of each imPRESS nail are numbers which work in sequence from large (normally thumbs) to small (pinkies)," says Edwards adding that you should squeeze each nail into a "C shape" for the best fit.
Best nail wraps for nail art: Scratch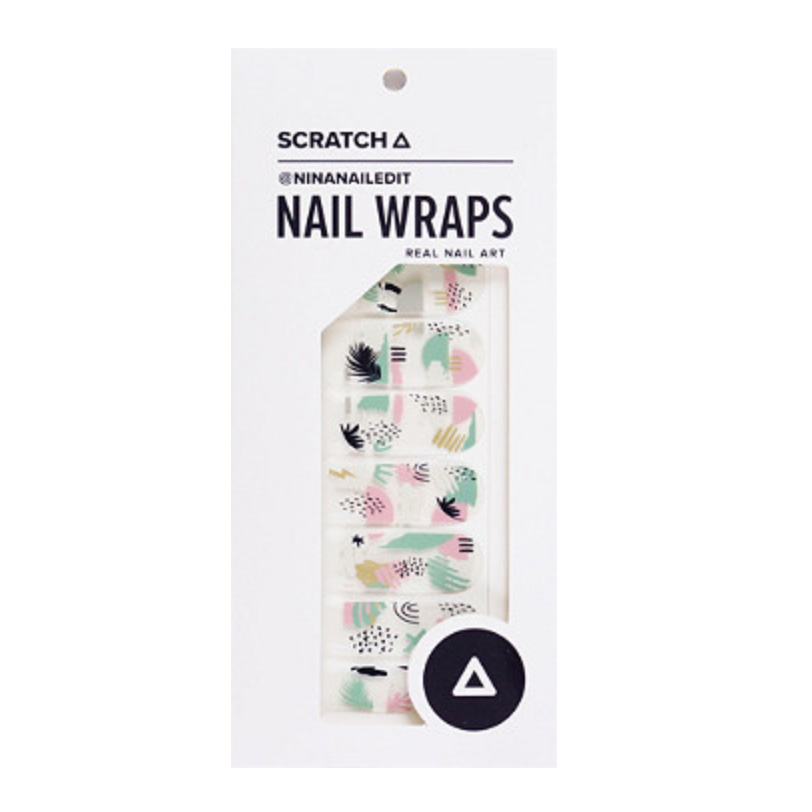 Scratch Nail Wraps
$$10
Shop it
Ulta
While some nail art wraps can be a little kitschy, Scratch's prints are cool and trendy. We like how they look over a clean, bare nail, but you can add your own base to add a unique touch.
Best indie press-on nails: Ohora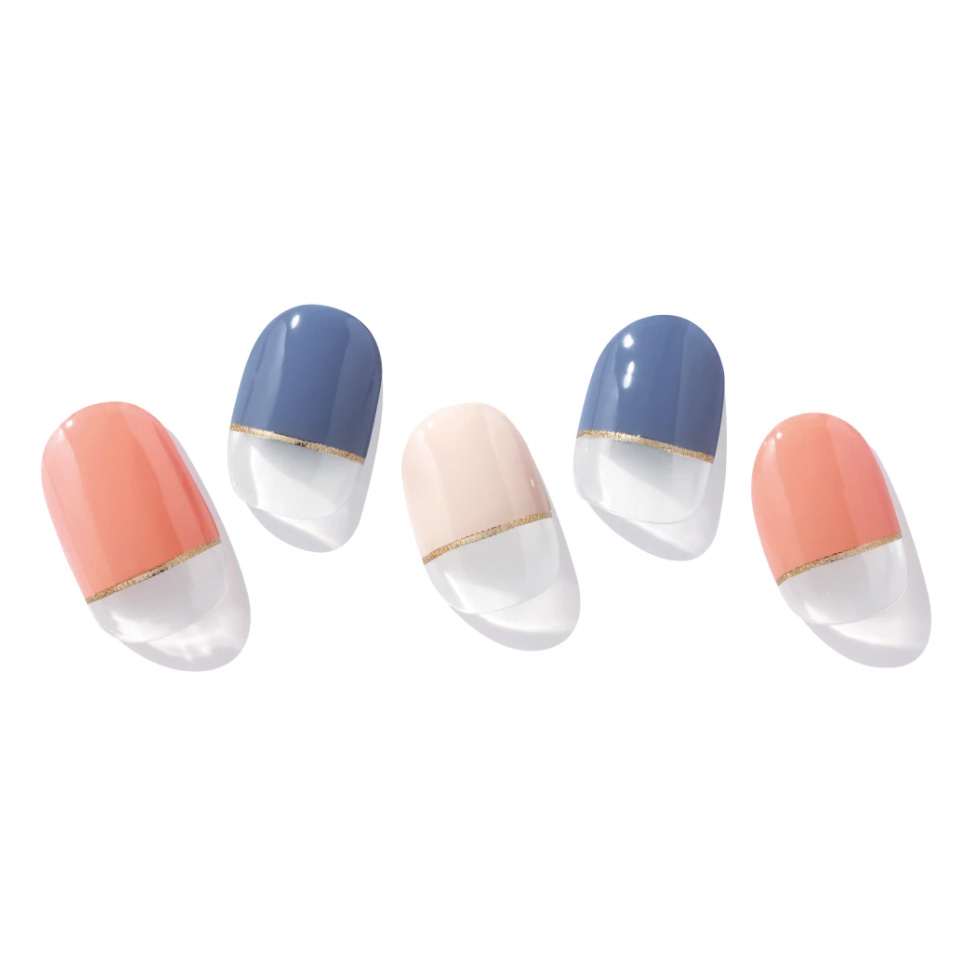 Ohora N Rocket Punch
$$14
Shop it
Vanity Table
Looking to support small businesses? Check out Ohora! The brand has hundreds of press-on nails that vary in color, prints, and patterns. From pretty solids and subtle ombrés to color-coordinated patterns and color-gradient nails, this indie brand has something for everyone.