25 Cozy Pajamas You'll Never Want to Take Off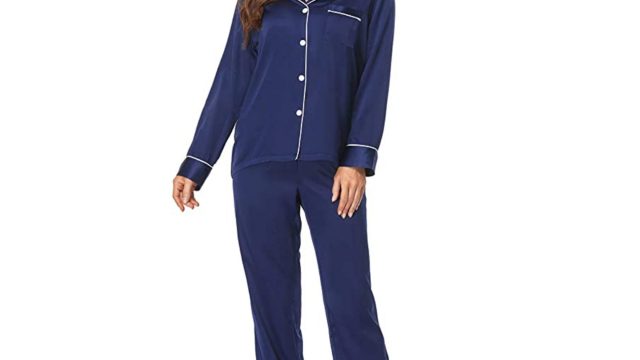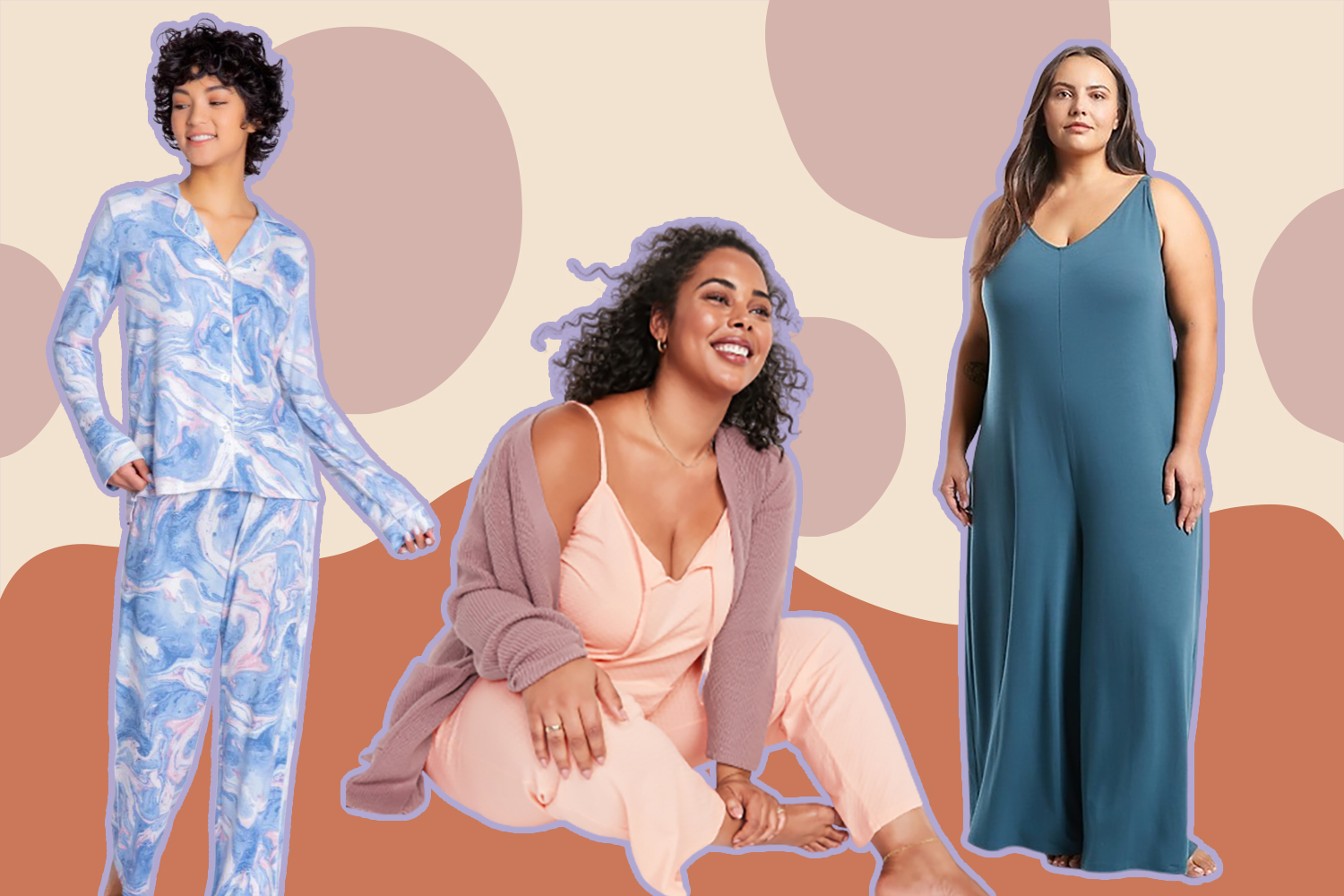 There's nothing better than slipping into something as comfortable as your pajamas after a long day. Whether you prefer rocking a sexy nightgown, wearing a cozy long sleeve set, or simply sleeping in your underwear, a good pair of pajamas is key for getting a goodnight's rest.
If you're looking to upgrade your nighttime routine with a stylish pair of pajamas, we got you covered. From sets to dresses, we picked out our favorites that you'll want to live in, available at every price point. Trust us when we say these jammies will make you look and feel good for your beauty sleep.
1. Best oversized shorts and t-shirt pajamas set:
Long live the oversized t-shirt to bed, except now you can make it feel a little more complete with a matching pair of shorts that are just as comfortable. The set features lightweight knit fabric to keep you cool and cozy. The shorts with a cute button detail are available for $35.
2. Best satin shorts pajamas set:
A fun matching pair of satin jammies can make your bedtime routine feel way more luxurious and relaxing. This shorts set is available in multiple prints—from polka dots to pinstripes and florals—and it's so comfortable.
3. Best long sleeve jersey pajamas set:
If you prefer wearing long sleeves to bed, this dreamy set is worth every penny. The material is a soft and stretchy jersey fabric that feels like butter against your skin.
4. Best long sleeve silk pajama set:
This silky long sleeve set will tuck you into bed better than any other bedtime ritual. It's so smooth, soft, and lightweight, you can wear it all year round. It also comes in seven playful prints, including this cheetah option, rainbow stripes, and plaid.
5. Best boxer brief pajama set:
For those who find themselves stealing their partner's boxer shorts to bed, it's time to get your own stylish pair, like these satin polka dot ones from Aerie. You can either make it a three-piece set with the matching satin long sleeve and tank top or mix-and-match. 
6. Best bamboo pajamas set:
Kyte Baby is a baby brand that started after the founder needed to find a solution to her daughter's chronic eczema. After noticing she would take off her pajamas at night to stay cool and stop scratching, she discovered that bamboo-derived fabric is three degrees cooler than cotton and hypoallergenic. The brand has recently expanded to include adult pajamas so everyone can reap the cooling benefits of these cozy pj's. 
7. Best long sleeve pajama dress:
According to reviewers, Skims nailed it with this long sleeve, classic scoop neck pajama dress. It's great for both lounging and sleeping. This reviewer's comment says it all as she says it's "So flattering, soft, and comfortable."
8. Best shorts and short sleeve pajama set:
You can't go wrong with this comfy shorts set. The material is breathable, light, and moves freely with your body without feeling like you're getting tangled in it while you sleep at night. We love that the set features yellow trimming and a yellow drawstring on the shorts for a fun pop of color.
9. Best romper pajamas:
If you didn't know romper pajamas were a thing, trust us when we say it's a worthy purchase. Whether you're lounging around at home or about to head to bed, you'll want to live in this cozy one-piece.
10. Best flannel pajamas:
Just like the staple little black dress, flannel pajamas are a classic piece that everyone needs in their wardrobe. This pair comes in two colorways—black and white and blue and red—and is available in sizes up to 4X with varying pant lengths.
11. Best nightgown pajamas:
Slip into something easy and effortless, like a nightgown. Available in black and navy, this one is incredibly soft, loose-fitted, and affordable at only $20 a pop.
12. Best cami and pants pajamas set:
Sometimes long sleeve tops can feel constricting at night, especially during the warmer months. If you agree, opt for a cami pajama set. The spaghetti straps with the scoop neck and keyhole tie front will make you feel free and comfortable. Pair it with the high-rise, elastic pajama pants for a cute and cozy nighttime fit.
13. Best cami and shorts pajama set:
If you prefer pairing your cami tops with shorts, over 16 thousand Amazon reviewers say this set is the perfect pair of pajamas. Commenters rave about the "great quality" that "feels soft and looks sexy." One reviewer said it "Gets worn to bed every night" while another said, "Don't hesitate!!!!!" to buy.
14. Best lace pajama nightgown:
Spice up your pajamas by opting for a lacy dress that's flirty, stylish, and doesn't sacrifice comfort. The material is soft and stretchy, while the lace detailing on the chest and back gives it a sexy detail.
15. Best sexy pair of pajamas:
It doesn't any cuter than this floral pajama set. It strikes the perfect balance between dainty and sexy with its adorable print, ruffles, and deep-v neckline.
16. Best cropped pants pajamas set:
If you prefer your pajamas to be more fitting, then opt for this set that includes a slim pair of cropped pants and a short-sleeve shirt. Both pieces are comfortable, soft, and available in sizes up to XXL.
17. Best slip pajamas:
Available in black, white, and pink, this simple slip is perfect for bedtime or wearing under your dresses. It's thin, breathable, and cozy. Reviewers say it's "Perfectly lightweight for those hot summer months!" and it's "Like sleeping in nothing and never makes you sweat."
18. Best cotton pajamas:
Made from 100% cotton, this long sleeve set will have you dreaming the sweetest of dreams. The menswear-inspired silhouette makes it a relaxed and loose fit. It's also great for the eco-conscious consumers because, with every purchase of J.Crew cotton products, you're also supporting more reasonably grown cotton through the Better Cotton Initiative. 
19. Best luxury pajamas:
There's a reason Cozy Earth is a beloved brand by celebrities (Hi, Oprah) and social media influencers alike. The brand offers super soft and great quality items for sleep. So while $140 may seem like a splurge for a pair of jammies, we promise it's worth it. The fabric is a stretchy knit that's moisture-wicking, ensuring a comfortable good night's rest. 
20. Best affordable long sleeve satin pajamas:
This satin pajama set comes in 10 prints ranging from $15 to $27. They're a budget-friendly option that will make you look and feel great. Over a thousand reviewers on Amazon agree that it's the best bang for your buck saying it's "great quality", "soft as silk", and "so classy!"
21. Best affordable cotton pajamas:
For the minimalist sleepers, go for a simple set of pj's, like this cotton tank and shorts. It's available in a cream and peach color, and it's very wallet-friendly at $17.99.
22. Best long silk slip pajamas:
Feel like the queen you are as you get your beauty rest with this luxurious long silk slip. It features a halter-like strap detail and a thigh-high slit for optimal movement and breathability. Shop the range of seven neutral colors in sizes up to 4X.
23. Best slip and underwear pajamas set:
Sometimes an oversized shirt and underwear is the best sleeping combo. We're all guilty of it. Give the classic fit an upgrade, though, by choosing this gorgeous babydoll slip that comes with a matching pair of lace undies. It checks off all the boxes because it's chic, sexy, and comfy.
24. Best cropped top pajamas set:
Cozy up in this star-printed pajama set. It comes with a long sleeve crop top and a matching pair of shorts with a cute ruffle detail at the trim.
25. Best jogger pajamas set:
A tank and pair of joggers is a pajama set you can live in all year round. We love the twist-back detail on the tank top along with the adjustable jogger pants that have pockets. You can find the set in three colors consisting of purple, black, and blue.