We tried a bunch of online mattress companies to find out which ones work best for our body types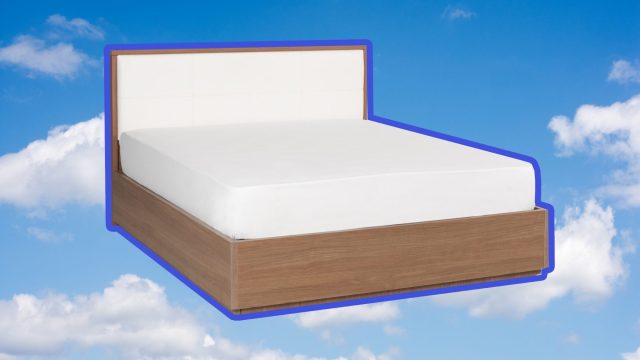 Ah, mattress shopping. Gone are the days of bouncing around on a gazillion beds under the watchful, hard-selling eye of a salesperson. Today, buying a mattress is as easy as adding dog food to your Amazon cart. Well, maybe not that easy. We know buying a new mattress is a major expense and a big step towards adulting, and that can be a little scary. But that's why we're here to help. We tested out a bunch of brands to find the best online mattress companies for our different body types, and we're providing full reviews. If you're an average-height lady with night sweats, we've got a mattress for you. And likewise if you're a thicc gal who prefers to sleep on a cloud. (Oh and by the way, today—March 15th—is World Sleep Day. So there's no time like the present for a little online mattress shopping and an improved night of sleep.)
All the mattresses we tested are available to shop online, come with free delivery (in those unbelievably small boxes—seriously, how do they fit the mattresses in there?!), and offer trial periods so you can really see what you're working with. They also range in price, from the mid-$300s to over $600 for a twin. We've covered all possible bases—promise.
Happy online mattress shopping—we hope you find the best sleep of your life.
Casper Mattress
Four layers of foam
Zoned support to keep your hips and shoulders aligned during sleep
Layer of opencell foam for breathability
10year limited warranty, 100-night trial, free shipping and returns
Starts at $595 for a twin
"When it comes to the bed-in-a-box trend, most of us are familiar with the OG, Casper. This was the very first online mattress I ever tried and it was a game-changer for my husband and me, coming from a DREADED coil spring mattress. First off, I'm 5'2″ and thicc, and this is a king, so already I'm going to be comfortable because I can literally lie like a starfish and still feel like there is no other human around me. (Hot tip: If you sleep with another person(s) on the regular, always opt for a bigger bed when possible.)
What I like about the Casper is that it is my very own Goldilocks bed—it's not too soft and not too firm, though I tend to lean more towards a soft mattress. I used to have back and neck problems with my old mattress, but now, aside from the occasional bad night of sleeping with my neck in a bad position for too long, I wake up without aches. Also, I don't tend to get hot with the Casper and that used to be an issue with my old bed." — Marie Lodi, senior beauty editor
Brooklyn Bedding Signature Mattress
2″ top layer of TitanFlex foam, a blend of memory foam and latex
6″ base of individually encased coils to reduce movement transfer
Infused with cooling TitaniumGel to help moderate body temperature
10year warranty, 120-night trial, free shipping and returns
Starts at $599 for a twin
"My sleeping partner (aka husband) and I tried the Brooklyn Bedding Signature Mattress in medium firmness. We are average-sized folks, 6'1" and 5'4″—each between 150 and 200 pounds.
As a side sleeper who likes to feel cocooned, I prefer to sink into the mattress just a little. This bed does that for me, giving me a hug with its squishy top layer, but also evenly supporting my whole body. The old mattress we had was a traditional 'spring' type mattress—I definitely prefer the support and comfort of this mattress.
I don't usually have much trouble falling asleep, but the quality of my sleep can really vary. I am sleeping better with this bed, though it's hard to say whether that is because of the type of mattress or its size (a king!).
Going from queen to king size is pure bliss. That's because at around 3 a.m. each morning, our preschooler slinks into our bed. For a small dude (he just broke 33 pounds), he takes up a disproportionate amount of space, preferring to sleep with his head on mom, and his toes on dad so he's diagonal or completely sideways in the bed. With the 76"-wide king bed, he gets his space and we get ours, and we all get better sleep." — Ashley Steimer-King, contributing writer
Coddle 11″ Dual-Core Mattress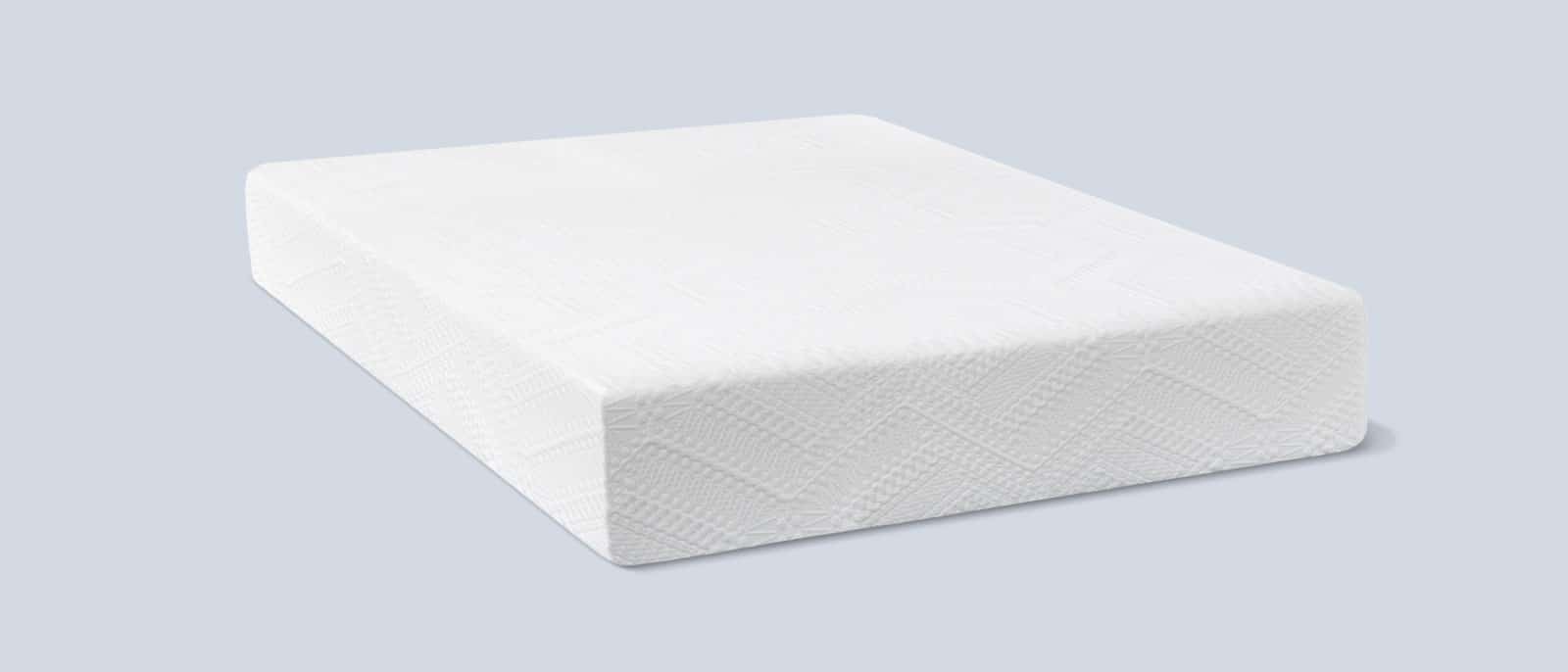 Flippable memory foam mattress with one softer side, one firmer
Coolblue gel layer to reduce night sweats on one side, coconut-infused memory foam on the other
120 pressurerelieving nodes and air-flow channels
10year limited warranty, 60-night trial, free shipping
Starts at $650 for a twinXL
"I figured I should preface this review with a description of the mattress my husband and I were sleeping on originally—a queen-size, stiff-as-a-board mattress I bought for approximately $200 off the floor of a furniture store that was going out of business when I was 22 and broke. (Yes, the floor model that people sit on and test out—because it was cheaper.) Needless to say, I eagerly volunteered to test out Coddle's mattress, which promised to fulfill all my needs—something soft but not too soft, that would keep me (a notorious sleep sweat-er) cool, and last us until we upgrade to a king-size bed in a couple of years. (I'm 5'5" and my husband is 6'2". Between the two of us we weigh less than 300 pounds, so we're fine with a smaller-size mattress for now to fit in our New York apartment.)
A queen-size Coddle mattress will set you back $950, but in theory, will last you longer than your average mattress since you can flip between the sides. One side is firm (perfect for back sleepers like my husband) and the other soft (for side snoozers like me), so you can choose which side is best for your individual sleep needs. It also has a layer of gel on the inside that is meant to keep you cool and reduce the 'heat sink' effect. Admittedly, I thought this was all marketing speak until I woke up gloriously cool and sweat-free, even after using all the same bedding I had used on my old mattress. My husband's favorite feature was the plush fabric cover that you can easily zip off and throw in the washing machine. All in all, we were impressed, and our old floor model is getting the boot." — Hayley Mason, site director
Layla Mattress
Flippable mattress with one softer side, one firmer
Copperinfused gel layer to cool and provide an antimicrobial barrier
Layer of support foam to stabilize the body
Lifetime warranty, 120night trial, free shipping
Starts at $599 for a twin
"So, first off, what I like about Layla is that it's a flippable mattress, meaning, if you want to sleep like a little bunny on a cloud, you can use the soft side, or if you have back issues and want something stiffer, you can use the firm side. I like that it has options for people, however, it doesn't apply to me that much because I would rather have something soft and cloud-like, or something in-between. Now, the soft side is INCREDIBLY soft. Like, when I stood on it to reach a VHS that was on a shelf above it, my foot sank into it, almost like mattress quicksand. Is there something softer than a cloud? Because that's what it feels like. Because of this, I feel like a cozy baby inside a bed womb and am able to fall asleep instantly. However, I rarely have a problem with sleeping and can probably fall asleep right now while I'm typing if I close my eyes. Anyway, I digress. If you're someone who loves an extremely soft mattress, or just someone who loves options, or maybe needs a bed for a guest room and wants their guests to have options, Layla is a good bet. Also, it's worth pointing out that the brand changed the mattress cover so you no longer have to remove the cover to flip it over, which I would assume would be annoying as hell to do." — Marie Lodi
Tuft & Needle Original Mattress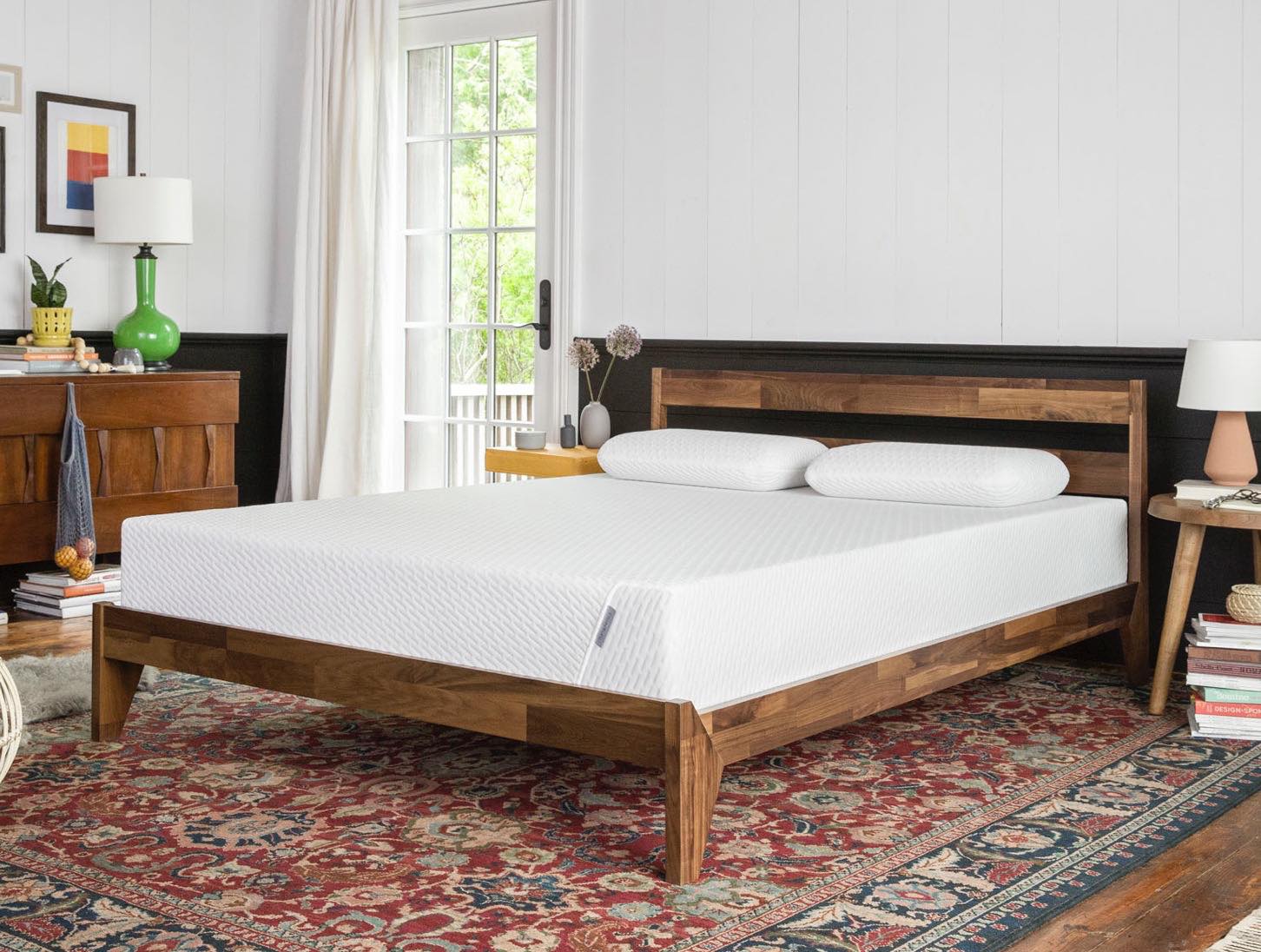 Top foam layer infused with heatwicking graphite and cooling gel
Support foam layer for a more supportive sleep
Breathable, cooling cover that won't pill or tear
10year limited warranty, 100-night trial, free shipping and returns
Starts at $350 for a twin
"I sleep on a queen-size Tuft & Needle mattress, and it has been so beneficial for me. I've tossed and turned for my whole life—like, aggressively tossed and turned; I'd get bruises from bumping into my bedroom wall as a kid—so I need a sturdy mattress that will stay put despite my sleep anxiety…or whatever causes me to transform into a complete spaz at bedtime. I'm 5'6″ and probably around 140 lbs, so I haven't had too much trouble finding a mattress to fit me. But I do hold stress and tension in my back and neck, and that's where my mattress issues typically arise. The firm softness of the T&N mattress really makes a difference in how I feel each morning. I'm less achey and more well-rested because my body was actually at ease and supported—even if I'm making backflip-adjacent movements in my sleep." — Rachel Sanoff, features editor
Nectar Mattress

CertiPURUS Certified—free from ozone depleters, PBDEs, TDCPP, mercury, and lead
Four layers of foam provide cooling, sweat wicking, and fullbody support
Mattress materials protect against dust mites
Lifetime warranty, 365night trial, free shipping and returns
Starts at $524 for a twin
"Out of all the memory foam beds I've tried in my life, the Nectar is the least soft. Now, don't get me wrong, it's still comfortable, because #1, it's memory foam, duh! and #2, compared to the extremely stiff coil spring mattress I used to sleep on, it's soft. If you're the type who is only able to fall asleep on something that feels like a giant teddy bear, you might want to look for a different mattress. But if you're someone who wants a good balance, go for this one as it falls right in the middle of soft and firm. A good compromise! I've also never felt hot with this one, even when the heater was cranked to 11." — Marie Lodi