NBC is airing the best of the Summer Olympics, so you can cheer on Simone Biles stress-free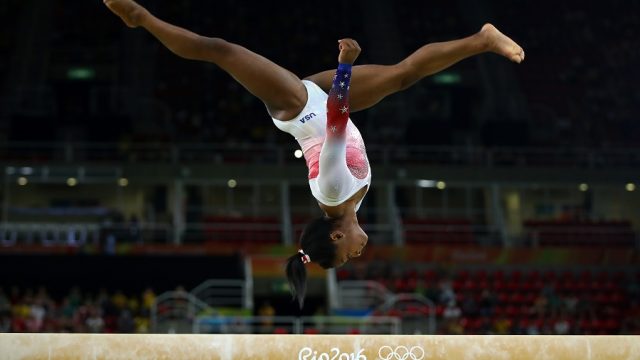 The 2020 Tokyo Olympics were officially postponed due to coronavirus—along with literally everything else we were looking forward to this year. However, that doesn't mean that 2020 will be completely devoid of Olympic goodness. NBC Sports will fill its Olympics TV schedule with classic highlights from previous Summer Games.
From April 13th through 26th, you can tune into NBCSN to catch some of your favorite athletes—including Michael Phelps, Nastia Liukin, Usain Bolt, and Simone Biles—doing what they did best at prior Olympic competitions.
The first week of throwback Olympic TV is "Return to Rio" and "Return to London," aka the last two Summer Games.
Catch Simone Biles win her four gold medals at Rio 2016 and see Michael Phelps become the most decorated Olympian in history at London 2012.
Then, in week two, NBC Sports will air highlights from the 2008 Beijing Olympics, during which Usain Bolt broke both the 100-meter and 200-meter world records.
The Olympic TV schedule will conclude with Olympic classics—wins, records, and memorable matches that took place between 1988 and 2016. You can also check out Olympic films, such as one featuring Jesse Owens at the 1936 Berlin Games. Serena Williams narrates another film, "1968," which details the "intersection of sports and politics leading up to and during the Mexico City Olympics," as NBC Sports reports.
You can check out the full programming schedule via NBC Sports right here. Although we'll have to wait a year to get fresh Olympic content, at least we can root for our favorites this year and know they'll win.
As information about the coronavirus pandemic rapidly changes, HelloGiggles is committed to providing accurate and helpful coverage to our readers. As such, some of the information in this story may have changed after publication. For the latest on COVID-19, we encourage you to use online resources from CDC, WHO, and local public health departments, and visit our coronavirus hub.