A Celebrity Stylist Shares the Best Necklace Style for Every Neckline
There's no denying jewelry can instantly transform your outfit. However, choosing the type of jewelry to wear can be a little more challenging. More specifically, choosing the best necklace for every neckline—you wouldn't want to wear a choker with a crew neck sweater as it would hide your necklace. Similarly, some shirts need a little something extra, making them a better fit for those bold, layered necklaces sitting pretty on your vanity. 
If you need professional guidance on this all too common fashion concern, we spoke with fashion expert and celebrity stylist Cindy Conroy for some help and to learn what types of necklaces look best on different necklines. From classic styles like V-necks and button-downs to more unconventional necklines like asymmetrical, shop a necklace for every shirt in your closet. 
Best necklace for square necklines:
Square necklines can be tricky to accessorize because of the sharp lines. The trick, though, is to pay attention to proportions. "Deep-set squares play well with angular jeweled statement necklaces, while shallow squares require less of a heavy hand," says Conroy. For shallow square necklines, opt for small pendants with a thin chain.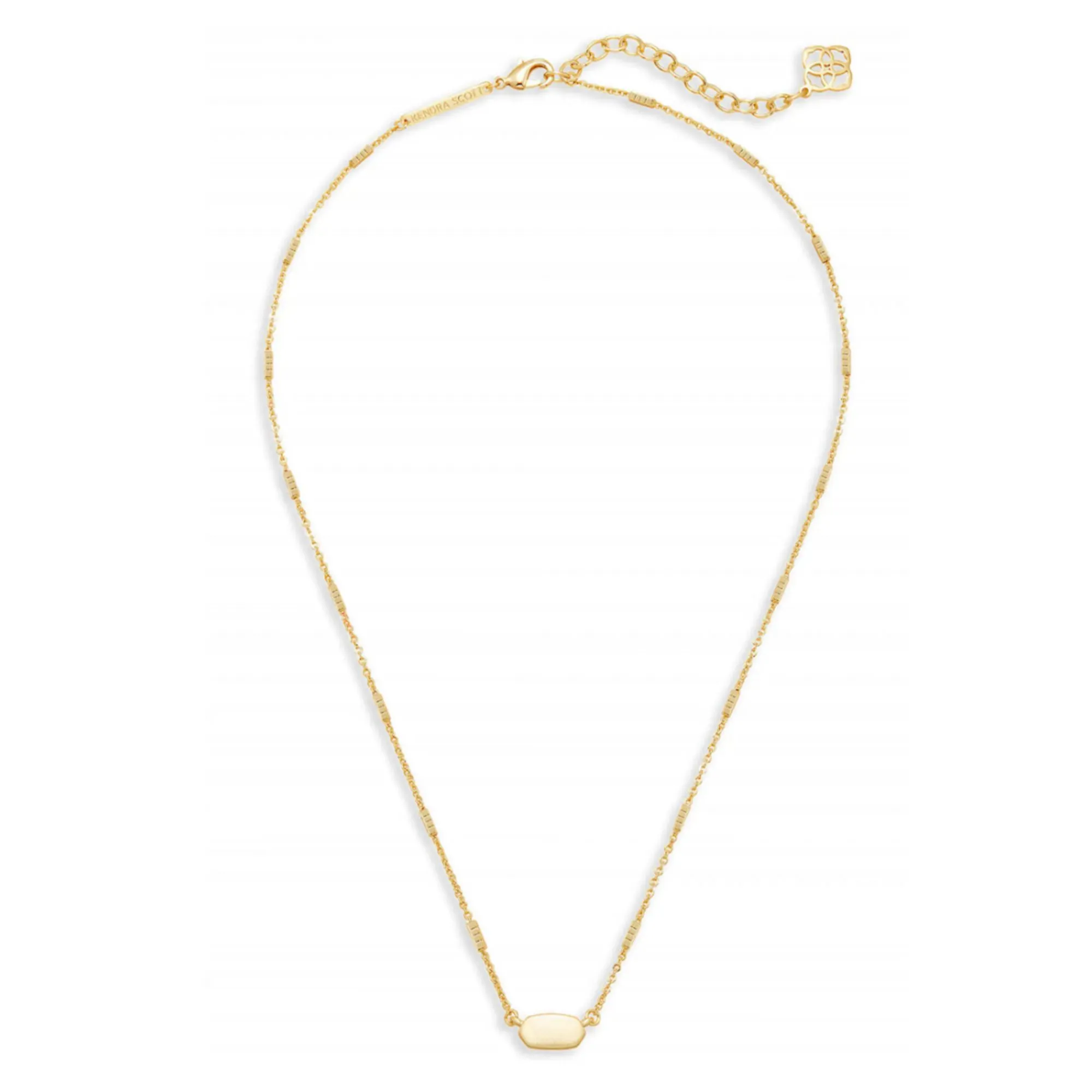 Kendra Scott Fern Pendant Necklace
$48.00
Shop it
Nordstrom
Best necklace for V-necks:
V-neck tops offer a lot of versatility when it comes to accessories as so many types will look good with them. "Try short layered chains, a folded silk neck scarf, a V-shaped choker, or chain-link collar," suggests Conroy.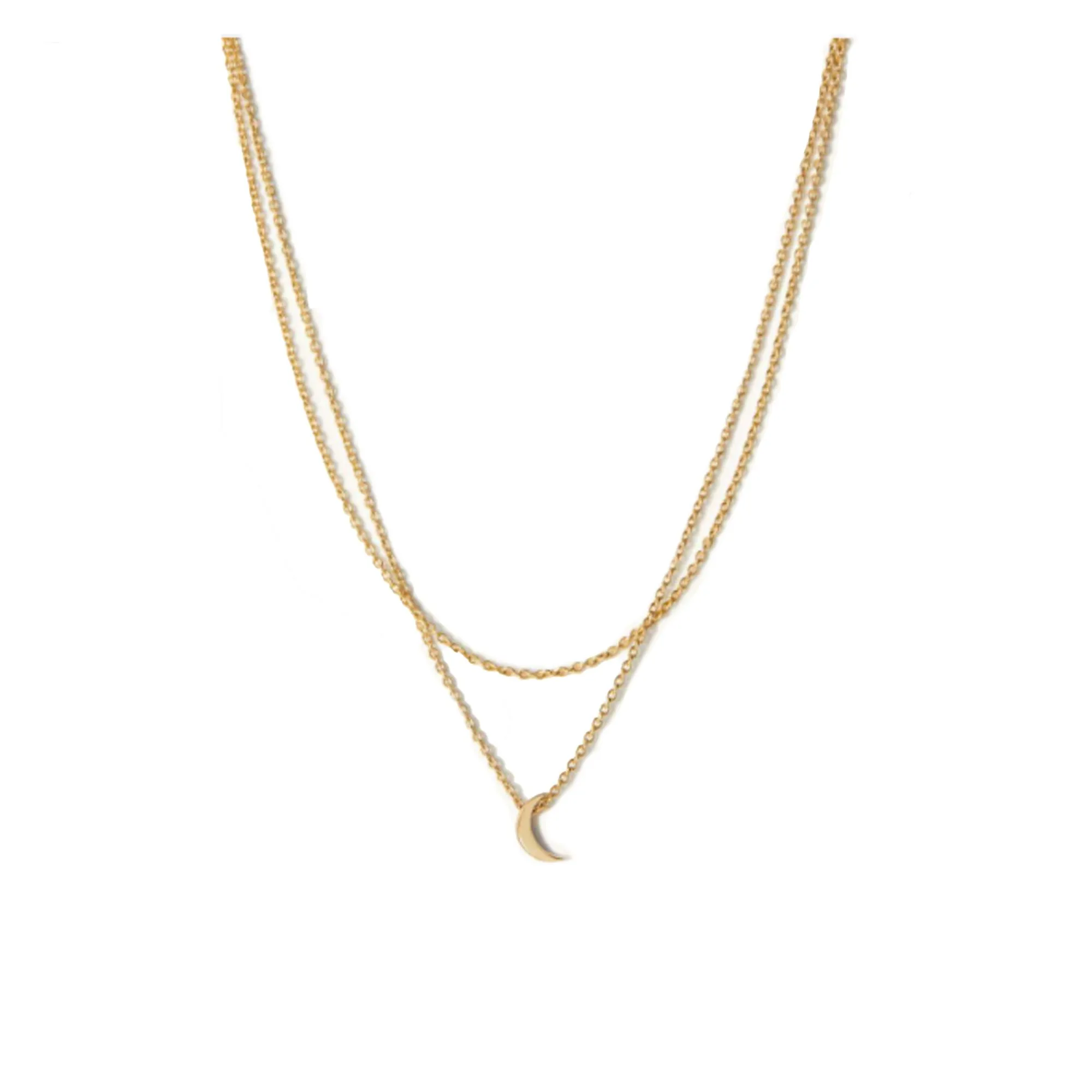 Mejuri Layered Moon Necklace
$70.00
Shop it
Mejuri
Best necklace for strapless necklines:
When it comes to strapless tops, the world of necklaces is your oyster. "There isn't a lot of material vying for attention, so you can pull off just about any necklace," explains Conroy. Try going with a chunky statement necklace to give it the limelight it deserves.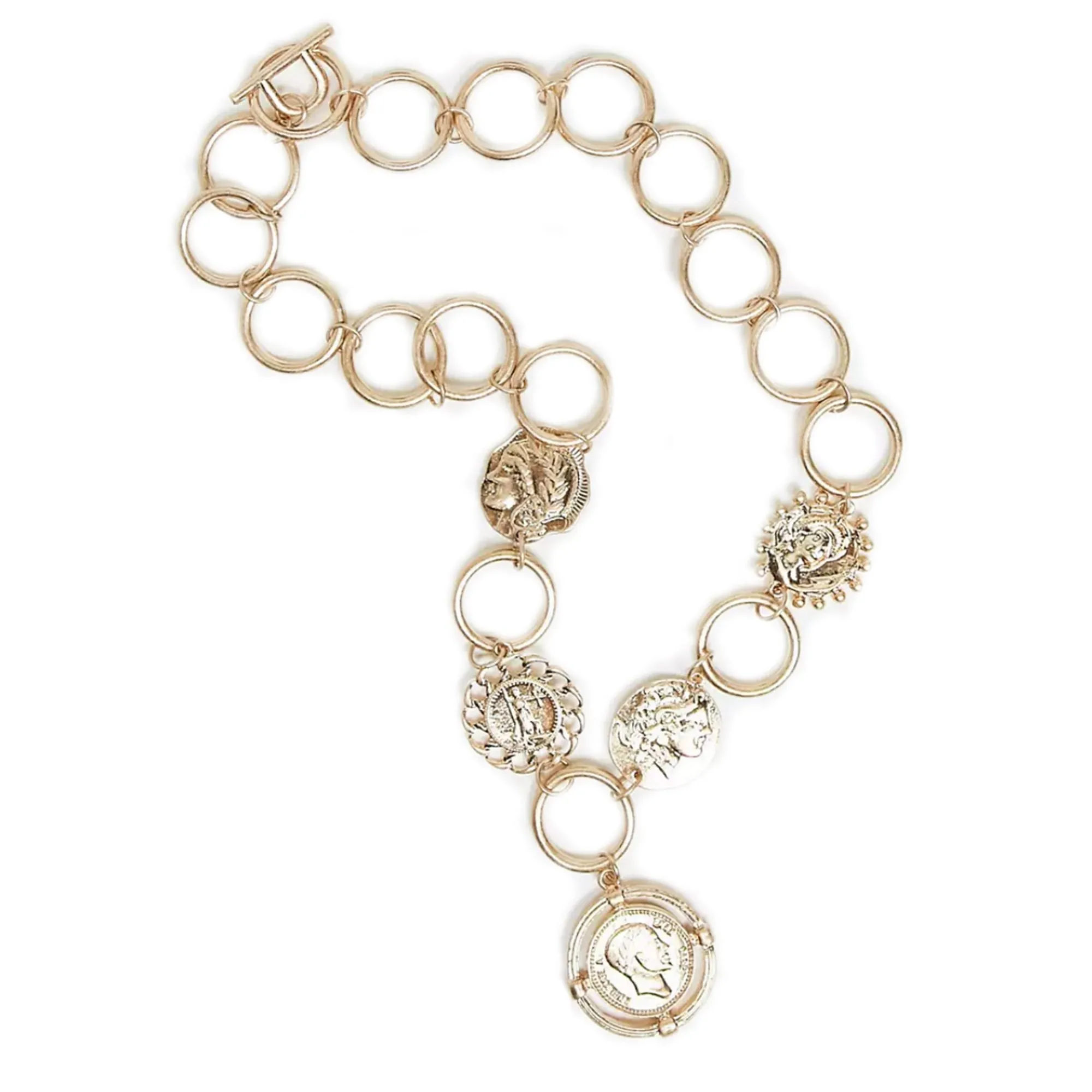 South Beach Chunky Coin Necklace
$19.00
Shop it
ASOS
Best necklaces for button-downs:
"Some button-downs feel super stuffy or can conjure up childhood school memories, but when done right, they are quite sexy," says Conroy. "If you pop a few buttons at the top, you can layer necklaces at varying lengths." If that look isn't your jam, button up your shirt completely and try a statement necklace that sits snugly at the collar.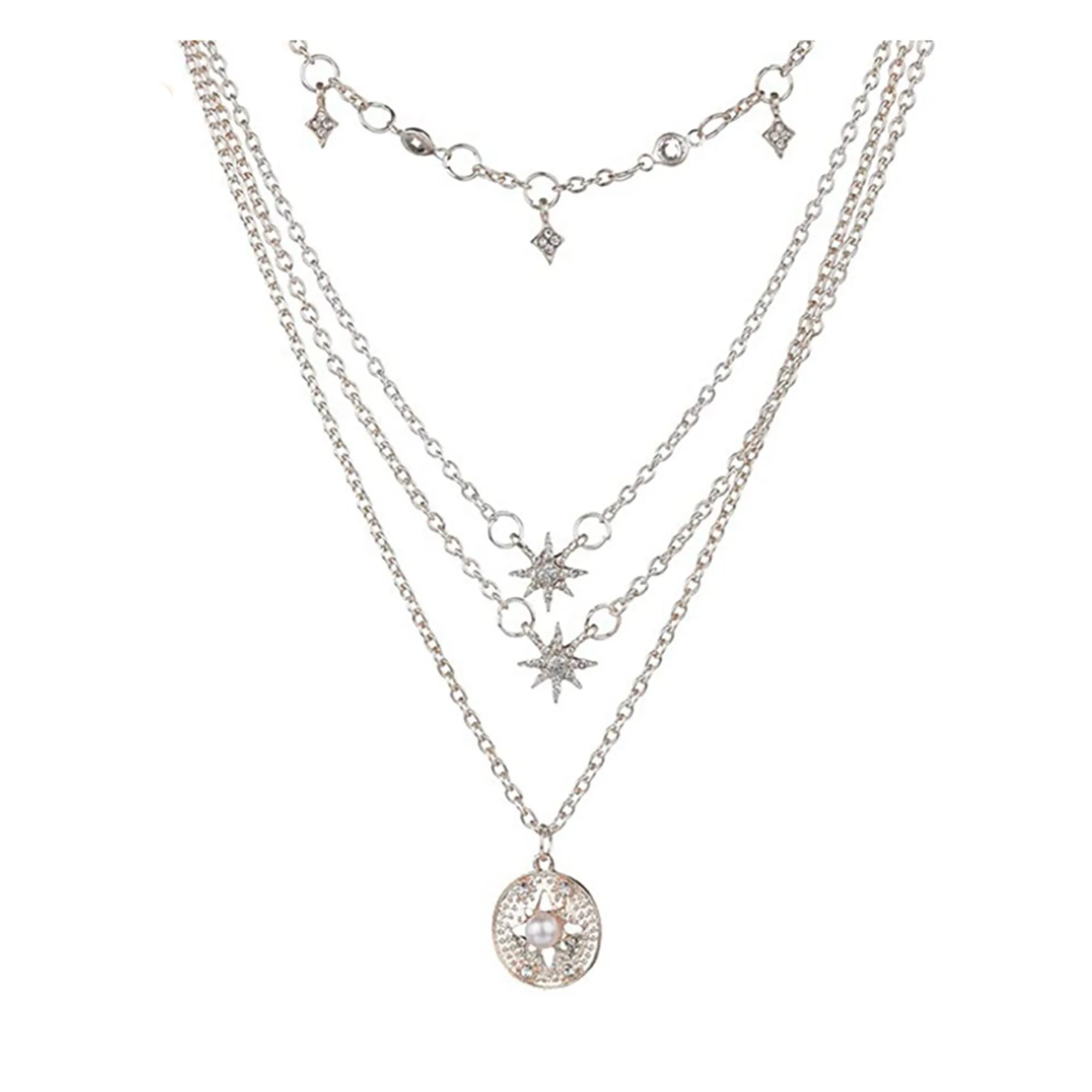 Victray Boho Star Necklace
Shop it
Amazon
Best necklace for halter necklines:
Conroy explains that since halter styles are so varied, the necklace you choose will depend upon the cut, style, and shape. With that said, a delicate choker won't let you down.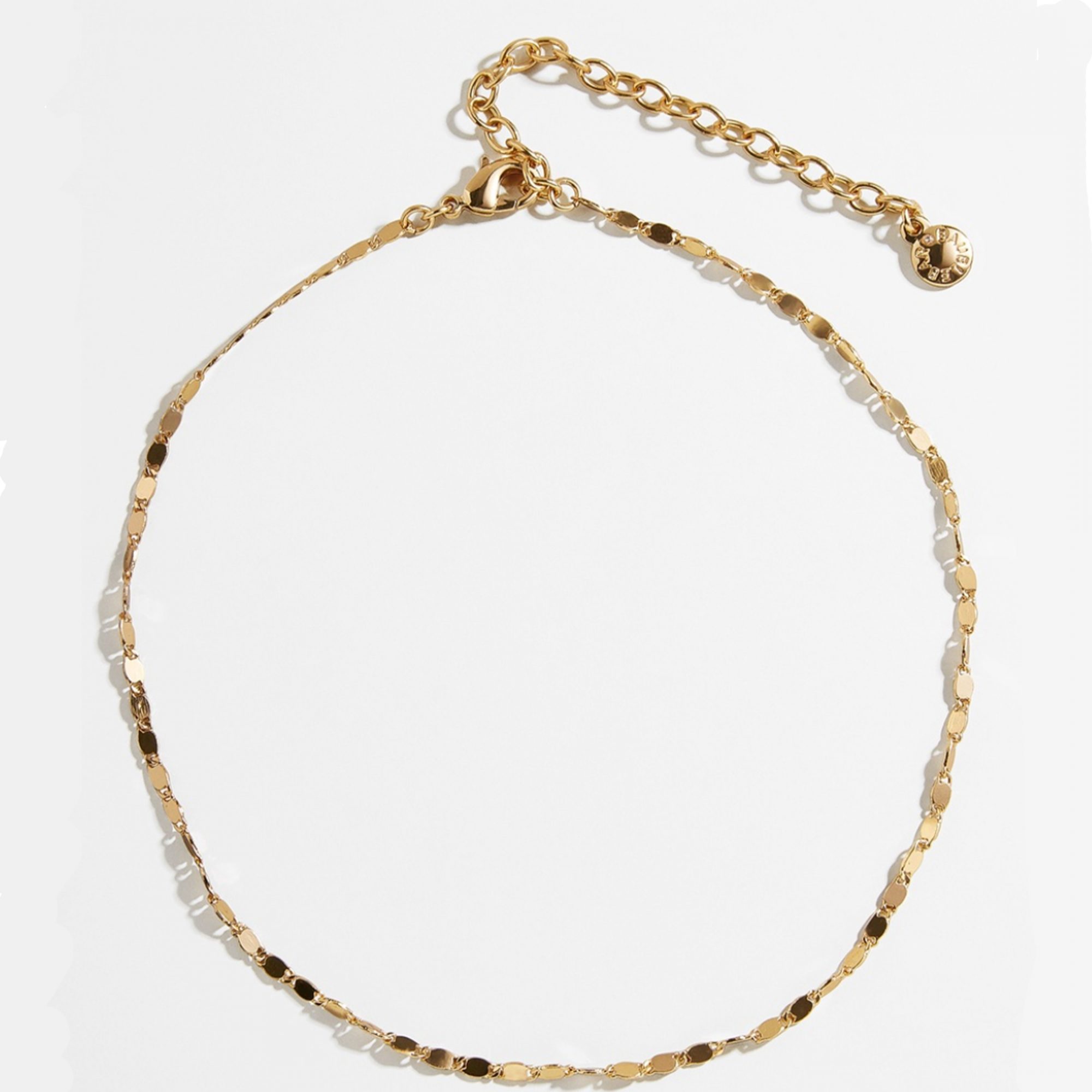 BaubleBar Salama Choker Necklace
$36.00
Shop it
BaubleBar
Best necklace for plunging necklines:
A plunging neckline allows you to try longer pieces that are about 20 to 23 inches long. "These necklaces fall somewhere between your collarbone and the bust to add dramatic flair," says Conroy. Try a long pendant that dangles or a body chain.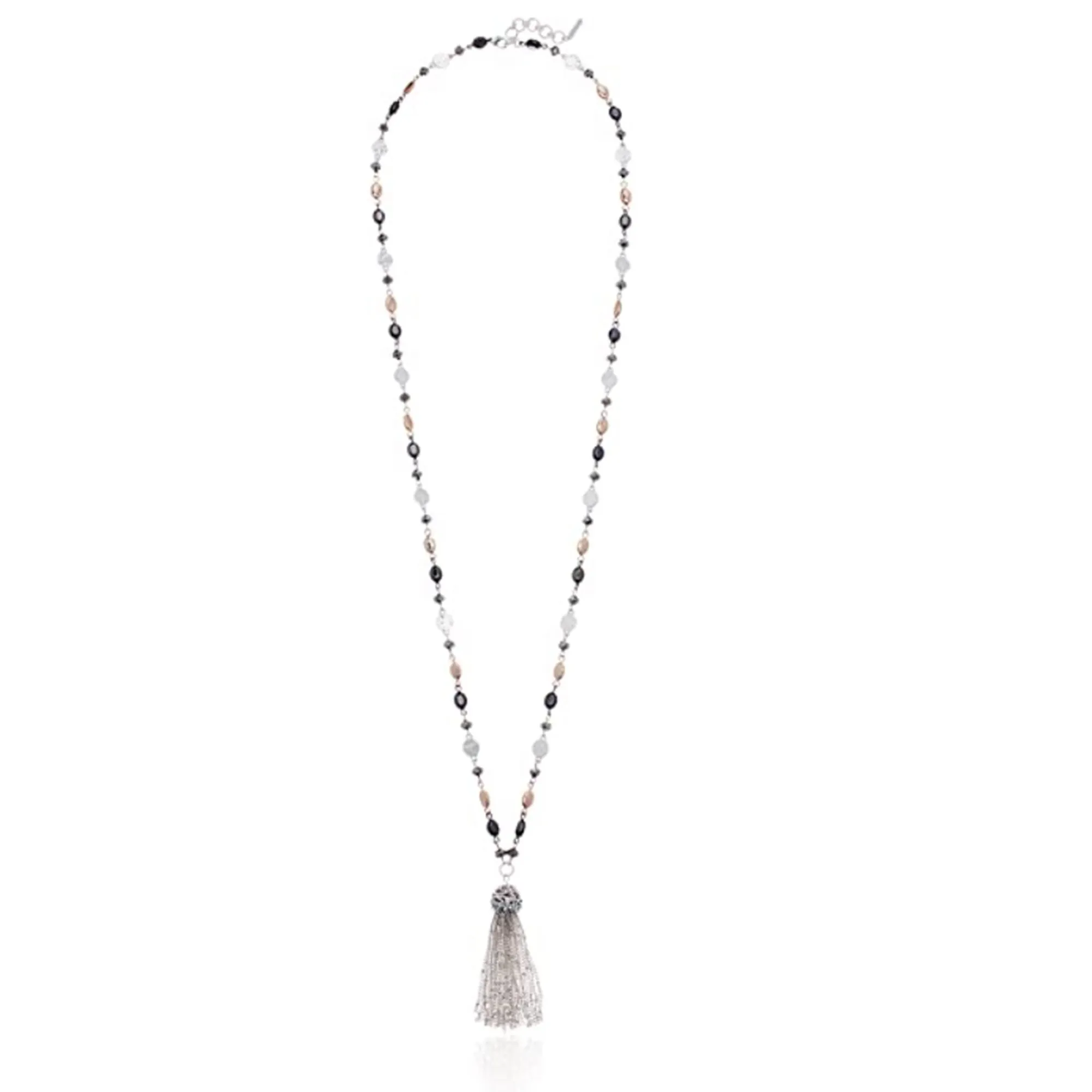 Nine West Classics Beaded Tassel Pendant Necklace
Shop it
Amazon
Best necklace for scoop neckline:
A scoop neck is a classic style that pairs great with a princess-length necklace. Typically, these necklaces are between 16 and 18 inches and sit just below your collarbone. "This winning duo draws the eyes up, bringing attention to your beautiful jawline and décolletage," says Conroy.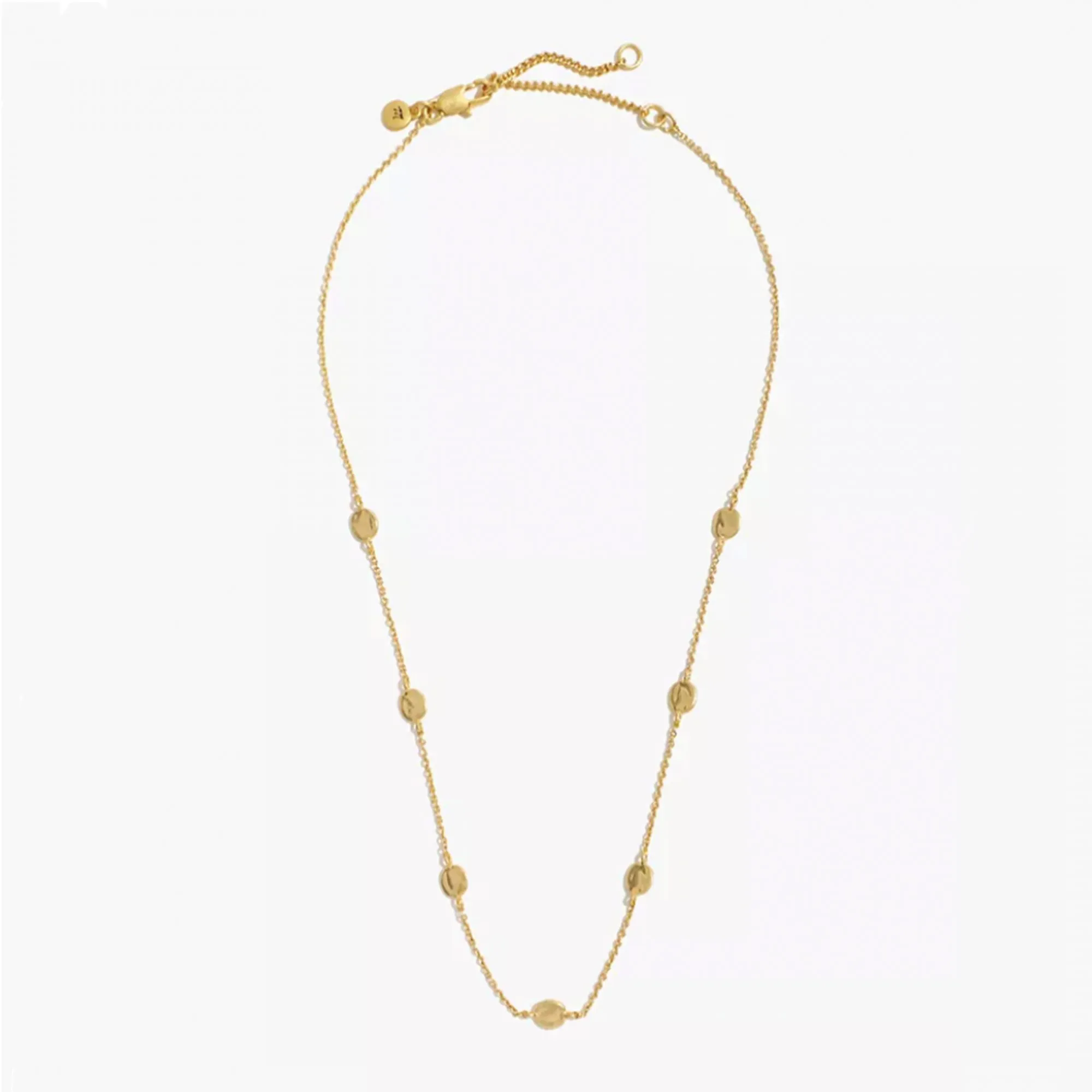 Coinlink Chain Necklace
$28.00
Shop it
Madewell
Best necklaces for crew neck:
Despite the comfort of a crew neck sweater or T-shirt, they can be a little simple in the style department, especially if they're a solid color. To spice up your look, add a bib necklace that's longer than a choker but still sits above the middle of your chest.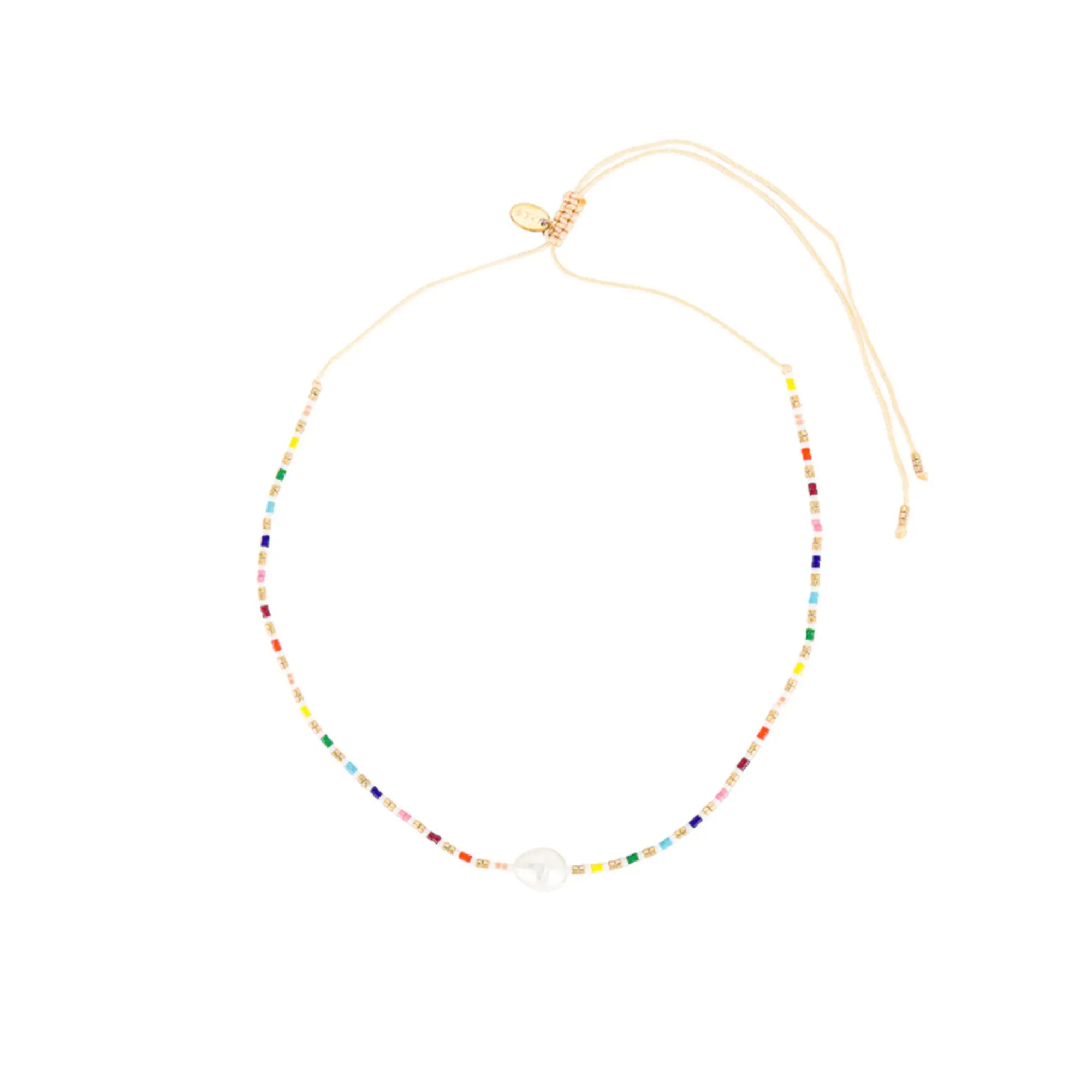 Arms of Eve Adjustable Marley Choker Necklace
$59.00
Shop it
Revolve
Best necklaces for cowl neck:
Cowl necks are so elegant with the voluminous draping and rounded folds. As it's already a dramatic neckline, Conroy recommends sticking to a short and subtle necklace.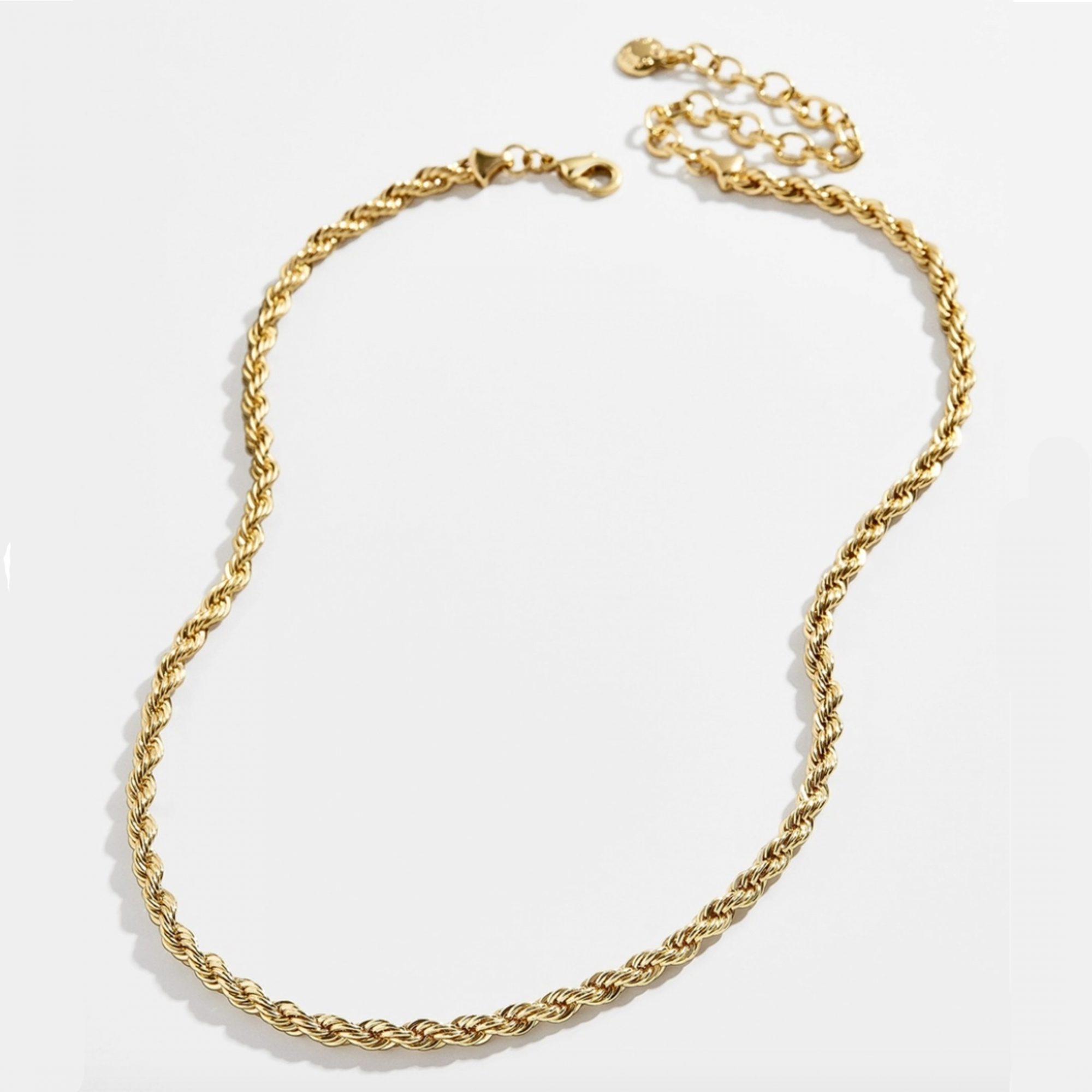 BaubleBar Mini Petra Necklace
$44.00
Shop it
BaubleBar
Best necklace for sweetheart neckline:
Sweetheart necklines look similar to the top of a heart, and it's a timeless style for dresses and blouses. "Sweeten things up with a short chain or fun collar and you'll intensify that feminine flair without overwhelming the neckline," says Conroy.
Madewell Sun Station Necklace
$28.00
Shop it
Best necklaces for boat necklines:
Boat necklines are wide and bring the focus to your shoulders. "Opt for large pieces, such as a statement bib or multi-strand collar, to balance a boat neckline," suggests Conroy.
Square Tortoise Statement Necklace
$39.99
Shop it
Banana Republic Factory
Best necklaces for asymmetrical necklines:
Asymmetrical necklines are having a big moment this summer, so listen up. While Conroy prefers to pair dangle earrings with this style, she says a cuff necklace will add a cute and subtle detail that won't distract from the intricate neckline.
Mango Silver Plated Ridge Choker
$59.99
Shop it
Mango
Best necklaces for turtlenecks:
Long, dangling necklaces will look best on turtlenecks because it creates balance against the high neckline. These types of necklaces are known as opera length and are typically anywhere between 28 to 34 inches in length. 
Sleek Peek Rose Gold Layered Choker Necklace
$18.00
Shop it
Lulus