9 of the best movies turned into musicals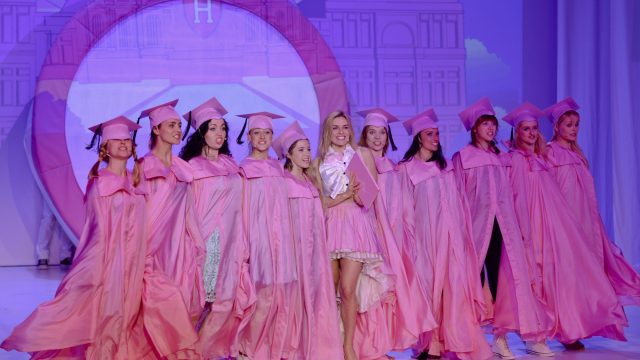 We often see musicals make their way to the big screen, but the reversing of that—a film being adapted for the stage—doesn't happen nearly as often. However, every now and then, a few movies are just so good, they just have to get the musical treatment. Here's a rundown of our all-time favorite movies that have been turned into show-stopping musical extravaganzas and welcomed brand new audiences on the Great White Way.
1 Legally Blonde 
Because Elle Woods is a queen and deserves to be recognized both on stage and on screen, Legally Blonde was turned into a musical in 2007. While it only had quite a short run, it had positive reviews and grossed more than $1 million a week (!!!) multiple times. It also received a total of seven Tony nominations, including Best Original Score, Best Choreography, and Best Costume Design of a Musical. Don't be too sad if you didn't catch it on Broadway, though. Legally Blonde 3 is currently in the works, and Elle will be back in your life before you know it. Listen to the soundtrack here.
2Sister Act
In true Sister Act fashion, the 1992 hit comedy because a musical in 2006. It first premiered at the Pasadena Playhouse, where it garnered over $1 million, effectively becoming the highest grossing show ever at the venue. Production then moved to the Alliance Theatre in Atlanta, then to London's West End, and finally Broadway, where it ran for 28 previews and 561 performances. In the 2011 Tony Awards, the musical rightfully bagged a number of nominations, including Best Musical, Best Actress in a Musical (Patina Miller), and Best Featured Actress in a Musical (Victoria Clark). Listen to the soundtrack here.
3 Mean Girls
A musical adaptation we never knew we needed, Mean Girls made its Broadway debut in April 2018. It is just so fetch that it clinched a staggering 12 Tony nominations, including Best Musical, Best Choreography, and Best Original Score. While it didn't win any (boo!), we still think it's one of the best movies-turned-musical, and four for you, Mean Girls! You go, Mean Girls! Get tickets here.
4Aladdin
Aladdin literally brought us to a whole new world when the Disney classic crossed over from screen to stage. A little more than two decades after it first hit the theaters, the animated fairytale arrived on Broadway, just as shining, shimmering, splendid as the original. Want proof? It was nominated for five Tony Awards, and won Best Performance by a Featured Actor in a Musical (James Monroe Iglehart). It even managed to snag a Grammy nomination for Best Musical Theater Album. Get tickets here.
5School of Rock 
Dewey Finn and the cool kids of Horace Green School found a wider audience when School of Rock hit Broadway in 2015. While it retained the original songs from the movie, including the famous "School Of Rock" anthem, the musical counterpart features 14 new songs, all composed by Tony Award-winning legend Andrew Lloyd Webber. And given the four nominations it collected in the 2016 Tony Awards, School of Rock: The Musical gets an A+ in our book. Get tickets here.
6Lion King
The circle of life was completed when the Disney classic made its way to the stage. The third longest-running Broadway show and the highest-grossing musical of all time (seriously, $1.4 BILLION is no joke), Lion King continues to amaze audiences around the globe with its extravagant production, jaw-dropping performances, and awe-inspiring soundtrack. In 1998, it worthily garnered 11 Tony nominations and won five, including Best Choreography, Best Direction of a Musical (Julie Traymor), and Best Scenic Design for a Musical. Get tickets here.
7Bring It On
Lin Manuel-Miranda may be best known for his work on Hamilton and In the Heights, but he also lent his talents to the musical adaptation of this high school cheerleading drama. I mean, no wonder it acquired Tony nominations, including Best Musical and Best Choreography. Listen to the soundtrack here.
8Frozen
Even Broadway wasn't immune to the Frozen fever. Joining the string of Disney hits-turned-musicals, Anna and Elsa made their stage debut in 2017 in Denver, Colorado, and eventually headed to Broadway in March 2018. Patti Murin and Caissie Levy star as the sisters, and the song list included some new bops. The musical was so magical that it nabbed a total of three Tony nods, including Best Musical and Best Original Score. Get tickets here.
9Shrek
Yes, even our favorite ogre movie was transformed into a massive theatrical production. After a trial run in Seattle, Shrek: The Musical found a home in Broadway in 2008. While it closed after a run of only 12 months, you can still enjoy the production right in the comfort of your own home. Yup, you've guessed it. It's now on Netflix.