12 Movies Based On True Stories to Stream Now
Some of these stories seem too good to be true—but they aren't.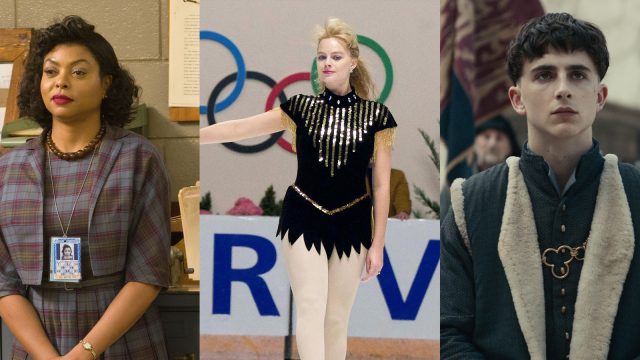 There's nothing like watching an elaborate sci-fi or fantasy film to make you feel amazed at the human imagination and the capacity to build fictional worlds. But there's a lot to be said for the real world we live in, too. Watching movies based on true stories can teach you about unbelievable moments in pop culture and history that you never learned about as well as give you new perspectives on those you did.
From the tale of the women behind a historic NASA launch in 1962 (Hidden Figures) to the most infamous ice-skating scandal in sports history (I, Tonya), some of these stories seem too good to be true—but they aren't. Then there are also the films you may have seen but never knew were based on real-life events, like Girl, Interrupted or Dolemite Is My Name. After watching some of these movies, you might just end up sounding like Lady Gaga in that iconic 2015 interview: "Talented, brilliant, incredible, amazing, show-stopping, spectacular, never the same, totally unique, completely not ever been done before." Below, explore some of the best movies based on true stories—and where to watch them.
12 Movies Based On True Stories:
Selena (1997)
The story of Tejano singer Selena Quintanilla-Perez's life has a tragic end, but her rise to fame is inspiring. The film features Jennifer Lopez in her breakout role, many of Selena's all-time greatest hits, and recreations of the pop star's iconic fashion moments (that forever famous purple jumpsuit included)—so it's a must-watch.
Where to watch: Amazon Prime Video
I, Tonya (2017)
I, Tonya follows one of the most infamous scandals in sports history, and it's exhilarating to watch it play out on screen. Per the name, the film tells the story from the perspective of Olympic figure skater Tonya Harding (played by Margot Robbie) from her days training as a child to the 1994 attack her ex-husband orchestrated on Nancy Kerrigan and beyond. The film humanizes Harding, showing her background of abuse and financial hardship, while the all-star cast also gives the story a dark comedic twist.
Where to watch: Hulu (premium subscription)
Dolemite Is My Name (2019)
Dolemite Is My Name follows the bizarre but somehow true story of Rudy Ray Moore, a comedy and rap pioneer who's determined to make it on the big screen with the story of his kung-fu-fighting alter ego, Dolemite. Eddie Murphy made his return to the big screen for this Oscar-nominated role that only he could play.
Where to watch: Netflix
Into the Wild (2007)
Feeling out of touch with nature lately? The true story of Christopher McCandless—a college graduate who decides to forego a career in order to take a solo adventure and rough it in the Alaskan wilderness—is tough but a must-watch. Surprise bonus: A pre-Twilight Kristen Stewart has a supporting role.
Where to watch: Hulu (premium subscription) or Amazon Prime Video (premium subscription)
Lion (2016)
Lion tells the remarkable true story of a 5-year-old boy, Saroo, who fell asleep on a train and woke up thousands of miles across India, away from his home and family, and unable to speak the local language. Twenty-five years later, after being adopted and raised by an Australian couple, Saroo sets out on a mission to find and return to his family and hometown—without even knowing its name. Even after you've watched the whole thing (and likely cried your eyes out), you'll have a hard time believing this actually happened.
Where to watch: Amazon Prime Video
Girl, Interrupted (1999)
Girl, Interrupted is based on the bestselling 1993 memoir of Susanna Kaysen, a young woman who was submitted to an American psychiatric hospital in the 1960s after being diagnosed with borderline personality disorder. Winona Ryder plays Kaysen in the film alongside a roster of huge names—including Angelina Jolie, Brittany Murphy, Kate Moss, Whoopi Goldberg, and Jared Leto. The incredibly '90s film is worth a watch for its cast alone, but just a warning that the content can be triggering due to its portrayal of mental illness and suicide.
Where to watch: Amazon Prime Video
Selma (2015)
This Oscar-nominated film is a powerful depiction of how Dr. Martin Luther King Jr. inspired crowds to march from Selma to Montgomery, which led to the Voting Rights Act of 1965. Fifty-five years after the historic events, Selma reminds viewers not just how far we've come in the fight for racial justice but, more importantly, how far there is left to go, since there's still so much to protest today.
Where to watch: Hulu (premium subscription)
12 Years a Slave (2013)
12 Years a Slave tells the story of Solomon Northup, a New York State-born free Black man who was kidnapped and sold into slavery in 1841. The film was adapted from Northup's 1853 memoir, and it's a painful but important watch.
Where to watch: Hulu (premium subscription)
The Social Network (2010)
As the story of how Facebook came to be, The Social Network could have easily been a documentary-style snore of a movie, but it's not. The star-studded film—which stars Jesse Eisenberg as Mark Zuckerberg, Armie Hammer as both Winklevoss twins, and Andrew Garfield as Eduardo Saverin—was nominated for eight Academy Awards and won three. Justin Timberlake, Rashida Jones, Rooney Mara, and Dakota Johnson also star in this drama.
Where to watch: Netflix
The King (2019)
The plot of this film is this: Timothée Chalamet and Robert Pattinson wearing chain mail and ruling England. Well, actually, it's about a young Henry V (Chalamet) becoming the king of England in the 15th century and encountering deceit, war, and treachery, but the cast is enough to sell this one—whether you like period pieces or not.
Where to watch: Netflix
Hidden Figures (2016)
History has long been told with a focus on white men, but Hidden Figures shifts the focus to three Black female mathematicians at NASA at an incredibly historic time. Katherine Johnson (Taraji P. Henson), Dorothy Vaughan (Octavia Spencer), and Mary Jackson (Janelle Monae) were the brains behind the 1962 operation that launched astronaut John Glenn into orbit, and their story deserves to be told.
Where to watch: Disney+
Poltergeist (1982)
Poltergeist has been ranked by some as one of the best and scariest horror movies of all time—and it is loosely inspired by a true story. The 1982 film is based on a series of unexplained events—like loud noises and moving objects—that came from the Herrmann family house in 1958.
Where to watch: Netflix