Miss the MTV VMAs? Here's Everything You Need to Know
From the strangest parts to the moments that made us cry.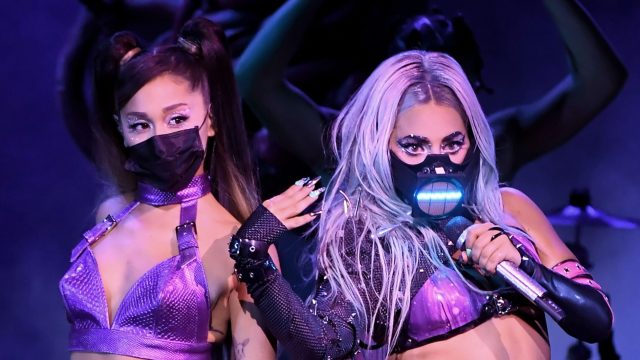 Last night, August 30th, MTV's Video Music Awards took place despite the ongoing coronavirus (COVID-19) pandemic. This year, New York City-based performances were moved outside and, in some instances, artists streamed their acts remotely from places as far as Los Angeles and South Korea. The event definitely radiated a weird vibe with the small audience and numerous pre-recorded elements, but, even so, the 2020 MTV VMAs had some stand-out moments that spoke to the times and some moments of pure fun. And maybe that's why it felt so strange—because we were having fun watching it during such an un-fun time.
If you missed the VMAs last night, there were a few must-see moments that will definitely go down in MTV (and pop culture) history. We pulled together some of the best clips from last night's show that give you the rundown of what went on during the 2020 VMAs—perhaps the strangest live awards show to date.
1. The Weeknd kept his speech short and poignant, demanding justice for Jacob Blake and Breonna Taylor.
The Weeknd took home the Video of the Year Moon Person for "Blinding Lights," after performing the song at The Edge at Hudson Yards—"highest outdoor sky deck in the Western Hemisphere," according to The Edge's website.
When accepting his award, The Weeknd kept his acceptance speech short, stating that his win is "hard to celebrate" during this current period in history. "Justice for Jacob Blake and justice for Breonna Taylor," he said.
Jacob Blake is the most recent high-profile victim of police brutality after being shot seven times in the back by a police officer in front of his children in Kenosha, Wisconsin. He is now paralyzed from the waist down. His shooting, along with the unjust killings of George Floyd and Breonna Taylor earlier this year (among other police-caused deaths of Black Americans) has sparked national Black Lives Matter protests.
2. Lady Gaga and Ariana Grande performed Rain On Me in masks.
To anyone saying they can't go about their daily tasks while wearing masks, we have news for you: Lady Gaga, Ariana Grande, and their crew of backup dancers just pulled off this performance seamlessly all while wearing masks.
Lady Gaga took home four Moon Persons for Song of the Year, Artist of the Year, Best Collaboration, and the Tricon award, which was given to her for being a triple threat in the industry—a singer, actress, fashion icon, and also an activist. Her face masks also stole the show, which, for someone who has been wearing face shields and coverings since the early 2010s, was really no surprise.
If Gaga and Grande can hit those high notes and nail those dance moves while masked, we can wear masks while grabbing some bread at the grocery store.
3. There were multiple heartfelt tributes to Chadwick Boseman, who passed away on Friday.
On August 28th, the world learned that Black Panther star Chadwick Boseman passed away at age 43 after a four-year-long battle with colon cancer. In a video titled "The World Needs More Superheroes," MTV paid tribute to the man who changed lives and the course of Hollywood.
Boseman won in the categories Best Performance in a Movie and Best Hero at the MTV Movie & TV Awards in 2018. VMAs host Keke Palmer dedicated the show to Boseman, "a man whose spirit touched so many," Palmer said. "He was a true hero, not just onscreen but in everything he did."
4. BTS made their VMAs debut from South Korea.
Dressed like New York City businessmen, BTS videoed in from South Korea to perform their new single "Dynamite."
And as if you needed more proof that the BTS army is strong—this video from last night's show already has over eight million views on YouTube and is #2 on the Trending Page.
5. Chloe x Halle's performance was simple, yet so effective.
Beyoncé's prodigy duo Chloe x Halle performed their single "Ungodly Hour," and the performance was music-video-level good.
We may miss the whole multi-cam live show feel the VMAs usually have, but this performance was just so well shot, tightly choreographed, and downright cool that we couldn't be mad at the fact that Chloe and Halle weren't performing in front of hundreds of screaming fans.
6. Lady Gaga told us that wearing a mask is a sign of respect during her speech for an award it literally invented for her.
During her acceptance speech for her the first-ever Tricon award, Gaga told us to not be afraid of failure, continue to be brave, and remind ourselves that we're doing great things even if we feel as though we're at a standstill.
"Culture may feel less alive in some ways," she said. "I know a renaissance is coming and the wrath of pop culture will inspire you and the rage of art will empower you as it responds to hardship with its generosity and love."
She signed off, "Stay safe, speak your mind, and I might sound like a broken record, but wear a mask. It's a sign of respect."
Though they were not the same VMAs we've grown to know and love, the 2020 MTV VMAs were special in that they succeeded in bringing light into a dark time.