9 Meditation Apps That Will Take Your Stress From a Ten to Zen
Just a few minutes a day could have huge mental and physical health benefits.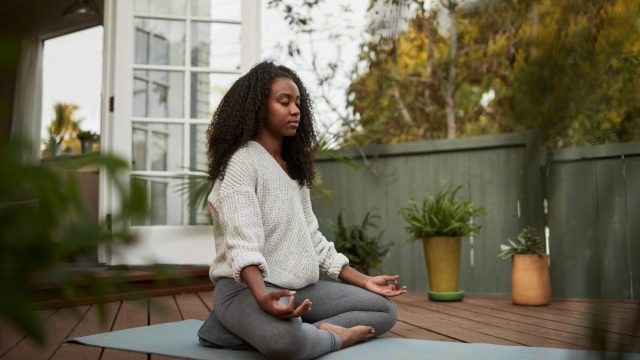 You don't have to be super spiritual or live somewhere in the mountains to meditate. However, a lot of people still think that the mindful practice is just not for them—but don't sleep on the power of meditation. Taking a moment to clear your mind for just a few minutes a day can have major health benefits, including reducing insomnia, lowering blood pressure, and helping to reduce anxiety levels by up to 60% after six to nine months of consistency. So while it can take a few tries to really get into, it's worth it.
But we get it. With busy lives and even busier schedules, it can be difficult to make time to sit down and seemingly do nothing, let alone teach yourself how to shut down your brain for a few minutes—but that's the entire point. Think of meditation as a time to give your brain a much-needed nap. It's a self-care tactic that allows you to connect with your body while calming your thoughts and letting you simply slow down for a moment.
Downloading some meditation apps that guide you through the process can be helpful when you're first dipping your toes in the practice, so we rounded up a few of the best meditation apps to get you started. Add one of these to your phone now and thank us later.
Best meditation apps to download:
1. The Mindfulness App
Whether you're a meditation beginner or a total pro, this app is designed to give you a full range of meditation offerings. It includes timed sessions ranging from just three to thirty minutes; personalized, guided meditations; meditation reminders; and even statistics that help you keep track of your meditation journey. You'll have access to tons of meditations and courses on instilling calmness in your life—right in the palm of your hand. 
2. Headspace
Headspace is a good place to start for beginners, but there are also tons of features for the meditation guru. The basic package is free and will help you through 10-minute meditation routines while tracking your progress. Once you start craving meditation, there are other packages that you can choose for a more tailored experience, like if you want something before bedtime or to get you through moments of high anxiety.
3. Happy Not Perfect
Happy Not Perfect gives you the tools you need to take care of your mental health. The app even has a feature that allows you to select your mood and complete a full interactive mind workout to help. It also has guided easy-listening meditation and mindfulness sessions, breathing exercises, and more to help you release your worries and let go of negative thoughts.
4. Buddhify
This one costs $2.99 for the Android version and $4.99 for iPhone, but it's totally worth it. You can choose guided meditation tracks that last just a few minutes if you need to calm down quickly after rush hour—or half an hour if you want to chill out at home. You can track your progress and tell the app exactly what you're doing in real time so you get the kind of meditation you need.
5. Calm
The Calm app will help you meditate or fall asleep using their free or paid tracks, depending on how serious you want to get. If you don't want to use their Daily Calm track, or you don't feel like you need a voice to walk you through it, you can also choose the Timed Meditation track and quiet your mind without a guide.
6. Smiling Mind
Smiling Mind is a free app that introduces you to meditation with free exercises. What's even cooler? There are specific sessions for people of all ages, as young as seven years old. Whether you have a kid at home and want them to take a time out now and again (or join you in some quiet awareness) or teach at a school and want to introduce a meditation practice, this is your new best friend. Studies show that when meditation replaces punishment, like detentions, children of all ages respond better.
7. Aura
Aura is a top-rated app in both the Apple and Android app stores for a reason. The free app lets you choose from three-minute meditation sessions, so you can stop and get calm AF whenever you want—and you won't even be late for your next meeting. (And if you are, you'll be blissfully mindful and aware of it.)
8. MyLife Meditation
Whether you want to relax or just be kinder to yourself and others, MyLife Meditation has meditation sessions to help you to zen out. You just have to check in and tell the app how you're doing. So stop, do some breathing exercises, and track your progress and moods so you can start to be mindful of how you feel and get back to feeling refreshed.
9. Insight Timer
Insight Timer not only has free guided and timed meditation sessions, there are also discussion groups where you can talk to other people, share your experiences, and maybe get some meditation tips. Did we mention it's totally free?
Once you find an app you love and dedicate some time to mindfulness every day, you'll start noticing the difference. Life doesn't get easier, and you'll likely still lose your patience and get frustrated, but you might be able to get through it just a little more calmly.