The 21 Best High-Waisted Bikinis to Make You Feel Comfortable and Confident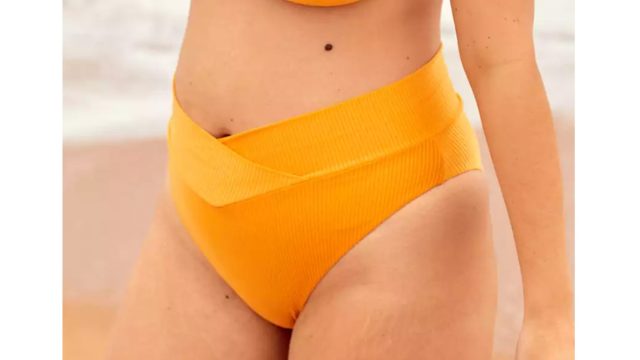 High-waisted bikinis aren't a new bathing suit style, but they are one of the best. Just like high-waisted jeans, they're so much more flattering than low-rise alternatives, which can absolutely stay in the early 2000s. No matter your body type, high-waisted bikinis will make you look incredible because they hug you in all the right places. Not to mention, they're super comfortable and just as sexy as any other bikinis.
From cheeky to full-coverage and bold patterns to solid colors, there are so many options available that everyone can find something that makes them feel beautiful and confident. So, get ready for summer by shopping 21 of our favorite high-waisted bikinis—and remember that every body is a beach body that deserves to feel amazing now and always.
1. Best crossover high-waisted bikini:
If you weren't able to snag a pair of Aerie's crossover leggings that went viral on TikTok, rest assured you can shop a bikini with the same cut. People love the crossover detail that accentuates the waist and looks great on all body types. It's available in multiple summery colors and pairs with the matching Ribbed Shine Scoop Plunge Bikini Top.
2. Best printed high-waisted bikini:
How adorable is this bikini with a vintage floral print? It's reversible, so you can get two swimsuits for the price of one, and the bottoms feature a sexy high-cut leg and cheeky back. There are multiple fun prints available, including plaid and polka dots, and there are several tops (sold separately) that match, such as the strapless Euphoria top, the triangle cut Zen top, the knotted Zuma top, and so much more. 
3. Best supportive high-waisted bikini:
Cuup is known for its size-inclusive bras and underwear, and the brand recently launched a swim collection that's just as supportive and comfortable. Shop the Tap bikini bottoms, which are high-waisted, offer full coverage on the hips, and have a cheeky back end. They pair perfectly with the Balconette top that's available in sizes up to 42H. Both come in green, red, brown, black, and white. 
4. Best thong high-waisted bikini:
If you want to feel ultra sexy this summer, we love this nearly-thong high-waisted bikini from the Frankies Bikinis and Naomi Osaka collection. The beautiful orange hue reminds us of a tropical, beachy vacation and the checkered fabric is so unique. Shop it now with the Claire Triangle Terry Bikini. It's a must-have in your swimsuit collection.
5. Best belted high-waisted bikini:
This swimsuit offers a classy twist on high-waisted bikinis with its strappy top, belted detail, and subtle color-blocking. It comes in two variations (a pink and blue option) and pairs with the Fused River Bikini Top ($50).
6. Best sustainable high-waisted bikini:
You can look good and feel good with the purchase of this bikini because the fabric comes from recycled fishing nets and post-industrial waste recovered from the ocean. It comes in neutral and statement colors and in sizes up to 6XL. Pair with either the Hermosa Bikini Top (a classic scoop neck) or the Equator Caspian Bikini Top (a cute one-shoulder). 
7. Best animal print high-waisted bikini:
Whether you're lounging in your backyard or on a summer getaway, this zebra-printed bikini will make you stand out of the (socially-distant) crowd. You can find the matching bandeau top at Target for $24.99.
8. Best full coverage high-waisted bikini:
If you want a little more coverage in the back, you can't go wrong with this tropical-inspired bottom and cinched bikini top. Both are available for $19.99 apiece and will look amazing as you sip on a piña colada. 
9. Best cheeky high-waisted bikini bottom:
A cheeky swimsuit will bring you all of the best attention while still keeping everything in place. We love the cinched sides that offer a high-leg cut and the coordinating multi-strip bandeau top that comes with lining and cups on the inside for more support. 
10. Best luxury high-waisted bikini:
$115 for a single bathing suit piece might be a splurge, but hear us out. It's a good-quality high-waisted bikini that will last you for years to come. It features medium coverage, is available in smooth, textured, and ribbed fabric, and comes in beautiful seafoam green and a bold colorful print. The matching Gia Triangle Top is $99 and together, it's a classic swimsuit that's worth every penny.
11. Best reversible high-waisted bikini:
Reversible bathing suits are great because you get the most bang for your buck. This one comes in a cheetah print with a reversible solid black side and a multi-colored tie-dye with a yellow stripe print on the other side. The matching top is available for $20.
12. Best tie-front high-waisted bikini:
A tie-front bikini allows you to adjust your swimsuit to your liking—whether that means you want it a bit tighter to accentuate your waist and cleavage or you simply love the additional detail. You can find the top available for $50. 
13. Best butt-sculpting high-waisted bikini:
Available in four prints, this bikini will sculpt and lift your booty thanks to the ruching on the backside. The Tori Bandeau Bikini Top features a beautiful accent ring in the middle that tastefully adds something extra. 
14. Best white high-waisted bikini:
A white bikini against sun-kissed skin will make your complexion glow. We love this high-waisted set that comes with an adjustable high-neck halter top.
15. Best high-waisted bikini set:
Buying bikinis can get expensive real quick because you have to purchase each piece individually, but luckily this bikini set comes together for a reasonable price (less than $70). It features a supportive bra with built-in underwire and adjustable straps. You can shop it in a cheetah or tropical floral print.
16. Best ruched high-waisted bikini:
Ruched detailing not only makes your swimsuit look great but it can also offer additional tummy support. These bottoms are available in sizes up to 3X and in various colors like black, red, safari green, and navy. The matching top is a bandeau that comes with a detachable strap, so you can make it into a halter if you prefer. 
17. Best retro high-waisted bikini:
High-waisted swimsuits were popular in the 1940s and '50s—think: the Marilyn Monroe era. If you want to pay homage to that classic style, say hello to this gingham-printed bikini. The matching top comes with a twisted front and underwire. 
18. Best shapewear high-waisted bikini:
This bathing suit offers the support of shapewear without sacrificing the sexiness of a bikini. It hugs you in all the right places with its high-waisted bottoms and balconette bra that extends down to the top of your waist.
19. Best bright high-waisted bikini:
With the world slowly opening back up, bright colors are making an appearance in fashion and beauty trends like never before. If you're all about it, this neon floral bikini is right up your alley. It's fun, flirty, and so fitting for summer. Not to mention, the one-shoulder top with double straps is simply *chefs kiss*. 
20. Best sun protective high-waisted bikini:
Made with recycled material and SPF 50 sun protection, this bikini not only looks amazing but will also keep you safe from the sun (in addition to your sunscreen, of course). It's also reversible with a neon yellow hue on the inside that pops. The bandeau top also comes with neon yellow straps that are removable. 
21. Best sporty high-waisted bikini:
If you're an active beachgoer, you'll need a swimsuit that can keep up with you as you play sports on the sand. Enter this high-waisted bikini that is reversible, full-coverage, and pairs with a scoop top that will fit just like a sports bra.