Avoid a New Year's Day Hangover with These 7 Preventative Products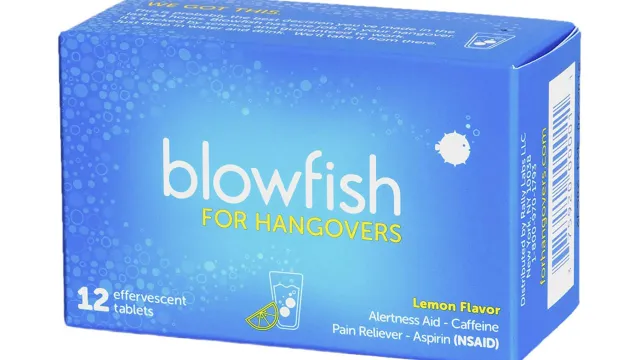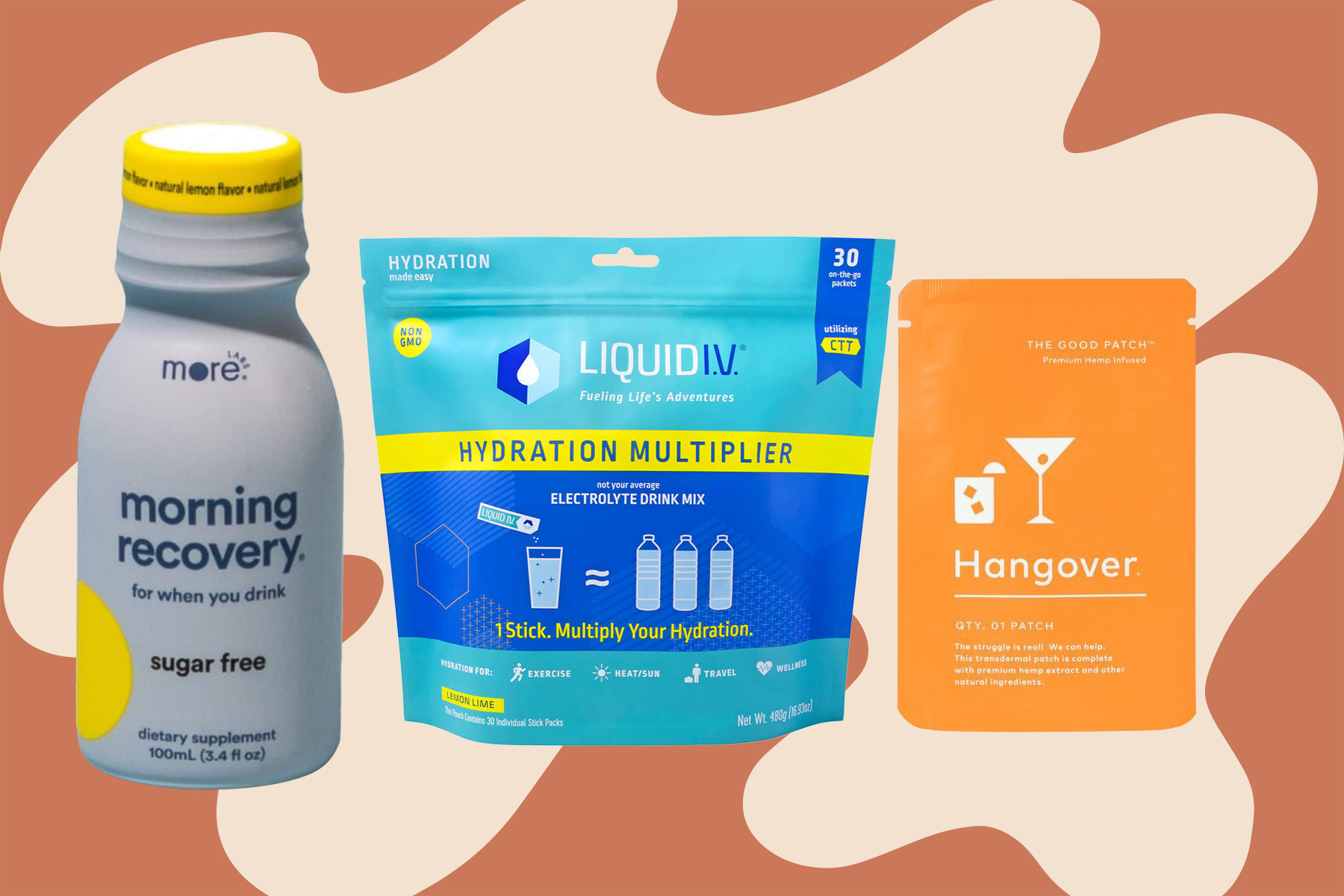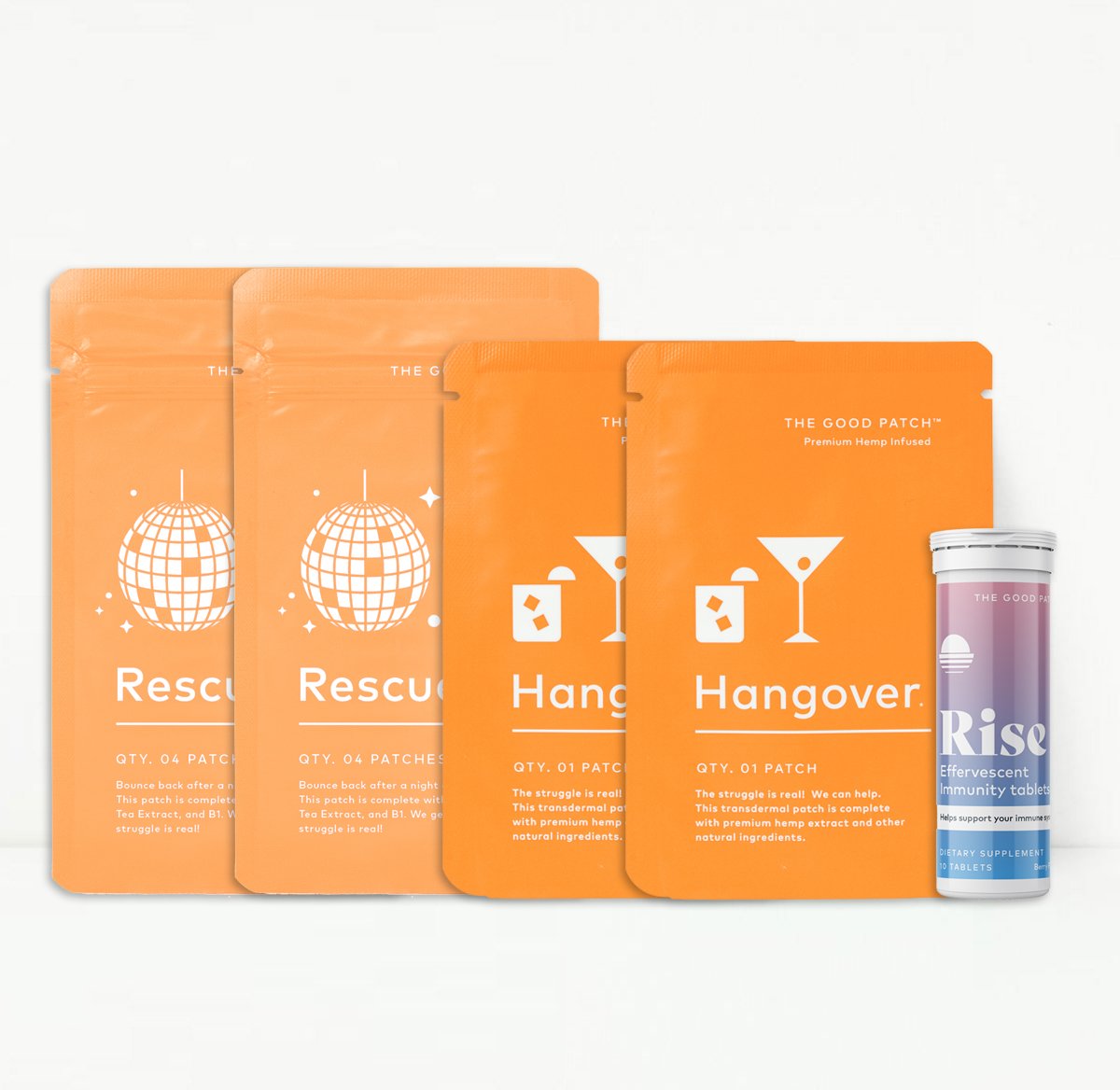 The Good Patch NYE Bundle
$57
Shop it
The Good Patch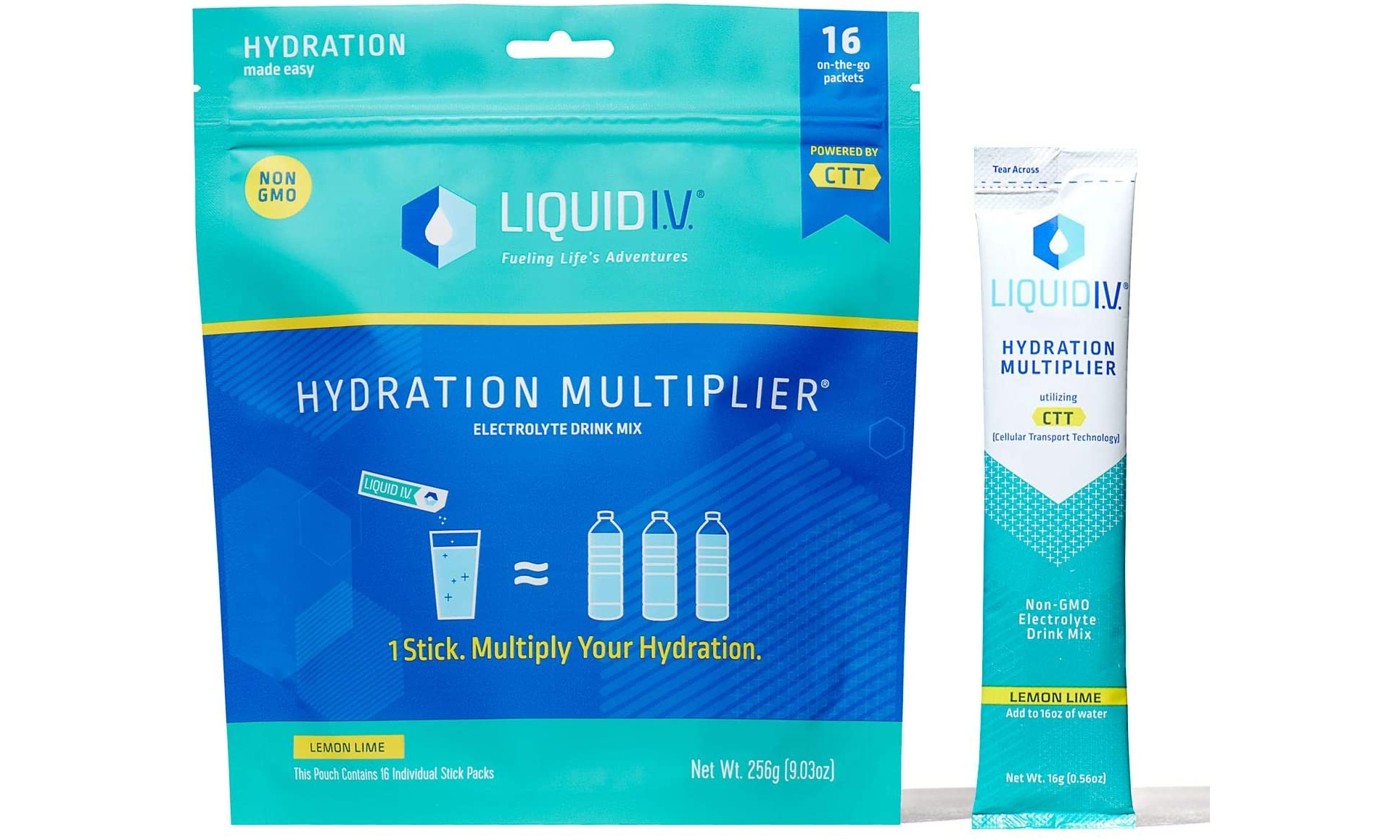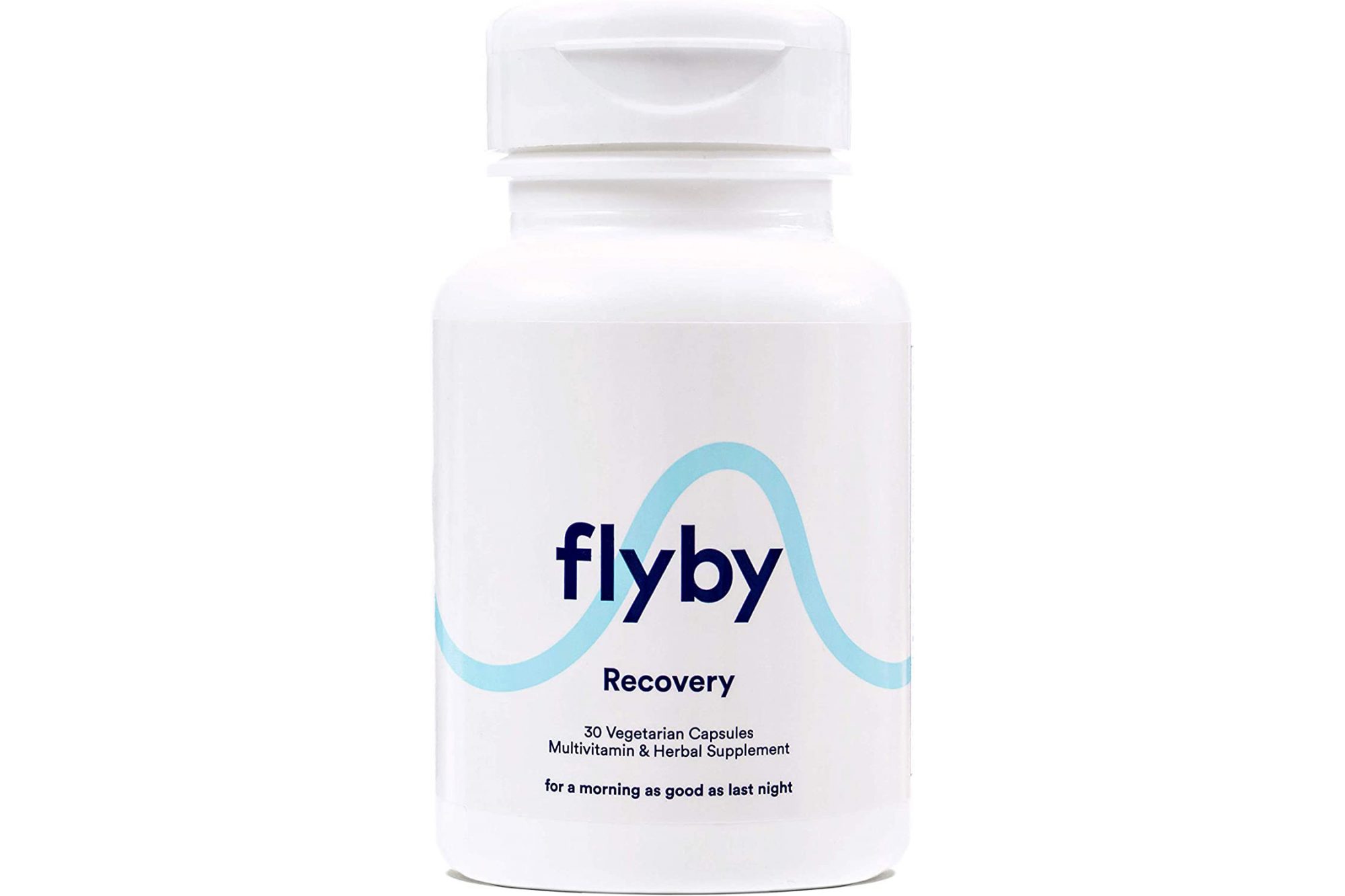 Flyby Alcohol Recovery Pills
$$17.97
Shop it
Amazon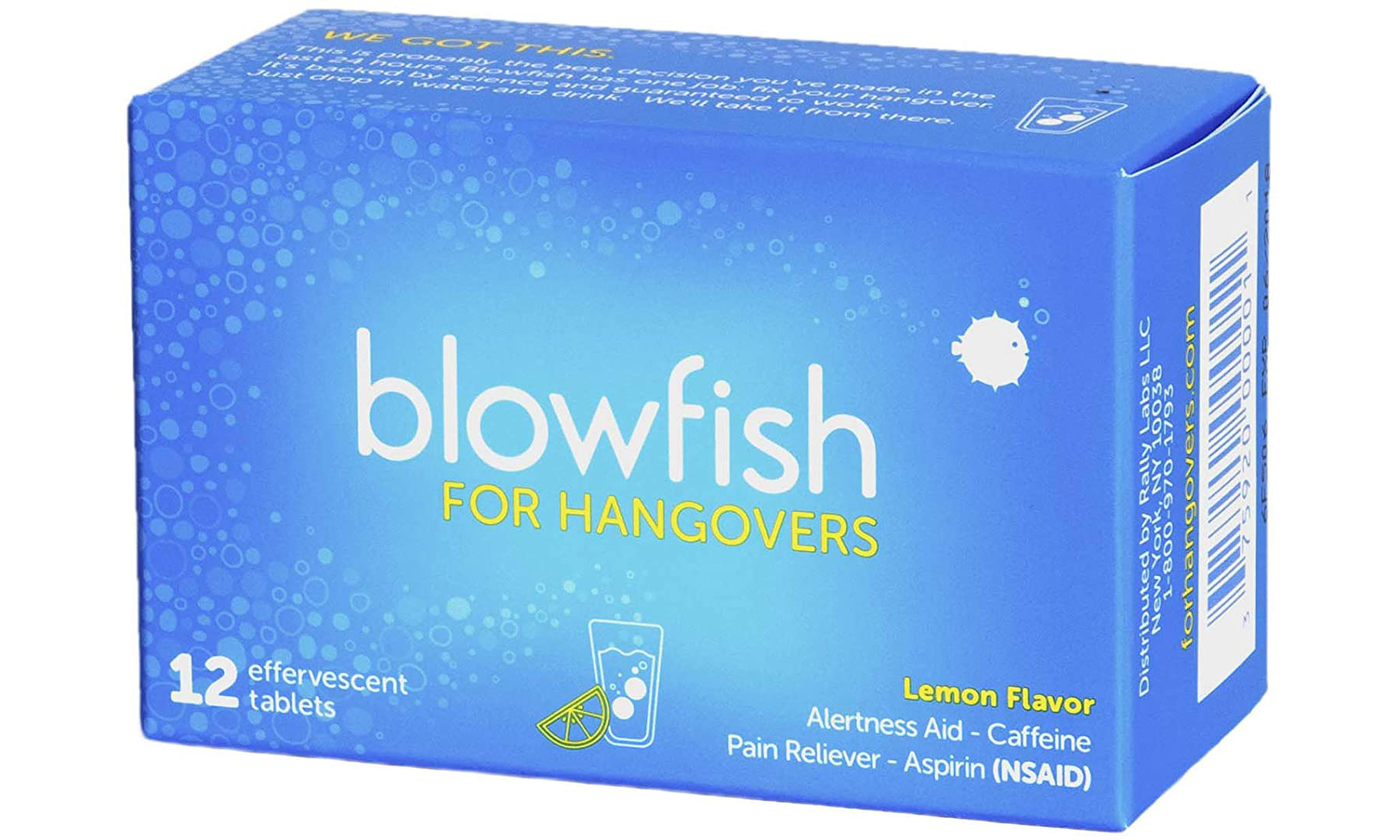 Blowfish for Hangovers
$$11.99
Shop it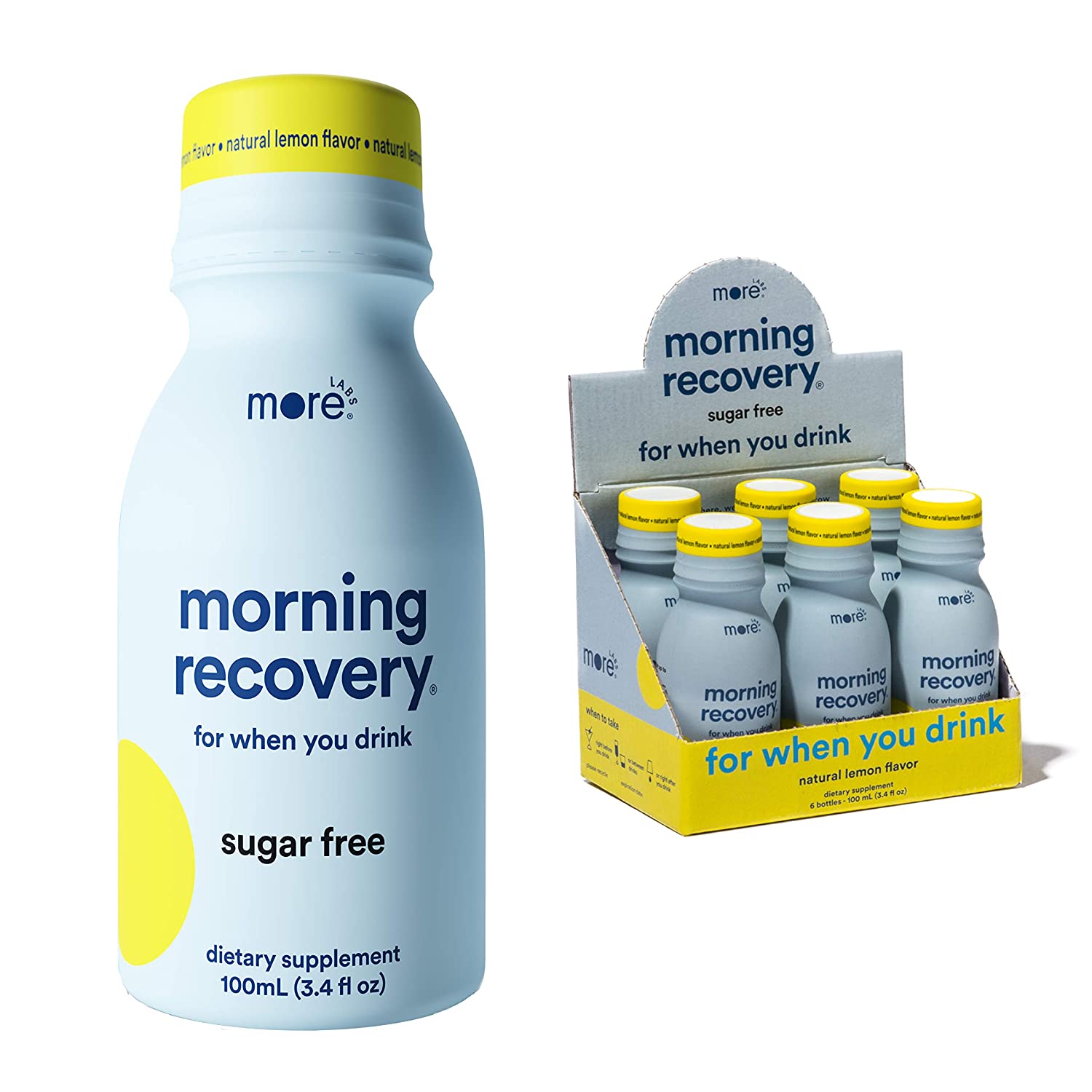 More Labs Morning Recovery
$$35.99
Shop it
Amazon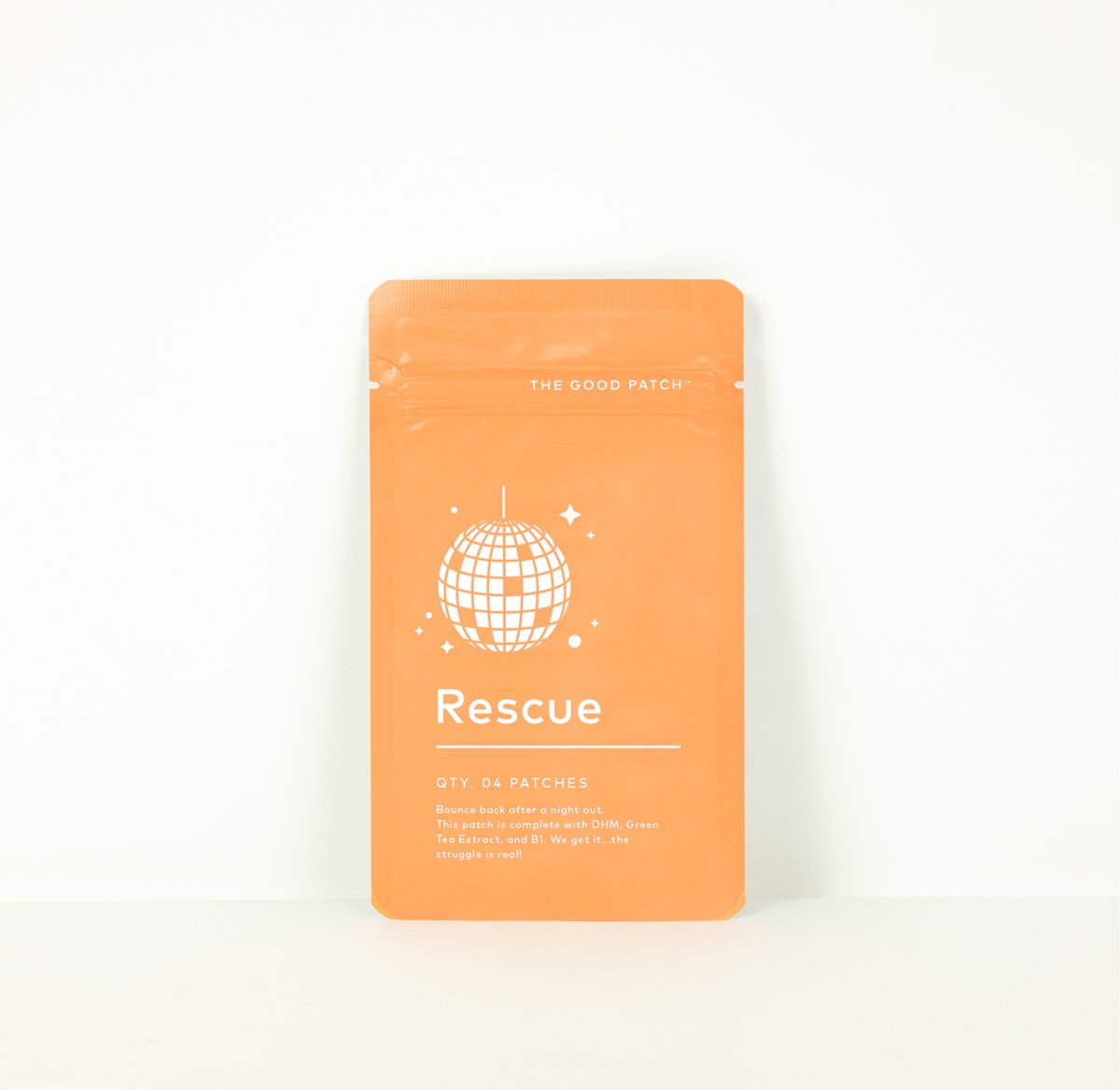 The Good Patch Rescue
$24
Shop it
Amazon
Please confirm that product_url, retailer_name, price and primary_image parameters are required in the shortcode
220-20&linkId=f743f9790e27f89a4e55fa4aae4ae424&language=en_US" retailer_name="Amazon" price="$33″ /]
No matter how you spin it, hangovers suck. Whether you have an obligatory family brunch in the morning or you're free to lay on the couch and watch Netflix all day, no one wants to be struck by the dreaded day-after-drinking downer. As for me, my hangovers take on two forms: nonexistent or totally debilitating—there's no in-between. No matter how much water I drink while I'm getting dressed for the night or how hearty of a dinner I eat, the beers I drink until 3 a.m. still take the upper hand nine times out of ten.
Anyone who drinks alcohol regularly has most likely experienced a hangover (if not, congratulations). But do you know what actually causes the pounding headaches, vomiting, and spins? Alcohol has many effects on your body, like dehydration (aka why you wake up with a dry mouth, craving gallons of water), electrolyte imbalance (which leads to headaches, weakness, and irritability—sorry, roommate), and gastrointestinal irritation (which causes nausea and DADS, or day-after-drinking shits). Unfortunately, there's no magic formula for the amount of alcohol you can consume and safely assume you won't get a hangover, but you can learn about your blood alcohol content to gain a better understanding of your limits.
One of the most popular days of the year to be hungover? New Year's Day. Especially this year, when we're all eager to say "sayonara" to 2020, on New Year's Eve, we'll be celebrating the end of this crazy year and welcoming 2021 with open arms. Although our NYE festivities will be super low-key this year, many champagne bottles will still be popped at home in our pajamas. Luckily, we found seven hangover prevention products and hangover cures, so you can laze around the house on New Year's Day without a pounding headache or the spins.
Below, read about the best way to cure a hangover with drinks, herbal supplements, tablets, and patches.
The Good Patch NYE Bundle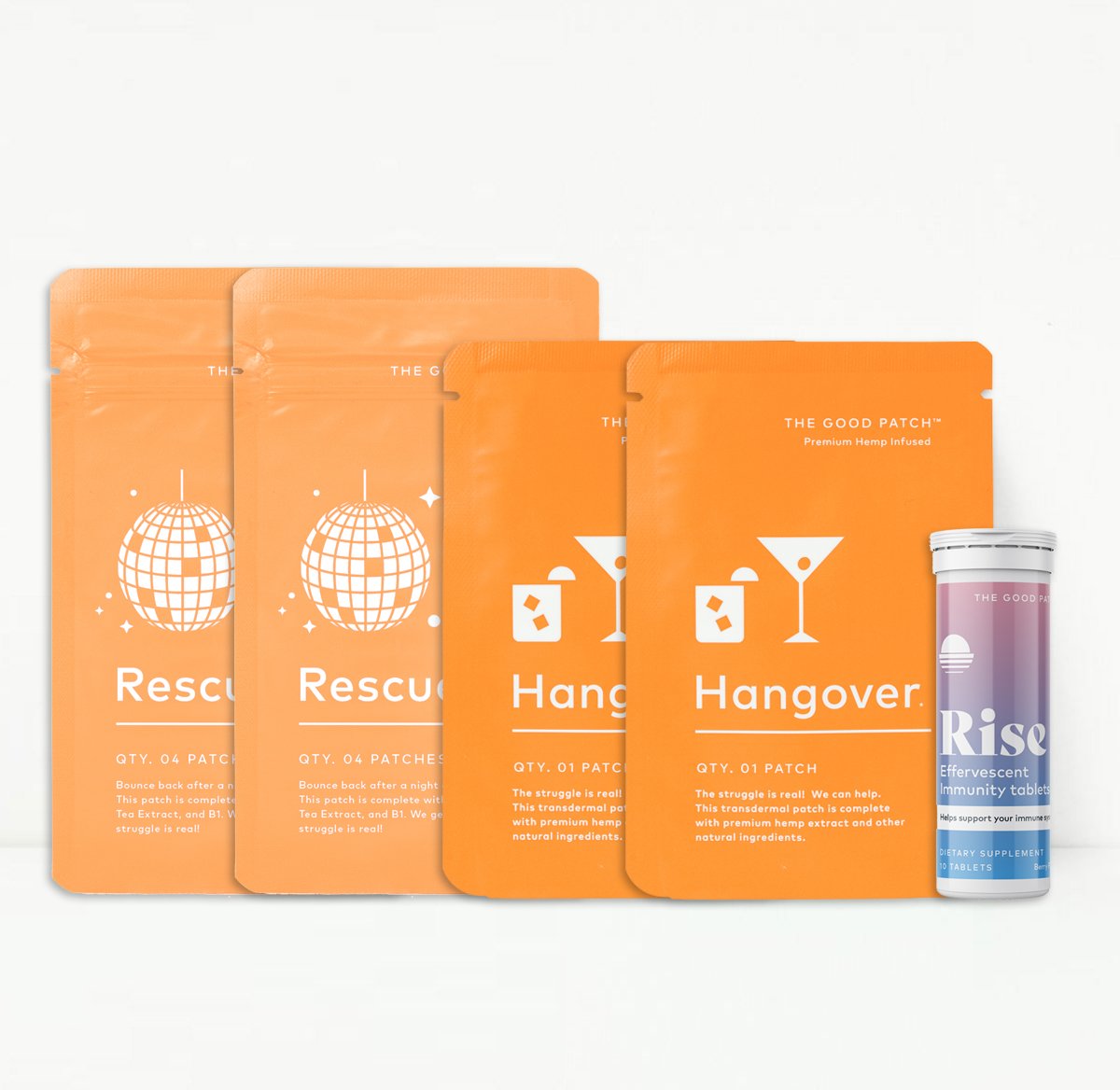 Shop it! NYE Bundle, $45, thegoodpatch.com; $24 for 8 Rescue Patches, amazon.com; $33 for 40 tablets, amazon.com.
To help us celebrate New Year's Eve without the fear of waking up with a hangover as bad as 2020 itself, wellness brand The Good Patch created an NYE bundle for preventing and curing hangovers. The $45 kit includes some of the brand's most popular products: eight Rescue Patches, two Hangover patches, and ten immunity tablets. You can also purchase bigger batches of the products separately on Amazon.
If you're the victim of unexpected hangovers, this is the best cure for you. The Good Patch Rescue and Hangover Patch help replenish nutrients with the help of Dihydromyricetin, Vitamin B1, green tea extract, and black peppercorn, which is high in antioxidants. The mixture of these ingredients does make the patches smell slightly funky, but it's subtle enough that you won't be overwhelmed by the scent the whole time you're using them. Simply peel the patch off of its plastic wrapping, stick it on the inside of your wrist, and voilà—the benefits should kick in within an hour. Apply the Rescue Patch before the fun begins and the Hangover Patch after the fun ends to cure your hangover. Each pack includes four patches, so you're spending $3 per patch.
I recently used one of these patches on the morning of an early brunch, sticking the patch on my wrist right before I walked out of the door, and by the time I'd ordered my coffee, I was in tip-top shape. If you're worried about the appearance of these patches, don't fret: They're clear and no one noticed mine until I pointed it out to them.
As for the immunity tablets, these puppies are filled with Vitamin C and 14 Vitamins, minerals, and herbs which work together to promote a high-functioning immune system. Available in both citrus and berry flavors, simply drop the tablet into a glass of water, allow it to dissolve, and gulp it down like you guzzled your champagne flute the night before. Your immune system will get that boost it needs.
Rank: 4 out of 5 stars
Liquid I.V. Hangover Cure Drink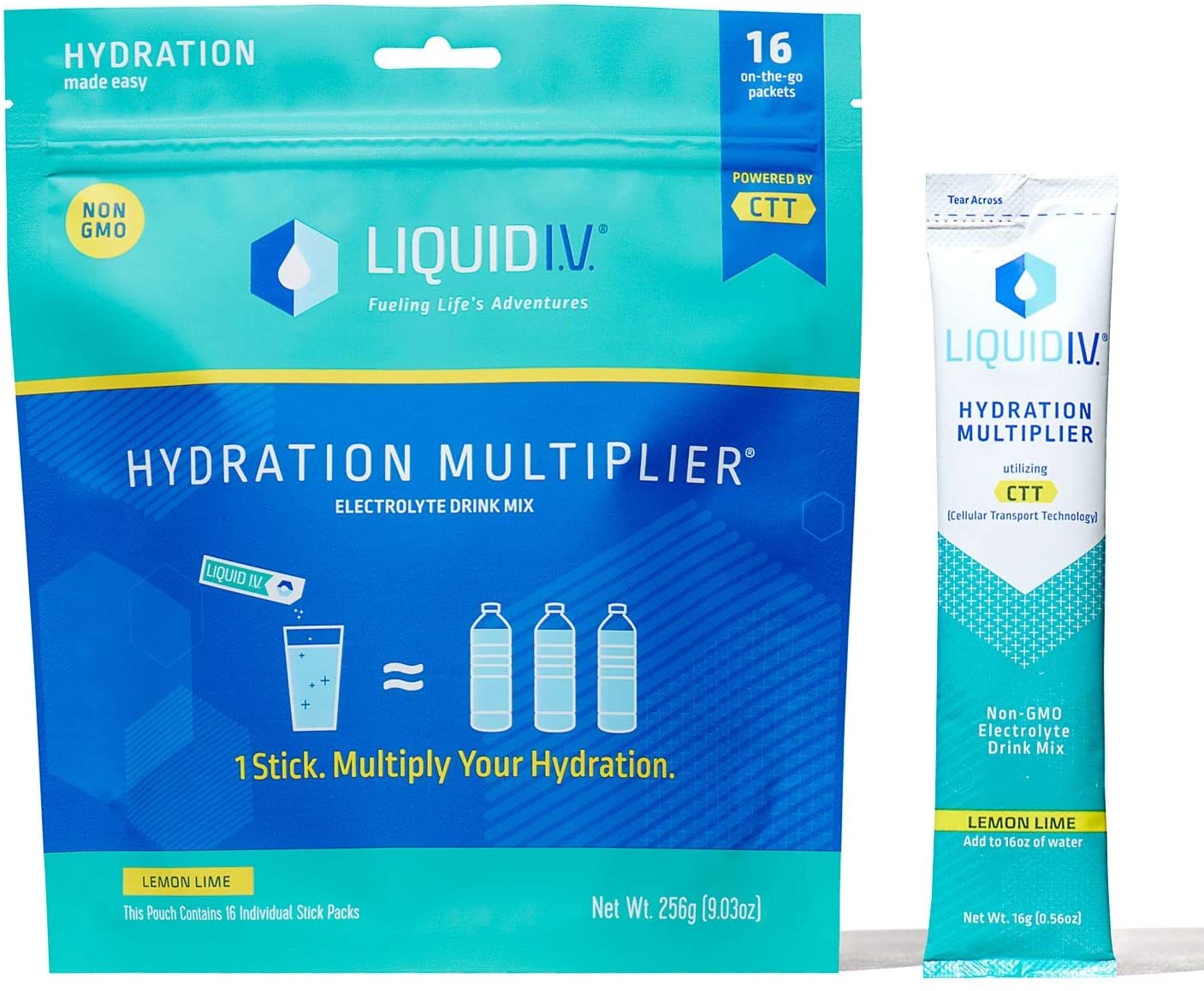 Shop it! $23.97, amazon.com
You know those IV lounges that claim to cure your hangover in the morning after a night of drinking? Well, rather than leaving the house, Liquid I.V. does the trick right from your home—and without injecting an actual IV into your arm. Liquid I.V. is a non-GMO electrolyte drink mix that you pour into a glass of water for extra hydration.
Some people actually drink Liquid I.V. on the daily because one stick can provide the same hydration as two to three cups of water and about three times more electrolytes than sports drinks (you served me well, Gatorade, but I've moved on to Liquid I.V.). The powder contains vitamins C, B3, B5, B6, and B12. Drinking alcohol depletes your body of B vitamins, which play a key role in energy, motivation, and mood, which explains why you feel like your tank is running on empty when you're hungover.
To put Liquid I.V. to the test as a hangover cure, I drank a 16-ounce glass of water mixed with one stick of the passionfruit powder before a particularly rowdy night with a small group of friends. It's recommended to drink Liquid I.V. before consuming alcohol to provide your body with extra electrolytes and vitamins before alcohol enters your bloodstream, but it will be effective for rebuilding those nutrients in the morning, too.
The passionfruit flavor is subtly tangy, and the powder adds a slightly bubbly effect. My friend tried lemon ginger, and although it turns the water a not-so-appealing green color, it actually tastes delicious. I enjoyed sipping the hydrating drink before switching to beer for the night and crossed my fingers that I'd wake up hangover-free.
And boy was I happy when I opened my eyes and felt the sweet relief of a clear head and calm stomach, despite four beers and three gin and tonics' best effort to ruin my morning. I climbed out of bed at 8 a.m. even though I went to sleep just five hours earlier, and I felt ready to embrace the day. On a regular post-drinking morning, those seven drinks would have had a much different effect on me, but I now consider Liquid I.V. the best way to cure a hangover. I highly recommend drinking a glass of Liquid I.V. before drinking alcohol to get ahead of the game. Pick your poison: passionfruit, lemon ginger, or lemon lime.
Rank: 5 out of 5 stars
Flyby Hangover Cure Pill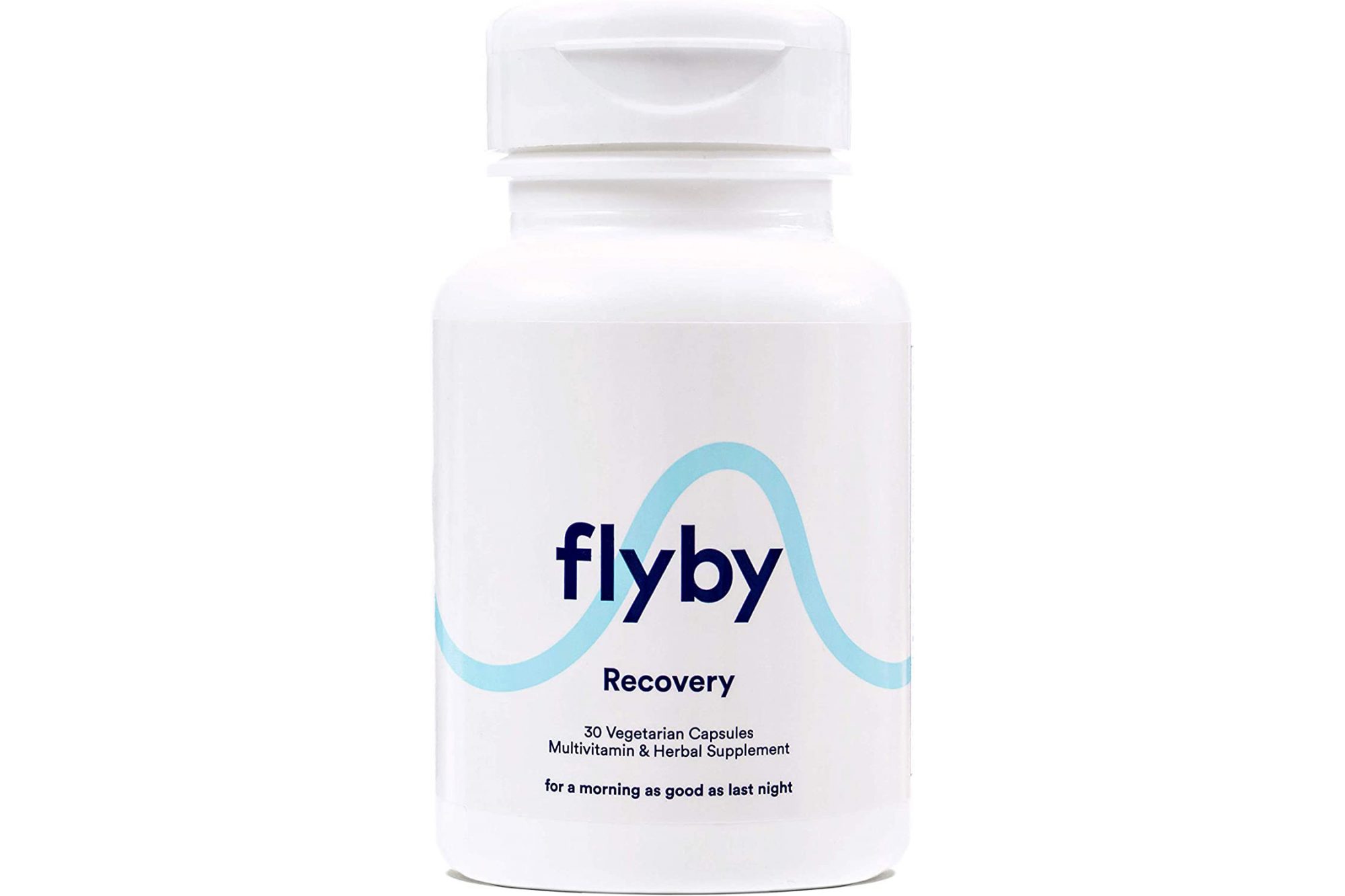 Shop it! $17.97, amazon.com
Flyby's slogan is "For a morning as good as last night," and my roommate stands by this statement wholeheartedly. She gave these supplements a shot on the same night as my beer/G&T experiment, but she tested the product paired with tequila, which is a tougher opponent to beat, IMO. Thankfully, five glasses of tequila and orange juice had nothing on Flyby Alcohol Recovery Pills.
Here's how this hangover cure works: You take three of the capsules before you start drinking alcohol (they're large, so if you struggle with swallowing pills, this might not be the hangover cure for you). Now here's the tricky part: You need to remember to take three more supplements when you're done drinking and are climbing into bed. My roommate simply laid them on her bedside table next to a glass of water to jog her memory after it was blurred by tequila.
The vegetarian supplements smell slightly funky because they're made of ingredients like prickly pear, milk thistle, taurine, B vitamins, and dihydromyricetin (aka an herbal compound that boosts liver production). These ingredients create a formula that hydrates you quickly, supports healthy liver function, and replenishes lost vitamins, minerals, and amino acids so you wake up feeling refreshed. Flyby worked flawlessly for my roommate, much to her surprise, and she has already ordered her own bottle for future tequila-infused nights.
Rank: 4 out of 5 stars
Blowfish Hangover Cure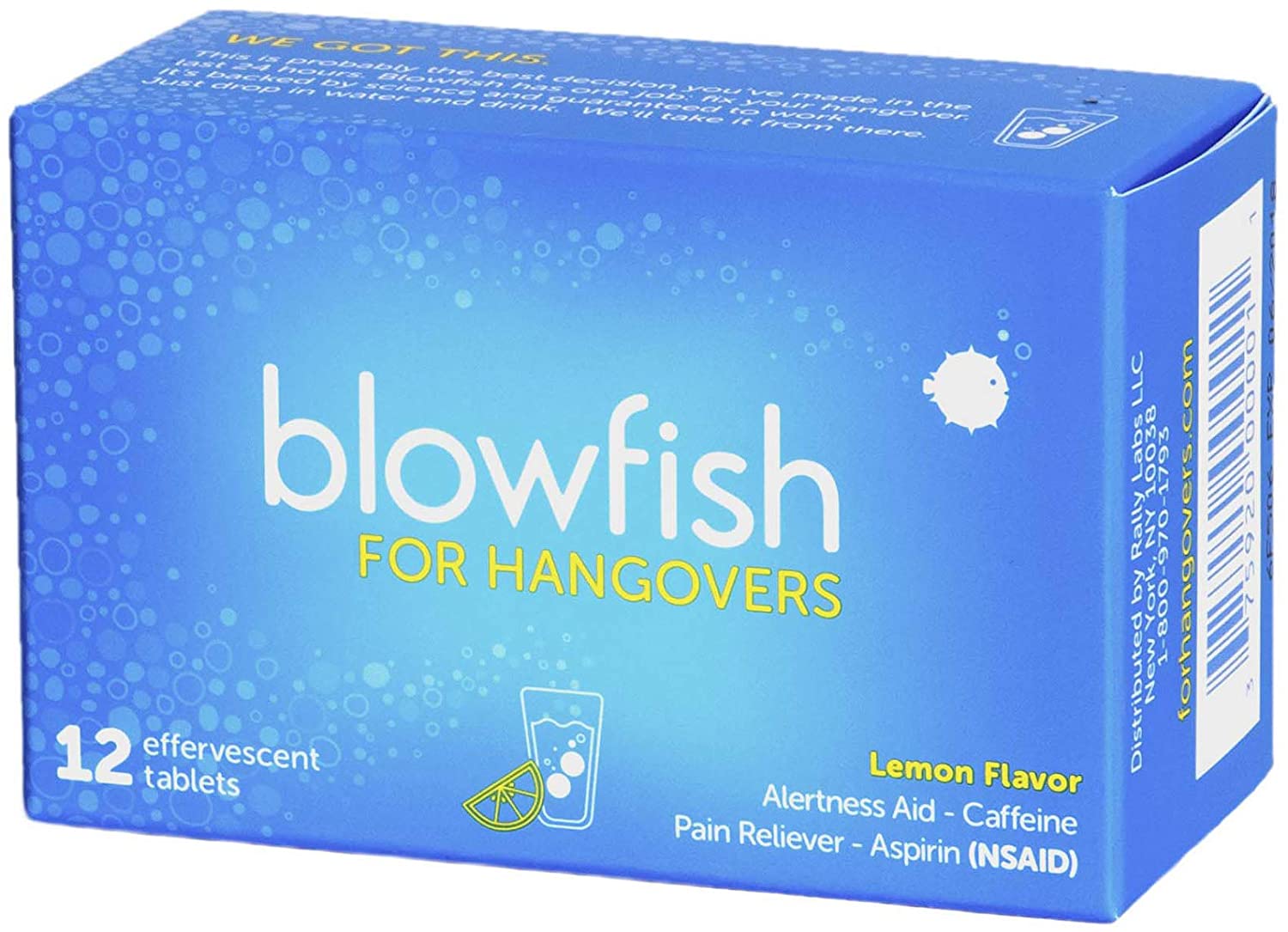 Shop it! $15, forhangovers.com.
Another hangover cure drink coming at you—this time in the form of tablets. Blowfish for Hangovers is one of few hangover cures with a formulation that's recognized as effective by the FDA, so you know this baby will do the trick. Another perk of Blowfish? You can use it in the morning rather than before drinking, so you're actually curing the hangover rather than preventing it. This is because Blowfish tablets are made of caffeine (which fights fatigue), aspirin (to ease crippling headache pain), effervescence (which gets the ingredients into your system quickly), and water (which hydrates you, duh). This all adds up to the recipe for a true hangover cure. So, Blowfish is perfect for those unexpected hangovers—like when a chill Saturday night drinking wine at home somehow turns into taking shots until 3 a.m. You know the one.
I used Blowfish as a hangover headache cure the morning after a relaxed dinner out turned into an impromptu late night with friends on my rooftop—the kind where our karaoke microphone made an appearance. Dinner at a Vietnamese restaurant was paired with sugary mojitos in pineapple-shaped glasses, so I definitely put myself at risk of waking up with a baby hangover. I slid out of bed slightly dizzy and with a soft ringing in my temples, so I dropped two tablets of Blowfish hangover cure into 16 ounces of water, tipped the glass back, and felt better in 15 minutes flat. Nice try, mojitos.
The Blowfish marketing team knows what it's doing, because the packaging of this product is hilarious and relatable AF. I was shipped a sky-blue box that read, "Help has arrived." Inside, the bag of 40 tablets reads, "We're the drug company that parties." A small brochure inside thanks you for "inviting Blowfish to the afterparty" and depicts all of the hangover symptoms it will cure with funny illustrations, like a sewing machine drilling into a woman's temple (headache), a body hanging out of a giant cup of coffee (fatigue), and a toilet covering a woman's head (dehydration). The clever packaging would prompt me to buy Blowfish once, but the results are what sold me on repeat purchases.
Rank: 5 out of 5 stars
More Labs Morning Recovery Hangover Cure Drink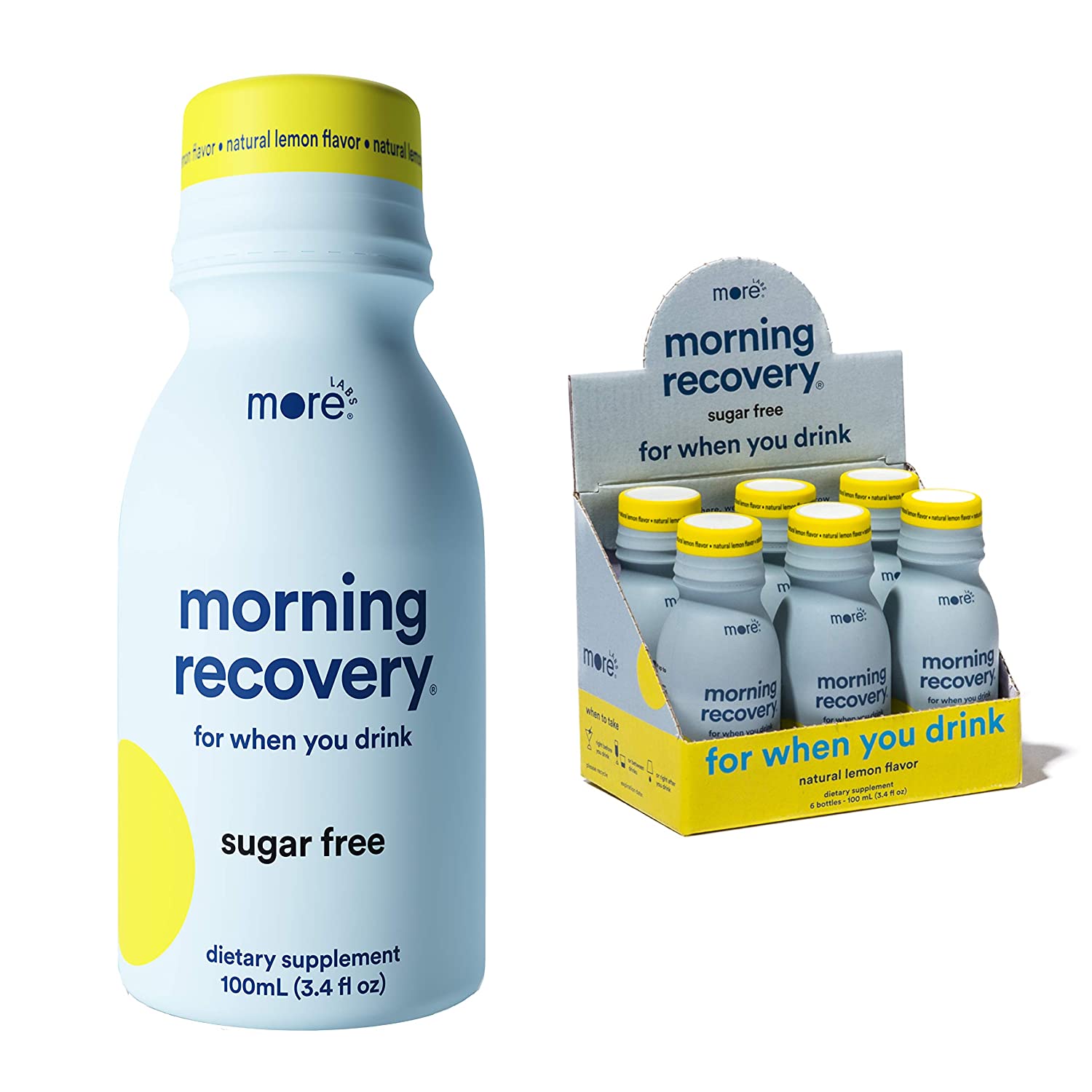 Shop it! $35.99, amazon.com
Although this hangover cure drink is called Morning Recovery, don't get it twisted—you need to toss this bottle back before you go to sleep. Morning Recovery was created in partnership with a doctor and FDA scientist who chose these ingredients: dihydromyricetin, which helps the liver's natural detox process; plus other liver-loving ingredients like milk thistle; ginseng; prickly pear; and B and C vitamins, which work to support liver function, rehydrate, and replenish lost nutrients.
You can either sip this hangover cure before you start drinking alcohol, between drinks, or up to one hour after your last drink. Morning Recovery helps break down alcohol-induced toxins so your body can flush them out faster, which is why it's best to drink this bad boy as close to the time you start drinking as possible. I tested this hangover cure on a weekend when my cousins visited my family's lake house—because, knowing them, I knew we'd all need a hangover prevention plan in place, stat.
On the night they arrived, we all stayed up until 5 a.m. playing Secret Hitler and drinking an unknown number of bottles of wine, naturally. During the excitement of their arrival, I forgot to dish out bottles of Morning Recovery before we started drinking, so we gave them a shot when we woke up, already off the deep end in rocky hangover waters. I tried the sugar-free lemon; either it helped or the decision to drink some hair of the dog (in the form of mimosas) was the reason my headache was soothed. Regardless, we decided to be proactive the second night of the trip, and my cousin kindly placed a bottle on each of our pillows so we would all remember to drink them before bed.
Fast forward to the next morning, and no hair of the dog was required—we were all in the clear and ready for beers on the boat thanks to More Labs Morning Recovery. Choose between the original lemon flavor or the sugar-free lemon, and enjoy drinking without worrying about feeling half alive the next morning.
Rank: 4 out of 5 stars