7 portable hammocks to hang out in this summer, starting at $21
As social distancing continues into summer, we're looking for safer ways to spend time outside. Temperatures are steadily rising, and we're needing an escape from our homes as quarantine treks on. Enter: hammocks. During this stressful time in our lives, lounging in a hammock could do us all some good. And luckily, there are tons of convenient portable options available, so if you don't have an outdoor space at home, you can bring these packable hammock options with you to your next outdoor social distancing excursion.
Whether you're looking for a hammock to hang in your backyard, on a balcony, or to bring along to the park, we've got you covered. Below, we rounded up seven hammocks for you to hang out in this summer.
The 7 best portable hammocks:
1ENO DoubleNest Lightweight Camping Hammock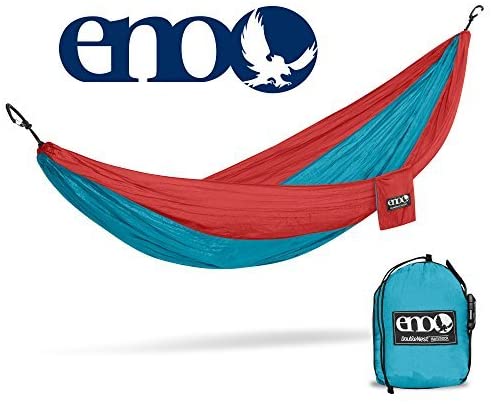 Shop it! $69.95, Amazon.com.
Choose between 33—yes, 33—color combinations for this top-rated hammock from trusted brand ENO. Nearly 2,000 Amazon shoppers give this portable hammock a 5-star rating. The bag in its entirety weighs just 19 ounces, making it super easy to carry. Plus, the fabric it's made out of will allow sweat or rain to dry quickly.
2Wise Owl Outfitters Hammock Camping Double & Single with Tree Straps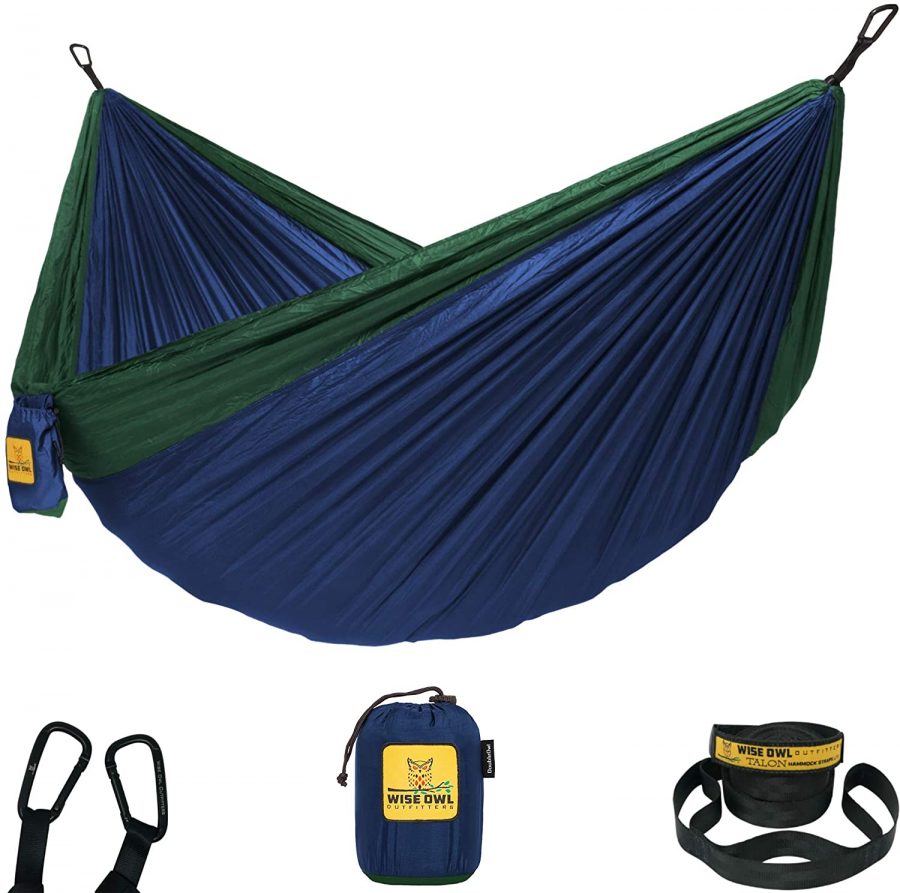 Shop it! $27.95–$38.95, Amazon.com.
Nearly 5,000 Amazon shoppers gave this hammock a 5-star rating. Two straps and carabiners make setting up this hammock a breeze—no knotting necessary. One shopper says, "I'm a big guy (6′ 4″, 250 lbs), so I was a little concerned with how well it would hold up. I was also a little afraid of whether I'd find myself dragging the ground because the straps had stretched out overnight. My fears were completely unfounded, however. There was absolutely no stretching, and it held me up just great over two nights."
3Vivere Double Parachute Hammock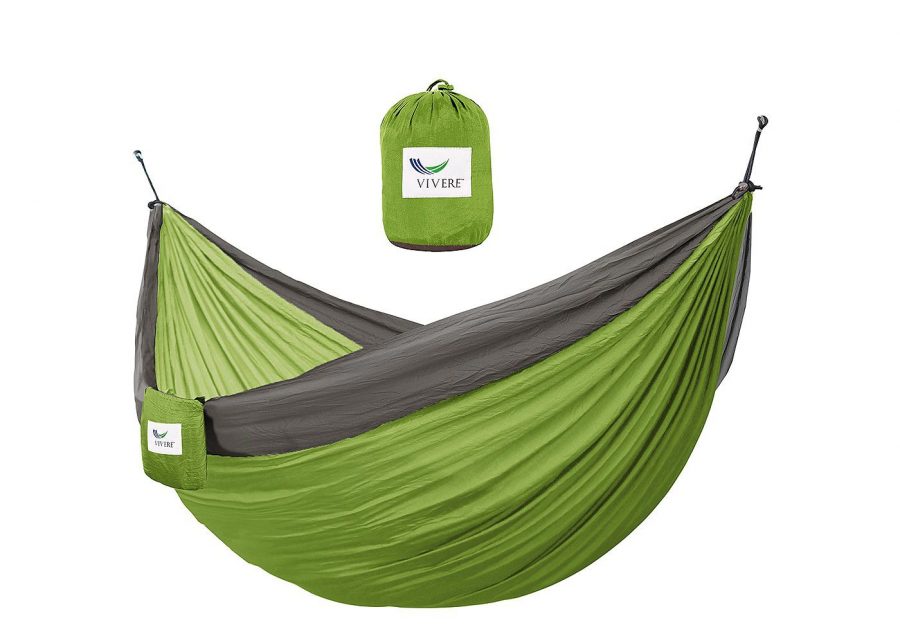 Shop it! $29.97, target.com.
Made of 100% nylon, this packable hammock will keep you secure and comfortable while lying inside. It's big enough for two people (it holds up to 400 pounds), so you can safely lounge inside this hammock with a partner or friend. This hammock comes with two options for straps: eco-friendly tree straps or ultra-light tree straps to use if you're hanging out solo.
4Gold Armour Camping Hammock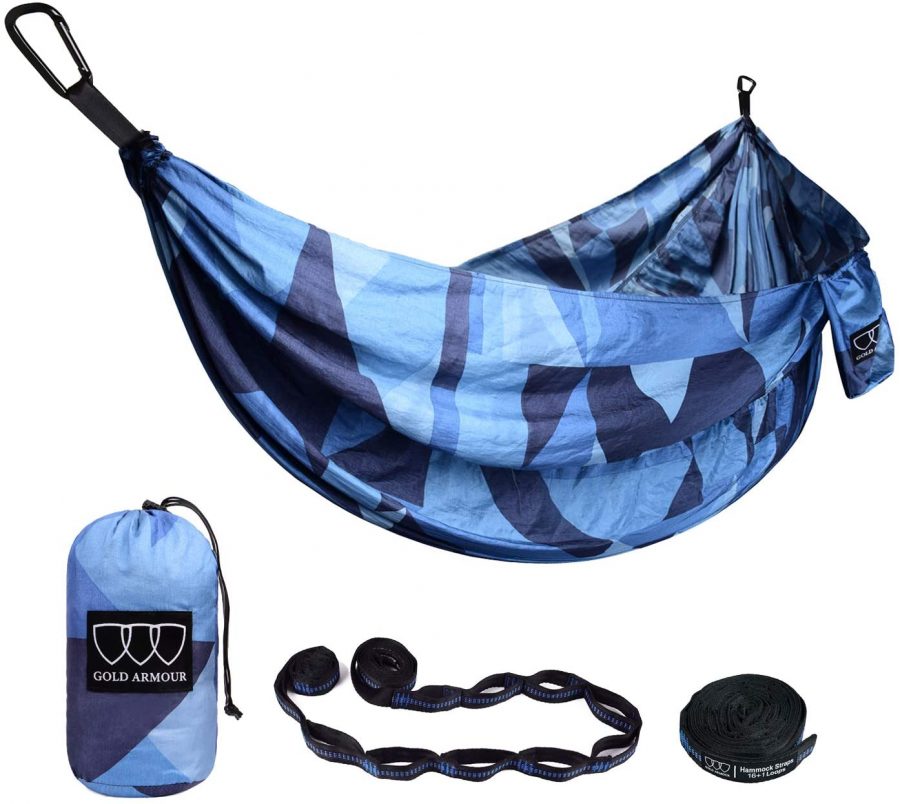 Shop it! $35.99, Amazon.com.
Since it supports up to 500 pounds, this hammock is perfect for several people to use at once. You can choose between 24 patterns and colors for this easy-to-assemble portable hammock. One reviewer says, "I had it hung by myself in a matter of a minute or two!!! I looked at several but decided on this one because of the hanging straps that come with it and the heavy-duty clips—I am a bigger person…and 'heavier' and the size was plenty roomy and comfortable—my husband who is 6'3″ joined me and it was still comfortable which amazed me!!!"
5Sierra Designs Double Lightweight Hammock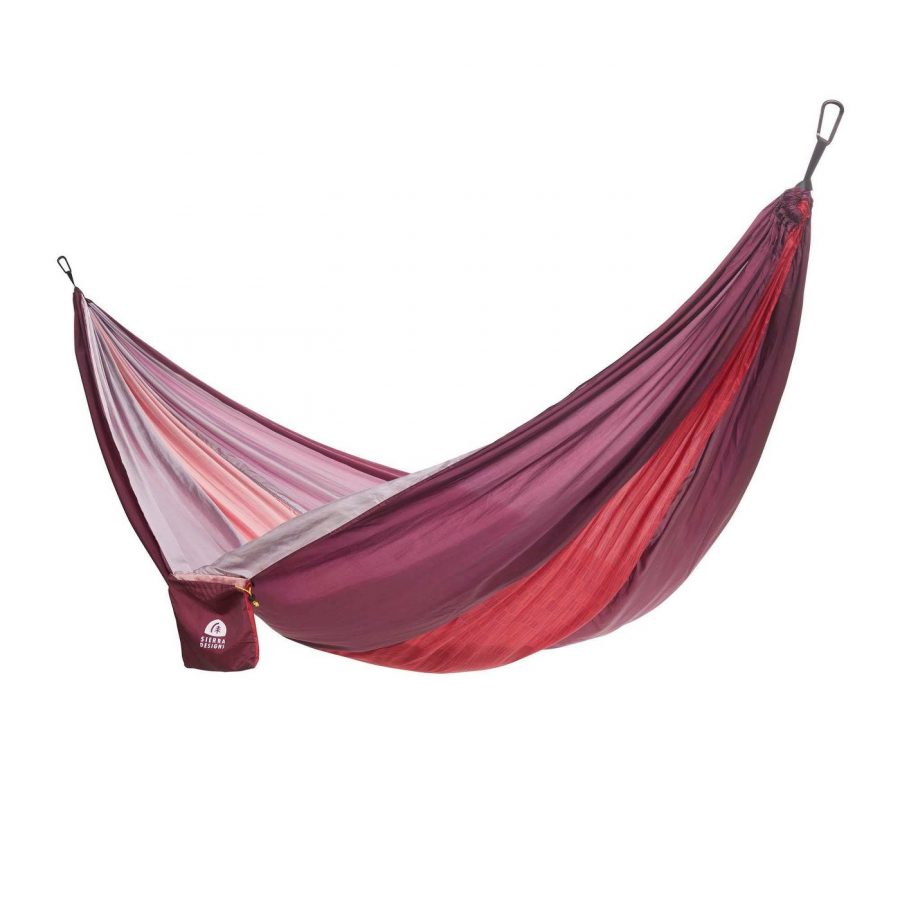 Shop it! $39.99, target.com.
Made of lightweight yet durable nylon fabric, this hammock packs easily into a small attached pouch. The size and weight of this travel hammock make it perfect for sticking into a backpack and bringing along to a park or on a camping trip. Plus, the red and maroon color combo is stylish and evokes a relaxing vibe.
6AmazonBasics Lightweight Extra-Strong Nylon Double Camping Hammock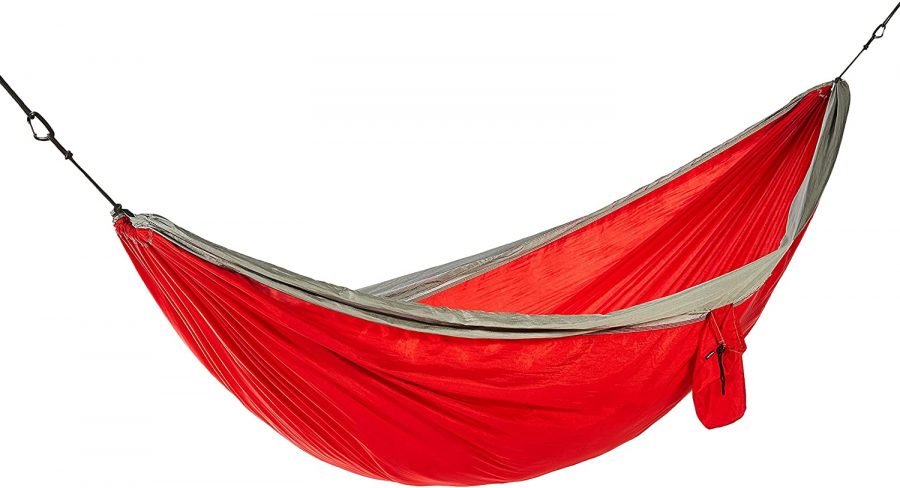 Shop it! $35.19, Amazon.com.
An attached sack allows you to store small items like books, sunglasses, or snacks within reach while you're lounging in this hammock. Amazon shoppers say this hammock rivals popular, expensive options. Reviewers also say it's super durable and spacious.
7Newdora Ultralight Portable Nylon Parachute Multifunctional Lightweight Hammock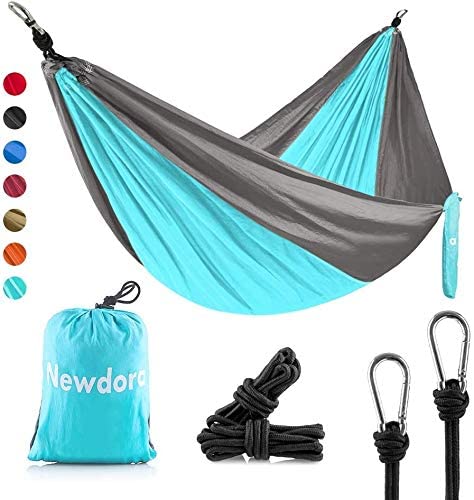 Shop it! $24.99, Amazon.com.
Ropes and carabiners make this hammock super easy to attach to trees or posts. Choose between seven colors for this portable hammock and lightweight matching bag. This hammock is made to easily fit two adults. One shopper says, "I'm 6'1″ and this hammock is large enough to hold me and my 8-year-old daughter. The material is soft but strong parachute-style nylon."