The Best Hair Extensions for an Ariana Grande-Level Look, According to Stylists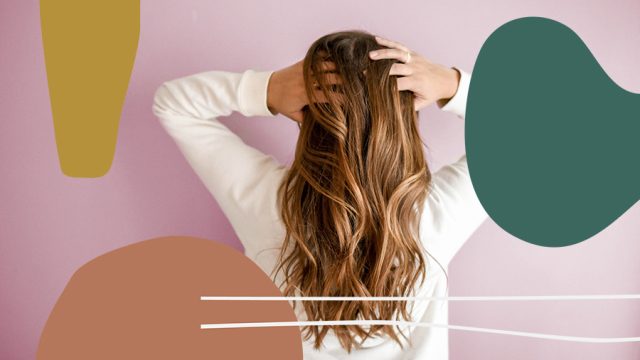 Extensions are no longer just for the ultra-glamorous celebrities and influencers on your Instagram feed. There are now tons of easy, readily available hair extension options you can put in yourself, including clip-ins and halo styles that will give your hair added length, volume, and body in just a few simple steps. With certain types of hair extensions, you can get salon-worthy hair, without the trip to the salon.
Hair extensions are the perfect solution for those looking to add a little oomph to their hair, which is why celebrity stylists and influencers alike often use them to achieve voluminous updos, lusciously long locks, and more. What we love most about hair extensions is their ability to give you the freedom to be a total hair chameleon and execute all kinds of looks effortlessly—even if your real hair is chopped into a sleek bob. If you're looking to channel your inner Ariana Grande, here's everything you need to know about hair extensions.
Why use hair extensions?
Though you may not realize it because the end result is often so natural, tons of celebrity stylists use extensions on their clients. It's an easy way to give them that red carpet-worthy look, without them having to commit to a totally new 'do.
"I like to use extensions to give added volume to my clients who want a cutting-edge popular celebrity look, but whose hair lacks the fullness needed to create the perfect beach wave or to fashion a fuller, longer, sexy ponytail," says celebrity stylist Julius Michael.
"I also love to use extensions on long-hair clients to create faux lobs, especially on those who aren't sure they want to take the leap from long to short hair," he adds. "I get to create the haircut without the commitment of a permanent cut, and they get to see what it would look like if they made the big change."
Celebrity stylist Marc Mena is also a fan of using extensions to glam up a look. "I love to play with extensions to create more intricate swept-up styles," he says. "This year I even used clip-in bangs on both Madelaine Petsch for the MET Gala and Natalia Dyer for pre-SAG parties to give them a new modern twist on their classic look, without having to commit to it."
So basically, hair extensions are great for trying out new styles that maybe your natural hair won't allow.
How much do hair extensions cost?
"Extensions can be a big investment," says Mena, and like most things, you're going to get what you pay for. If you're looking for a clip-in ponytail to complete your Ariana Grande Halloween outfit and wear for just one night, that $50 Amazon option might work. But if you're looking for something with a little more longevity, choosing an extension option that uses high-quality Remy hair is your best bet.
DIY clip-ins can cost anywhere from $200-$400 depending on length, and salon-level tape-ins or sew-ins will cost you the price of the hair plus an installation fee, so you could be looking at $500 and up. Like we said, its a big investment, but you're paying for the quality of what's going on your head.
What is Remy hair?
Since the quality of your hair extensions stems from the quality of the hair used in the product itself, you usually want to stay away from synthetic hair. Michael says these types of synthetic blends may melt on your irons and hot tools—yikes.
Instead, as Robert Barcelo, head of education for Glam Seamless explains, "Quality extensions should be made of 100% Remy human hair and double-drawn. Remy means the hair's cuticle, the outside protective layer, is intact and facing the same direction from roots to ends. This ensures beautiful hair extensions that do not tangle. Double-drawn means that the ends are as thick as the root."
What type of hair extensions should I get?
The type of hair extensions that are best for you comes down to the amount of time, money, and maintenance you're willing to put into them.
"Some hair extensions, such as clip-ins, halos, and ponytails, are ready-to-wear and only need occasional washing and conditioning," explains Barcelo. "But semi-permanent extensions like tape-ins or sew ins require regular maintenance appointments to keep your hair healthy in shape."
For those looking to get started with extensions, we'd recommend a ready-to-wear option like clip-ins or halo-style. And for the record, you can buy these kinds yourself and bring them to a salon to learn how to put them in, style them, and more. But they don't require a salon visit, like semi-permanent and permanent options do.
How do I pick the right hair extension color?
When selecting the best hair extension brand for you, you're also going to want to do some research for which provides the best range of hair color options to find one that's a match for you. Many brands have both solid and blended color options, including plenty of pre-highlighted and balayage choices.
"When matching hair extensions to your natural hair, it is best to match the extensions to the ends of your hair, where most of the blending will take place," says Sari Friedman, director of marketing for Luxy Hair. "Make sure to color-match in natural lighting with no direct sunlight, as this can saturate the hair color," she advises.
If you're not sure what kind of color to purchase, most companies will be able to send you a color swatch, so you can text before you commit. Several even offer online color-matching services where you can simply send them a photo and they'll do the rest.
The best hair extension brands, according to stylists:
Best clip ins: Hidden Crown Hair
Clip-ins, while beautiful, often contain 18-22 clips per set, divided into multiple wefts that you have to distribute into your hair by sectioning it out and clipping each individual weft in. Hidden Crown uses only nine clips and three wefts (one volumizer, for the back of your head and two side pieces) but still delivers the same volume and length as some of its competitors. This one's a favorite of Micheals, who says, "Each Hidden Crown clip-in track has a good quantity of hair which means we need less layering of tracks to get the fullness we want."
Best halo: Luxy Hair
Halo hair extensions are the perfect option for people looking to add a little more length and volume without the hassle or expertise of knowing how to install clip-ins. They're single-weft pieces where hair is attached to a sort of headband, which you wear around your head and blend by placing some of your own hair hair over the band. It's a one-step process, as opposed to having to clip or tape in several wefts.
Unlike some other halo-style hair extensions that are one-size-fits-all, Luxy's brand comes with nylon wires in seven different sizes so you can select the one that will best fit you.
Best tape-ins: Glam Seamless
A brand beloved by celebs and their stylists alike (hi, Chris Appleton), Glam Seamless is one of the leaders in tape-in extensions. While clip-ins or halos can be easily taken off and put on, tape-ins are semi-permanent and last six-eight weeks.
Glam Seamless uses a high-quality tape that won't get stuck in your hair (the horror!) and has several weft options tailored to different hair types and thicknesses. Just note: Tape-ins are not a DIY process, and should always be applied by a professional to avoid damage to your hair and scalp.
Best salon-quality: Great Lengths
Another brand frequently worn by celebs, Great Lengths is a salon-only professional-grade extension brand, but you can find a qualified stylist to install them for you. Mena loves this particular extension brand because the source of the hair is traceable, and each bundle comes from one head so you have the same texture throughout.
Best budget: Vario Clip-In Human Hair Extensions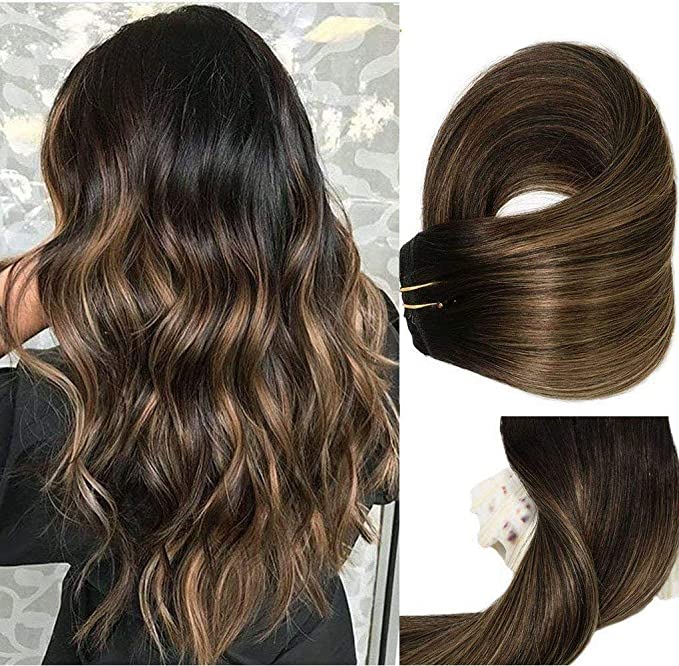 Shop It! $78, amazon.com
Since a full set of clip-in extensions can get pricey fast, those who are new to clip-in extensions or curious to try them out should look into this more affordable Amazon option. With over 2,000 reviews, these Amazon clip-in extensions are a high-quality bang for your buck. Like many of the more expensive options, these are made from 100% real Remy human hair, come in a range of lengths, and can be heat-styled without worry. They're also double-wefted for maximum thickness, offer a 12-month lifespan, and each pack comes with a complete set of 17 clips.